Just how big a deal Butlin's is making of its new accommodation at Minehead is apparent the moment we pull up at the main gate. When I tell the jolly security man that we're staying at the West Lakes Chalet Village, he raises his eyebrows and gives us an exaggerated, "ooh, look at you, all high society," look. Then he leans through the car window and gives my six-year-old son, George, an overenthusiastic squeeze of the cheek and points us to the chalets' exclusive reception.
The new lodging is an attempt to update the level of accommodation and the brand, and is aimed, according to the Butlin's website, at "modern, hard-working families" with an aim to "breathe new life into these classic holiday symbols" and take them from – wait for it – "Hi-de-Hi! to high-end".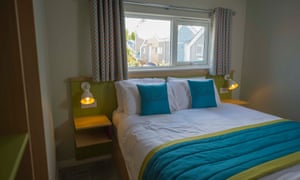 Butlin's has spent £16m on the 117 chalets and brought in parenting website Mumsnet as consultant. It may sound like an odd marriage if you believe the stereotypes (north London yummy mummies in bed with an old-fashioned, budget-friendly holiday resort), yet more than 1,000 Mumsnetters responded to a Butlin's survey, giving opinions on everything from what makes a perfect family break to the layout of the chalets.
And there has clearly been a lot of thought put into the layout, both of the chalets and of the "village", which has been built around landscaped gardens and small lakes. Our four-berth chalet (the six- and eight-berths are similar, just bigger) had a twin and double room (the latter with an en suite bathroom with stylish charcoal tiles and power shower) and a large open-plan living and kitchen area that opened on to a balcony, right on the water's edge.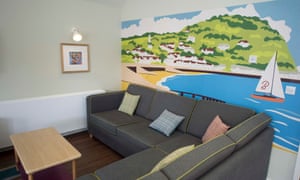 The colour scheme of pale greys and muted blues and greens, with splashes of brighter colour from the rug, dining chairs and wall mural of Minehead Bay (the same one in every chalet), is cheerful and breezy. The living area, with a high-gabled ceiling, L-shaped sofa, white table and galley kitchen, is way better than functional – on a rainy day, a family would have no problem being holed up in here for a few hours (chalets come with a jar of craft equipment and a game of Twister – a nice touch). Our four-berth feels big enough to entertain six people inside, or even eight, with the balcony, in summer. This is an attractive proposition, given how nondescript the catering is in the two (higher-end) Butlin's restaurants we tried. Food churned out on such an industrial scale is never going to be anything other than functional.
The bedrooms are comfortable, too, with big plump beds. In fact, the only negative is the scratchy poly-cotton sheets that, combined with the central heating being on all night, meant both George and I kicking off the bedclothes in the middle of the night. Despite this, the new accommodation is a world away from the original, postwar chalets, which are still standing on the site. These look like dilapidated army barracks by comparison, and the Butlin's website doesn't even attempt to dress them up: it refers to them as "no-frills Standard Apartments … complete with the basics you might need during your stay".
The Butlin's experience is still all about staying within the holiday park and mixing with fellow campers in the pubs, Waterworld and fun fair, and few guests seem to leave the complex. Minehead beach, a gorgeous expanse of golden sand dotted with rock pools, is directly opposite, but George and I seemed to be the only Butliners out enjoying the sunshine.
The entertainment has come on since the days of the knobbly knees contests, mind. This summer, Diversity will be top of the bill at the evening show, which is included in the price. Not everything is all-inclusive, though: activities such as the climbing wall, boat rides and even mini golf are extra. Crucially, our chalet felt like a nice place to hang out in – not just somewhere to crash in between the Butlin's all-inclusive fun. George felt so at ease there he commented: "I wish your flat was this nice, Dad."
• Accommodation was provided by Butlin's (0330 100 6648, butlins.com). Three nights in a four-, six- or eight-berth chalet costs from £115pp or from £199pp during school summer holidays. Prices are room-only but include entrance to pool, fairground, evening entertainment, football coaching and daytime shows
Ask a a local: Butlin's Redcoat Matthew Pomeroy
• Eat
For great food in lovely surroundings, try Reeves, 20-22 High Street, Dunster. The owners are a husband and wife – he's the chef and she looks after the front of house.
• Beach
It's not far from Butlin's but, when you're at Blue Anchor bay, you really feel like you are away from it all. It's a beautiful stretch of untouched sand and easy to get to because the West Somerset steam railway stops here.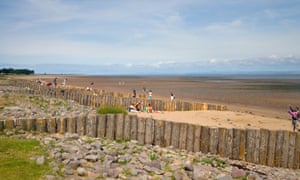 • Do
If you come into Minehead on the A39, you'll see Dunster Castle looking down on you from up on the hill. The site dates back to the 11th century and today it is operated by the National Trust. There are still some parts of the original castle to see, as well as some lovely gardens.
Source: Read Full Article