Travel advisors and river cruise suppliers are in Budapest this week for the first ASTA River Cruise Expo, just as the 2022 sailing season gets underway. 
Over 500 travel advisors were invited to attend the four-day expo and conference for the chance to get intimately acquainted with the products they sell, in addition to educational opportunities discussing the ships and their itineraries, tourism in Hungary and networking opportunities with other travel advisors and industry professionals. 
AmaWaterways, ScenicEmerald, Uniworld Boutique River Cruises, Avalon Waterways and Amadeus are the luxury cruise lines headlining the event. 
ASTA CEO Zane Kerby said an event of this size hasn't happened for the travel advisor association in decades and that it's a welcome opportunity to send a message to the world: This is the year travel returns.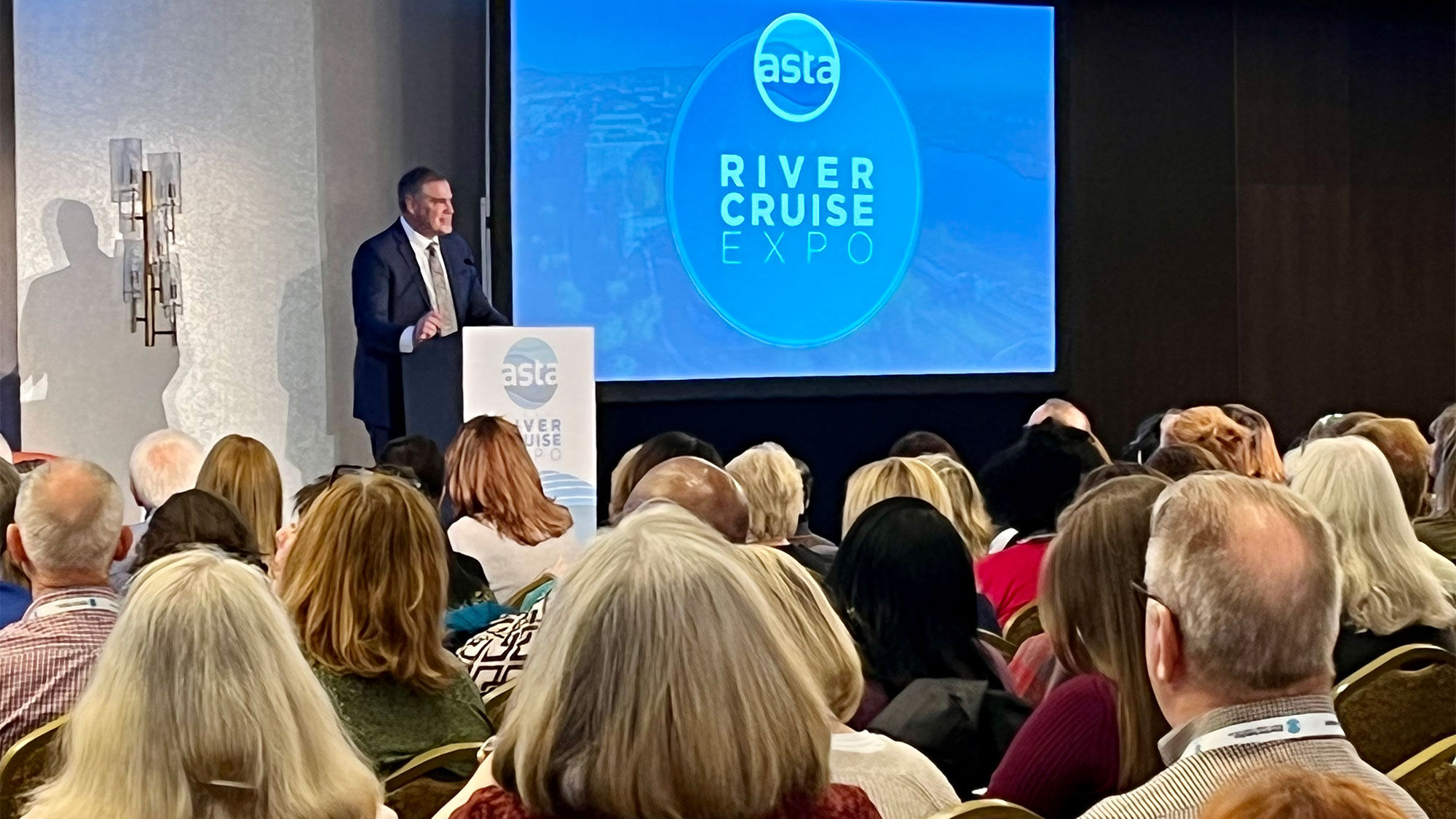 "We wanted travel advisors to be able to kick the tires on multiple products and multiple ships all in one go," Kerby said of the event's purpose.
"They need to know the products. They need to understand these nuance differences between these river cruises because their customers are asking, and they need to know."
The conference kicked off on March 16 with a general session and discussion panel with river cruise suppliers at one of two hotels hosting the conference, the Kempinski Hotel Corvinus and the Marriott Budapest hotel. 
The Kempinski hosted discussion panels about marketing and selling river cruises, informational sessions with travel insurance company Allianz and sessions with Visit Hungary, the country's tourism board, which explored both heritage travel and the country's wine region. The Marriott hosts the conference's trade show.
The main event of the conference are the guided tours of six luxury river cruise ships docked along the Danube. Attendees are invited to have lunch and dinner on the ships with the sales executives and company representatives, who then provide inspection tours. Advisors are also given free time to explore the ships during open house sessions.
"There's a great energy here for travel advisors who want to come and learn so that they can go home and share with confidence," Kerby said.
The ASTA River Cruise Expo was launched after about three years in the making. The idea originally came from a senior executive of the organization in 2019 just before the pandemic struck.
"It was Bob Duglin's brainchild," Kerby said, reminiscing about the late vice president of ASTA's international membership and host agencies. Duglin spearheaded the concept of a global river cruise conference and helped bring the idea to life before his death in 2021.
"He said, 'I don't want to have to go to Europe seven times in order to see all these ships. I need to go once and see them at the same time.' So he had this great idea to start this river cruise event before the actual season started," Kerby said.
ASTA's gathering of industry professionals also brings with it a sense of support and community — and not just for travel advisors. The conference set up special donation sites for clothing and supplies as well as incentives that encouraged advisors to support refugees affected by the Russian invasion of Ukraine.
Easing Covid restrictions
Despite the war in Ukraine, ASTA's conference was well-attended, especially as the pandemic's grip on travel has started to show signs of loosening. Many countries and regions around the world, some even with the strictest entry and testing requirements, have begun dropping Covid mandates as cases have declined.
Just days prior to the conference, Hungary lifted all of its Covid-related entry and testing requirements, clearing yet another path for people to travel freely again.
"I think that made a big difference. We had a handful of cancellations for this event," Kerby said, referencing the crisis in Ukraine, "which I'm really proud of. I think our members definitely understand that the pandemic is getting into the rearview mirror." 
And, as Kerby noted, there was not a better choice to host ASTA's first river cruise conference than in Budapest, which to many in the industry is the gateway for river cruising. 
"It's such a central point and such a great city. When Bob began talking with several potential host cities, Budapest stood out in terms of their support, their centrality, and so many river cruises start and end here. So we will be back here next year."
The 2023 ASTA River Cruise Expo will return to the "Pearl of the Danube" from March 15-18.
Source: Read Full Article