ONBOARD THE ROTTERDAM — After two moribund years, hopes are running high at many cruise lines that the pandemic has finally run its course.
That has them in restart mode. Along with sprucing up idled ships and recalling crews, one of the key tasks cruise lines are confronting is restoring bonds with the travel trade that loosened during the pandemic shutdown. 
Holland America Line (HAL) is one of several lines plunging into the fray. It recently courted the trade with a three-day, agents-only cruise to the Bahamas aboard the Rotterdam, its newest ship. The cruise was a bid to keep HAL top of mind with advisors, remind them of its strengths and differentiators as a brand, and give them a first-hand look at its hardware again. 
For some, that alone made the trip worthwhile. 
"I have to experience something to talk about it to other people," said Natalie Horton, an advisor at Athens, Ga.-based Global Escapes. Seeing the ship, meeting the sales team and reviewing HAL's brand profile "connected the dots," she said. 
Others found value in the chance to once again mingle and compare notes and business tips with fellow agents. Kris Stoddard, a Dream Vacations agent in Greenville, S.C., said the cruise was a networking event as much as anything.
"It's the connections I've made, learning what they've done as a travel agent and how I can incorporate some of that in my agency," Stoddard said. The last two years, she also said, agents have been "missing out on the ship experience, which is becoming a huge issue for cruise." 
HAL executives said support for the trade was not forgotten during the pandemic, even as suppliers faced a complete shutdown of their business. "When the pandemic first started, we were all incredibly generous with protecting commissions," said Beth Bodensteiner, HAL's chief commercial officer. 
Bodensteiner said that when HAL canceled a sailing, it paid a commission not only on that sailing but on the future cruise credit when the cruise was rebooked. "Essentially, we paid two commissions on one booking," she said, giving agents a lifeline when cash flow was tight. 
She said HAL continued the industry practice of paying out base commissions before sailing if the guest had paid in full and was in the 100% penalty cancellation period. But it also pushed final payment deadlines closer to sailings, which meant guests had more flexibility and agents were freed from having to cancel and rebook cruises when clients had trouble making up their minds. 
Bodensteiner said HAL also published its commission tiers early and made them more realistic given the pandemic realities. Other brands stuck to the traditional structure. 
"So agents are sitting there with those brands not making the targets and not making very much money. We did our payouts differently so that agents would earn money faster and more reliably." 
HAL also proactively rebooked clients when it canceled large swaths of sailings. 
"Almost all of those people stayed," Bodensteiner said. "Which is great for the agent because the booking just moves over, they don't have to worry about a cancellation. We just send a new confirmation number, same cabin. We've gotten great feedback on that." 
Even so, Bodensteiner said HAL paid bonus commissions on those rebookings, knowing that agents would at least have to answer some questions from clients. "It's been hard, but we're trying to find that happy medium that recognizes all the effort the agents have been putting in."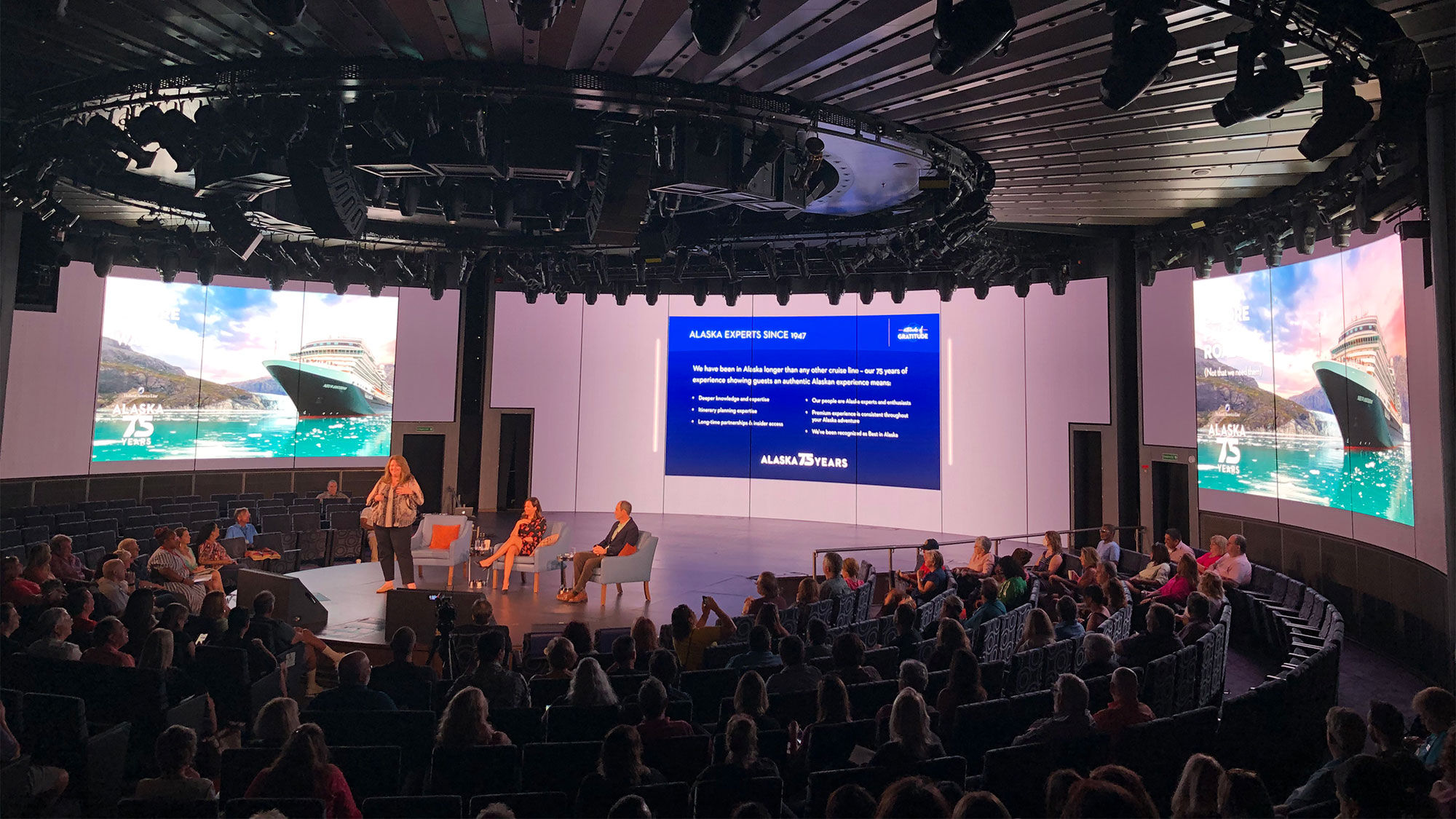 Moving into restart mode, HAL has expanded the number of fam trips available to advisors to renew their enthusiasm for the brand. They are being offered on six Alaska cruises departing May 1 to July 16. Agents pay nothing for the cabins except for taxes, fees, port charges and gratuities. That comes to a little over $300. 
"Historically, we may have charged $499 or $599 for the cabin," said Michelle Sutter, HAL's vice president of North America sales. 
One clear point of emphasis on this cruise was to try to reestablish HAL's place in the Alaska market for the 800 advisors onboard. After two stop-and-go years, Alaska is expected to attract 1.6 million cruisers in 2022, up from 1 million pre-pandemic, according to the Alaska Tourism Industry Association. 
As other lines add capacity, HAL is fighting to keep the No. 2 spot (sister brand Princess Cruises is No. 1). This year will be HAL's 75th season in Alaska, and advisors were reminded that the brand has more permits to visit Glacier Bay than other lines, more weekend departure slots in Seattle and Vancouver, and more close-in pier positions in Alaska's ports of call. 
Attendees were treated to refreshed performances of OnStage Alaska, a live and multimedia sales tool that was offered virtually during the pandemic. 
Horton said many of her clients are not yet ready to travel internationally.
"But I can easily get someone to Alaska," she said. With lucrative overseas trips still a tough sell, "Alaska is one of my bread-and-butter [destinations]."
Source: Read Full Article