Norwegian Cruise Line Holdings forecasts that direct bookings will surpass bookings from travel agents in 2023. 
A slideshow from a presentation to investors released by NCLH on Thursday showed the company is expecting bookings by travel agents to fall significantly from 2019. 
The slide showed call center bookings strongly improving as well as bookings from passengers booking their next cruise while onboard the ship. The greatest opportunity for growth is in direct web bookings.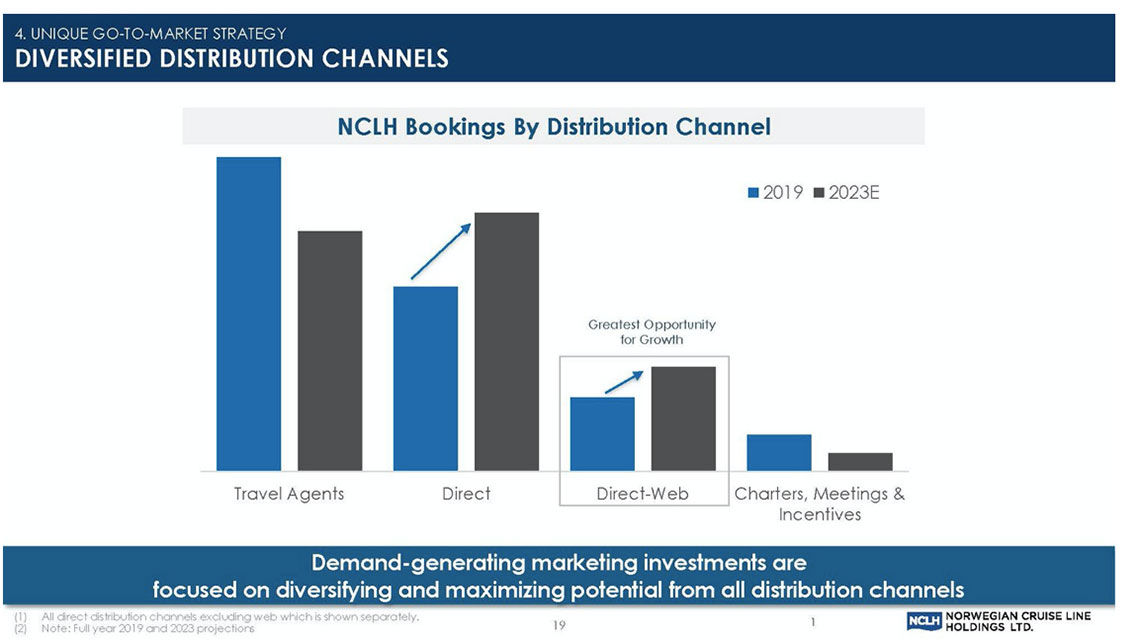 In a statement to Travel Weekly, NCLH said the company is focused on maximizing all of its distribution channels and said travel partners continue to be "an incredibly important distribution channel for us." 
However, the company said it is investing in its direct business after noticing an accelerated shift toward more direct bookings during the pandemic. NCLH said it sees a significant opportunity to increase its direct online bookings, a "very low-cost and attractive channel." 
The chart did not include numbers or statistics for the projected change in bookings by distribution channel. 
Cruise line executives have said direct bookings have climbed since the pandemic, an observation backed up by a GlobalData study.   
NCLH also revealed to investors a strategy to open voyages for sale earlier to lengthen the booking window. According to NCLH, the booking window stretched from 171 days in the third quarter of 2016 to 225 days three years later. In the third quarter of 2022, the booking window was 245 days.
NCLH's brands are Norwegian Cruise Line, the high-end Oceania Cruises and luxury Regent Seven Seas Cruises. 
Source: Read Full Article