ONBOARD THE SILVER NOVA — In just four years, Silversea has grown from seven ships to 12, making it the largest luxury cruise line. 
This month, the line debuted its largest and most ambitious ship yet, the 728-passenger Silver Nova, the first in its class and a game-changer in the upmarket cruise sector, with a truly unique design that refocuses passengers on the sea and the destinations it serves.
How is this achieved? Let's start with glass: The ship is wrapped in it, representing a surface area about 40% greater than Silversea's Muse-class vessels. It means guests are almost always in touch with wherever the ship is sailing.
Nowhere is this more obvious than in the S.A.L.T. Lab, where hands-on culinary lessons are offered. On the previous two Silversea ships, the venue was an interior space with no windows. On this ship, it's on Deck 10 and features broad glass windows offering views of the ocean. The Venetian Lounge, always a windowless, one-story space, is now more than two decks tall with windows to one side.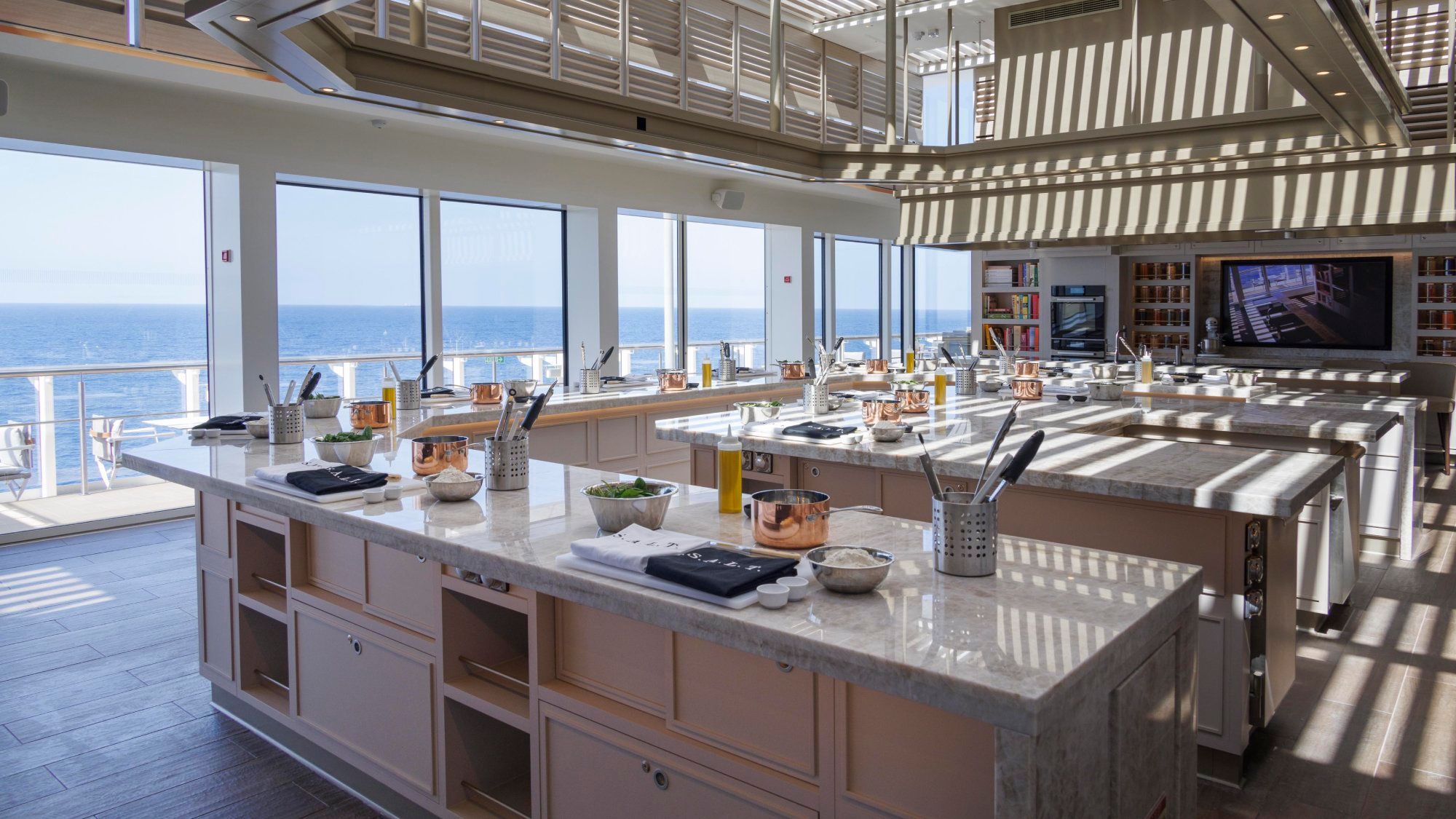 Then there's Nova's asymmetrical layout, which encouraged the architects to play around with spaces — the ship's funnel is not positioned at the centerline of the ship, neither is the pool. It's aesthetically pleasing but also functional, because designers eliminated most structures on the upper decks, allowing the sea and landscapes to tell their story.
The asymmetrical design gives the Silver Nova one of the most chic, expansive pool decks at sea. Though the pool is smaller than the terrific ones on Muse-class vessels, it sits on the starboard side, with seating and walkways producing an amphitheater-like effect: The pool becomes a stage of sorts with a backdrop that spills for miles.
New suites, more space
Inside, Silversea introduced seven suite categories on the Nova, led by two Otium Suites, located on the starboard aft corner, that span 1,324 square feet and feature wraparound balconies with whirlpool baths. Thanks again to the ship's design, the balcony protrudes in a way that allows for 270-degree views.
Standard veranda categories, which make up more than 75% of the ship's accommodations, measure 301 square feet and have 54-square-foot balconies. 
For a ship that had not yet entertained paying passengers — this was a press sailing — service was attentive and upbeat and never pretentious. With a crew of 544, the crew-to-guest ratio of 1-to-1.3 is exemplary. But the ship's passenger space ratio (75 gross tons per passenger) is also exceptional, higher than almost any other ship sailing today. Not only are the upper decks spacious, but the restaurants are large enough to seat almost 50% more guests than the ship's full capacity at one time. 
The ship's main dining room, Atlantide, sits next to the S.A.L.T. Kitchen on Deck 3. Both are larger than their counterparts on the Silver Moon and Silver Dawn but will otherwise feel familiar, and neither requires reservations.
Atlantide serves breakfast, lunch and dinner, with expansive menus. The 160-seat S.A.L.T. Kitchen offers an adventurous menu tied in general to itinerary destinations as well as a daily-changing menu inspired by the specific port the ship is visiting or passing near.
La Terrazza, a Silversea favorite, occupies a prime position on Deck 4 aft, and with seating for 340, it's the Silver Nova's largest restaurant. There are buffet stations for breakfast and lunch, nicely spaced, while an Italian menu is offered at dinner. One quibble: Less than a quarter of La Terrazza's seating is located outside, on the aft terrace — I suspect these will be prime spots on warm-water cruises.
Silver Note, a supper club with live music nightly and tapas-style dishes, is in a gorgeous room that orients guests in a circle around a jazz duo, with a ripple of glass on the ceiling.
Two more past guest favorites, The Grill (aka Hot Rocks at dinner) and Silversea's pizza kitchen, Spaccanapoli, have been united under one roof at the Marquee, another breathtaking space, topped by a two-story pergola located on Deck 10 and open on both sides to the breeze and the view.
Three dinner spots are available at an additional cost. La Dame is a French restaurant with a decadent menu including caviar with buckwheat blini; foie gras; lobster bisque; soufflés; and fine cheeses.
Kaiseki serves an Asian fusion selection completely revamped for the Nova.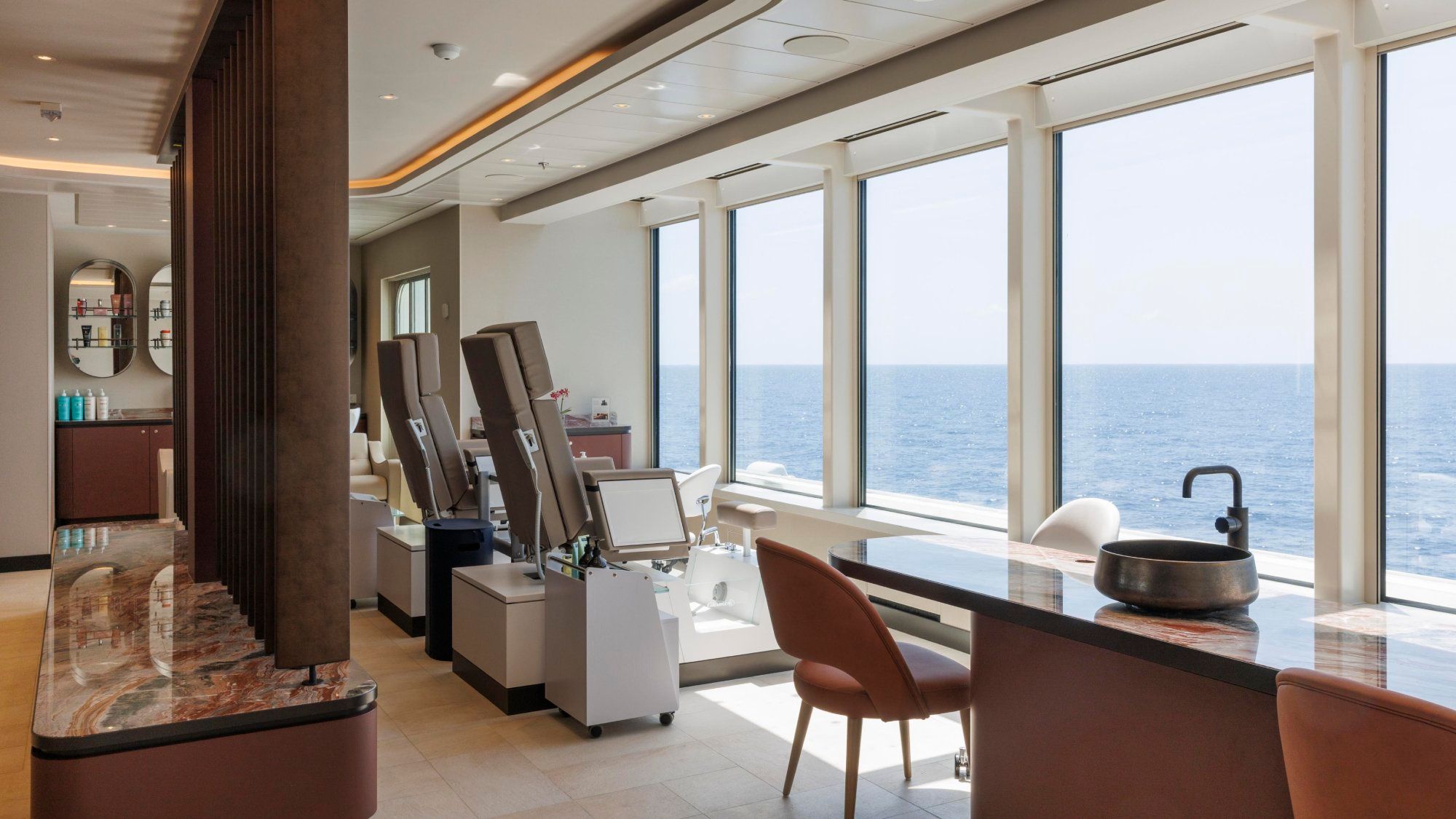 New to Silversea is the S.A.L.T. Chef's Table, where an 11-course menu is prepared in front of 24 diners, offered with anecdotes about the history of each dish or signature ingredient. It's a three-hour affair with a $180 surcharge.
Receiving some pushback from past Silversea guests on discussion boards is the increased price to dine at the other two venues: La Dame has gone from $60 per person to $160, including wine pairings for each course, with an additional $90 for the "connoisseur wine pairing" and $140 for Champagne pairings. Kaiseki is now $80 per person for dinner (a sushi menu is offered at lunch, with no add-on).
Will size matter?
There's no question, in my mind, that new-to-Silversea guests will be in awe of this spectacular ship. Many travel advisors may wonder if past Silversea guests will take to the vessel, which is 103 feet longer than the Muse-class ships and definitely feels larger.
Some Silversea loyalists may prefer the intimacy and camaraderie afforded by the line's smaller ships, six of which hold fewer than 400 passengers and call at the globe's most exotic ports. 
But I suspect many Silversea fans will be awed by the Silver Nova's generous spaces, added features and the plentiful ways to enjoy the seas it sails.
Source: Read Full Article