The CEOs of the U.S.'s two largest travel agencies, Booking Holdings and Expedia Group, say they are bullish on the potential of generative artificial intelligence (AI) but warn that the nascent technology still needs refinement.
Booking's Glenn Fogel and Expedia's Peter Kern recently addressed generative AI on their respective companies' Q2 earnings calls.
Generative is a particular type of AI that uses machine learning and large language models to generate content, like text or images. Popular platforms include OpenAI's ChatGPT, Google's Bard and Microsoft's Bing.
Both Expedia and Booking have employed generative AI in the form of customer-facing chatbots. In April, Expedia beta launched a trip-planning experience powered by ChatGPT that offers recommendations, such as where to go, where to stay and what to see in a destination.
Booking's brands have introduced several generative AI chatbots: At the top of the funnel, Booking.com's AI trip planner provides recommendations; at the end of the funnel, Priceline's Penny answers travel-related questions once a customer has reached the checkout page. 
Other Booking brands are looking to use generative AI in different ways. OpenTable and Kayak are experimenting with AI plug-ins, and Agoda is applying the technology internally for coding.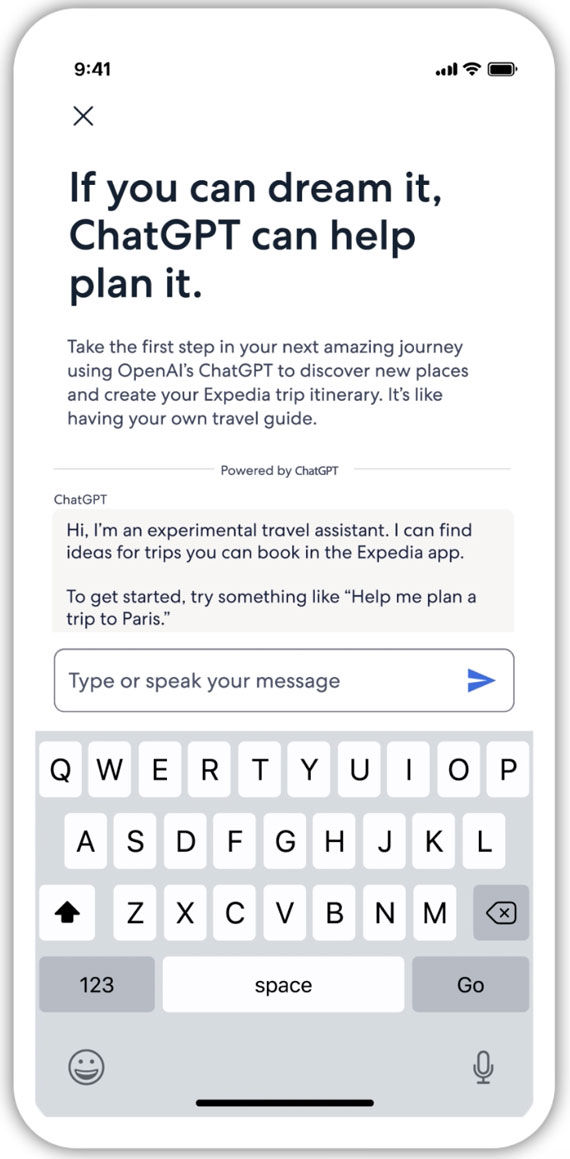 Despite the opportunities, both CEOs were cautiously enthusiastic. 
"While we are excited by these new advances at Booking.com and Priceline, it is, of course, still very early days, and we have much more to learn about how customers will ultimately want to interact with this new technology," Fogel said.
Kern offered a similar take. Expedia has some customers who like interacting with its chatbot, and others who don't. Its impact on conversion has been "basically de minimis" at the moment, according to Kern, but he believes it has "a ton of promise" as the technology evolves.
"I think the future, though, lies much more in a better integration, which will come as more large language models come out and we figure out how to embrace them with our own data," he said. "Right now, they kind of live separately."
At Booking Holdings, Fogel's vision has long been a "connected trip" offering customers the ability to book and adjust their entire trip in one place. AI is at the center of that initiative, and Fogel believes generative AI could have a role there, especially when a traveler is in a destination and looking for advice.
But right now, its ultimate impact on the company is unknown, so Booking is focused on experimenting with it in a variety of ways.
"At this stage, it's very important to spread the bets around and see where the return is coming back to see where we want to put people to work, put more money to work and see what's going to come back," Fogel said.
Source: Read Full Article