The University of Manchester has terminated a research project with a state-owned Chinese company with alleged links to human rights abuses against Uighur Muslims.
It comes after a parliamentary committee accused China Electronics Technology Group (CETC) of providing technology and infrastructure used in the persecution of the ethnic minority group.
Tom Tugendhat, chair of the Foreign Affairs Committee, had written to the university over its Department of Physics and Astronomy's research partnership with the company.
"According to credible reports from both Human Rights Watch and the Australian Strategic Policy Institute, CETC is one of the main architects of the Chinese government's surveillance state in Xinjiang, China, providing both technology and infrastructure that is being used for the identity-based persecution of more than one million people, predominantly Uyghur Muslims," the MP said in his letter.
The Chinese government has been accused of widespread abuse in the northwestern Xinjiang province, including mass internment, slave labour and allegations of forced sterilisation.
Watch more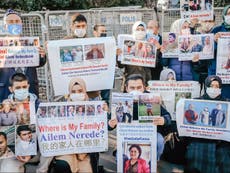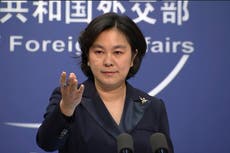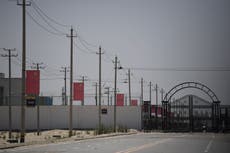 China at first denied the existence of the internment areas. It later acknowledged them, but denied any abuses and says the steps it has taken are necessary to combat terrorism and a separatist movement.
The Foreign Affairs Committee is attempting to determine the extent of British involvement with organisations who are implicated in the situation as part of an inquiry.
Read our full mailing list consent terms here
Read our full mailing list consent terms here
In his letter, the chair asked the University of Manchester about its partnership with CETC, including whether staff had raised concerns and the university knew about alleged links with Uighur persecution when the relationship was agreed.
Professor Martin Schroder, the university's vice-president and dean of the Faculty of Science and Engineering, said the institution has "now taken steps to terminate the current agreement" with CETC while it assesses the relationship.
He said the university had already been reviewing the relationship, after a licence application for a joint project was rejected.
Read more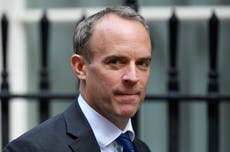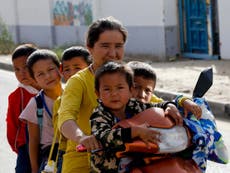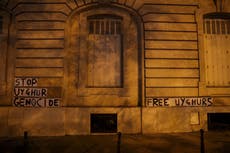 "I also confirm that, as far as I am aware, the university had no prior knowledge of any credible reports stated in your letter, or from any other source, linking CETC's technology with the persecution of Uyghur Muslims. Your letter is the first to do so," he told the committee in a letter.
He added: "I confirm that as I am aware no members of staff at the University have raised concerns about the collaboration with CETC38, and no desires have been expressed or steps taken by the University or CETC38 to develop collaboration between these two organisations in the areas of artificial intelligence, big data or advanced materials."
Mr Tugendhat said he was "pleased" that the university "has decided to suspend its relationship with CETC" following the committee's intervention.
"Although we welcome the university's move to withdraw from any further projects with CETC, it is surprising that the university had not been made aware that CETC's technology was being used to aid the atrocities taking place in Xinjiang detention camps. Our letter was apparently the first they knew of it," the Tory MP said.
He added: "It remains imperative that British institutions, educational and otherwise, are fully informed of who it is they are working and sharing research with.
Read more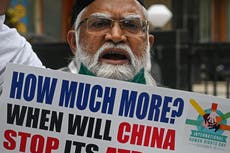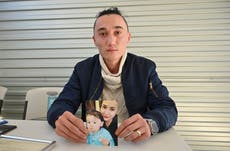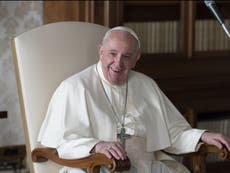 "A lack of curiosity could inadvertently lead to some of our most well-respected businesses and universities entering into a relationship which – inadvertently or otherwise – sees them complicit in the systematic abuse of the human rights of the Uyghurs and other minority groups."
The university said their research collaboration with CETC aimed to "significantly advance the field of radio astronomy".
"The projects worked towards an objective of disseminating research results in the public domain through publication in academic journals and as is standard in collaborative research projects, results of the work undertaken were shared between the parties in accordance with the terms of the agreement," Mr Schroder said in his letter to the commitee.
They had already completed one project, had a licence application rejected for a second, and have now withdrawn a third application for a project, he said.
A University of Manchester spokesperson said: "The University is reviewing its collaboration with China Electronics Technology Group Co. Ltd (CETC38) following the rejection of a licence application by the government's Export Control Joint Unit (ECJU) in relation to a specific project with the company.
"This took place in January and predates any correspondence with the Foreign Affairs Select Committee. Since then, we have taken steps to terminate the current agreement with CETC38 whilst assessing the relationship."
The spokesperson said the university had recently undertaken more work to address "the potentially complex risks and issues" arising from international research partnerships.
"One of the aims is to provide a strengthened degree of assurance about potential new research partners with the University's guiding principles, values, missions and goals," they said.
Additional reporting by agencies
A common greeting in Sinhalese, the most widely spoken language in Sri Lanka, is "Have you eaten rice?" That underscores how seriously Sri Lankans take their food, says Ruwanmali Samarakoon-Amunugama, author of Milk, Spice and Curry Leaves, a new book celebrating the cuisine of the island's central Hill Country community.
"Eating is an event, hospitality is a given, food is a means to gather and generous servings are the unspoken rules of households," the Canadian-born author says. Traditional Sri Lankan meals put rice at the centre of the table. "Sri Lankans refer to their diet, as a rice and curry diet. Three to five curries are presented around one main grain dish, all brought to the table at once."
We've moved on from rice and curry.
Rice and curry, then, is comfort food across the island, but beyond that lies an astonishing diversity of cuisines, ingredients and culinary techniques, shaped by the diets of its different regional communities, by its location on historic trading routes, and by colonial influences.
"Sri Lankan dishes are a rich combination of spices, herbs, legume, seafood, seasonal vegetables, lentil, cashew nuts, fruits and of course, coconut and coconut milk. Our food is very regionally diverse, and one can expect the same dish to be prepared in different methods and various flavours. We've moved on from rice and curry," says Dharmaratne Ranhoti Gedara, Demi-Chef de Partie at Dubai International Hotel.
"Besides influences from South India, there are also the influences from the Dutch and the British," adds Mohamed Rasheed Rinas, who is Senior Sous Chef, Armed Forces Officers Club and Hotel in Abu Dhabi and assists with the culinary operations of over 30 food and beverage operations across the UAE. "Tradition is crucial to the Sri Lankan culinary scene. Many Sinhalese recipes use chena or elephant foot yam. A variety of pickled fruits or vegetables, chutneys, and sambols are eaten alongside the main course. At celebrations, one sees an array of traditional specialities ranging from kiribath (rice cooked in coconut milk) to spicy curries and sweetmeats as accompaniments."
If that sounds like a feast of plenty, make a start with parippu or dal. Typical comfort fare, the curry is made by cooking red lentils in coconut milk, with spices such as turmeric, fenugreek, cinnamon and chilli powder or fresh green chillies. "Dal is one of the easiest and most popular dishes across Sri Lankan homes from the rich mansions in Colombo to the humble village homes," says Ishara De Silva, Managing Director and Founder of Plantation Villa, a boutique wellness resort just south of Colombo.
Like parippu, many traditional dishes are vegan, gluten-free, made from whole foods and free of refined sugar. "Sri Lankan food has its roots in the island's indigenous medicine – the local version of Ayurveda – and it fits all the new popular diets," De Silva says. A former banker in the UK, she discovered the healthy attributes of her culinary roots while recovering from cancer. "As most of the food is curry-based, guests at Plantation Villa worry it may be too heavy or too calorific – but they usually end up losing a little weight! Unlike modern variations of curry found in restaurants around the world, traditional Sri Lankan curries have very little oil and are generally quite light, with the emphasis on flavour."
Each spice – and every ingredient – is used because of its reputed health benefits. "Many fruits, even cadju (cashew), are also seen as medicine," says Samarakoon-Amunugama. "The fact that a typical meal would include a wide array of dishes such as mallum or sautéed vegetables, curries and fish or meat marinated in spice blends, allows for a well-balanced and healthy meal."
While Sri Lankan cuisines share some characteristics with their South Indian sisters, they are a far cry from the likes of saag, butter chicken and other cream-rich dishes that characterise north Indian fare, Gedara says. He suggests that those new to the cuisine try lamprais, a rice and meat parcel thought to have been created by Dutch burghers on the island, and kottu – a sort of stir-fry that repurposes leftover rotis, spices and vegetables or meat. Other popular dishes include the bowl-like rice pancakes called hoppers, the on-trend jackfruit curry, and wambatu moju, a pickle of caramelised eggplants.
Fish remains a staple in the Sri Lankan diet. Chicken, beef and pork – often devilled or stir-fried with an abundance of chillies – are also common, although meals aren't built around meat. Chef Rinas recommends everyone try making fish ambul thiyal, a sour curry first devised to preserve fresh fish. Peppery with garlic, turmeric, and pandan and curry leaves, its key ingredient is dried goraka, a tart fruit also called the Malabar tamarind that can be hard to find in the UAE.
But ingredients are easy to substitute, and home chefs new to Sri Lankan food should not be put off by the complex blend of spices. Rinas suggests taking the time to understand your ingredients, how they work together and why they are used. Take the time, too, to slow cook your meals where possible, adds Samarakoon-Amunugama. "Allow a curry to simmer on low flame, like with meat or jack fruit. With the fast-paced demands of work and life this is not always possible, but it does make a big difference. It also means you are more present as you cook." If you can't get away to Sri Lanka, cooking can bring Sri Lanka to you.
Source: Read Full Article