The amphibious, eight-passenger Cessna Caravan with the distinctive Coco Bahama Seaplane logo of native birds painted on its nose and tail took off from Odyssey, the private aviation terminal at Nassau's Lynden Pindling Airport. Forty minutes later, it glided to a smooth landing in the shallow turquoise waters hugging the shoreline of Kamalame Cay.
I scurried down three steps onto the beach and waded into the blue Bahamian water. It was 10 a.m. and already the day had been magical.
I waved a thank you to the two pilots for having deliberately flown the longer sightseeing route from Nassau, skimming Caribbean waters of every hue, flying low over uninhabited cays and over islands with few houses surrounded by grasses, greenery and the sea on all sides.
Kamalame Cay, a name derived from an Arawak Indian word for a type of hardwood tree used to make canoes, is a 96-acre, family-owned private island resort near Andros, the largest of the Bahamian Out Islands, bordered on its eastern flank by the world's third-largest barrier reef.
The excursion is one of several offered by Atlantis Paradise Island's new Sapphire Services customized concierge program that caters to the elite traveler looking for highly curated and exclusive experiences within the resort and beyond.
In partnership with Coco Bahama Seaplanes, the first year-round amphibious airline to debut in the Bahamas in more than 50 years, guests can be whisked off to Kamalame Cay for a 24-hour stay or a daylong excursion like the one my daughter Valerie and I experienced.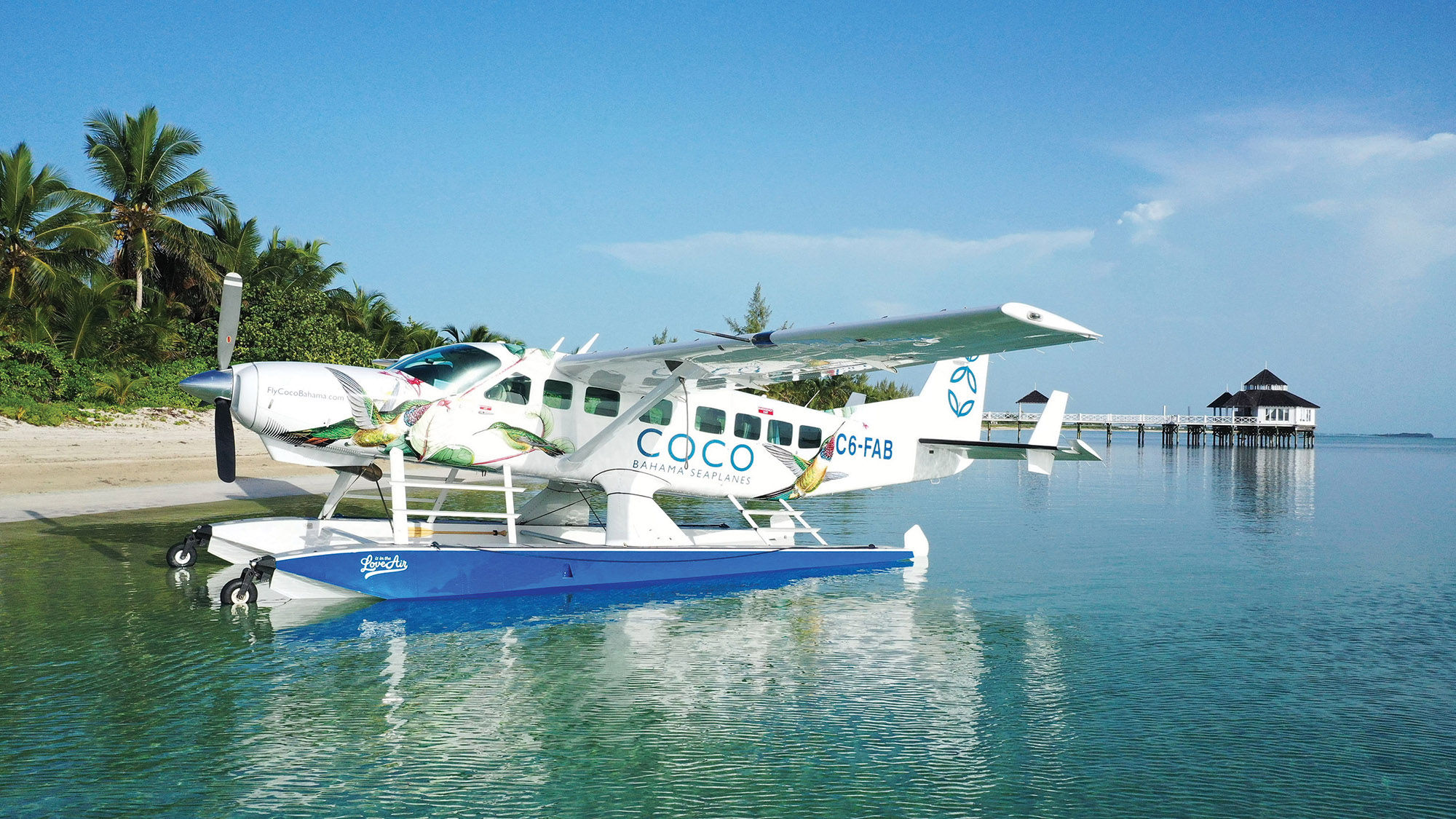 Time to chill on an Out Island
Greeting us as we stepped off the Coco seaplane were the Kamalame hosts and owners, Michael King-Hew and David Hew, who escorted us to Sugarcane, a 1,200-square-foot, beachside tiki hut smack in the middle of three towering coconut trees and facing the Atlantic.
Here we were directed to our golf cart and given directions by our friendly Bahamian concierge to Indigo Palm, one of nine breathtaking beachfront villas. "Go relax for a while, help yourself to the food and drink inside, walk on the beach, breathe," we were instructed.
We were also encouraged by a comforting message as we were sent on our way: "You can't get lost here. Just follow the sand road and read the signs."
Indigo Palm is the sort of place a traveler never wants to leave. We certainly did not want to, but we made the most of our short time there by exploring the interior's airy three bedrooms, the living area done in blue and white and the deck that was literally a few steps to the beach, a three-mile stretch of sand with nary a soul in sight.
Some in our small group instead opted to snorkel, take a bonefishing lesson or explore the island by golf cart or by guided motorboat tour instead of chillin' in the villa.
All too soon, it was time to hop back in the golf cart and return for cocktails and canapes at Sugarcane, named after the historical sugarcane route that traversed Jamaica, Cuba, the Bahamas and Haiti in the West to Singapore, Thailand and Indonesia in the East.
Barefoot chic on Kamalame Cay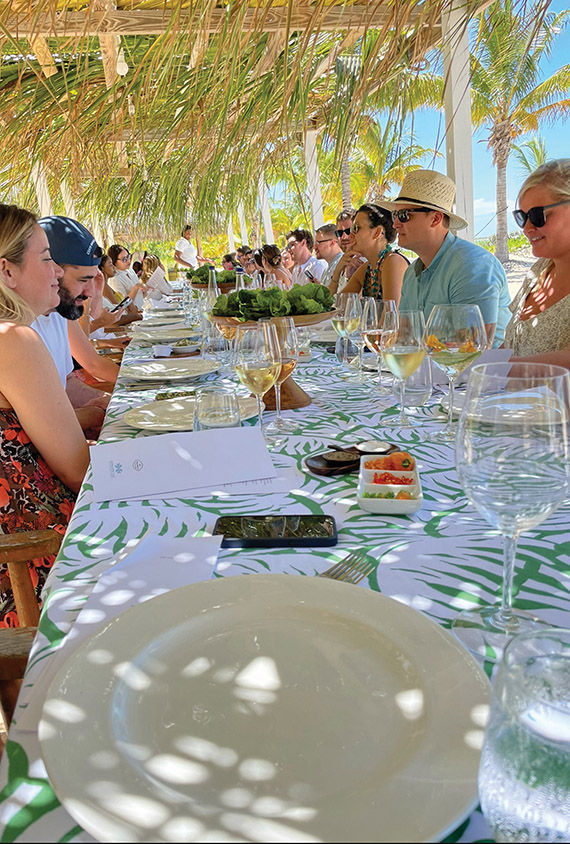 The venue's open-air decor was barefoot chic with low banquettes, cane chandeliers and pops of pinks and yellows in fabrics and flowers. Appetizers were Bah-Asian, according to Hew, a nod to his Bahamian upbringing and Asian heritage.
"One thing the pandemic has given us all is a greater appreciation of life's simple pleasures, the very essence of life on Kamalame Cay: bright blue skies, long walks on white-sand beaches," he said.
Travelers' interest in low-density properties like Kamalame continues to grow, according to Hew, which is why, he said, "we're continuing to add villas. The way we work and play has changed post-pandemic. People don't have to be stuck at a desk anymore. They can work from almost anywhere."
We were there in late April to mark the launch of Kamalame's weekly family-style Chefs Ocean to Table lunch series, held at a grand communal table under the beachfront palapa with its thatched roof made of dried palm leaves.
The table seated 30, and every seat was filled with guests staying in the villas, daytrippers who had come by ferry, the owners' families and our group.
The menu, according to King-Hew, "celebrates the local fishermen, farmers, foragers, bakers and artisans from which each item is sourced, all deliciously paired with a selection of wines."
And what a feast! The multicourse, leisurely meal included heirloom Kamalame farm tomato salad, salt and pepper conch, flame-grilled flatbread, pork with pickled cucumber and scallion, blackened mahi-mahi with ginger and lemongrass, whole red snapper and steamed rice parcels in banana leaves.
Each course was paired with a different wine and culminated with Coconut Cartel rum served alongside the dessert of avocado ice cream with white chocolate sauce served in a green coconut.
Our return flight on our Coco seaplane was definitely heavier than the morning's run, due to the three-hour-plus culinary feast we all enjoyed. The pilots delivered us back to Nassau in a short 10 minutes, forgoing the sightseeing route we'd had that morning.
It had been a wonderful, full day in all ways, but we were at Atlantis after all and could not resist dinner at Nobu to sample the gourmet Japanese cuisine created by Nobu Matsuhisa. A Junkanoo parade at Marina Village after dinner capped the day's activities.
I slept well and dreamt of seaplanes that night.
Source: Read Full Article