If the Vida Mia could talk, what tales it would tell.
The sleek, 61-foot motoryacht was commissioned by architect Willard Campbell in Stockton, Calif., in 1929. That year also marked the start of the Great Depression, yet the Vida Mia exuded luxury from stern to bow.
Its hull was constructed of oak and Port Orford cedar; its interior, teak and mahogany; and its portholes, polished bronze. Furnishings were of the finest quality, including a porcelain clawfoot bathtub, tempered stained-glass cabinets and a full set of serveware, right down to the cake plate, gravy boat and pickle dish.
"They don't build wooden boats like her anymore," said Brynn Rovito, a former lawyer who purchased the Vida Mia in 2020 and is the ship's 12th owner. "I'm fortunate to have the same team that has taken good care of her for years. We make it a point to teach new crew the elements of boat building so we can maintain Vida Mia into the future. There are other great boats in Hawaii, but none have her long history."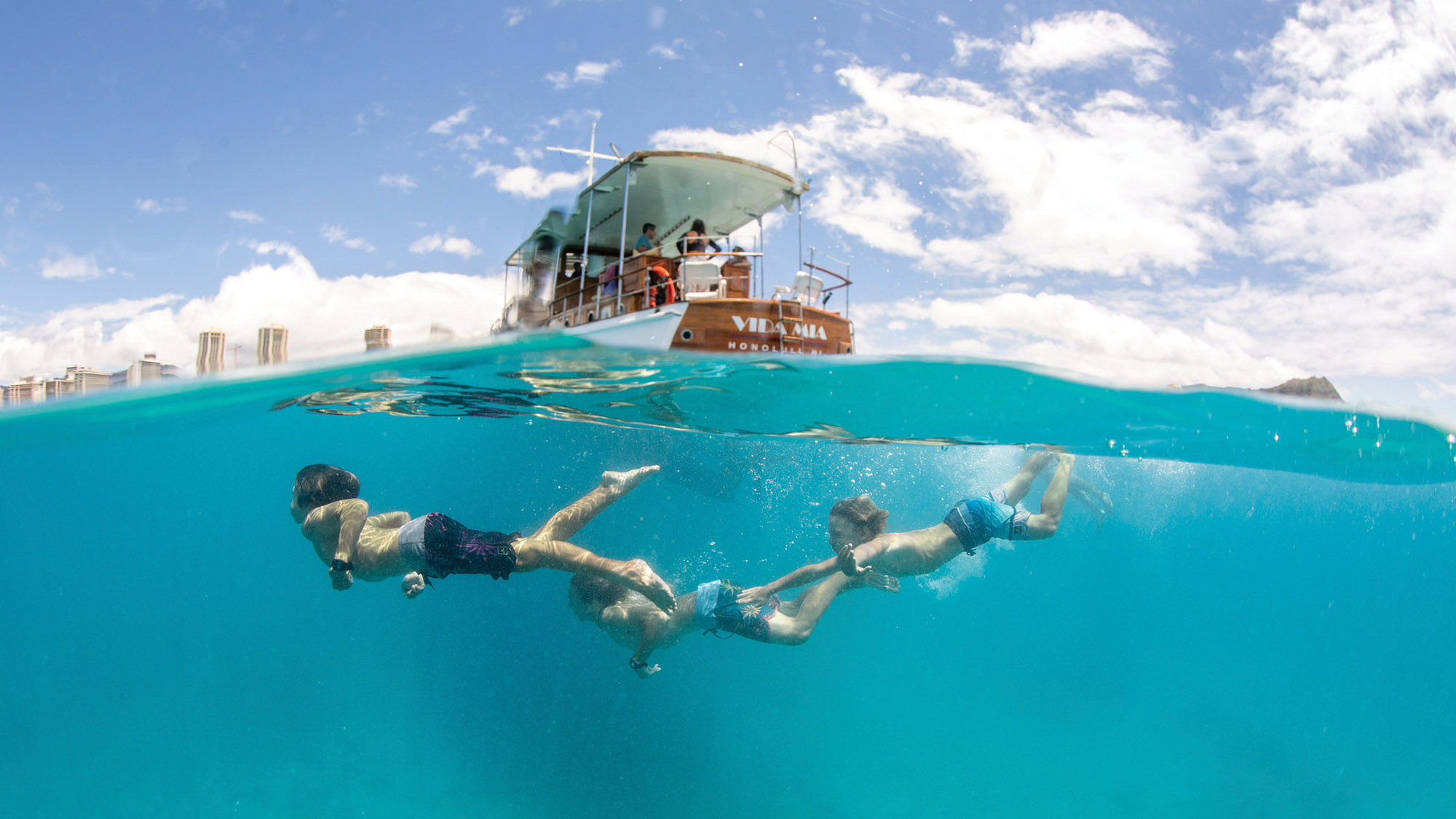 In March 1943, in the midst of World War II, the U.S. government's War Shipping Administration commandeered the Vida Mia, painted it a military gray and gave it an official Coast Guard identification number, CG58006, which was carved on the starboard side of the wheelhouse's doorway. Equipped with a radar system, the vessel patrolled the waters around the Golden Gate Bridge until the war ended in 1945.
The Vida Mia also responded to calls from Hollywood, appearing in "Final Countdown" (1980), starring A-list movie stars Kirk Douglas and Martin Sheen, and "Snatched," (2017), headlined by Goldie Hawn and Amy Schumer. Most recently, it had a role in "The White Lotus," the HBO series that won 10 Emmy awards this year.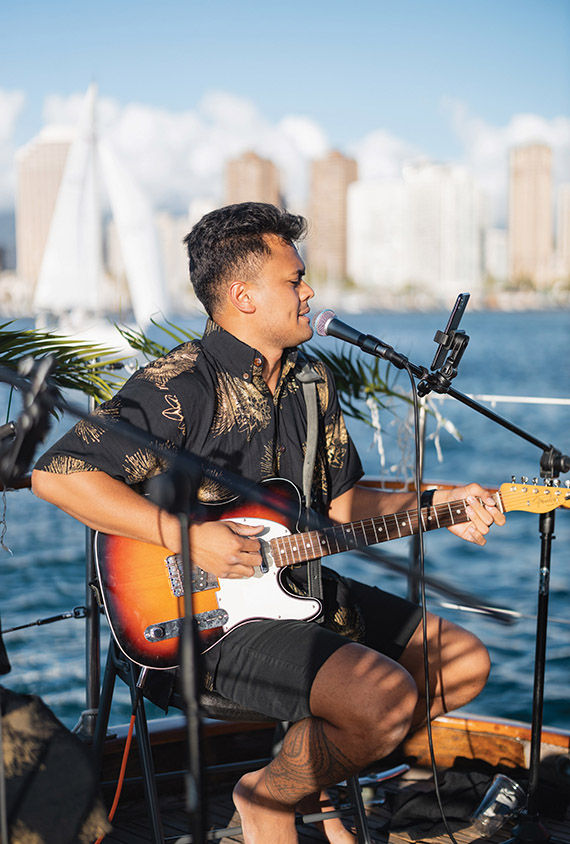 Aside from a span in the 1960s and 1970s when it offered tours off Maui, the Vida Mia was used primarily by its owners and their friends and families for weddings, birthdays, anniversaries and "just-because-we-can" sails. It's now moored at the Ala Wai Small Boat Harbor near Waikiki for clients to enjoy. 
"Our cruises along the Waikiki shoreline aren't just about fabulous food and scenery," Rovito said. "They inspire everyone, even strangers, to connect, chat and hang out together. Whether you're 8 or 80, you feel happy and excited when you're onboard. You press the pause button in your life and relish being in the moment, seeing Oahu from a new vantage point."
Early birds might consider the daily Coffee Cruise, which offers a glorious view of sunrise and a buffet that includes egg bites, lox and bagels, fresh local fruit, sweet and savory pastries and just-brewed Kona coffee. A second morning Coffee Cruise is added from November to March for whale-watching (10,000 to 12,000 humpbacks winter in Hawaii each year).
During the Sunset Cruise, offered Thursdays through Sundays, clients can watch the sun take its final bow as they savor a seafood supper of local fish ceviche with taro chips, shrimp cocktail, oyster shooters, blackened Hawaiian ahi, crab-stuffed lobster tails and coconut panna cotta. A spectacular fireworks show is an additional draw on Friday evenings.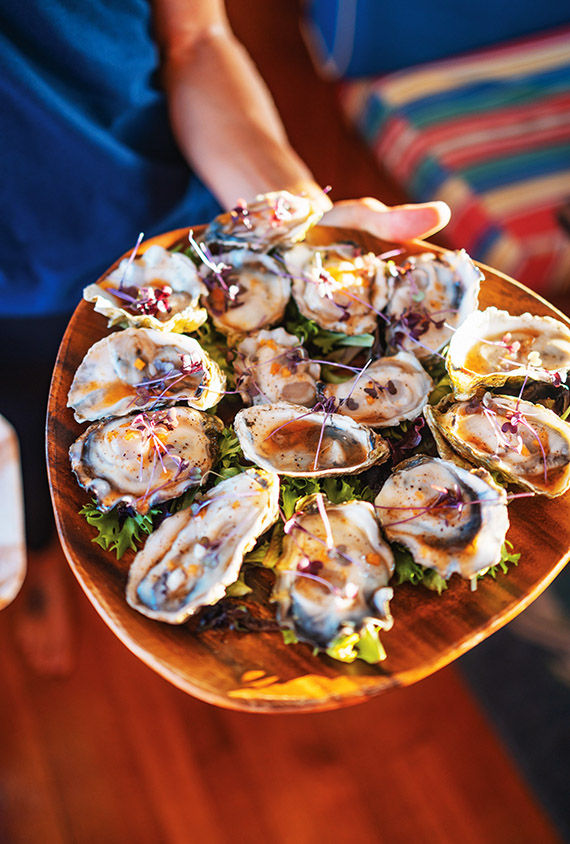 Every area of the pet-friendly boat can be explored — even the wheelhouse, where would-be sailors can take the helm under the watchful eye of the captain. 
Clients can buy out any of the public cruises or book a private charter, which gives them the flexibility of selecting the menu, bringing their own food or hiring a chef to oversee meal service. Groups of up to 36 people can be accommodated.
Rovito is committed to being a responsible caretaker of the historical vessel while offering select tours to keep it afloat.
"Vida Mia was built for recreation and relaxation," she said. "Over the years, she has rewarded so many people with wonderful memories — good times they will never forget. I'd like that to continue. I'd like to invite guests from all over the world to come aboard, learn about Vida Mia's incredible story and have a lot of fun doing it."
Vida Mia bookings pay travel advisors from 10% to 15% commission. For more information on booking a sailing, visit thevidamia.com. 
Source: Read Full Article