Scottish indie band Belle and Sebastian are adding to the growing number of music cruises with the launch of a four-day festival at sea.
Setting sail on 8 August 2019 from Barcelona to Cagliari, Sardinia, the four-night Boaty Weekender will feature at least two performances by the band, plus sets across five stages by Camera Obscura, Django Django, Alvvays, Mogwai, the Buzzcocks, Japanese Breakfast, Kelly Lee Owens and Nilüfer Yanya, with more bands to be announced in the coming months.
The band were the first to put on a festival at Pontin's holiday camp in Camber Sands, East Sussex, in 1999 – the Bowlie Weekender. The event became All Tomorrow's Parties (ATP) in subsequent years, running until 2013 and hosted by other musicians and artists, including Belle and Sebastian again in 2010.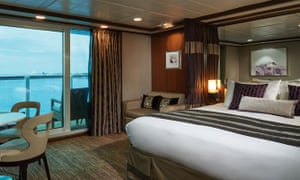 "The notion for the Boaty Weekender is absolutely the same. Getting a bunch of like-minded people together, and dropping the barriers between the artists and the punters," said frontman Stuart Murdoch. "When we were at Pontin's, everybody could see us knocking around; we stayed in the chalets next to them, and had a hand in organising the activities, and it will be the same on the boat."
The "floating festival and luxury cruise", on board the 2,500-passenger Norwegian Pearl, is a departure from the original plans to sail the chillier waters around the UK.
"We had the idea ages ago, practically within a year of the band forming. Back in 1997, we were going to get a large ferry and sail around Britain going into all the docks and cities that could take the boat, and get the audience on to the boat to play for them. This cruise has ended up being a little fancier, but it's a ship after all, and I'm going to love being at sea," said Murdoch, who comes from a seafaring family.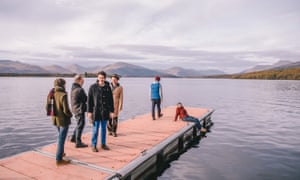 "Murdoch actually means seafaring, there's a Norse derivative or something," he added. "My dad's a sailor, my brother's a sailor. They sailed the Caledonian MacBrayne ferries around Scotland, so when I was younger it's where I spent all my holidays, and I still have a fascination for those ships."
For the Boaty Weekender, the band collaborated with Sixthman, an Atlanta-based entertainment company founded by Andy Levine (frontman for rockers Sister Hazel), which has staged 119 festivals at sea in partnership with Norwegian Cruise Line, departing from US ports including New Orleans, Miami and Tampa and travelling to the Virgin Islands, Belize, Honduras, Mexico and the Bahamas.
Unlike festivals in the UK, punters on the European voyage won't need wellies, but there's still a contingency plan if it gets a bit choppy. "The Med at the end of August is pretty reliable but we're British so if it's stormy we'll do our best and there'll be lots of indoor games and drinking," Murdoch said, although he doesn't drink himself. "I'll be swanning about in my navy whites making sure everything is shipshape."
As well as the music there are plans for yoga and meditation, club nights, themed parties, games, films, workshops, Q&As, cookery classes, family activities, karaoke with live music and a University Challenge-style quiz with different bands competing. Tickets start from £559pp and include a cabin (prices vary depending on room type, how many share and deck level); all meals; children's activities; use of the pool, hot tubs, gym, courts and running track; entry into the casino and arcade (bowling and spa treatments are extra).
So far there is just one floating festival planned, but the band can see the potential for future trips. "The thing I like about it is the possibility that we might end up doing it in the Far East or Australia or somewhere like that," said Murdoch. "There could be different lineups in different places. The beauty is the flexibility and the notion you might pick up bands and then drop them off later and keep mixing it up."
The Boaty Weekender is part of a growing trend for alternative cruises designed appeal to a wider audience, in particular younger travellers and families. "All tastes will be catered for, but with the Belle and Sebastian crowd, there's got to be a case of Oatly on the boat somewhere, you know."
Other details are yet to be decided, including the theme night, but anything is possible, Murdoch says. He's hoping they can settle on a theme that Sarah Martin, the band's violin player and vocalist will like. "She'd probably go for dogs, she'd love it – 2,500 passengers dressed as dogs. I quite like the idea that after three or four days some kind of madness will take place," he said.
"We are on a boat, what happens on the boat, stays on the boat – let's have a bit of fun."
Source: Read Full Article