My dad is a Yorkshireman, born in the 1950s, so not one to overstate things. He spent the first two days of our US road trip preoccupied more with the lack of baked beans than the views. I knew Utah had impressed, then, when he uttered one of the most flowery declarations I'd ever heard from him about a place: "This is quite good, isn't it?" Not even a Yorkshireman, it seemed, could fail to be moved by Utah's Highway 12.
In a bid to achieve the impossible – namely, tell my dad something he didn't know – I had plotted a nine-day, 1,120-mile circular route around Utah's lesser-known state parks system, which celebrate their 60th anniversary this year. (My parents and I live in different countries these days, so we added a dash of nostalgia to to this reunion holiday by renting an RV, recalling our tradition of family camping trips.)
Utah has 43 state parks, many said to be just as mind-blowing as its famous "Mighty Five" national parks: Arches, Canyonlands, Capitol Reef, Bryce Canyon and Zion. The nationals, however, are now extremely clogged with visitors (some have seen attendance almost double in the past five years). Zion recently announced that it is considering what may be a first for a US national park: reserved entry only. Already some trails can only be hiked after entering a lottery for permits. As an antidote, I picked out an "alternative mighty five", just as varied and spectacular as the big boys, but with elbow room to spare.
Utah is largely thought of as red-rock country, but I'd struggle to name a colour I didn't see in the 120 miles we drove along Highway 12, a designated scenic byway. The landscape shifted constantly and abruptly. Hulking pink rock fortresses disappeared suddenly, replaced by incongruous clusters of green trees; these also soon vanished, revealing white mountains striped rust-red. Then the colours drained entirely as a gritty-grey, hulking flat-topped butte surrounded by ashy gravel pyramids appeared, like a premonition of a planet gone to seed.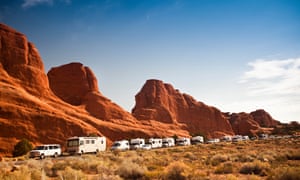 Whereas to me these colours illustrated nature's artistry, a more practical person might say they implied precious minerals. Utah is mined for copper, gold, silver, zinc and lead, as well as oil and gas. At one point, we crossed into Carbon County, so named for rich deposits of anthracite. In February this year, Utah's own congressional delegation introduced a bill to sell off 3.3 million acres of public land to the fossil-fuel industry. However, they unwittingly found a rare patch of common ground for the US's warring ideologies: love for the great American outdoors. A public outcry from conservatives and liberals alike saw the bill hastily withdrawn.
But industry and protected lands have a long history of uneasy coexistence in Utah. There have been years of controversy about the proximity of an exposed gas pipeline to our first stop, Dead Horse Point, a state park known for its 100-mile gaze over a national park, Canyonlands. (The name comes from a legend about callous cowboys leaving surplus horses here to die of thirst.) The park was a welcome contrast to nearby Arches, which we briefly visited to wait out an obstinate patch of grim drizzle (you can take the man out of Yorkshire, but the stubborn chuff brought the weather).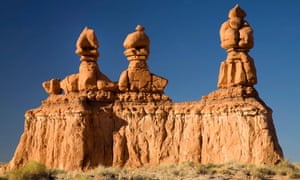 Looking for parking at Arches proved futile. The lots were filled with licence plates from almost every state, as though all of America had come to while away a rainy afternoon. It felt like a sign when Dead Horse greeted us with a clear blue sky above its 50 shades of red. Looking over its epic, endless vantage of flat-topped mesas and canyons, I could count our fellow visitors on one hand. This was a clear case of state parks 1; national parks nil.
Though you could gawp at it all day, visiting Utah's vast and varied terrain isn't just a spectator sport. Around 65% of state land is publicly accessible. And with two-thirds of Utah's three million-strong population concentrated along the 120-mile Wasatch Front (the conurbation in northern Utah that includes Salt Lake City), much of it is an empty outdoor playground. And people had brought their toys along: everywhere we looked, bus-like RVs were towing boats, motorcycles, jeeps and more.
Our next stop, Goblin valley state park, was an unearthly fantasyscape. We roamed around its hundreds of strangely shaped sandstone pillars, locally called "goblins", weathered over 140 million years. Some resembled great toadstools and mushrooms growing out of the dirt; in others, you could actually make out goblin-like faces. The place made us giddy: mum and dad called out as they spotted what looked to them like giant gorilla heads or contemplative gnomes. Perhaps we were also relieved that the sun had come out, so dad could stop moaning about not being able to put on his shorts.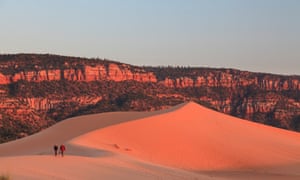 We spent the rest of the day driving Highway 12, planning to reach our third state park, Coral Pink Sand Dunes, just before sunset. As the sun sank, the park lived up to its name: both the dunes and the surrounding Navajo sandstone cliffs blushed forcefully in the fading light.
During the park's quiet hours (10pm-7am), the sweeping dunes provoked contemplation. Outside of those hours, it was playtime for motorheads. Retirees flying Trump flags, lithe yogi couples and young lads in bike leathers all converged at the campground, taking turns revving everything from dirt bikes to four-seater jeeps with roll cages. Hiking in sand isn't exactly fun, and trails would only blow away; the best way to explore the dune field, then, is in an ATV (all-terrain vehicle).
By 10am, dad and I were out with Coby Curtis, who runs Coral Pink ATV Tours. Largely obscured by a dark beard, baseball cap and sunglasses, he looked every inch the heavy-metal-blasting, off-road enthusiast. But he preached safety first, pointing out that the unusually fine sand at Coral Pink demands more skill than speed. Plus, though it looks desolate, the dunes support plenty of wildlife: Coby recounted meeting a mountain lion when out riding with his kids one day.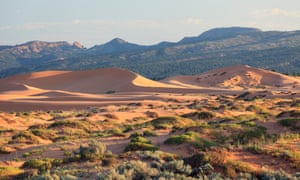 At one point on the tour, he started leading us up a hunk of pink rock, promising a 360-degree view at the top. "This is called Dixie Knoll, but I call it Rattlesnake Hill, because there are a lot of rattlesnake dens here," he explained. Dad and I froze. We decided the view was fine from the foot of the hill.
Longer tours with Coby include hard-to-reach places outside of the park, with hikes to ancient pictographs or petrified dinosaur tracks. Though Coby is a responsible outfitter, the rapid growth of Utah's ATV scene is concerning conservationists. While few off-roaders want to inscribe that he or she "woz ere" over a millennia-old rock painting, there are some who do. However, Coral Pink's park manager, Dean Anderson, told me: "Really, if they're going to ride somewhere, I feel sand dunes are a good choice. You get one night of wind, it blows out the tracks, and you can't tell anybody was there." There is, perhaps, an argument for funnelling ATV-riders to these regulated places, so there is less temptation to stray elsewhere.
The two-hour drive west to our next state park took another scenic byway: Highway 9, which cuts through "mighty" Zion. Sand Hollow park popped out of a parched, brown landscape with a burst of bright orange and blue. People come to go boating, fishing and even scuba-diving in its manmade reservoir (a bus and a plane have been deliberately sunk for divers to explore), to drive off-road on adjoining Sand Mountain, or simply to sunbathe on the Tango-orange beach. Even after all we'd seen, we were mesmerised by this trippy clash of colours. Toasting marshmallows over a campfire that night, dad became bolder, telling me Utah "exceeded expectations".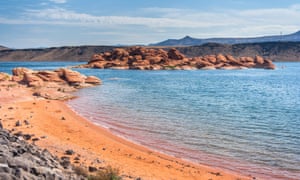 But that in itself could spell trouble. Laura Melling, the park manager, told me visitor numbers even here have "gone nuts". Though this is Utah's newest state park, it is already the second-most popular, behind Dead Horse Point, seeing 540,000 visitors this year, a huge leap from 136,000 when it opened in 2003. I had spent the sunny afternoon paddlin a kayak around the striking sandstone island in the centre of the reservoir, but Laura told me they have problems with people carving obscenities into the rock, and that sandblasting these away accelerates erosion. Like the national parks, state parks, too, are increasingly battling overuse and thoughtless tourism.
The government seems to be adding to the problems. This month, the president announced a decision to drastically shrink two of Utah's national monuments: Grand Staircase-Escalante, which contains a lucrative vein of coal, by half; and Bears Ears by 85%, opening up land for drilling.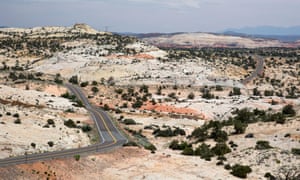 Several lawsuits challenging Trump, from native tribes, environmental groups, paleontologists and even outdoor gear brand Patagonia, have been announced, though his plan is supported by Utah politicians. There are also proposals to sell off various parcels of land, some of it within, or bordering, other Utah national monuments and wilderness preservation areas, in 2018. Mathew Gross of campaign group Southern Utah Wilderness Alliance (SUWA), told me after my trip: "The biggest danger to this landscape is death by a thousand cuts."
As we drove north to Salt Lake County, the views from Interstate 15 showed industry's talent for uglification. It was a relief to turn on to the causeway leading to Antelope Island, our fifth and final state park, on the Great Salt Lake. Gone were the auto-body shops, golden arches and 7-Elevens. The still blue lake each side of the road was a perfect mirror, reflecting brown mountains and tall yellow grass.
The island was named for the antelopes spotted by explorers in 1843. Today, however, its most famous residents are hairy, hump-backed bison, brought here in the 19th century by conservationists eager to save the species, whose numbers had dwindled to 800. There are now 700 bison on Antelope Island alone.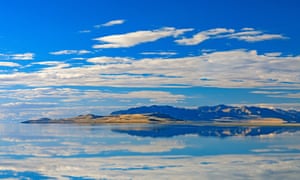 We spent an idyllic afternoon at a beachside campsite, where nothing seemed to move or make a noise save for the grasshoppers. Though the island was far from empty, the vastness of the place left us feeling blessedly isolated. Sauntering to the water's edge, we noted how the greyish-white sand crunched underfoot like snow: the oolitic (egg-like) sand here is coated with calcium carbonate, producing round, pearl-like grains. Next day, we chose an easy hiking trail tracing the lake's edge, where dad seemed to have some sort of emotional breakthrough. "I love it here," he said.
Though the future of Utah's wildernesses feels uncertain, I take heart that it can turn even my dad to gushy adoration. Tourism can bring its own problems but a sense of wonder and protectiveness over our natural heritage is what could keep it safe. For SUWA's Gross, falling visitor numbers would be worse than overcrowding. In his opinion, "As long as the state parks are making money, Utah politicians will support them."
• The trip was provided by Visit Utah. RV hire was provided by Outside Rentals, a 30-minute drive from Salt Lake City International Airport, which has campervans from $110 a night. State park campsites charge between $15 and $28 a night. Coral Pink ATV tours start at $35pp; kayak hire with The Beach at Sand Hollow starts at $30 for two hours.
Source: Read Full Article