After just a few hours on Oceania Cruises' new Vista, I found myself attracted to the contemporary colors and new spaces on this first-of-its-class ship.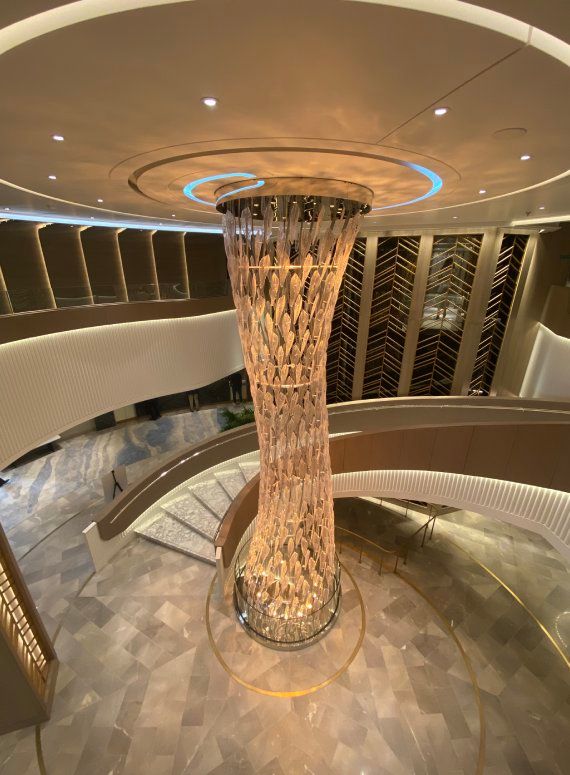 While it's too soon to tell which is the most-happening bar or the most popular restaurant, Oceania's first new ship in a decade features several new spaces for guests to explore.
Upon entering the ship at Deck 5, guests will find a two-deck-high art installation creating what looked like a funnel made of glistening ice chips. My guest said the abstract shapes looked like fishes. Whatever one sees in the shapes, they are illuminated with lights that shift from warm to cool white hues, creating an ever-changing view. 
Light colors — lavish silver, white and gold patterns — are spread throughout the ship, as is a healthy amount of marble. But at the higher levels of the vessel, subtle and contemporary designs take over, such as in the Toscana restaurant, which was dotted with yellow chairs and a playful mosaic of birds made of narrow tiles. 
Oceania added three new restaurants to the Vista, including Ember, an eye-catching American-style eatery in the depths of Deck 5. The space has the ambience of a brick-and-mortar restaurant in Chicago, with what looks like a red-brick ceiling and lighting that touches on an industrial vibe. The restaurant also has an open kitchen, enabling guests to watch the movements of kitchen and wait staff.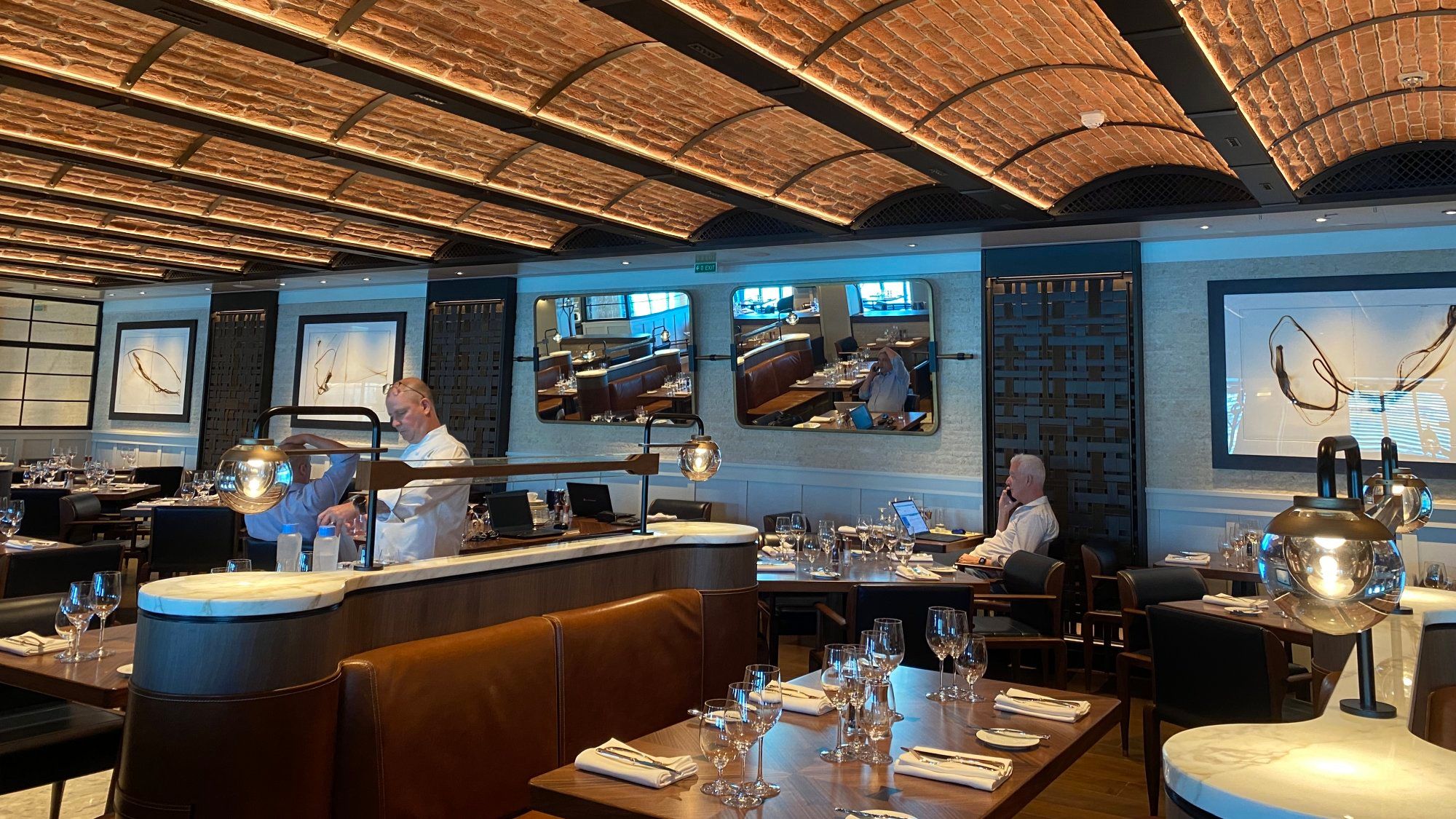 Another new space is Aquamar Kitchen, a white and light blue dining space that serves food focused on wellness — like banana pancakes and acai berry energy bowls. Wellness is a focus said to have been pushed to a new level by Oceania CEO Frank A. Del Rio, the son of Oceania founder and retiring Norwegian Cruise Line Holding CEO Frank Del Rio. 
Oceania also expanded the Bakery at Baristas on Deck 14 to serve baked goods and snacks, including sliders and muffins. Crew members are about as busy serving coffee as cocktails around 4 in the afternoon. The space, as on previous Oceania ships, overlooks the pool deck, making it a spot for sipping beverages while people-watching.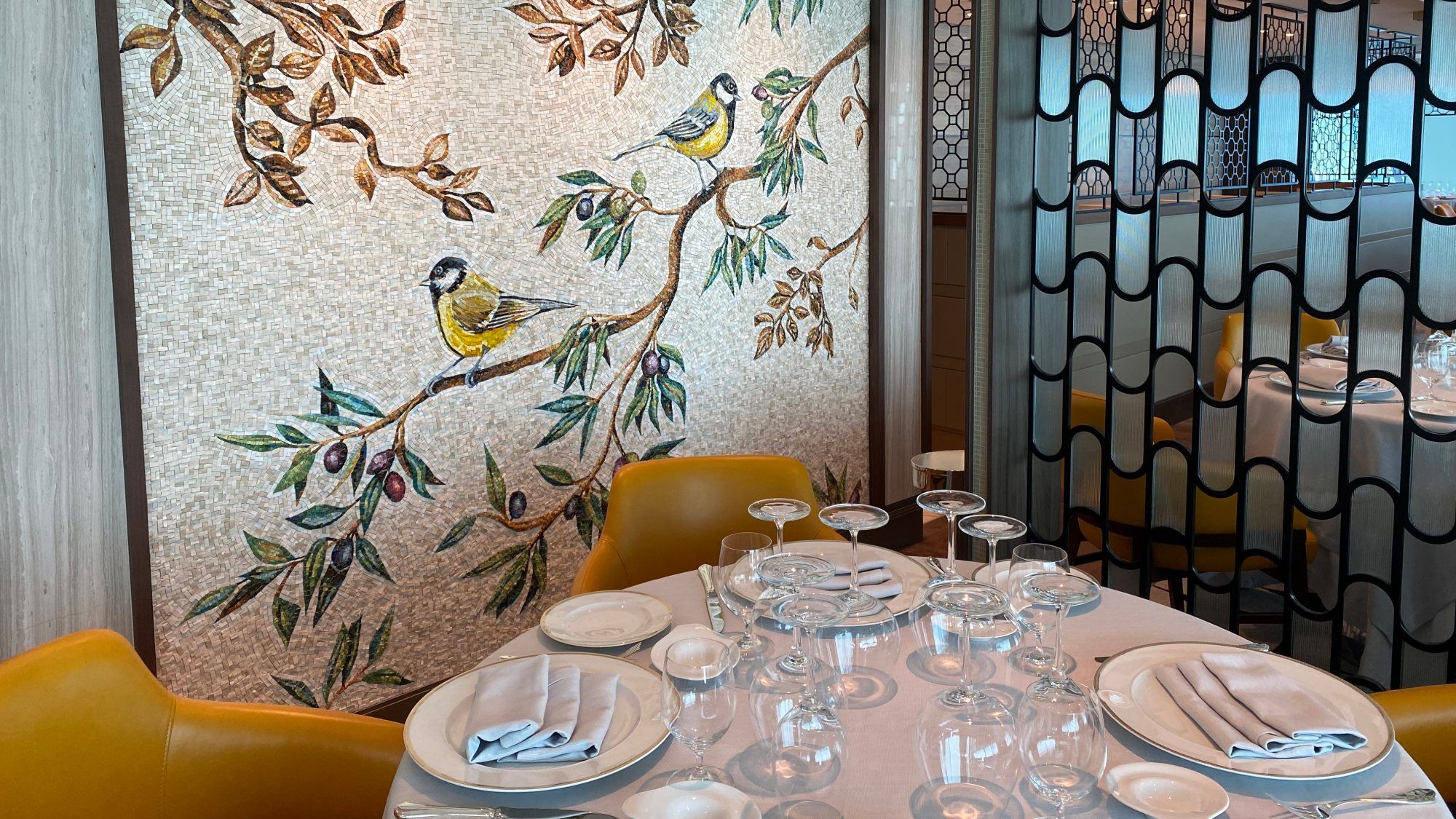 The pool design is new. The deck has six rounded daybeds at the water's edge, complete with shade covers that resemble creamy white leaves offering shelter from the sun. Two hot tubs are stationed around the pool, providing several options to take in a day on the pool deck. In addition, guests can walk or sit in a large tanning ledge offering a shallow platform to walk, sit or lay in the water.
Source: Read Full Article