The good news is that it's all pretty much good news. From a global standpoint, travel and tourism, with few exceptions, rebounded very, very well.
The U.S. will continue to be a strong outbound market. But there's going to be a lot of domestic and regional travel taking place for at least another 12 months, because that's how people are going to manage their budgets, to an extent. Airfares are really high.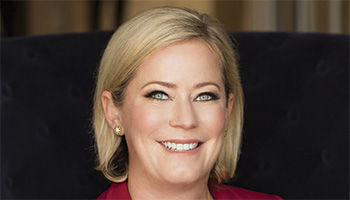 For us, parts of Europe will be second only to the U.S. I mean, look at Italy, Spain and Portugal!
South America is going to be interesting. It's a market where we've planned for aggressive growth. We currently have about 11 hotels, and we're trying to get to 50 in the next two years. With the strength of the dollar compared to their currencies, it's a great destination to travel to, and I think we're going to see it come back strong.
Everybody has decided to move Africa to the top of their bucket list. It's doing incredibly well and will continue to do so, barring some world event.
Asia-Pacific is trailing, but it's going to have incredible growth, in part because it's about a year behind everybody else. Australia, historically a big driver of our global business, looks strong. Japan is going to be off the charts. I hope they're ready for what's about to happen to their destination.
China, of course, is still [not open], and I don't see any real change for at least the next 12 to 18 months. We've lost hotels there, but we've retained our teams, and we're ready to go once it's up again.
The only area where we continue to see pandemic-related impact is corporate travel. The CFOs are still putting the screws to corporate travel. We're seeing some shift — they're getting their own employee teams together.
Still, a lot of our hotels are saying that they're moving away from traditional segmentation — you know, this much leisure, this much corporate, this much group. They can't really determine who's coming for leisure and just extending for business or who's coming for business and extending for leisure.
It's a gray area. More and more hotels are converting space to accommodate travelers who want to do business but don't want to sit in their hotel rooms to work. So, the properties are either taking out meetings space or public areas and building a kind of cool way to do a blended corporate-leisure travel. We even have hotels that are converting the cabanas at their pool to be more work-friendly, with better WiFi and even TV screens for Zoom calls. I'm curious how long this will last but have a feeling it might stay around for a long time, especially as companies are having a hard time getting people back into offices.
Another trend is that people are willing to go farther and stay longer, often with multiple generations of their families. It's rare to see a hotel that's not building some sort of residential component to accommodate three, four bedrooms with access to a kitchen.
Luxury and ultraluxury are going to perform very, very well, but I don't think hotels will be able to continue to grow rates like they have. As long as guests are getting service, they'll pay for it, but hotels are going to have to be really, really careful about making sure they can deliver the service. The labor crisis is a global problem.
Health protocols are, for the most part, going to move to the back of the house. You'll still see hand sanitizer, but I don't think you'll see plexiglass at check-in desks anymore. When it comes to housekeeping and food and beverage staff, [protocols] will stay in place for a very long time.
Earlier this month, we rebranded from Preferred Hotel Group to Preferred Travel Group to better explain that we now have four hotel brands and two consulting divisions. I don't think most people realize that. The consulting divisions — hotel and sustainability — continue to grow. We want to position ourselves as the travel company that really caters to the independent [hotel] market, specific niche markets. People travel differently now, and what they're looking to do is different.
We've broken down Beyond Green, our sustainability consultancy, into three pillars: cultural heritage, the community and what I'll call true sustainability — reuse and recycle. The pieces that I think people really want to focus on are the cultural heritage and the community pieces, where you walk onto property and everybody has been hired locally and can tell stories about local experiences. They're celebrating the destination and, by the way, doing incredible things related to initiatives for saving the planet. Let's lead with the things that people understand on the soft sides of sustainable tourism and, while you're there, also show what these properties are doing to really address issues related to global warming. It's the experience piece that hooks them, and then they'll understand there are great things happening on property as they relate to climate and the technical side of sustainability.
Across the industry, we're seeing a lot of new opportunities and partnerships. At the moment, we're not planning to launch any new brands, but never say never: We're always looking for opportunities to potentially acquire or partner with somebody to add value to our existing portfolio. 
Source: Read Full Article