ONBOARD THE EMERALD DAWN — The Christmas market cruise through Germany that I've been on with Emerald Cruises has been a special one. It has turned out to be almost an impromptu girls trip for some of us, and I'm coming home with plenty of Christmas gifts, thanks to a little drink called gluhwein.
This was the first fam trip hosted by ASTA's Young Professional Society (YPS) since the pandemic was declared. The organization teamed with Emerald and parent company Scenic Group to host a fam for YPS's under-40 members in order to restore a sense of community and to help this demographic of advisors experience what river cruising is like. The cruise was hosted by Hien Cao, the newly promoted director of sales teams and trade partnerships for Scenic Group, and Summer Corbitt, a former Uniglobe sales director who is now ASTA's director of business development and the president of the YPS board.
There were educational sessions held onboard about travel agency branding, as well as one giving an overview of Scenic and Emerald's product lines. We not only learned a lot about the products but also each other: Where we're from, how we got into travel, our career ambitions and life in general.
Meetings like these are a good way to get to know industry peers. For me, one of the best things about being with this mostly-Millennials group is our shared love of 90s music sing-a-longs. Above all else — careers, making money and raising families — we know how to throw down when it comes to some Britney Spears and Backstreet Boys.
Millennial travel advisors at work
Meanwhile, the work certainly did not stop. 
I loved seeing the amount of time a number of us devoted to working. Usually, I'm the one hunched over my laptop in a lounge, pounding the keyboard, proofreading my work and mumbling to myself as castles and scenic landscapes pass by. "Still working?" people would ask, invariably followed by, "But you're on vacation!" On this cruise, I may still be the only one mumbling to myself, but it's nice doing it among people my own age. (And no, I'm not on vacation!)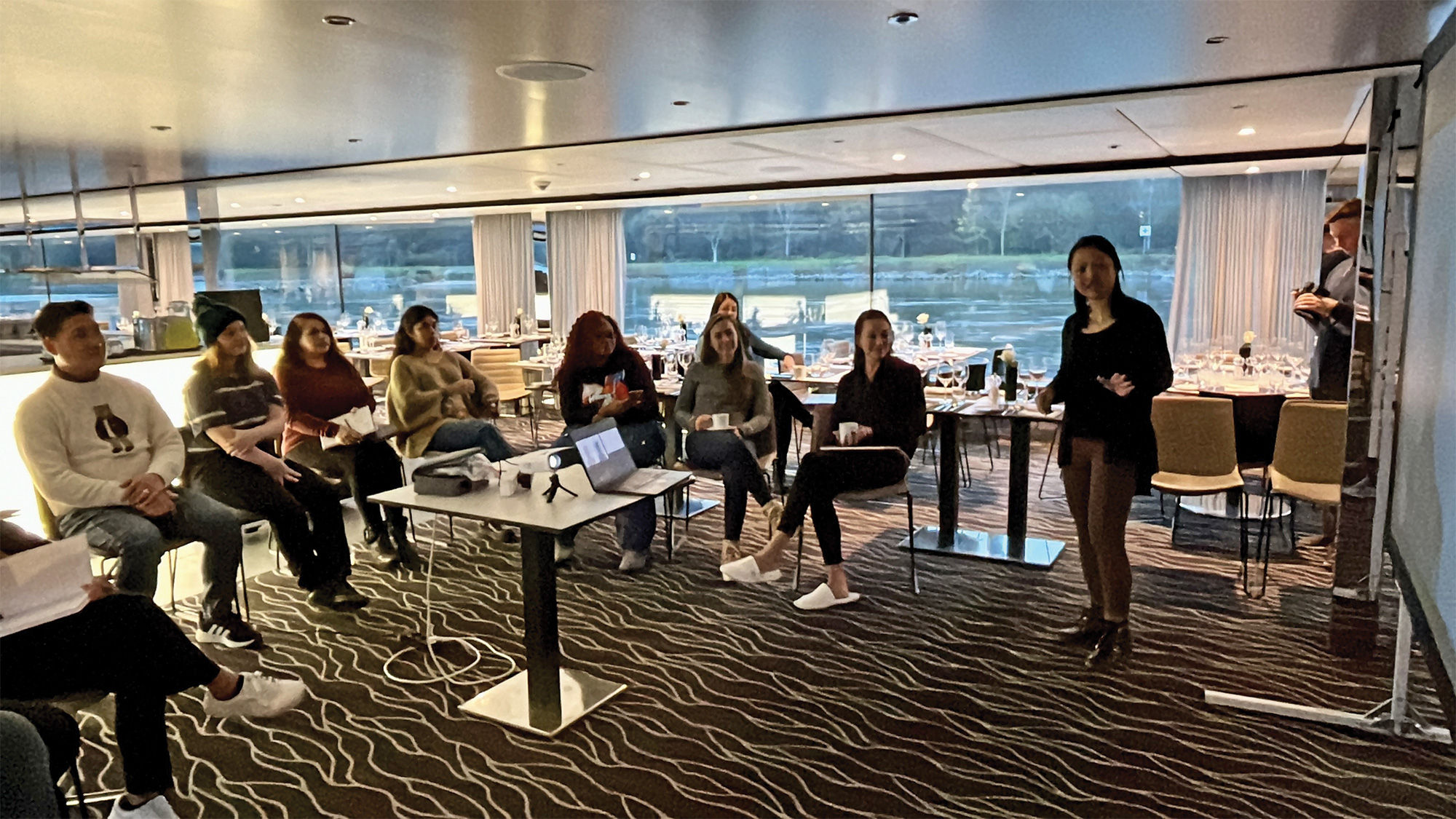 It was funny how similar Summer and Ryan Corrigan, YPS board member and owner of Corrigan & Co. Luxury Travel Outfitters of Virginia Beach, even started to dress alike, as if in some new kind of Millennial work uniform: black tops, black leggings (preferably leather) and black sneakers with white trim.
After we'd peel away from our screens, it was time to recharge, often with gluhwein at the four Christmas markets we visited. I strolled with Summer and Ryan from stall to stall, testing different fresh gluhwein — that hot, mulled wine that is a staple of German Christmas markets.
Hot Wine: It's Gluh-ood For You!
We had strict criteria to determine the best ones: temperature (whether or not the first sip burned our tongues); flavor (there are both red and white versions — we always picked red); and mug design, which was determined by how much FOMO we felt when we walked by people with cooler mugs than ours.
Yes, taste-testing Christmas market gluhwein is a tough job, but I'm a professional after all, and a girl's gotta gluh what a girl's gotta gluh.
Of course, no good gluhwein experience is complete without good food. Sometimes I'd grab a savory bite at the market, but usually just enough to hold me over until I saw what was in store for us onboard the Emerald Dawn.
'Tongue' in Cheek
Beef tongue is not necessarily a regional dish, though Germans do have their special way of preparing it. One night, it was a featured item on the list of appetizers on the Dawn.
I'd never had it before but was feeling ambitiously adventurous. Our lovely waiter, Christian, put the tongue down in front of me. I had been expecting something a little more…moist. Possibly slathered in gravy. Perhaps even cut up to not look so much like a literal tongue.
But there it was, tastebuds and all, casually resting on my plate but looking slightly parched, as if this heifer had been on her way to the watering trough before suddenly realizing she was going to be the appetizer. A dollop of grainy spicy mustard and a hearty spoonful of horseradish helped two tongue slices go down smoother. But it lacked the gravy-like viscosity that the people at my table had anticipated.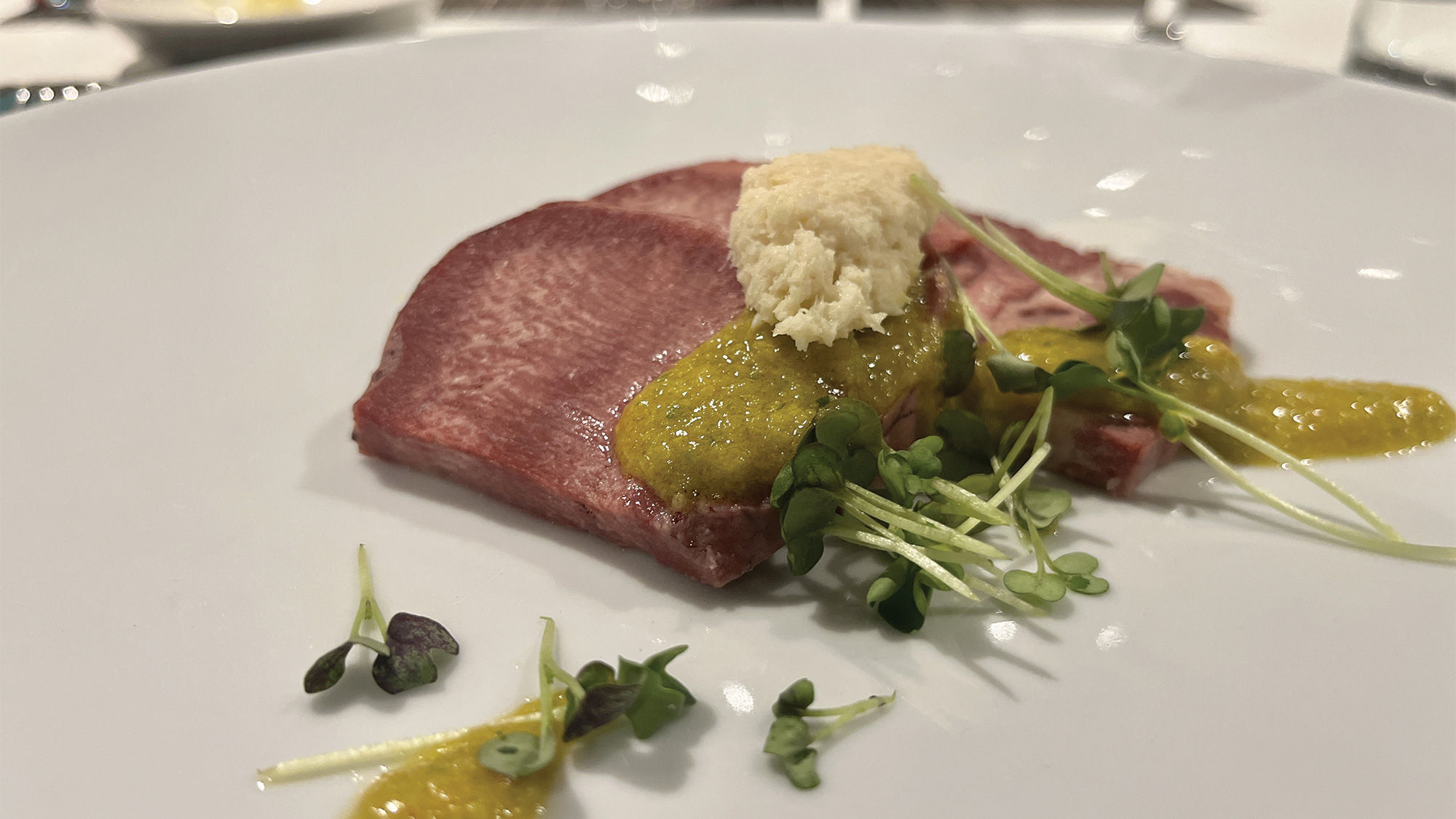 Still, I've never laughed so hard on a river cruise as my tablemates examined, poked at, discussed and ultimately put aside misgivings about eating beef tongue. In the end, I ate most of mine, and in final analysis, it wasn't bad. It tasted like solid and firm boiled beef.
I think my parents, who are Nigerian and West Indian, would have been proud to see me nearly finish my plate, considering I grew up watching them eat things like tripe, tongue and cow feet, among other delicacies. I always gave them a resounding "no, thank you!" when they'd teasingly offer me a bite. But that's one thing I've come to love about traveling now: The foods that once perplexed me are the first things I want to try (at least once) when they're available in new surroundings.
On the ship I was surprised by how many people wanted to try the tongue, not just at my table but throughout the restaurant. Maybe we can all grow a little closer through what appeals to our stomachs, and that's an idea I'm happy to keep chewing on.
In the year since I was hired, this job has afforded me a lot of things that I'm grateful for: travel, new friends and yes, the opportunity to try foods new to me. And all seemed rolled up into one Christmastime cruise. It's magic you can't make up anywhere.
Source: Read Full Article