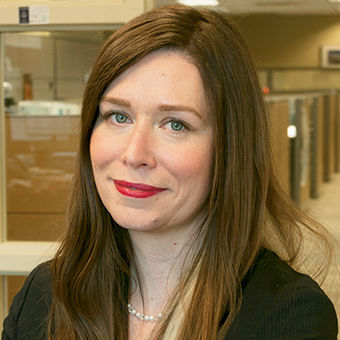 It's not always easy to look at a huge, steel superstructure, crisscrossed with wires, metal framing, ducts and beams and see the elegant cruise ship it will eventually become. That's where imagination, a good tour guide, a cross-check of the deck plans and a well-placed rendering come in handy when you tour a ship under construction.
And when I was able to see Cunard's upcoming Queen Anne last month with brand manager Francis Fred, I could envision the spaces as guests will see them as they stride through the carpeted halls or swing onto the Queens Room dance floor. I also spotted a few industrywide trends. Here's what you and your clients will experience when the Anne arrives next spring.
A smart use of outdoor space
Cruise-ship architects have gotten savvier about incorporating outdoor spaces into ship design. The newest ships are showing plenty of creative ways to make the most of the sunny spaces: The MSC Seaside's huge aft promenade comes to mind, as does the Waterfront dining district on Norwegian Escape and the Rooftop Garden on Celebrity's Edge class. And the trend has only accelerated through the pandemic when travelers actively looked for open-air pursuits, alfresco dining and outdoor seating.
The Queen Anne, too, is making the most of its outdoor space. In its big, forward top deck will be a pickleball court, which could be a separate trend paragraph on its own. Nearby will be a putting green and a bar, plus plenty of seating there and at the aft pool area.
I was particularly struck by two outdoor areas that guests can reserve for private parties, which would be a perfect magic-hour gatherings for small groups (Cunard didn't give me a number but based on the spaces I'm thinking around 20 to 30 people). One of them is connected to the ship's Boardroom, which will be its place for weddings at sea.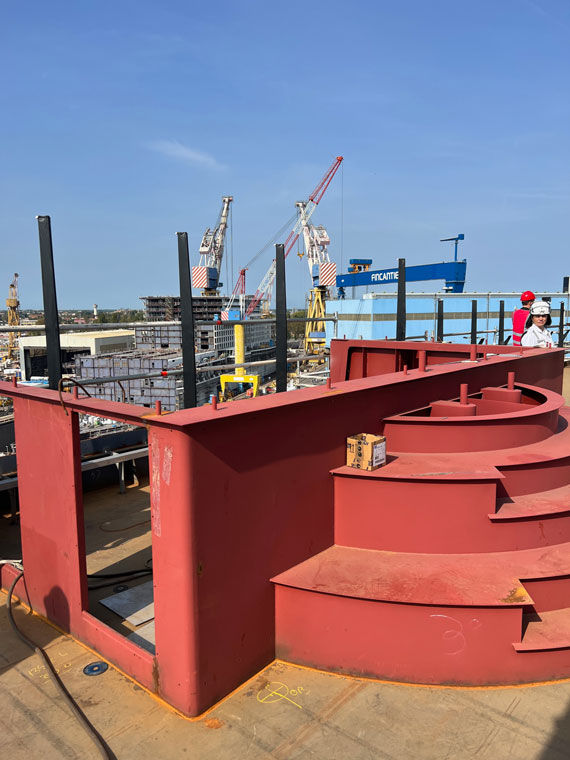 Guests booking the Grills classes of service will have access to an impressively large, private deck midship called the Grills Terrace. In another popular cruising trend, Cunard is installing infinity-edge pools on each side of the sundeck.
Gathering places
Fred was very keen to show us the Chart Room lounge that leads into the Grand Lobby and how its vibe would progress from chill to lively with the greatest action spilling out into the lobby itself. We've heard quite a few times that travelers are looking to connect with each other: first with family and friends they hadn't seen during lockdowns but now to rediscover the fun of striking up impromptu conversations and making new connections. Cruising has always been an excellent venue for this, since passengers de facto have a shared experience — they're all on the same journey, quite literally — and the Anne is leaning into this by designing bars in the round in the Chart Room and Commodore Club to facilitate conversation and energy.
The ship also is designed with lots of curves and relatively few walls and doors, to encourage a feeling of openness and flow between spaces.
Multiple restaurants and dining
The Queen Mary 2 was such a celebrated ship when it debuted in 2004 that it's almost incredible (for me, anyway) to realize that it was built with only four primary places to eat: The main restaurants, the "alternative" restaurant (Todd English, now the Verandah), the pub and the Lido. The Queen Anne, by contrast, will have several cuisine-specific restaurants: A Sir Samuel's steakhouse, Aranja for Indian, Tramonto for Mediterranean and Aji Wa for pan-Asian/sushi. I have to say it's hard to get on a cruise ship these days without finding a sushi bar,  from Carnival's high-top tables to post-excursion snacks on Seabourn's expedition line, and I'm not mad about it.
The Anne will also have its main restaurants, the Lido, a supper club concept, outdoor dining by the aft pool and a Wellness Cafe on Deck 10 dedicated to juice and wellness bites.  
Exclusive and VIP spaces
Cunard has always been the queen of the tiered service levels, and many other cruise lines now play in this space, with card-access, VIP areas of the ships where suite and other top-paying passengers have access to private sun decks, private dining, a concierge and other perks. On the Queen Anne, one deck below that Grills Terrace is the Queens and Princess Grill restaurants and a shared lounge. For passengers in a middle territory, a few years ago Cunard introduced the Britannia Club category, and there's a separate restaurant for those passengers near the Grand Lobby, although not an exclusive sundeck.
On our tour, most cabins were still just roughed in, but Fred showed us one of the outlines of the ship's top suites. There are four marked on the deck plans with actual names, and the two largest are the category Q1 Grand Suites, the Mersey and the Solent suites. If you have clients who can book into these suites? You're lucky, and so are they.
More wellness options
One of the most interesting stops on our tour of the Anne was its open-air Wellness Studio just below the cafe and overlooking the midship pool, a flex space with greenery and wood tones that will be crisscrossed with canvas-sail shades and, at night, string lights. Cunard envisions this as a spot for sunrise yoga or evening dancing, but I could see anything from guided meditation to cocktail parties here.
The Wellness Studio and the cafe are, somewhat surprisingly, not directly connected to the spa and fitness center, which Cunard has relocated down to Deck 1. But there's plenty of room down there, and I actually like how being close to the waterline could really make that space memorable.
Another perk of the Anne, which may or may not directly be related to wellness — but I'm going to mention it here, because why not? — is the wraparound promenade on Deck 3. I'm also not sure if it's a trend, but I sure wish it was, because full-ship promenades are terrific when it comes to getting in steps, keeping up the running routine or just pulling up a deck chair in the shade.
Source: Read Full Article