Despite reporting a first quarter loss, Royal Caribbean Group CEO Jason Liberty said he expects the company to return to profitability in the second half of this year, pointing to the strength of North American cruising, an increase in total revenue per passenger cruise day and bookings meaningfully higher than pre-pandemic levels over the past eight weeks.
Liberty, who referred to 2022 as a "transitional year," told investors during the company's Q1 earnings call on Thursday that he is confident about Royal Caribbean Group's recovery.
"We have moved from scenarios to, now, forecasts," Liberty told investors. "We can see that visibility and that predictability, and that's a big statement for us."
• Cruise insight: Cruise execs weigh in on the comeback
After the omicron variant caused the cancellation of 57 sailings in January and February, Royal Caribbean Group has seen demand materially surpass 2019 levels in the first quarter, he said. Although the company reported a loss in Q1, he said demand increased every week since omicron cases began to fade.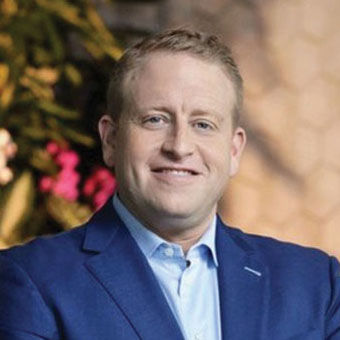 The company reported that the second half of the year is booked slightly below historical ranges but at higher prices than 2019. The cruise company reported an average load factor of 57% for Q1; numbers were strongest in March, when Royal reported 68% average load factor and several Caribbean cruises sailing at 100%. Liberty expects those averages to continue to climb — to 75% to 80% in Q2 and exceeding 100% by year's end.
Looking beyond that to 2023, all quarters are currently booking within historical ranges and with record pricing, Royal reported. Revenue per passenger cruise day was up 4% in the first quarter compared with Q1 2019, said CFO Michael Bayley.
Royal Caribbean said 95% of its fleet is back in operation, with 54 of its 62 ships to service across its five brands.
Related: Most cruises lines are near full capacity again
Strength in North America
North American bookings, which represent more than 70% of the company's capacity, have been trending more than 40% ahead of 2019 levels. Liberty said those bookings also tend to be close-in, which contributed to better-than-expected load factors in March.
"We continue to bet on the demand environment for the rest of this year and into 2023," he said.
Although European bookings are above 2019 levels, demand there is softer than expected, according to Liberty. It's a trend Liberty attributes to the ongoing war in Ukraine, although he adds the requirement in the U.S. that travelers test negative for Covid before reentering the country is a "psychological point that weighs on the consumer to travel freely globally."
While Liberty said the threat of a possible recession has not has an impact on demand, inflation and supply chain issues have dogged the company in the way of higher fuel and food costs.
Source: Read Full Article