"Do you want to play?" our guide Linda asked my two daughters as they dropped their bikes on the dusty pavement and looked longingly towards a group of boys kicking a ball.
They didn't need to be asked twice – football-mad, they're always keen to show boys that they're every bit as good when it comes to dribbling skills. The fact that we were in the middle of Soweto, where once no white person would have ventured, bothered them not in the slightest.
We had come to Soweto on a bike tour organised by Lebo's Backpackers, a hostel in Orlando, Soweto's tourist hub. Cycling tours are so popular now that there are three on offer – an in-depth full day exploring the township, a four-hour ride and a two-hour rundown of the highlights. We took the two-hour one.
Along with Linda, Soweto born and bred (the name Linda means "patience" in Zulu), we freewheeled through the streets, high-fiving passing children and dodging piles of discarded plastic. Soweto usually surprises visitors – with its paved streets, real houses and shops and restaurants (essentially a city in itself, with 1.3 million residents), it's not what they expect a township to look like. This time, though, Linda explained, there was a problem with rubbish strikes all over Johannesburg.
Soweto is a place forever synonymous with the apartheid struggle and, in particular, with 16 June 1976, the day that started the Soweto uprising, when local schoolchildren demonstrated against being taught in Afrikaans, and the police responded by shooting them.
One of the stops on the tour is the Hector Pieterson museum, named after the 12-year-old boy who was killed – the image of his dying body being carried through the streets, his sister crying at his side, sent shockwaves around the world and led to condemnation of the apartheid regime from the UN.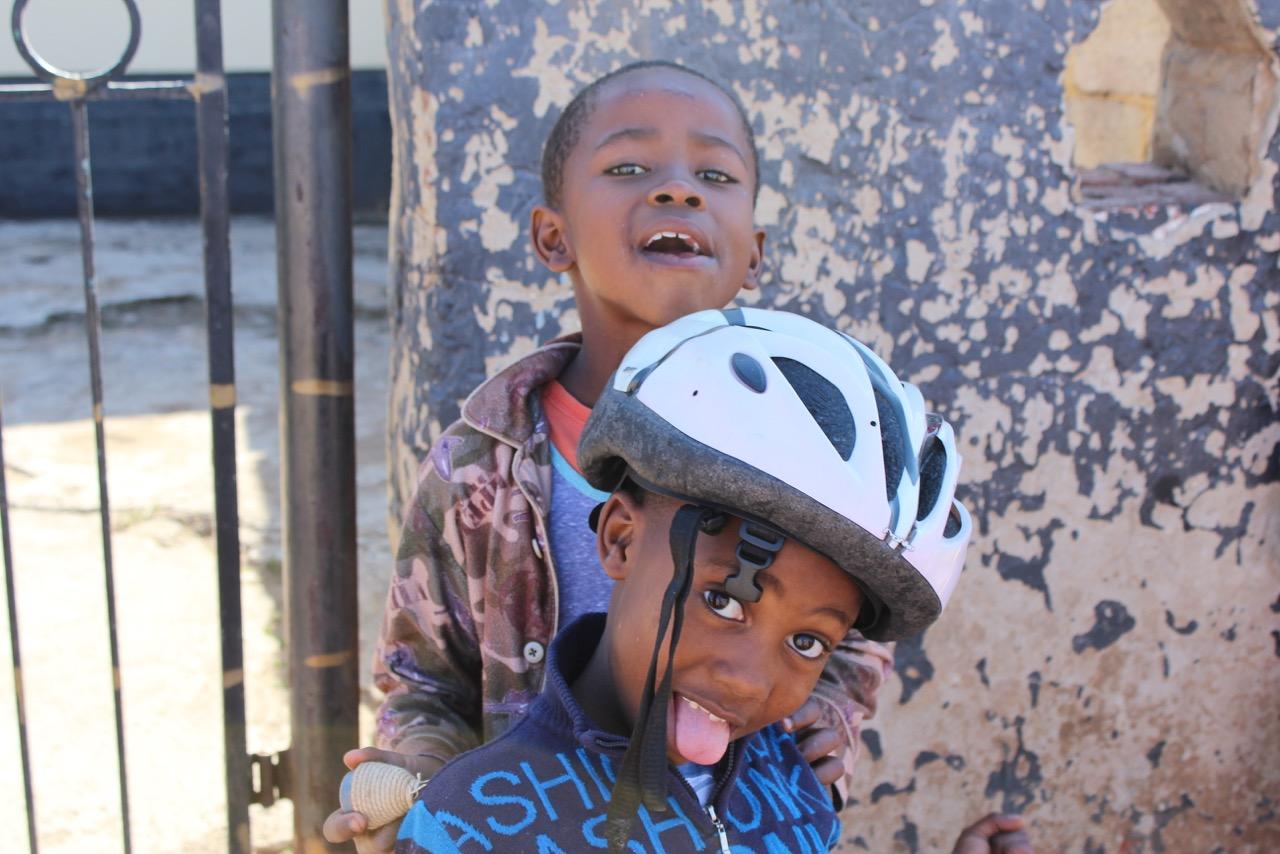 The museum traces the background and fallout of the uprising, and is well worth a visit before or after the bike tour. But standing outside and listening to Linda talk about the day it all happened, and then learning that the tour guide standing behind us was Hector Pieterson's sister and the girl in the famous photo – was, in its own way, just as important.
The horrors of apartheid, of course, run heavy on this tour. Other stops included the women's hostels – rundown buildings built for workers during segregation, which housed up to six women per bedroom; and the house where another apartheid hero, Lillian Ngoyi, was imprisoned on and off for 11 years. From this house she made her living sewing – hence the model sewing machine embedded in the wall at the front of the house. These were stories that we might never have heard had we not come on the tour.
We also rode up Vilakazi Street, believed to be the only street in the world where two Nobel laureates have lived: Nelson Mandela at number 8115 (it was the first place he returned to after his release from Robben Island), and Archbishop Desmond Tutu a block further down. The Mandela house is open to the public (you'll know it by the scores of tour groups congregating outside), while the Tutu house is marked by a blue plaque.
Not that the cycling tour was all sightseeing. We also got to try hot, freshly cooked "fat cakes" – little deep-fried buns or doughnuts – bought from a hole in the wall on the street. Soweto is full of these blink-and-you'll-miss-them businesses, a legacy from the days when this was an area designated only for housing. Originally there were no shops in these now thriving streets, as the apartheid government kept strict control over businesses.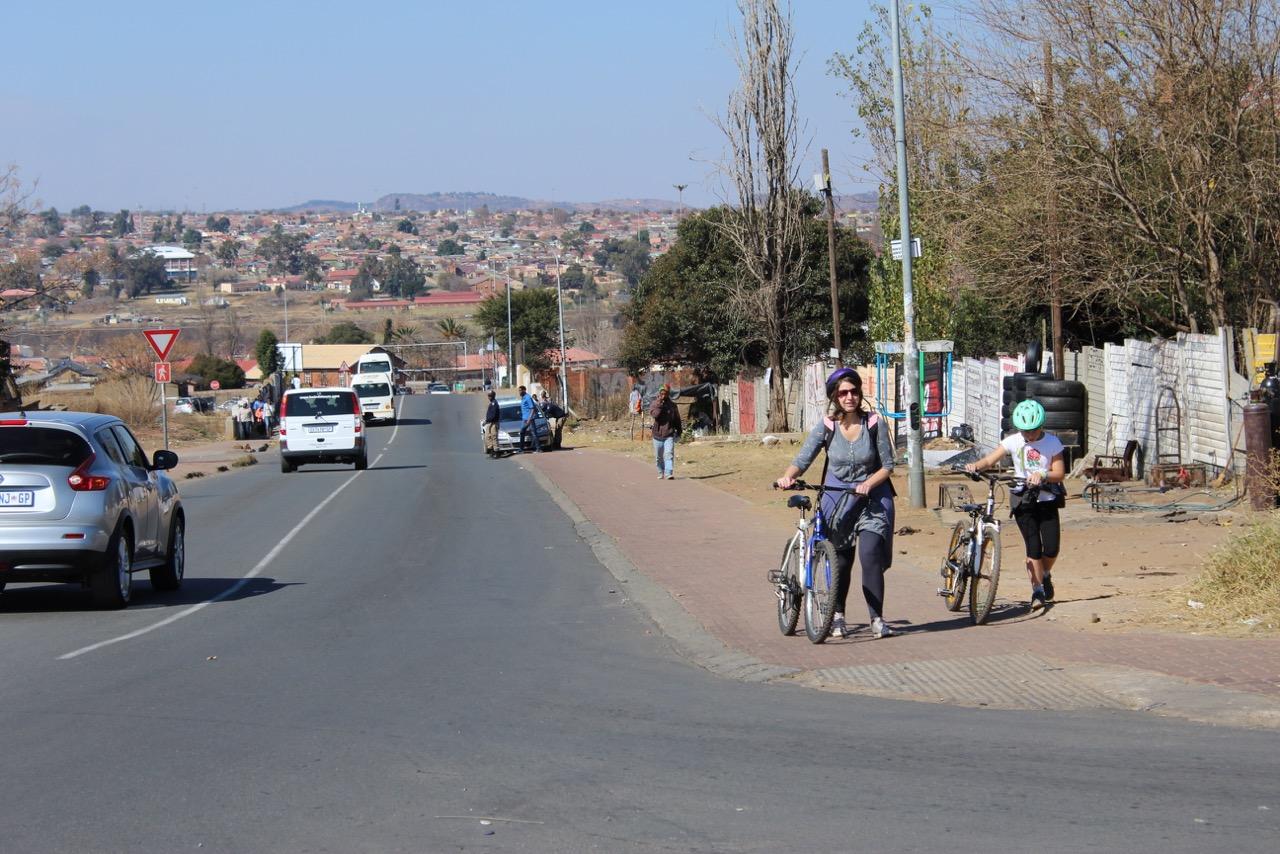 By the time we arrived back at Lebo's, after a long, uphill road that defeated both me and the nine-year-old, we were hungry again. Luckily, the tour includes a delicious lunch of stew, curry, vegetables, pap and bread made at the hostel.
Although life is still tough in parts, Soweto is a very different place today than it was in the era of women's hostels and uprisings. Not so long ago, it would have been unthinkable for a family like us to cruise around on bicycles, and the fact that most visitors come in tour groups shows the fear that people still have. Not that it's needed – the Vilakazi Street area is perfectly safe to visit alone, for starters, and everywhere we went, we were greeted with smiles and welcomes. I didn't worry about safety once, even in the less touristy areas, and wished we'd done the longer version, giving us a chance to delve a little deeper.
Sowetans are rightly proud of their history – and while the people of Johannesburg might prefer the modern, mall-filled suburbs of Sandton and Rosebank, for visitors, this is the place to be.
Travel essentials
Getting there
Virgin Atlantic flies from Heathrow to Johannesburg from £576. Vilakazi Street is a £5-6 Uber ride from the city centre.
Staying there
Lebo's has doubles from R450 (£24), B&B. In trendy Maboneng in the city centre, 12 Decades Art Hotel has individually themed rooms from around £40.
More information
Bike tours cost R470 (£25) for two hours, R580 (£31) for four hours or R750 (£40) for a full day. Prices include lunch, and hostel guests get R100 off.
Source: Read Full Article