It's difficult not to feel like a kid when you're floating in an inner tube down a lazy river. I would argue that it's even more fun as an adult when the pool waiter hands you a margarita as you float on by. If I had just one thing I could say about Villa La Valencia Beach Resort & Spa, an all-inclusive resort that opened in Los Cabos early this year, it's that it knows how to foster the fun.
The all-suite Villa La Valencia opened early this year with 308 units overlooking a stretch of Los Cabos' Golden Beach. Packed with amenities, the resort prides itself as having the longest lazy river in Los Cabos, and I can attest it is one of the resort's best features. In fact, the entire pool area is something special, thanks to the different vibes that Villa La Valencia creates.
• Related: A hidden gem on the Baja Peninsula
The first pool you'll come across is for adults only. In the center of the resort is the family-friendly pool — the lazy river wraps around it — and closest to the beach is an oceanfront infinity pool, which has a crown of lounge chairs and is closest to the pool restaurant and swim-up bar. The pool spaces are the social heart of the resort, with groups of friends, couples and solo travelers all mingling over frozen drinks and taking in the magnificent oceanfront views. Tip: If clients like quiet time at the pool, have them start at the adults-only pool and then transition to the infinity pool after 5 p.m.
Of course, the pools aren't the only areas where this resort shines. Its suites are clean, fresh, flooded with natural light and incredibly spacious. Each has a view of the pool, and most have at least a partial ocean view.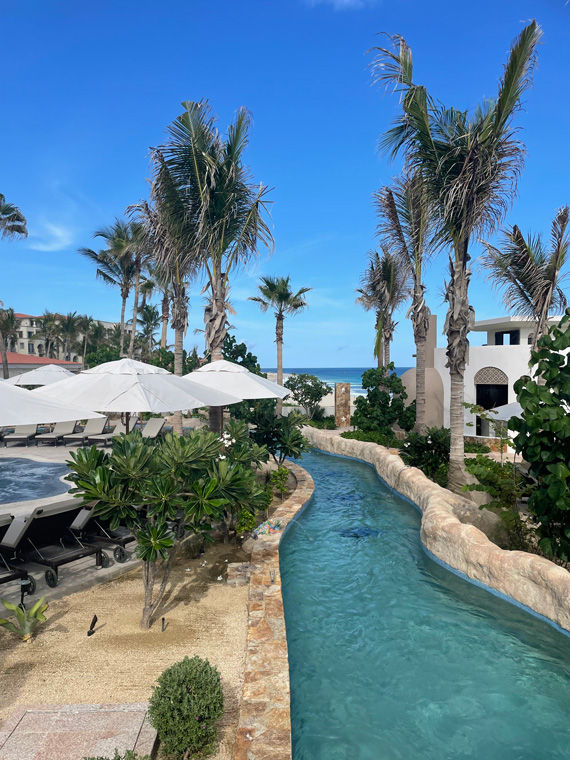 I checked into a one-bedroom suite ocean view, which is approximately 1,237 square feet and can accommodate up to four adults. The suite has two full bathrooms, a full-size kitchen, washer/dryer, sofa bed and a private balcony. The highest-end rooms are the luxury residences. These suites have extended amenities, like a Jacuzzi terrace, aromatherapy, upgraded toiletries and a personalized chef and butler service.
But even without a personal chef, guests eat well at Villa La Valencia. The restaurants are fantastic, particularly the Latitude 23.5 Steak House. Of the three nights I stayed at the resort, I ate at this restaurant twice. It has everything you'd want in a steakhouse at a resort, like really flavorful cuts of meat with all the sides. Also, the spicy tuna tostada, onion soup and truffled mac and cheese are all a must.
• Related: New Los Cabos rewards program for travel advisors
I had a good meal at El Patron, the resort's Mexican restaurant, though I have to admit it wasn't as memorable as the ones I had at Latitud. Admittedly, I think I ordered incorrectly. One of the women I was dining with ordered the beef condit tacos; I persuaded her to let me have a bite, and they were excellent. A third restaurant, La Taberna, specializes in seafood and Spanish cuisine. I did not have a chance to dine there.
Guests at the resort can opt for either an EP or all-inclusive plan. Personally, the food was so delicious that I'd recommend the all-inclusive plan. Higher-category suites are equipped with kitchens, so if guests are staying long-term they can certainly prepare meals. But the all-inclusive plan is worth it.
Villa La Valencia also has a fitness center and a spa. The fitness center is well-equipped and is open 24 hours.  The Los Cabos Azul Wellness Spa Center has a menu of body treatments and facials as well as a hydrotherapy circuit.
Villa La Valencia packs its daily schedule with loads of activities. They include everything from barbecues to yoga for kids, DJ beach parties, pool parties, ping pong tournaments, salsa lessons, family movie nights — plenty to keep both adults and kids busy.
Of course, guests can limit their "activities" to sipping cocktails around the adults-only pool. And, of course, there's always that lazy river.
Source: Read Full Article