Aristotle, the ancient Greek philosopher, scientist, political theorist and critic, and universal guru, was – according to legend – a great walker. One story has it that his own brand of philosophy became known as the peripatetic (wandering) school because he walked around as he lectured. Appropriately enough, visitors to northern Greece can now do their own, more strenuous, Aristotelian walk, on a magnificent trail near the town of Stagira, where the philosopher was born in 384BC ("the Stagirite" was his nickname in the Renaissance and later).
The trail is in the Halkidiki region, which has three distinctive "fingers" sticking out into the Aegean. Stagira is in a sheltered spot not far from where the eastern finger, Athos, meets the mainland. Athos – or the Holy Mountain – has been occupied for centuries by a group of orthodox monasteries (it's where Prince Charles likes to spend a contemplative week or so each year) and is, I warn you, strictly off-limits for women (the closest glimpse any female will get is from a boat off the coast).
Ancient Stagira was a one-horse town, notable for little more than its celebrity philosophical son. Unsurprisingly, perhaps, after his death in 322BC, local people made attempts to capitalise on his fame and attract tourists. They brought his body back from the island of Euboea (modern Evia), where he had died, and launched an annual festival in his honour.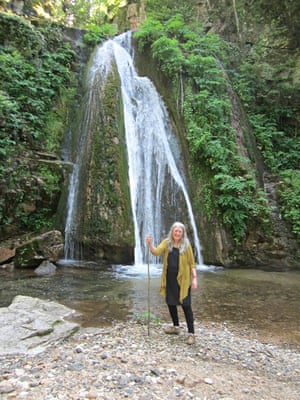 Over the past few years, the modern inhabitants of Stagira have been even more energetic, and Aristotle is fast becoming a big attraction in Halkidiki. In addition to the Aristotle Trail, a mountain and a local municipality have been renamed after him, and there is even an Aristotle theme park nearby. More tasteful than you might fear, the park offers children the chance to try out for themselves some of Aristotle's scientific discoveries, under a statue of the great man.
In some ways, it's all a rather misleading branding exercise. We have no idea how Aristotle felt about his home town, because he never mentions it in the vast quantities of his writings that survive (the silence may well be indicative). In any case, he spent most of his life in far less sleepy areas of the Greek world, partly in Macedon, where he had the rather trying job of tutor to the young Alexander the Great. But as branding exercises go, it's a fairly harmless one (a philosopher makes a more congenial mascot than the all-conquering, drunken Alexander, whose face adorns cafes and gift shops in Macedon, to the west). And the branding is a small price to pay for attracting visitors to one of the loveliest parts of Greece.
The centrepiece of the new initiative is that Aristotle Trail. The main path runs for about 12 miles from the ruins of ancient Stagira to the tiny modern village of that name, through glorious countryside, and lined with plants that a romantic might imagine once stimulated the young Aristotle's interest in botany. Not much of a botanist myself, I did pick (at the guide's prompting) a handful of wild oregano – currently drying in my kitchen – and was envious of the wild cistus flowers that have never sprawled so successfully in my garden.
Energetic types could do the whole walk in a day. But it can be tackled in easy sections, and a range of shorter walks or mountain bike tracks link to it or run close by. They are all clearly signed, but don't have the domestication that makes some US national park trails feel a bit Disneyfied.
The most memorable was a short hike off the main trail up to a stunning waterfall. But it did require some clambering and jumping back and forth across a stream (I was near the upper limit of age, and lower limit of fitness, to manage it with pleasure). Not all require such exertion, but – in addition to the short, helpful guide produced by the tourist office – it would be stupid not to take your hotel's advice about the levels of difficulty, and perhaps take a local guide for the day.
For those who prefer to give hiking a miss, this part of Greece has beaches aplenty and seascape to die for. (I arrived at the Eagles Palace hotel in Ouranopoli – occasional bolthole of Maria Callas – late at night and woke to one of the most beautiful views of the Aegean I've ever had.) Families can also enjoy a good argument about whether they're going to allow their men to visit the monasteries of Athos, without their women.
There are a few interesting historic sites too, though Halkidiki probably isn't the ideal holiday spot for keen archaeologists. The ruins of old Stagira stand at one end of the main trail, with enough recognisably ancient buildings amid the trees to make for a happy couple of hours' exploration, even if you don't walk the trail. But for me the ancient highlight was on another of the subsidiary walks: the canal of Xerxes.
When the Persians invaded Greece in 480BC, they came this way. King Xerxes was mindful that on an earlier attempt to thrash the Greeks, the Persian fleet had been wrecked as it rounded the headland of Athos so, according to the Greek historian Herodotus, he drove a canal through the narrowest part of the "finger". There is not really much to see today, but it is fun to walk along its route. And there are plans afoot to dig the canal out, partly to attract the growing number of modern Iranian tourists, keen to see the remains of the great Persian wars, even if in the end Xerxes was horribly defeated (nice to think that 2,500 years has taken the edge off it). If you want some relevant classical reading, ditch Aristotle in favour of The Histories by Herodotus, which vividly tells of Xerxes' daring (or mad) enterprise, and how the fifth-century Greeks eventually sent him packing.
• The trip was provided by Marketing Greece (DiscoverGreece.com), with accommodation at the Eagles Palace hotel and spa (+30 23770 31070, eaglespalace.gr, doubles from €146). Aegean Airlines (aegeanair.com) flies to Athens from Heathrow, Manchester and Birmingham, from £110 return. A full day guided walking on the Aristotle trail costs from €35pp. Extras such as picnic lunches from €20pp (en.mountathosarea.org)
Source: Read Full Article