Several passengers claimed to have been kicked off a Delta Air Lines flight for being Trump supporters.
An unnamed Florida resident, who had attended the riots at the Capitol, filmed the aftermath at Reagan Airport in Washington DC on 8 January.
In the video clip, shared with SNN News, a man lowers his mask and says: "I said Trump 2020 and they kicked me off the plane. They kicked me off Delta Air Lines because I said Trump 2020."
A woman in a red coat, who appears distraught, says: "All I did was cheer. I have no money to get home."
Read more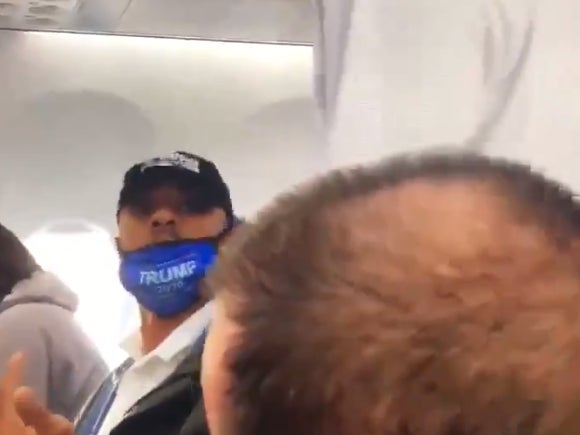 The man adds: "Your freedom of speech is taken away."
The traveller who captured the footage also claimed on Facebook that a Delta pilot had been "escorted" off his flight for "talking about our president".
They alleged that flight crew were crying while "covertly changing their flag masks" so that they didn't also get kicked off the flight.
INDY/
GO Weekly Newsletter
TIME TO TRAVEL!
Read our full mailing list consent terms here
INDY/
GO Weekly Newsletter
TIME TO TRAVEL!
Read our full mailing list consent terms here
"This is Nazi Germany all over again!" they wrote.
The Independent has asked Delta for comment on the allegations.
It follows calls from a US cabin crew union to ban those who participated in last week's attack on the Capitol from flying.
The pronouncement followed unruly behaviour from some insurgents on inbound flights to attend the rally, according to sources at two US airlines, reports Reuters.
The Association of Flight Attendants-CWA, which represents employees at 17 US airlines, said rioters should not be allowed to return home on commercial flights.
"The mob mentality behaviour that took place on several flights to the DC area yesterday was unacceptable and threatened the safety and security of every single person onboard," said the association's president, Sara Nelson.
"Acts against our democracy, our government and the freedom we claim as Americans must disqualify these individuals from the freedom of flight."
Source: Read Full Article