NEW YORK — The energy at the newly opened Tempo by Hilton Times Square hotel here at 1568 Broadway matched that of its bustling surrounds on Tuesday, as the property's grand opening attracted a throng of Hilton executives, owner and development partners and hospitality and tourism stakeholders from across the city.  
The 661-room hotel is the first Tempo to open. The brand had a debut in early 2020, which was quickly slowed by the pandemic.  
The lifestyle concept brand is positioned above Hilton Garden Inn and below Canopy by Hilton on the price spectrum and is designed to cater to what Hilton has dubbed "modern achievers."
At the official opening event, Tempo global brand leader Kevin Morgan told attendees that extensive market research indicated that the modern achiever typically has a six-figure salary and tends to gravitate toward other upscale and design-forward consumer brands like Tesla, Warby Parker, Shinola and Peloton.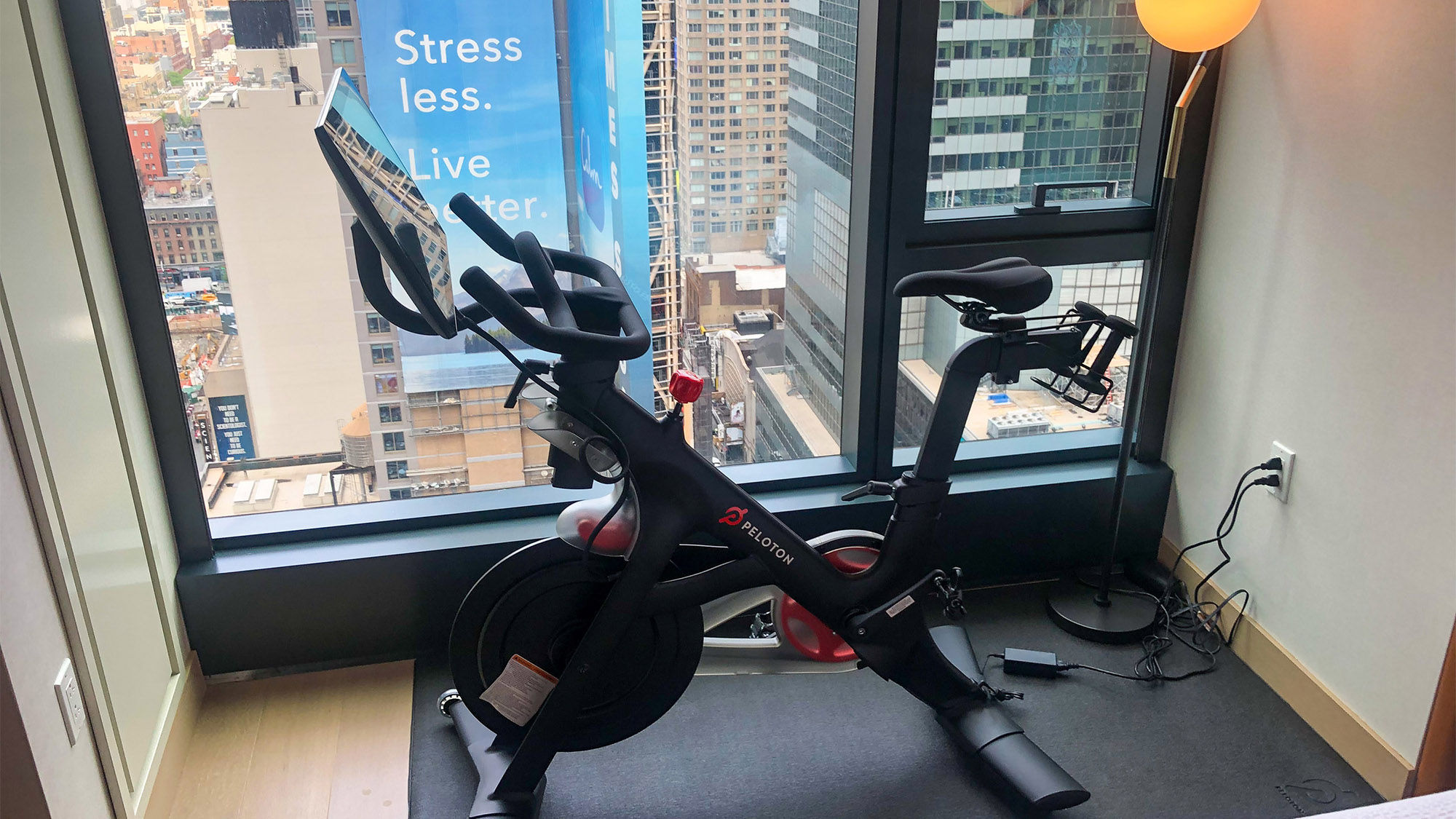 Some of Tempo's signature elements include guestrooms with "get ready zones", which offer dedicated spaces to get dressed, get organized and get to work, as well as oversized bathrooms. Rooms also feature modern details like backlit mirrors, which Morgan said are intended to enhance lighting for makeup application, and wireless charging pads for mobile devices.
Shift to wellness focus
During the pandemic pause, the brand concept also evolved to incorporate a bigger focus on wellness, and Tempo developed Wellness Rooms outfitted with in-room Peloton bikes and other fitness gear. 
The Tempo by Hilton Times Square made its debut with nine Wellness Rooms.
The hotel anchors TSX Broadway, a 46-story high-rise that will also be home to retail and entertainment venues when it is completed, including the 109-year-old Palace Theater, which has been incorporated into the project. 
Another later-stage brand modification included a partnership with Australian-inspired cafe chain Bluestone Lane. Some Tempo hotels will feature actual Bluestone Lane outposts, while others, including the Tempo by Hilton Times Square, have outlets developed by the Bluestone Lane team.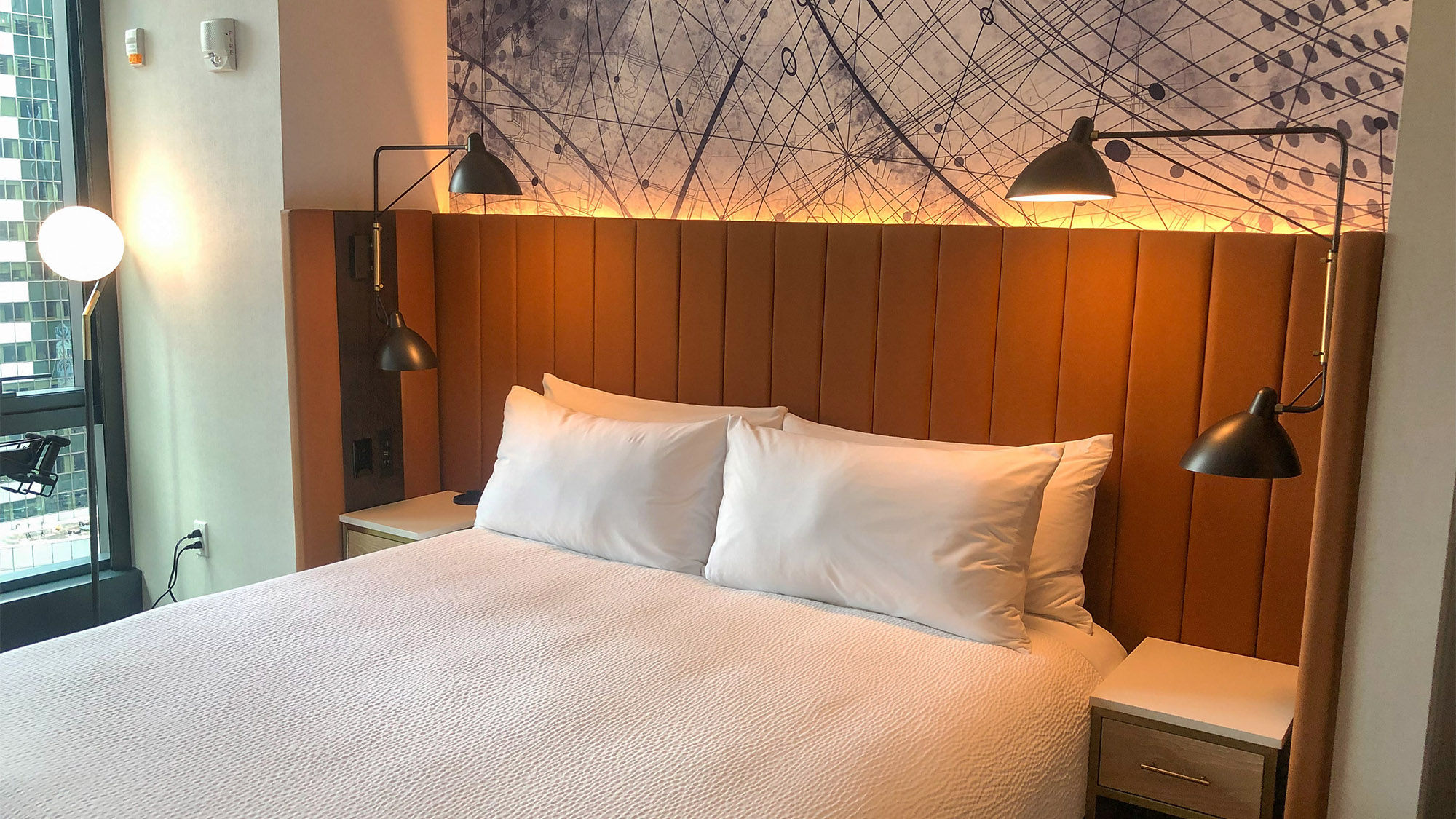 Ahead of the hotel's ribbon-cutting, all cylinders were firing at the hotel's Bluestone Lane-affiliated grab and go counter, which is part of the property's 11th floor lobby area. Attendees lined up to order coffees, cappuccinos, chai lattes and other beverages. 
At the other end of the space, a lobby bar served up cocktails. Notably, each cocktail on the bar's menu is available in both alcoholic and non-alcoholic versions.
Matthew Slippoy, general manager for the Tempo by Hilton Times Square, drew attention to a few other standout features, including the 11th-floor, wrap-around terrace, set to open later this month, and 31 "ball drop" rooms, which offer views of the iconic Times Square ball and are expected to be a hot commodity come New Year's Eve. 
"You could lay in your bed with a glass of Champagne and [look] straight ahead and watch the ball drop," said Slippoy.
Meanwhile, Danny Hughes, Hilton's executive vice president and president for the Americas, told event attendees that New York was an ideal market for Tempo's debut.
"We have 52 hotels and another 60 under development just in New York City," said Hughes. "So, where else would we want to launch a brand but New York City? Because it truly is, in many ways, the beating heart of our country."
According to Morgan, Hilton currently has more than 30 Tempo hotels in the pipeline, with a Nashville location on track to open next.
Additional Tempo openings are also slated for Louisville, Ky.; San Diego; and Raleigh, N.C.
Source: Read Full Article