You wouldn't think my holiday requirements were that fussy. All I want is a relaxing holiday in the sun – without dropping my fitness levels. I'm a gym fanatic in London, you see – but every time I go on holiday, the lack of access to good training facilities means I come back feeling out of shape.
The problem is, unless I want to sign up to some sort of harrowing bootcamp ordeal, or other heavily organised activity-based trip, there isn't much out there. There are plenty of options for people who want to use their annual leave to get into shape, of course – as long as they're happy to part with thousands of pounds to drink smoothies for a week while being yelled at. Similarly, if your bag is living like a monk at a yoga retreat, with other lycra-clad people, the market is awash with options for you.
But for those of us who take care of our own training programme and just need access to excellent facilities – while having a restful break or interesting cultural experience – there's a dearth of options. Even the loveliest hotels rarely have world-class gyms to match. Which leads to a dip in my fitness levels even in a five-star resort.
So, imagine my delight when I heard about Club La Santa, a sports and training resort in Lanzarote, complete with no fewer than three outdoor Olympic pools, indoor and outdoor gyms and a multitude of instructor-led classes.
Pretty much guaranteed sun, no time difference, a short, cheap flight and the option to surf, too – it sounded made for me. This would be a place where I could not only continue to push myself in the gym, but also (attempt to) surf some of the best waves in Europe, cocktail in hand, I decided.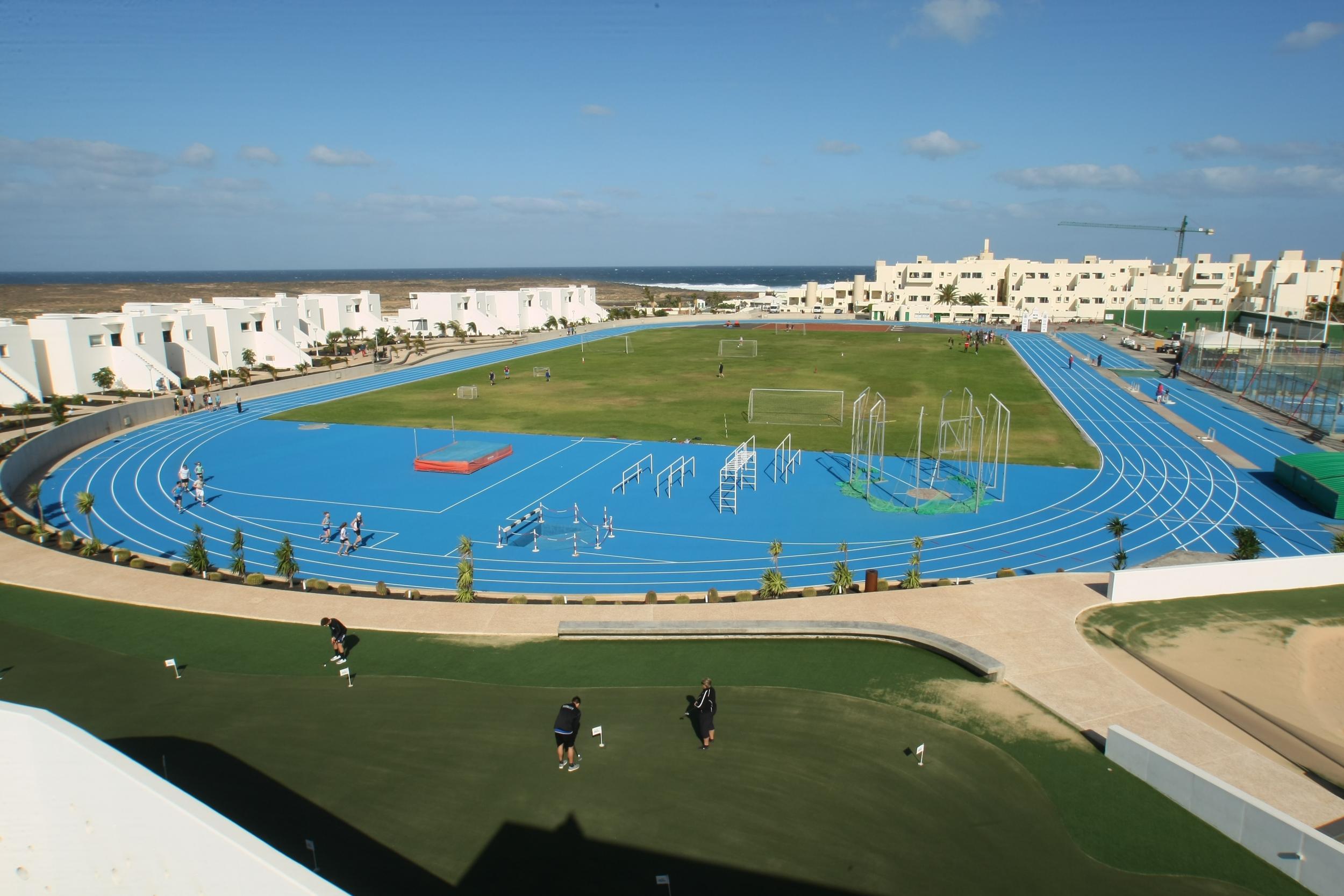 Many elite sports clubs use La Santa to book training weeks because of the fantastic facilities. The resort hosts an annual Iron Man competition and is awash year-round with triathletes, all able to borrow top quality Cannondale bikes free of charge and use the heated outdoor pools or the man-made lake for swim training, before taking to the island's scenic roads to put the miles in on the bike or running.
There's an athletics track, multiple tennis courts, sports halls, a water sports centre and several multisport indoor and outdoor spaces. For gym bunnies, there's a street gym – which is basically an adult climbing frame with pull-up bars and monkey bars for functional, bodyweight training, an outdoor weights area using Rogue equipment and a well-equipped indoor weights area with three more squat racks, as well as the usual cable machines and static resistance machines.
As if that isn't enough, there's also a wide variety of instructor-led classes on offer – bookable via a smartphone app. Not that they were for me, really – I found them a bit hit and miss, with the level aimed at intermediate athletes. If, like me, you're used to pushing yourself hard, I'd stick to your own routine for your stay. The intensity of the organised classes and the quality of some of the equipment used in them is my only real criticism of the facility – the spin bikes could really do with an upgrade, although I speak as a thoroughly spoiled connoisseur of posh London gyms. And of course, borrowing an actual bike is so easy, and the island so lovely, that it's perhaps daft to sign up for a spin class anyway.
Accommodation at La Santa is split into two levels. We stayed in a "comfort apartment" in the older part of the resort – a giant three-storey block around a quadrangle. It was perfectly adequate and clean – your typical Canaries self-catering accommodation – but it wasn't luxurious (think single beds and no TV). There are a number of restaurants onsite, with plenty of options for meat and fish eaters. If you're the kind of gym fan to have a plant-based diet, however, going B&B and self-catering the rest of the way is probably the way forwards.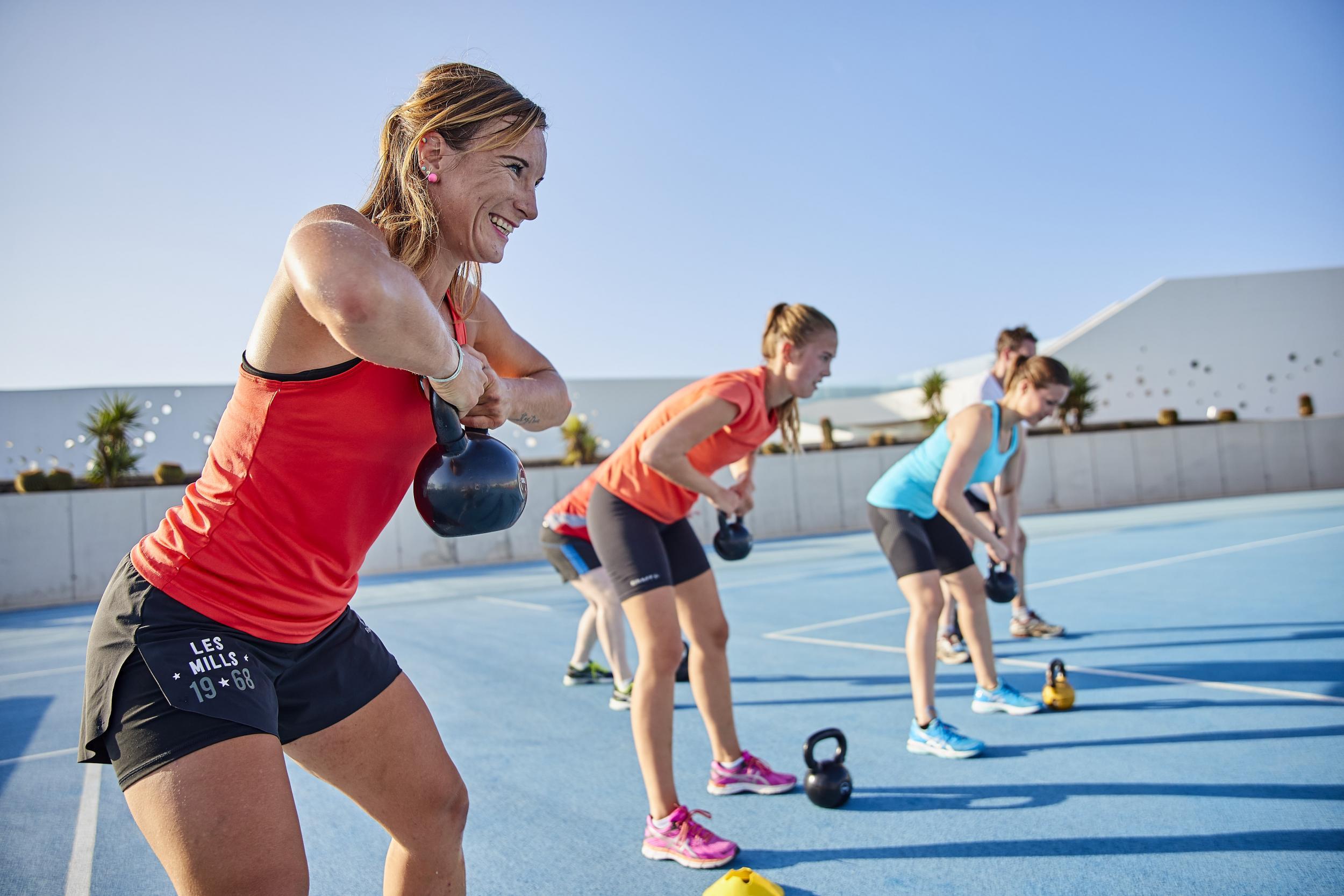 Then there are the significantly more upmarket suites, located in a quieter part of the resort. Many have sea views, though again, they're not really designed to spend much time in. Most of the guests are either there to train extremely hard for specific events, or sporty families who make full use of the facilities all day long. And for this, La Santa is great. There are myriad children's activities on all day and a crèche, which takes children from three and up. During my stay in half term, the resort was full of teenage swimming clubs, abroad for the first time without their parents, with only their coaches to chaperone them. For a child-free couple, it wasn't the best time to go.
Aside from the fitness facilities there are plenty of places to just chill out on a sun lounger, whether it be by the pool or in a quieter spot. The dreaded gangs of teenage athletes somewhat ruined any chance of peace near the pool area the week we were there, but in a bid to escape the noise, we ended up having a better time by hiring a car and driving to Famara, a beach 15 minutes away that has great surf. The nearby pretty fishing village of La Santa is also just half an hour walk from the resort, and worth a visit for an array of good restaurants, or just to enjoy watching the surfers tackle the huge waves in front of the harbour wall.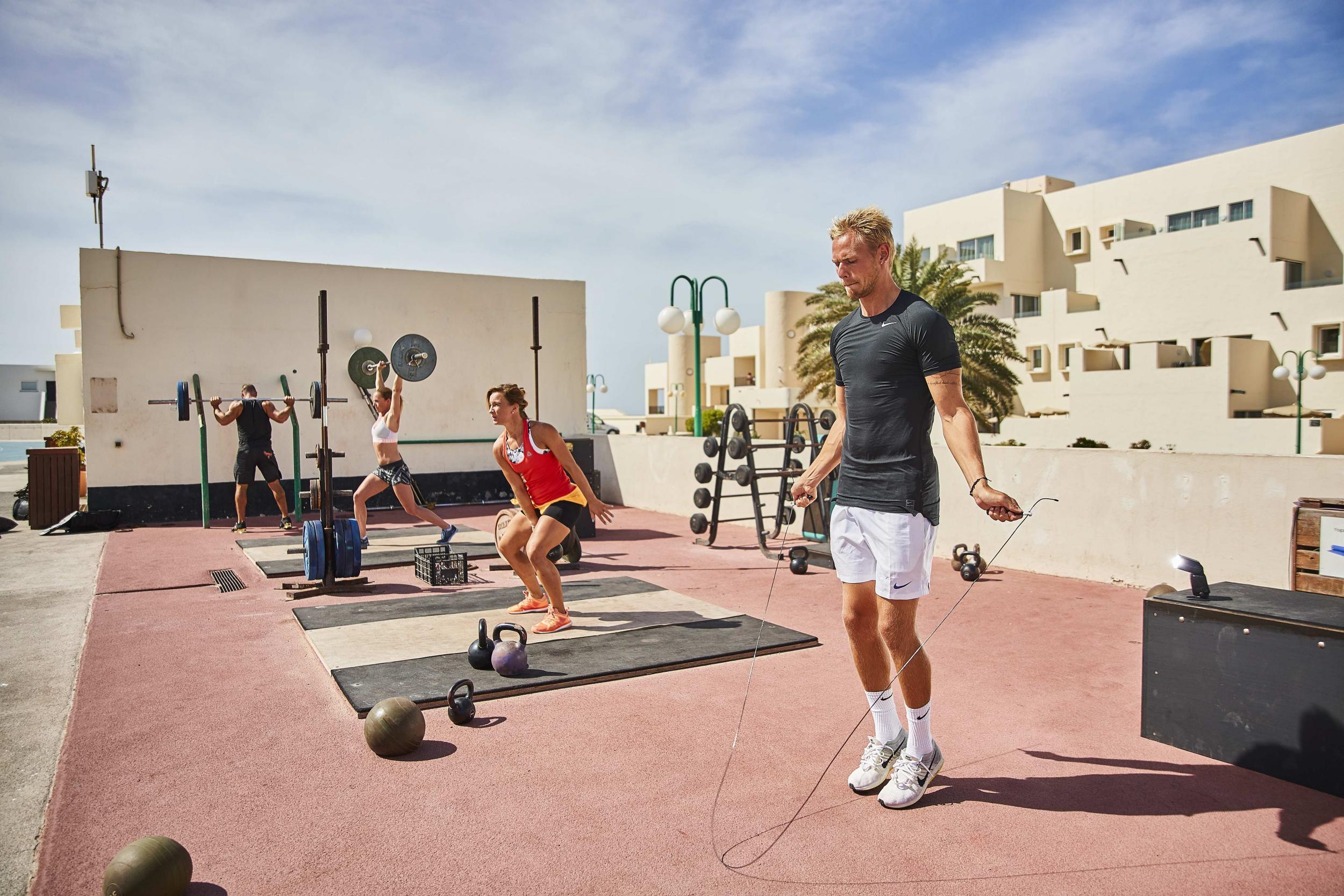 So is Club La Santa the mythical perfect fitness destination I've been searching for my whole holidaying life? It really depends who you are. For families who want to keep sporty offspring entertained and well-fed for a week, it's absolutely perfect. Similarly, it's a cyclist or ultra-athlete's dream, where you can easily make friends with other like-minded people, and compete and train together. Many of the guests have been coming here for years.
As for me? I'm still looking for that elusive place that combines full on fitness with a bit of luxury and pampering, but this was a pretty good start. If I were to go again, I'd self-cater, plan my week myself rather than live by the class diary, and go outside of school holidays, to make better use of the certainly great facilities.
But one thing is for sure: I came back in great shape, didn't drop fitness and managed to catch the sun. And on my return I felt energised and refreshed rather than squashy, bloated, and dashing to the gym to shift the baguette weight.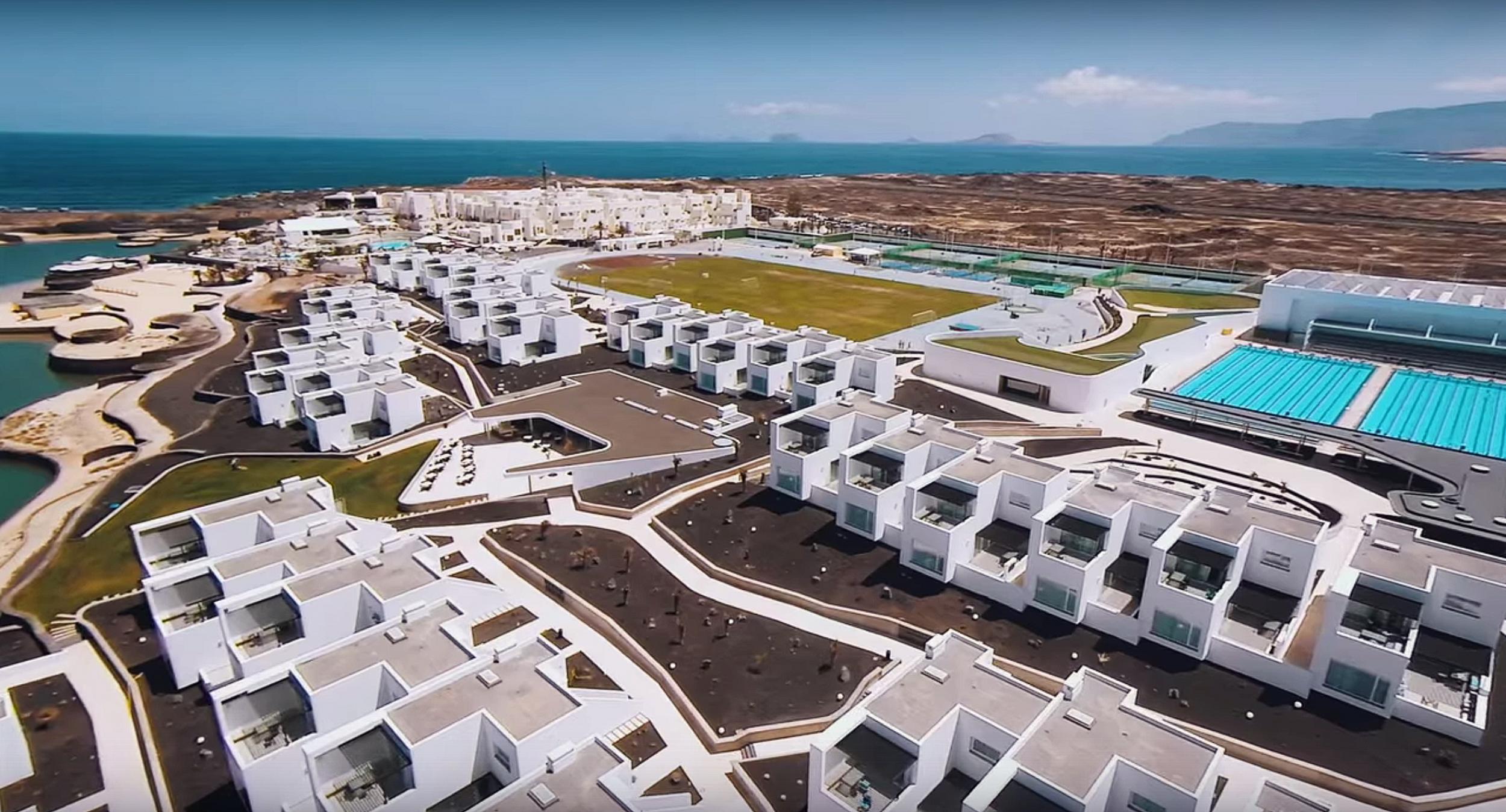 Travel essentials
Getting there
British Airways flies from Gatwick to Lanzarote from £98 return. A taxi from the airport to the resort was €40 (£35) with my surfboard – €30 without.
Staying there
Accommodation at Club La Santa starts from £644 for seven nights in a one-bedroom apartment (sleeping up to three adults and one child). Prices include all activities and classes.
More information
www.clublasanta.co.uk
Source: Read Full Article