Against the concrete walls of Hohenschönhausen, the former Stasi prison in east Berlin, there is a striking flash of colour: a red London bus. The vehicle, parked in front of the prison's iron gates, is covered with dozens of framed photographs: family snapshots of holidays, dads with children on their laps, a little girl in pigtails. On its sides a banner says in German and Arabic: "Release them".
The bus belongs to Families for Freedom, a women-led movement of Syrian families, and the photos are of their relatives – just a handful of the tens of thousands of Syrians currently in detention or who have disappeared since 2011. The families are demanding the release of those detained and the bus has become a symbol of their cause, travelling through London, Paris and now Berlin to make these absences visible.
"These cities value freedom and democracy," says Fadwa Mahmoud, 64, one of the group's founders. "And that is what these young men and women who have been illegally detained or disappeared were struggling for."
Hohenschönhausen is a fitting stopping point for the bus. As a Soviet camp after the second world war it held approximately 20,000 prisoners; later, as the central Stasi prison in the German Democratic Republic (GDR), better known as East Germany, it held 11,000.
What was once the most visible instrument of state repression is today a memorial site, with tours of the prison's cells and interrogation rooms that detail the physical and psychological violence experienced there. It is a place in which to actively commune with the city's past: a cold reminder of an east Berlin without democracy and freedom of speech.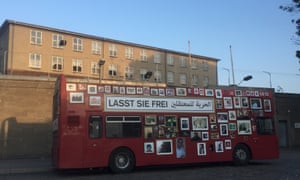 Mahmoud and Asmaa Al Farraj, 35, of Families for Freedom, both have relatives who have vanished without a trace in Syria. They have come to Hohenschönhausen to exchange experiences with victims of GDR repression, among them Monika Schneider, who was imprisoned in 1983 on suspicion of trying to flee to the west. "When I came into the prison it was a very, very bad feeling," says Farraj. "We all wept … There were similarities with what we experienced and thousands still experience in Syria today."
Mahmoud has not heard from her family since one afternoon in September 2012, when her son went to pick up her husband, head of Syria's banned Communist Action party, from Damascus airport. Neither of them returned home for dinner and she has heard nothing of them since. "It is like they have disappeared from this world," she says.
Schneider, who was arrested while visiting a friend in Prague, says she sees many parallels between their experiences – such as the agony of not knowing what happened to loved ones. "There were also people in the GDR that just disappeared, that died in prison and their families didn't get any information," she says. "There were kids that were forcibly adopted. I know women that still today are looking for their children."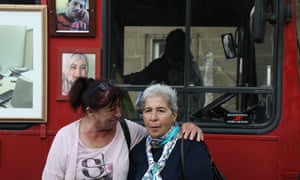 But Mahmoud is keen to recognise where the stories differ, saying of Hohenschönhausen: "Compared to Syrian prisons, this is like a five-star hotel." A room occupied by two women there would hold 20 in Syria. "And we know that what happens in some of these prisons is horrific," she adds, pointing to Saydnaya prison, where, since 2011, thousands are believed to have been extrajudicially executed while in detention.
Mahmoud now lives in Berlin, where she is one of thousands of Syrian refugees. The German capital has taken in 5% of the refugees who have arrived in the country since 2015.
Over the last month Families for Freedom has held many events across Berlin, where the level of engagement from the Syrian community and its supporters has marked it out from other cities. Hundreds turned out for a rally beneath the Brandenburg Gate where relatives held pictures of their relatives currently detained or missing before marching to the Russian embassy.
Mahmoud says the setting, just a stone's throw from the Reichstag, was important: "The Brandenburg Gate symbolises victory. Germany is an influential country in the world today … We hope it will help us get answers – we want to know where our loved ones are, whether they are alive or dead."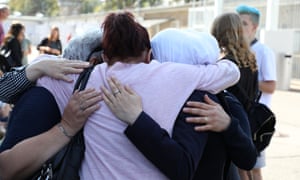 Local Syrian volunteers in Berlin last month helped organise a memorial for members of Families for Freedom who have learned, through recently released Syrian death notices, that their relatives died in detention.
"The disappearances of tens of thousands of Syrians is not being talked about nearly enough," says Anna Fleischer from Women Now for Development, an organisation supporting Families for Freedom. "Not enough is understood of what it means for these women and families to live with no information – to live with empty chairs everyday at the table."
Michael Ginsburg of Hohenschönenhausen says one reason for inviting Families for Freedom to the memorial was to increase understanding within Berlin of the regime in Syria. Another was to highlight that state repression and crimes are not just in the history books.
"The issue of disappearances and what happens next for Syria is a very timely question," says Ginsburg. "We also wanted the exchanges of stories between German and Syrian political prisoners to be positive in some way, because Hohenschönhausen is the past for Germans – for Syrians it might become a future. Their prisons might be museums one day."
Mahmoud says: "The visit to Hohenschönhausen has brought many flashbacks but it has also given me so much strength. It has given me the hope that perhaps one day in Syria we can look back and say 'that was the past'. That is my dream."
The next city on the bus's itinerary is Brussels, the seat of European power. But the destination sign on the front of the bus reads "Damascus", which, says Mahmoud, will be the final city on their tour: "We hope one day the bus will end up outside the courthouse in Damascus, demanding the release of all Syrian detainees."
Follow Guardian Cities on Twitter, Facebook and Instagram to join the discussion, and explore our archive here
Source: Read Full Article