Coming up the drive to this elegant mid-Victorian mansion house, I notice a number of things: that the lane is flooding, the trees are shaking and that dark clouds are looming over the fells – it's a full-throttle melodramatic arrival and probably not a rarity in these parts, I reckon. Along the lane are also lots of warning signs about the red squirrels. I am always the person who scoffs at such animal-caution signs, never having subsequently seen any sign of deer, frogs, and hedgehogs. Then we turn up the final section of drive and narrowly miss squishing a bushy-tailed gingery creature. He looks justifiably outraged, before posing for photographs.
Peter and Amanda Jaques-Walker, the owners, came to this remote spot on the northern edge of the Howgill Fells to pursue their interests in cycling and rock climbing, plus of course hospitality which, we are to discover, they do with amiable charm. The place is warm, there is banana cake and tea ready on the sideboard, plus an interesting selection of books and magazines. I've brought my own steely-eyed implacable hotel inspector, Sophie, with me and even she is impressed by the reception. The decor is soon wowing her, too: any hint of pomposity, or decay, and she would pounce but the worn chic of the sofa is judged perfect; the retro cocktail bar and the rugs on polished floorboards all pass muster. She even slips off her boots, announcing, "I feel at home."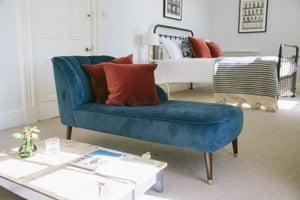 So far so good, but will the bedroom meet with approval? As we enter, it is the spectacular views towards the Howgill Fells that draw me immediately to the window. Sophie barely notices the panorama. Instead she prowls, stroking the throw blanket on the bed, squeezing a pillow, testing out the chaise longue, then disappearing into the bathroom. I've checked out the view – that must be the footpath I want, heading across some tree-dotted park-like acres towards the Smardale nature reserve – now I examine the tea tray. Fresh milk. Tick. Biscuits. Yes.
Sophie emerges from the bathroom. "No shower cap … And I need to move that chaise."
I am forced to get up.
"I can't believe you're rearranging the furniture!"
She shakes her head sadly. "And I can't believe you don't notice these things: it was in the wrong place." She eyes the metal rail in the corner where two bathrobes are hung. "I don't like that one bit."
For a second I fear she might rip it off the wall but now she stalks towards the bed, throwing herself full length, examining the sheets. Finally she smiles. "This bed linen is top quality. And I love that blanket. Will they mind if I take it home?"
"Yes they will. Have some tea."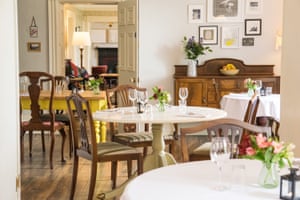 Later we go down for dinner. In keeping with the informal atmosphere, the restaurant only does pizza, which I find a bit disappointing, until they arrive. Freshly stonebaked, with homemade sourdough and local ingredients like Cumbrian air-dried ham and goat's cheese, all priced at around £10, they are excellent. The basil is definitely local because it's growing on the window ledge in the dining room.
Outside the storm is reaching its wild heights. Rain lashes at the windows. It's a night for the ghosts of the border reivers who used to raid these parts until the 17th century, or at least curling up on the sofa with a Cumbrian whisky and imagining them.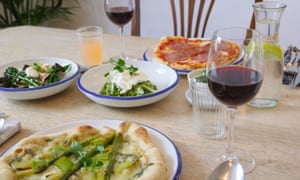 Next morning, however, all is quiet. We slip out after breakfast (I choose scrambled eggs and spinach on sourdough, Sophie has them rearrange the vegetarian option to her taste) and take the disused railway line footpath east towards Smardale nature reserve.
This three-mile stroll is worth the visit alone as it winds between vast open fells, eventually crossing the 14-arch Smardale viaduct, a marvel of Victorian relaxed planning regulations. I'll bet they never imagined their brick-built behemoth would turn out to be a great platform for wildlife watching – the reserve is home to many species, including the rare scotch argus butterfly. We are out of season for those, instead spotting goldfinches, sparrowhawk and just one other walker. There is plenty to fill several days of hiking around here: to the south the Howgills beckon and Cautley Spout, England's highest waterfall with almost 200 metres of tumbling cascades on the eastern face of the Howgills.
We head back via the picturesque 15th century packhorse bridge over Scandal Beck, extremely sorry not to have a second night. My inspector delivers her verdict: "I love the squirrels, the friendliness and the room but they should never have positioned that chaise like that." Since this dreadful error is now corrected, I think we can declare the visit an outright success.
• Accommodation was provided by Brownber Hall, Newbiggin-on-Lune
Kirkby Stephen, which has doubles from £90 B&B and two dog-friendly rooms
Ask a local
Graham Uney, owner of Graham Uney Mountaineering, a local training and guiding business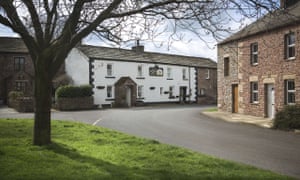 • Walking gear
Heading out for a walk onto the nearby Howgills, Mallerstang, or Nine Standards Rigg fells? A great place to kit yourself out for a stomp up a hill is Mad About Mountains in Kirkby Stephen. It stocks everything you could possibly need, and it also does mail order.
• Pick up a picnic
There are some great weekly markets in the Upper Eden Valley, including a Monday market in Kirkby Stephen. Bryson's is a local bakery with a shop on Market Street in Kirkby Stephen – and a perfect place to pick up a picnic for your walk.
For a post-walk pint
There are some great pubs in Kirkby Stephen itself but on your way back to Brownber Hall, call in at the lovely Bay Horse at Winton for a well-kept pint of ale, or a lovely meal (minted Cumbrian lamb shank with garlic mash and seasonal veg, £17).
Source: Read Full Article