Knaresborough, North Yorkshire

School holidays saw my mother and me visiting my grandmother in Starbeck, a suburb of posh Harrogate, on the way to the pretty town of Knaresborough. Part of its magic lay in Mother Shipton's Cave and Petrifying Well: "Mother" herself, a 17th-century crone with (dubious) powers of prophecy, had long vacated. But the cave, on the mossy flanks of the river Nidd, still oozed witchiness. (The well, too, was strangely intoxicating. When I was seven, I gave it a sock. When I was 11, it gave me a concrete boomerang.)Today, greater pleasures are to be had mooching in the avuncular shadow of the arched railway bridge, "taking tea" (or a coronation chicken sandwich) at the Lavender Rooms on Market Place. Best of all is coffee and a slice of cake at the waterside cafe on the Nidd beneath the castle, the ruins of which you have strolled among, arm in arm with your "other".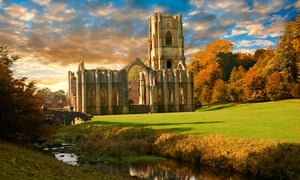 The view from the castle promises greater pleasures: the improbably formed Brimham Rocks, and the gothic splendour of Fountains Abbey are a short bus ride away. Or, better still, set out into the Yorkshire Dales with an Ordnance Survey map and a sausage roll from Thomas the Baker, and return in time for beer and mussels at Six Poor Folk on Castlegate. (If it's full, head down a few doors to the Spice Merchant for a curry. It's autumn after all.)
Where to stay
Right on the waterfront with great views of the castle and still close to the town centre, Teadrop Cottage (doubles from £95 B&B)has four comfortable rooms and generous breakfasts.
Tom Blass, author of The Naked Shore: Of the North Sea (Bloomsbury, £20)
Tregaron, Ceredigion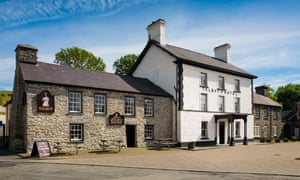 You don't arrive in Tregaron by chance. This tiny market town beneath the Cambrian mountains has to have been your primary destination. Just getting there is part of the pleasure, though: Tregaron is surrounded by some of the remotest and most beautiful countryside in the southern half of Britain. If you drive under blue skies, either via Abergwesyn pass or through the Elan valley and over the russet-coloured hills from Rhayader – a road once called "one of the 10 most scenic drives in the world" by the AA – you won't forget it. Arriving by bicycle along the Ystwyth Trail, a lovely mix of dismantled railway lines and quiet country lanes winding east from the Irish Sea, is equally memorable.
Tregaron may be sleepy today but it was once a bustling agricultural hub, and its charter dates from 1292. For three centuries from the late 1500s, the town was a major centre for drovers who herded sheep, geese and cattle on long-distance routes to London. On the square today, a craft shop sells jewellery handmade from Welsh gold and paintings by local artists. If you're thinking about winter, visit Jane Beck in Llwyn y Groes to buy a Welsh woollen blanket.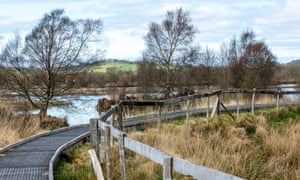 Cors Carron, a large "raised bog" just outside Tregaron, is a nationally important habitat full of rare flora and fauna. There is a bird hide, and raised walkways from which you could catch sight of otters, adders, hen harriers and polecats. For yet more fresh air, visit the Hafod Estate, once home to Thomas Johnes, a farmer, writer and social benefactor. From 1780, he ran an experimental farm here, building houses and schools and planting some four million larch, Scots pine, oak and beech trees over 30 years. The stately home fell down in the early 20th century but his picturesque landscape is still evident.
Where to stay
Where there was a drover, there was usually a pub and Y Talbot, on Tregaron's main square, is a cracker, with recently refurbished rooms (doubles from £120 B&B). Legend has it there's an elephant buried in the back garden.

Robert Penn, author of Woods: A Celebration (Pavilion Books, £20)
Bridport, Dorset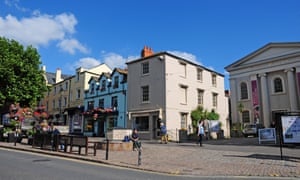 Bridport's nonconformist history lingers in the spirit of independence and sense of community in this small market town. The distinctive architecture has, since the 13th century, been shaped by the making of ropes for naval and fishing fleets. Wide, welcoming South Street, where the rope was dried, lends the town an openness and is the setting for busy markets on Wednesday and Saturday, accompanied by live bands in Bucky Doo Square. The narrow "walks"– where the rope was spun – lead today into nooks and alleys where independent shops, artists' studios and a vintage quarter thrive.
There's more to Bridport's cultural life than TV drama Broadchurch. Plug into the local music scene at The Ropemaker's and Beach & Barnicott. The Community Orchard hosts an October Apple Day and wassailing events. The Electric Palace, where local musicians Billy Bragg and PJ Harvey have played, is a Bridport institution. It used to generate its own electricity when it opened as an opera house in 1926, and has original art deco murals. The Arts Centre goes from strength to strength, while the Lyric, at the other end of town, hosts occasional experimental theatre and brilliant shows for children.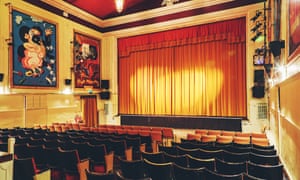 Books are also part of the town's fabric, from the treasures of Bridport Old Books and Wild and Homeless to the Bridport Literary Festival, which hosts talks in venues across town from 4-12 November.
For food, Dorshi offers east Asian cuisine using local products, such as pork, leek and ginger dumplings (£5.75) to noodles and pork belly (£13); the Red Brick Cafe serves anything from a fried egg sandwich to falafel and salad; and Soul Shine also has a wide range, from vegan breakfast (£9.50) to warm Moroccan chicken salad (£10).
Where to stay
The boutiquey Bull Hotel (doubles from £85 B&B) or arty B&B Number 27 (doubles from £120).
Adrian Cooper, director of arts and environmental charity Common Ground, and coproducer of Arcadia, premiering at the London Film Festival in October
Oban, Argyll and Bute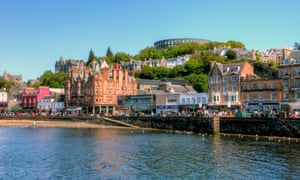 Oban, on Scotland's west coast, is a jewel of a town. There are no big hotels, just lots and lots of B&Bs and tiny guesthouses. It's also full of quirky little shops, including my favourite outdoorsy shop, Nancy Blacks. There's a great cheese and wine place, a chocolate shop, and no end of cut-price cashmere places. Up on the hill is a remarkable Victorian folly, McCaig's Tower, which looks just like the colosseum, and was built by a philanthropist to keep the area's stonemasons in work. There is an amazing view of the bay from up there. If it's wet, and you have small people to entertain, there's always the Sea Life Sanctuary – it has saved my bacon on several occasions.
But for me the town is all about the islands. Oban can be used as a base to explore Mull, Iona and Ulva, and smaller, lesser-known islands like Muck, Eigg and Rum, Coll and Tiree. There are fishing and whale watching excursions, and boats to Fingal's Cave on Staffa.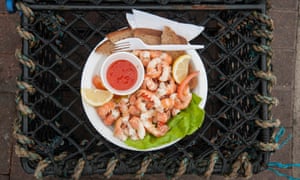 I'm usually on the hunt for food, and Oban is great for the freshest fish: try the Waterfront Fishouse Restaurant. For a quick bite, crab sandwiches from Oban Seafood Hut on the CalMac pier are to die for.
Where to stay
The Manor House Hotel (manorhouseoban.com) has cosy rooms and is a stone's throw from the ferry terminal to the islands of the Inner Hebrides.

Cressida Cowell, author of The Wizards of Once (Hachette, £12.99)
Hexham, Northumberland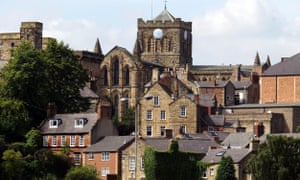 I fell in love with Northumberland when I was writer-in-residence at its literary festival in autumn 2015. It's a criminally under-visited county: those who pass through on the way to Scotland miss out on breathtaking upland landscapes, dark skies and warm hospitality.
The market town of Hexham is the jewel in the county's rugged crown. Its abbey has an excellent, child-friendly interactive display about its history, and an Anglo-Saxon crypt. The twice-monthly farmer's market is a foodie's dream, with produce from a 50-mile radius.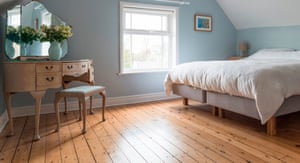 Culturally Hexham is vibrant, with its literary festival and events at Queen's Hall arts centre. This autumn there's classical dance drama from Kerala, music from Quebec, A Midsummer Night's Dream danced by Ballet Cymru, a bold production of Antigone, philosophy lectures and kids' events. And it's a short drive or bus ride from Hexham to Hadrian's Wall, making it easy to walk a section and be back the same day. Make time also for a spot of book shopping at Cogito Books on the narrow, cobbled lane of St Mary's Chare, and a French country-style dinner at Bouchon Bistrot .
Where to stay
Antique-filled Hexham Town Bed and Breakfast (doubles from £80 B&B) a few minutes from the centre.
Melissa Harrison, author of Clay and At Hawthorn Time (Bloomsbury, £16.99). Her new novel, All Among the Barley, will be out next year
Salisbury, Wiltshire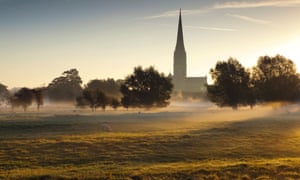 In a black mood, I visit Salisbury on a shopping trip. I hate shopping, so on my way turn into the church of Saint Thomas. Dim light, quiet air. Peace. The largest of all England's Doom paintings covers the space above the chancel arch. It dates from the late 15th century, was whitewashed after the Reformation and only recovered in the 19th, but its dramatic message is clear even if the colours are somewhat faded. On the left, angels usher the blessed into heaven; on the right, various devils – one with a punk quiff – cheerily direct the damned into a dragon's gaping mouth. The damned are naked but look like shoppers. Ha! I recover my equanimity.
Salisbury is a small city with a host of minor irritations, among them a hideous, elevated ring road – may those responsible go straight to hell – but many things to like. The cathedral, with its immense spire, is a stupendous feat of the medieval imagination – especially at night, floodlit against a dark sky. The nearby Salisbury Museum has an impressive collection of prehistoric artefacts from the hill forts that once stood on the Wiltshire downs. It's worth a look if only for the stuffed bustards in the entrance.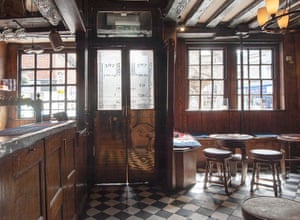 There are atmospheric old pubs – try the 14th-century Haunch of Venison – and some excellent restaurants. My current favourite, Cafe Diwali, serves Indian food several classes above the average Wiltshire curry. On Tuesdays and Saturdays in the main square market stalls sell fish, fabrics, cheeses, ironmongery, cheap shoes, fat olives and local breads. It could almost win over a shopping-phobe like me.
Perhaps the best thing about Salisbury is its homeliness. Not far from the Doom painting, by the library, a footbridge crosses the Avon, and here passers-by often feed bread to swans with hungry black eyes and the most heavenly white plumage.
Where to stay
The Pembroke Arms (doubles from £75 B&B) in nearby Wilton is an 18th-century ex-coaching inn with nine rooms.
Christopher Nicholson, author of Among the Summer Snows (September Publishing, £14.99)
Aberdeen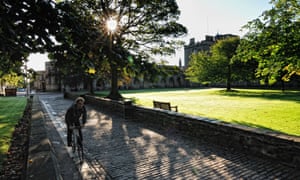 Autumn is particularly lovely in Aberdeen: the sight and sense of a northern season, a blaze of brilliance before the dark of winter. Autumn here happens swiftly, overnight. There's no dramatic fall in temperature after our invariably cool summers but just like that, one morning it's autumn. It's there in the first faint scents of wood smoke, the fallen, gilded leaves underfoot, even when the trees still look green. The frantic gull cries of August are replaced by the sounds of the first geese overhead as they arrive from their summer breeding grounds in Iceland and head towards their wintering sites at the Lochs of Strathbeg Skene. The fieldfares and redwings will soon be back.
In the centre of this grey city of slate skies and steely sea, the wide streets of granite are lit by glowing sun or swept with gusts of fine, cold rain. Against the greys, autumn dazzles. Leaves of beech and maple turn copper, madder, bronze. Outside the Triple Kirks and the Old Schoolhouse, the intrepid sit with their drinks, shivering only lightly, resisting the dark and cosy warmth of Ma Cameron's or the Prince of Wales, at least for now.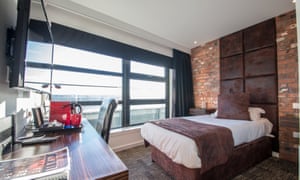 The whale watching season at Torry Battery and Girdleness will soon be over; the bottlenose dolphins, harbour porpoises and minke whales will be gone for another year.
In Old Aberdeen, bonfire smoke rises from behind a high wall in the Chanonry near the Botanical Gardens and Arboretum. Another, different kind of migration has brought the students back and the narrow streets and medieval lanes of the university area are busy again with a feeling of earnest expectation. Kilau Coffee in the High Street and the St Machar Bar pub will be crowded again. Autumn, when another year begins.
Where to stay
The Bauhaus Hotel, (doubles from £65) is as stylish as the name suggests.
Esther Woolfson, author of Field Notes From a Hidden City (Granta, £16.99)
Richmond, Surrey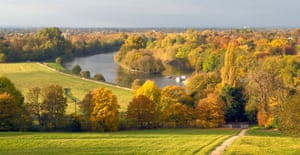 An easy escape from central London is Richmond – 16 minutes by train from Waterloo. Take a walk to Pen Ponds in Richmond Park to see red deer rutting and get a bacon buttie in the car park cafe. Lounge around on fallen trees, pick up conkers and spot weird ducks. Look out for the mad cyclists: men in Lycra on bicycles have turned the park into a race track, which is a shame.
Richmond also has the sweet, sweet Thames, of course. Walk up to the Roebuck pub on Richmond Hill and see the view of the bend in the river that Turner painted. It is the only view in England protected by an act of parliament.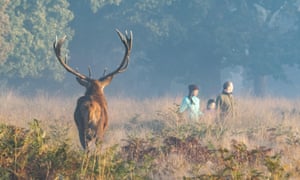 Get a boat down the river towards Teddington Lock or hire one by Richmond bridge and be Jerome K Jerome for an hour. Then stroll down through the Terrace Gardens, stopping for tea in the Hollyhock Café. Take the underpass and emerge at the river, then walk towards Petersham Nurseries, a chichi restaurant, cafe and plant shop. You pass gently lowing cows on Petersham Meadows, probably the closest real farm to Piccadilly Circus.
A little further along the river is 17th-century Ham House, a National Trust property with a magnificent vegetable garden. From there, catch the foot ferry to Twickenham for £1 (children 50p).
Where to stay
The Victoria (doubles from £120) is a groovy modern pub 10 minutes' walk from Richmond Park and 10 minutes' bus ride from Richmond town centre.
Tom Hodgkinson, founder and editor of The Idler
Penzance, Cornwall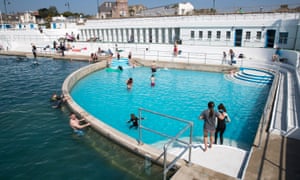 Geologists talk about isostatic change, when land rises following the melting of a glacier. I like to think that something similar happens to Cornwall after the summer. About half a million people are resident in Cornwall, but 10 times that number visit each year, the greater part in the summer and the greater part of those during the school holidays. At the end of August, a great weight is lifted from the county. Lanes and villages are no longer clogged with campervans. The beaches empty. You find yourself having drawn-out conversations with local friends. A certain lightness pervades everything. September and October are the best months in Cornwall. The light has lost its mid-summer haze and the colours are sharper, with the melancholic tinge of the turning leaves.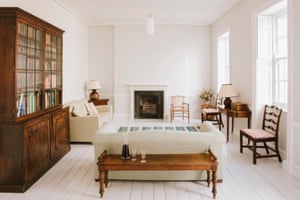 The sea keeps its summer temperatures, and swimming is at its most pleasurable. In Penzance, Jubilee Pool – the largest lido in the country – is staying open until the end of October. Twice a day the tide fills it with sea water and it is a swimming experience like no other. With your hair still wet, you can walk up Chapel Street, with its antique shops, and pop in for a warming drink in the Admiral Benbow pub, then browse the shelves of End of the World Books in nearby Market Jew Street. Walk through the surreally tropical Morrab Gardens to Penlee Gallery for the finest public display of Cornish art.
Where to stay
Chapel House (doubles from £150 B&B) is a listed Georgian house and former arts club that has been transformed into a boutique hotel with exhibits from Newlyn School of Art.
Philip Marsden, author of Rising Ground: A Search for the Spirit of Place (Granta £9.99)
Bakewell, Derbyshire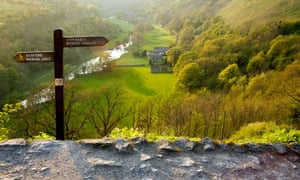 I know people from Derbyshire who are a bit sniffy about Bakewell, a tourist honeypot in the Peak District. The cloying sweetness of the Old Original Bakewell Pudding Shop, the naffness of the love locks on the Wye Bridge, the ostentation of Chatsworth House, all those daytrippers … It leaves them cold. But not me. I've been coming to the market town ever since I was a youngster and the sight of those unpretentious limestone houses and shops on the run in from Chesterfield still warms my heart. My journey's end is always the Farmers Feast, a workaday cafe serving the cattle marketeers with tea and full fry-ups on the edge of the showground. From there, I walk over the Wye Bridge – stopping to admire the thumping great rainbow trout in the gin-clear waters below – and into Market Street to pick up supplies at the Bakewell Cheese Shop and Smylies Fruit and Veg. Then it's off to an industrial estate on the edge of town to fetch beer from the Thornbridge Brewery, which knocks out decent pale ales and cask beers.
I first started coming to Bakewell every spring to fish for trout on the Wye – just a couple of miles away at Monsal Head, but isolated in a deep, narrow gorge – only resurfacing in the dusk for a pint and a sandwich at the Monsal Head Hotel at the top of the lane.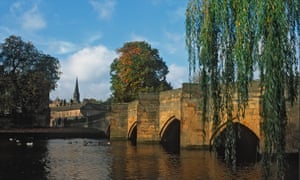 Years later, I came back in the summers for the Eroica Britannia vintage cycling event, pedalling the repurposed railway lines, tunnels and viaducts of the Monsal Trail that offer glorious views from on high. But autumn is golden time for walking, when blankets of mist drape the valley floors of the Wye and the Derwent. Nestled between the rolling hills of the White Peak and the moors of Dark Peak, there's good walking in any direction. But an easy circular route follows the meandering Wye down to Haddon (if you're there before the end of September, stop in at Haddon Hall, a fine medieval manor house) and then on to Over Haddon, which offers spectacular views over Lathkill Dale, and the prospect of a pint at the Lathkill Hotel, which used to serve the local lead miners. There's nowt twee about any of that, me ducks!
Where to stay
I usually self-cater a couple of miles out of town at one of the many farms now offering accommodation, such as at Burton Manor Cottages near Over Haddon. But there are plenty of options in town, like the well-appointed Peacock Inn, a 200-year-old coaching inn with rooms (doubles from £119 B&B).
Andy Pietrasik, head of Guardian Travel
Source: Read Full Article