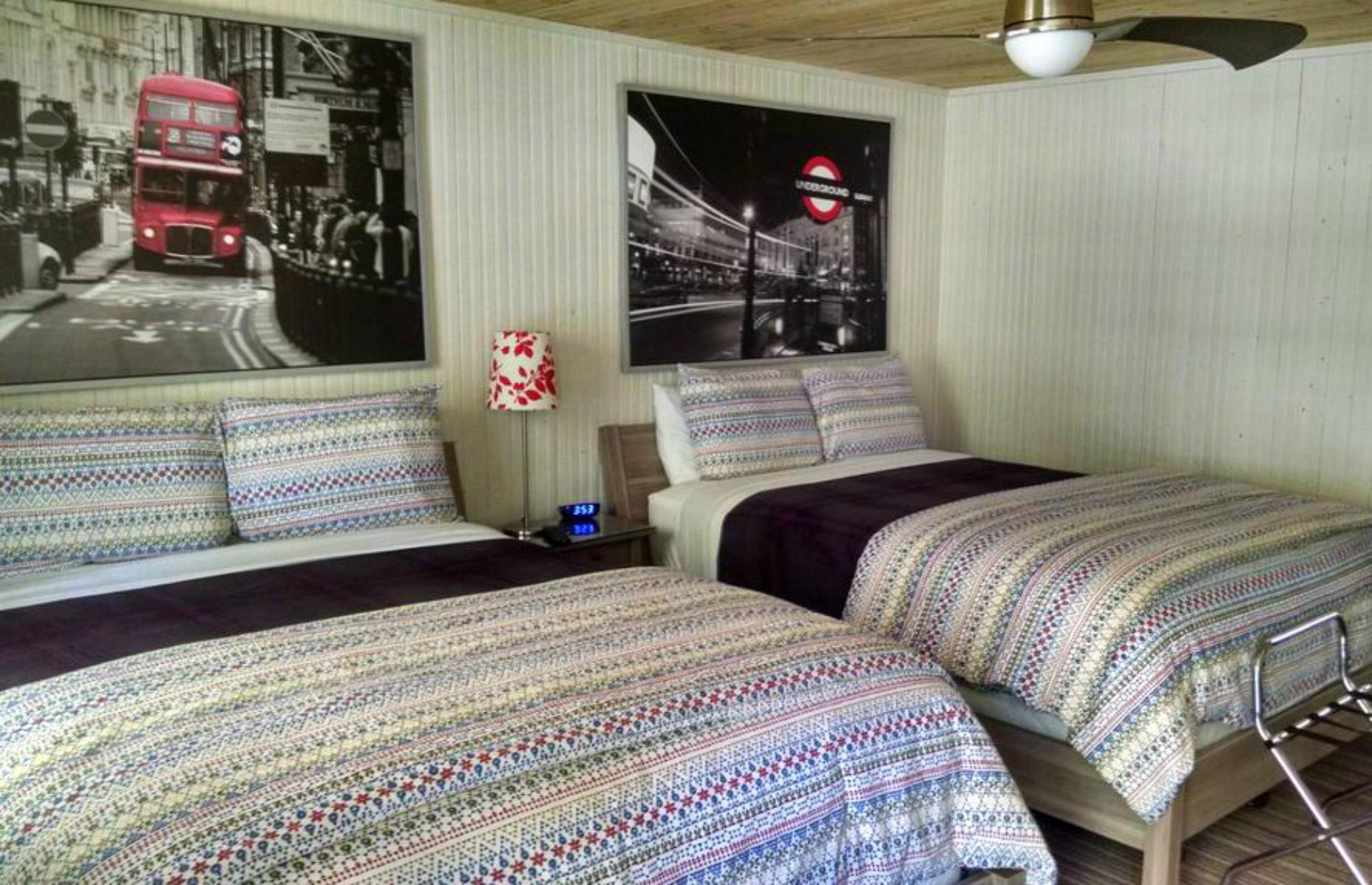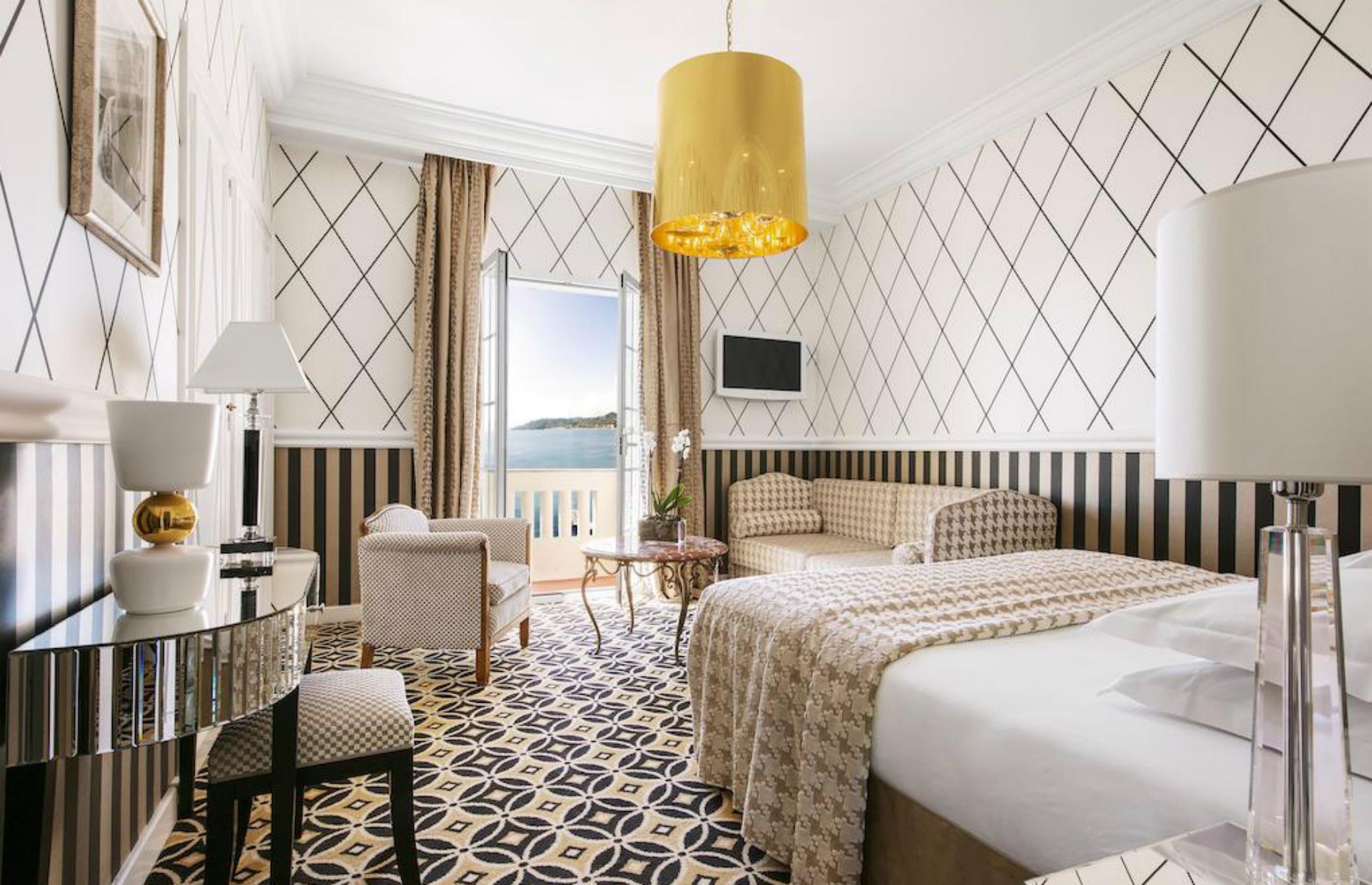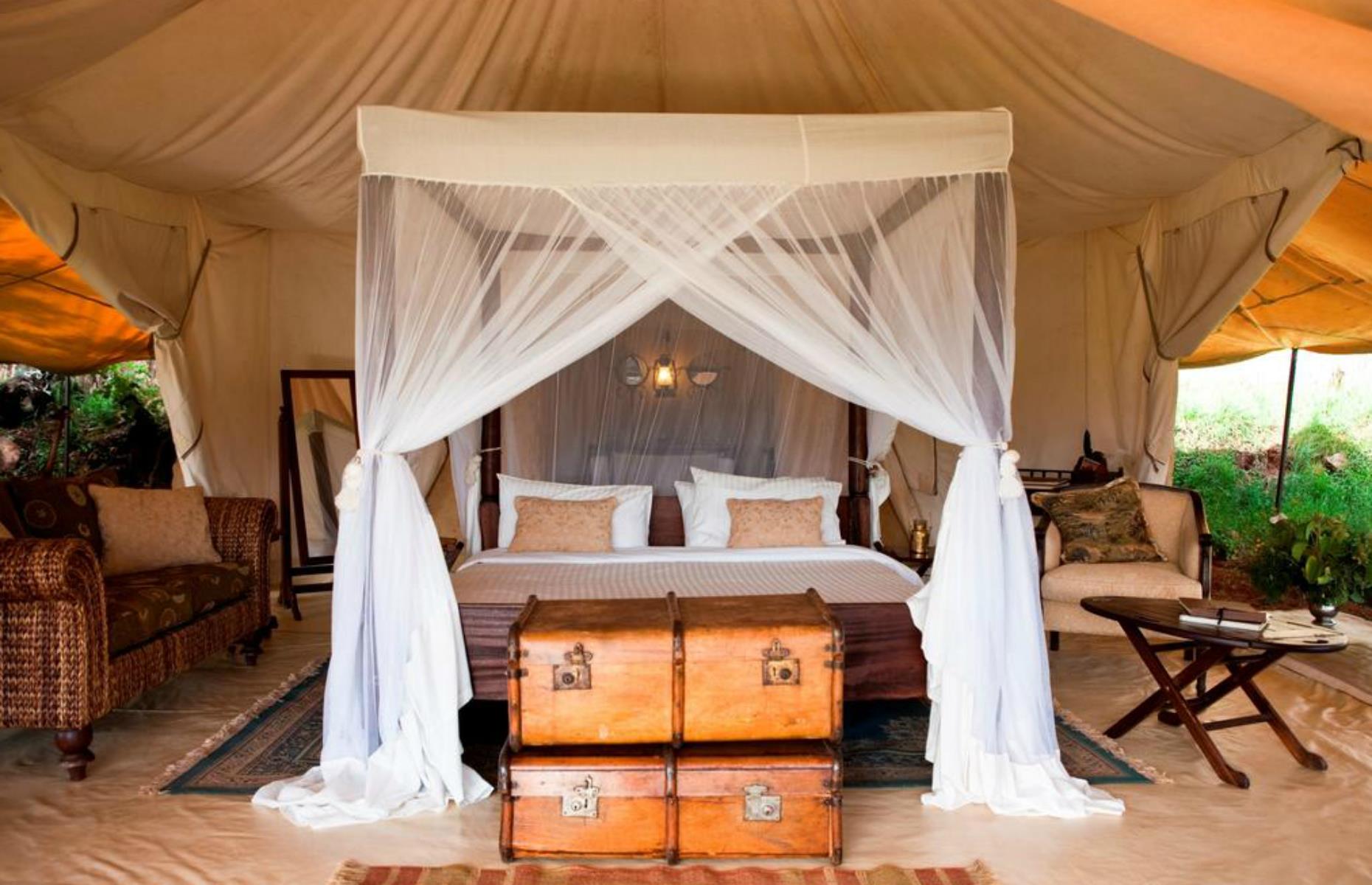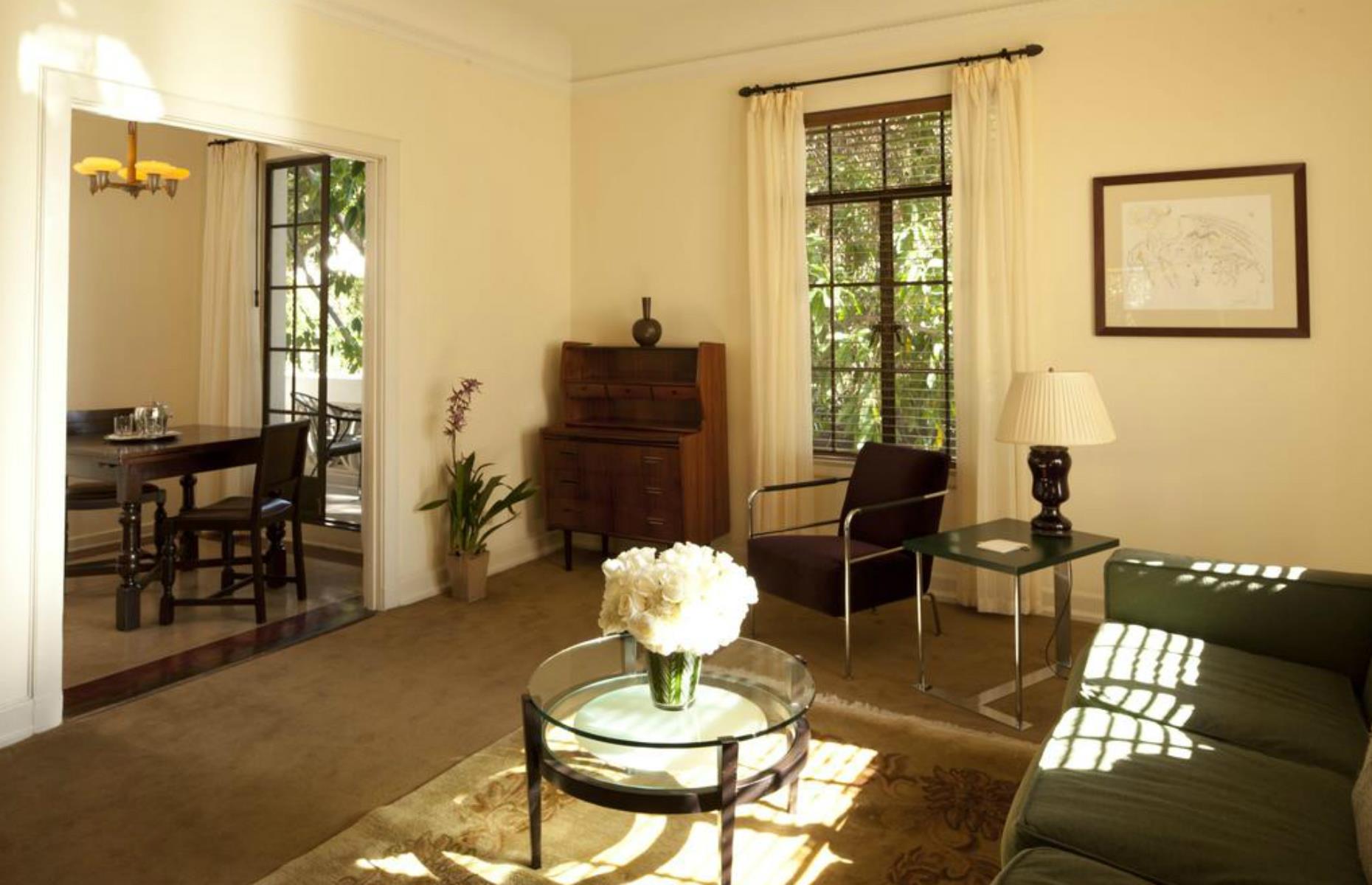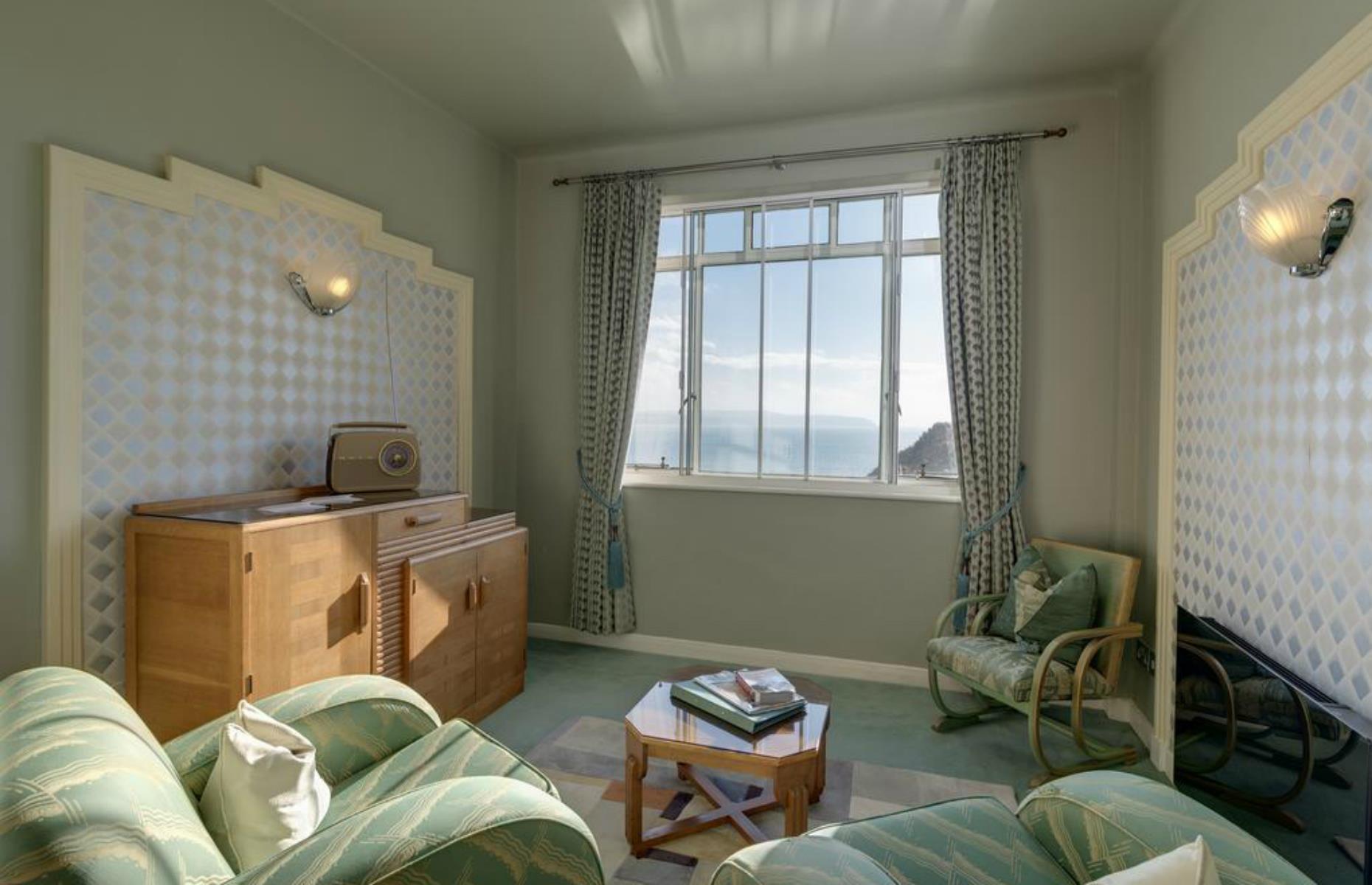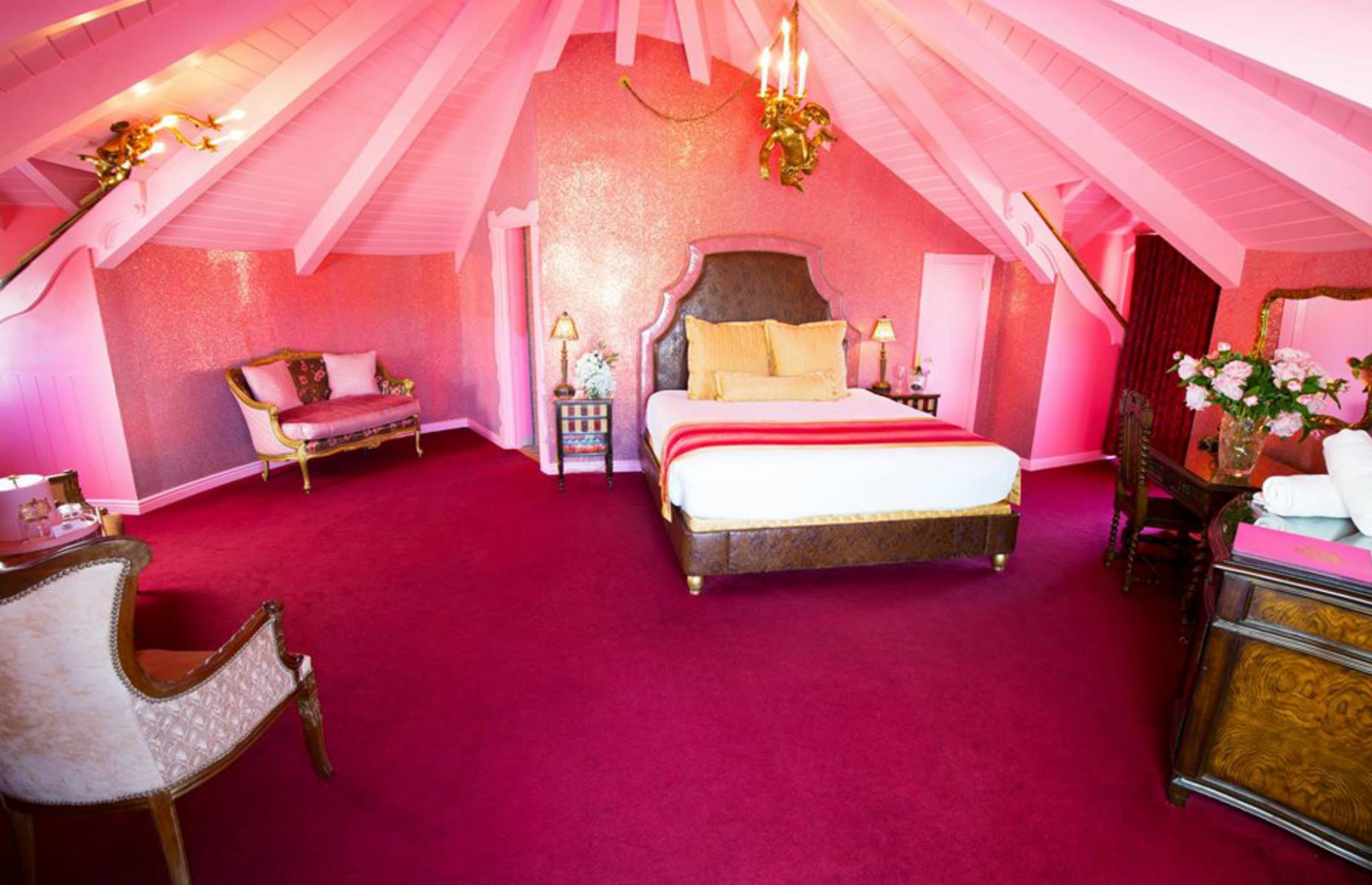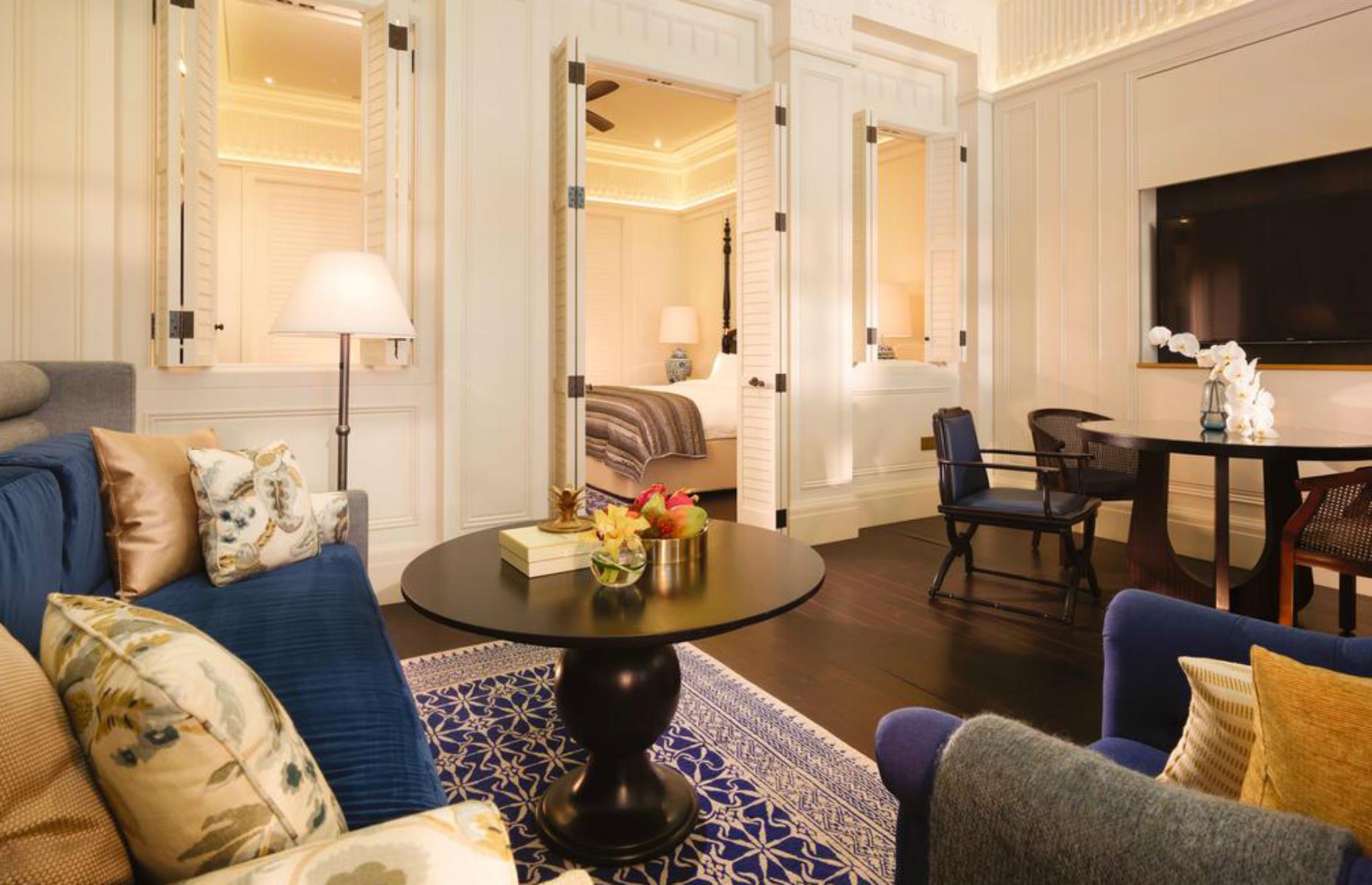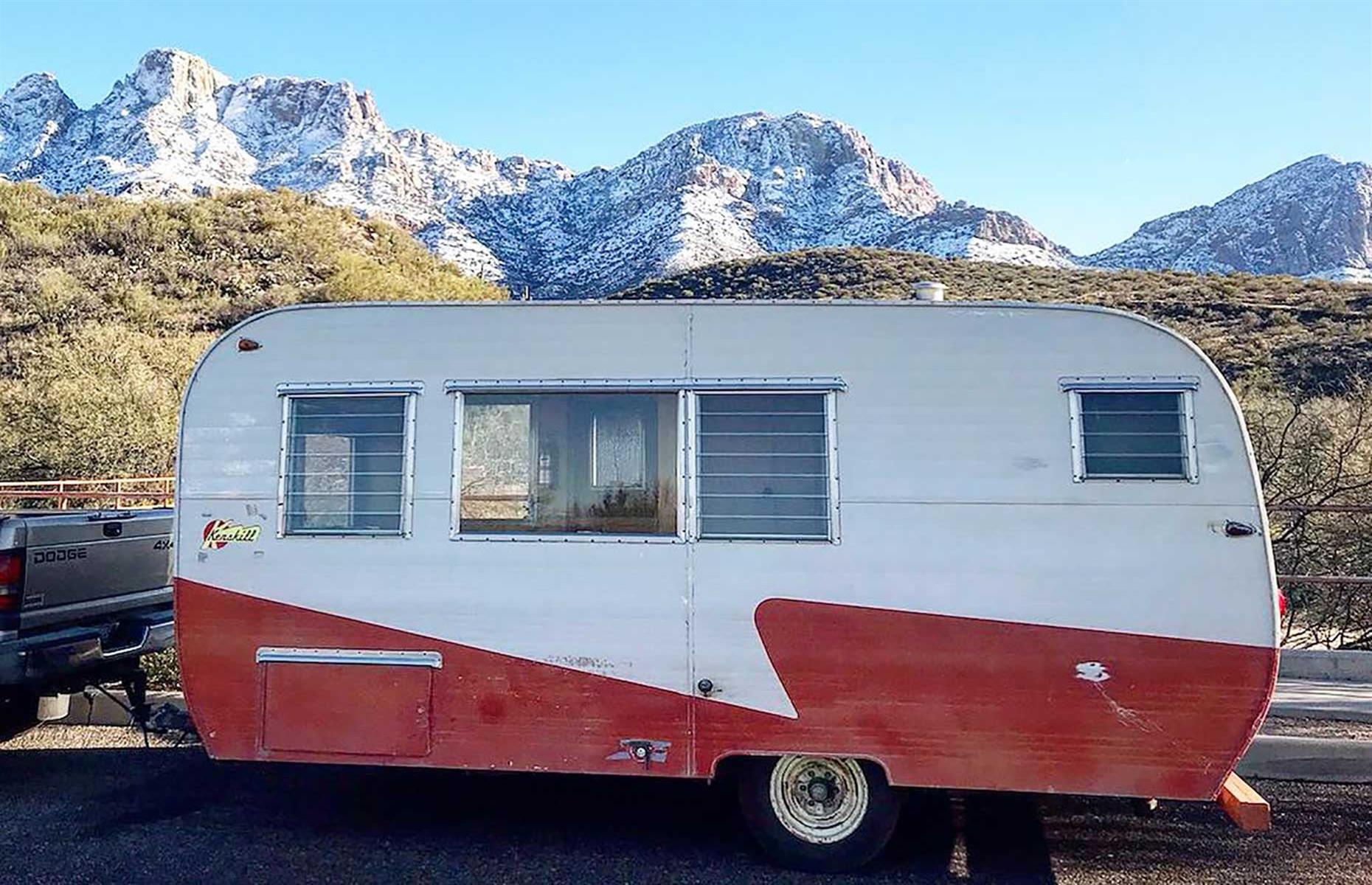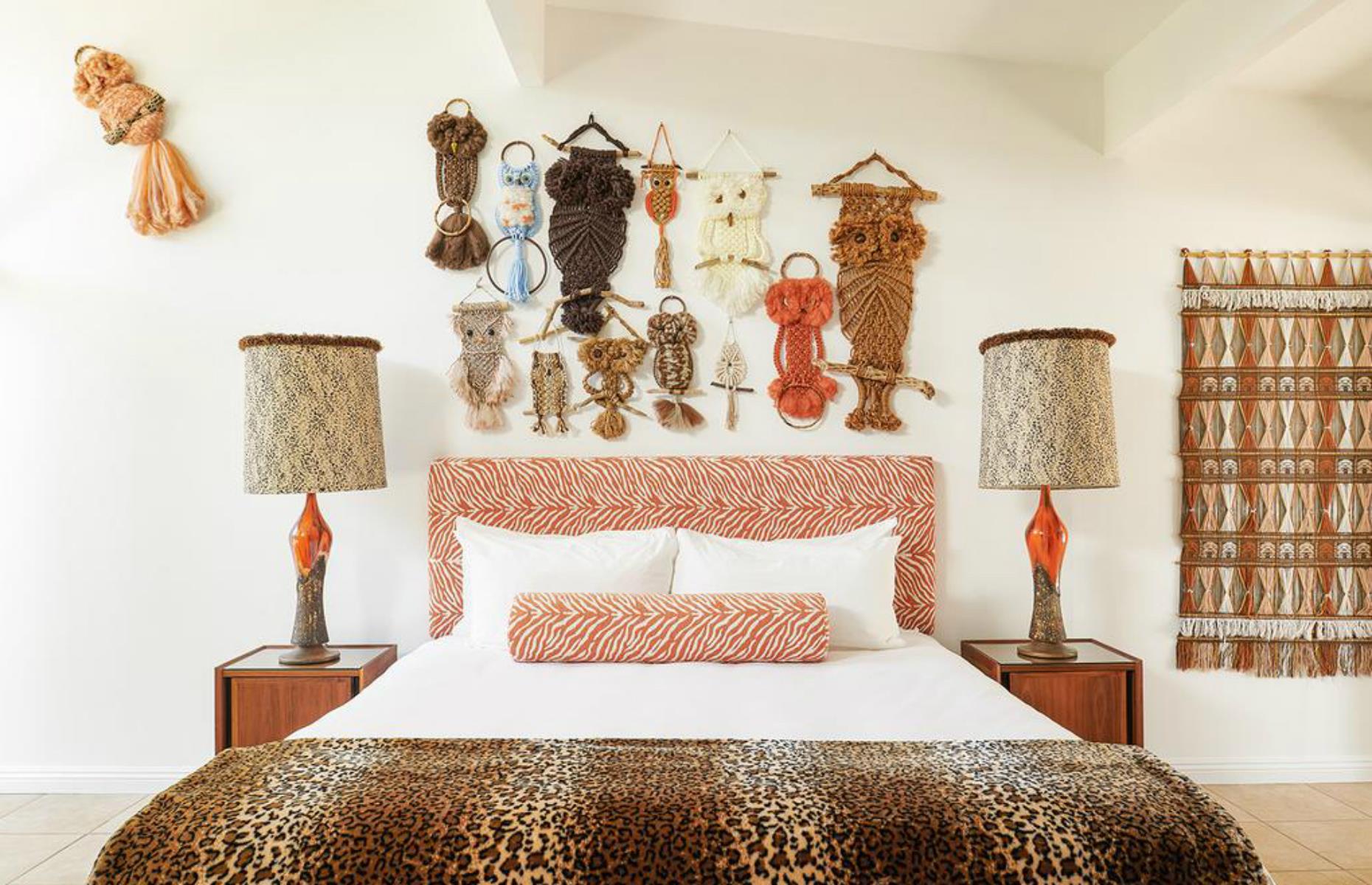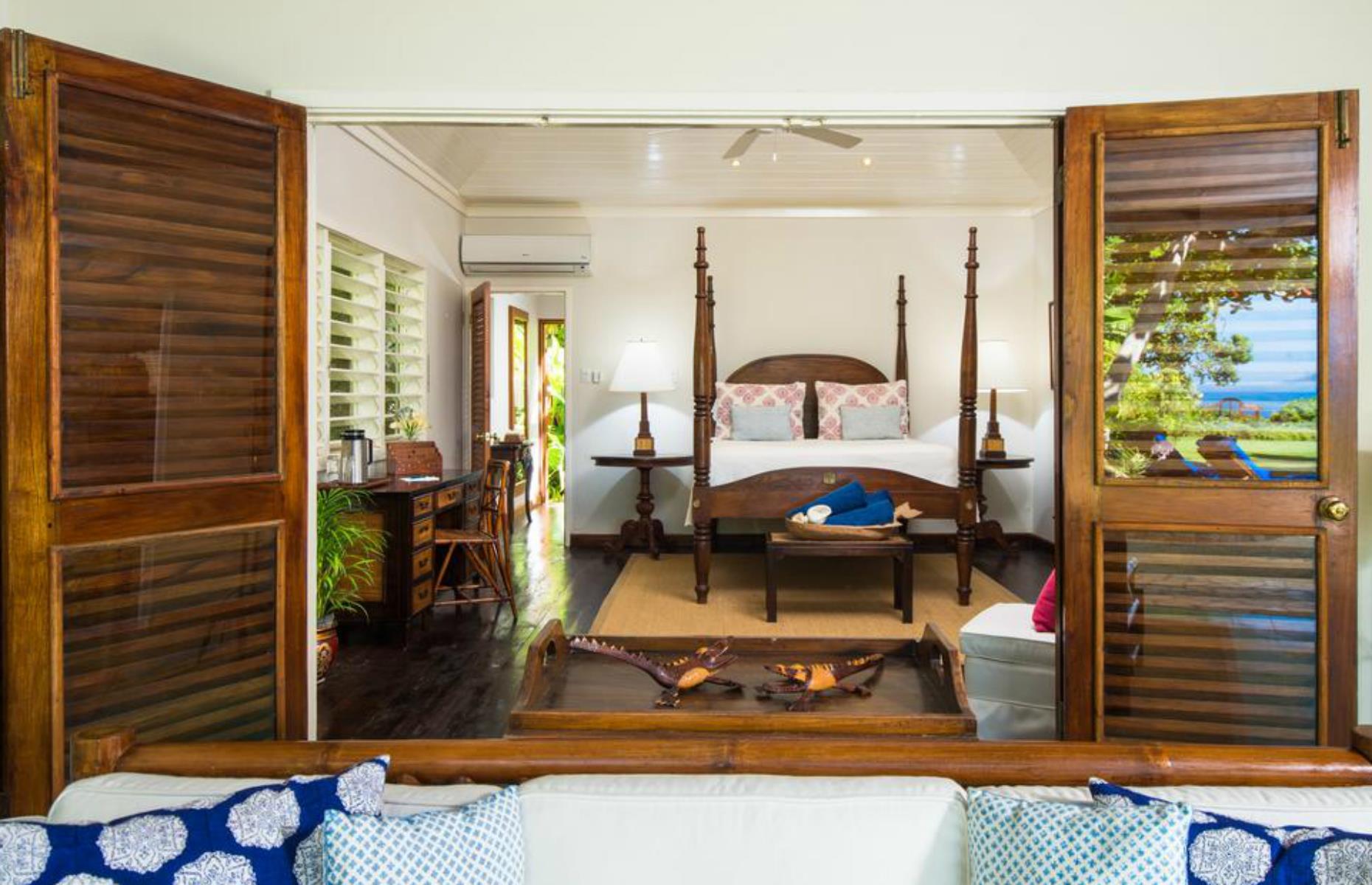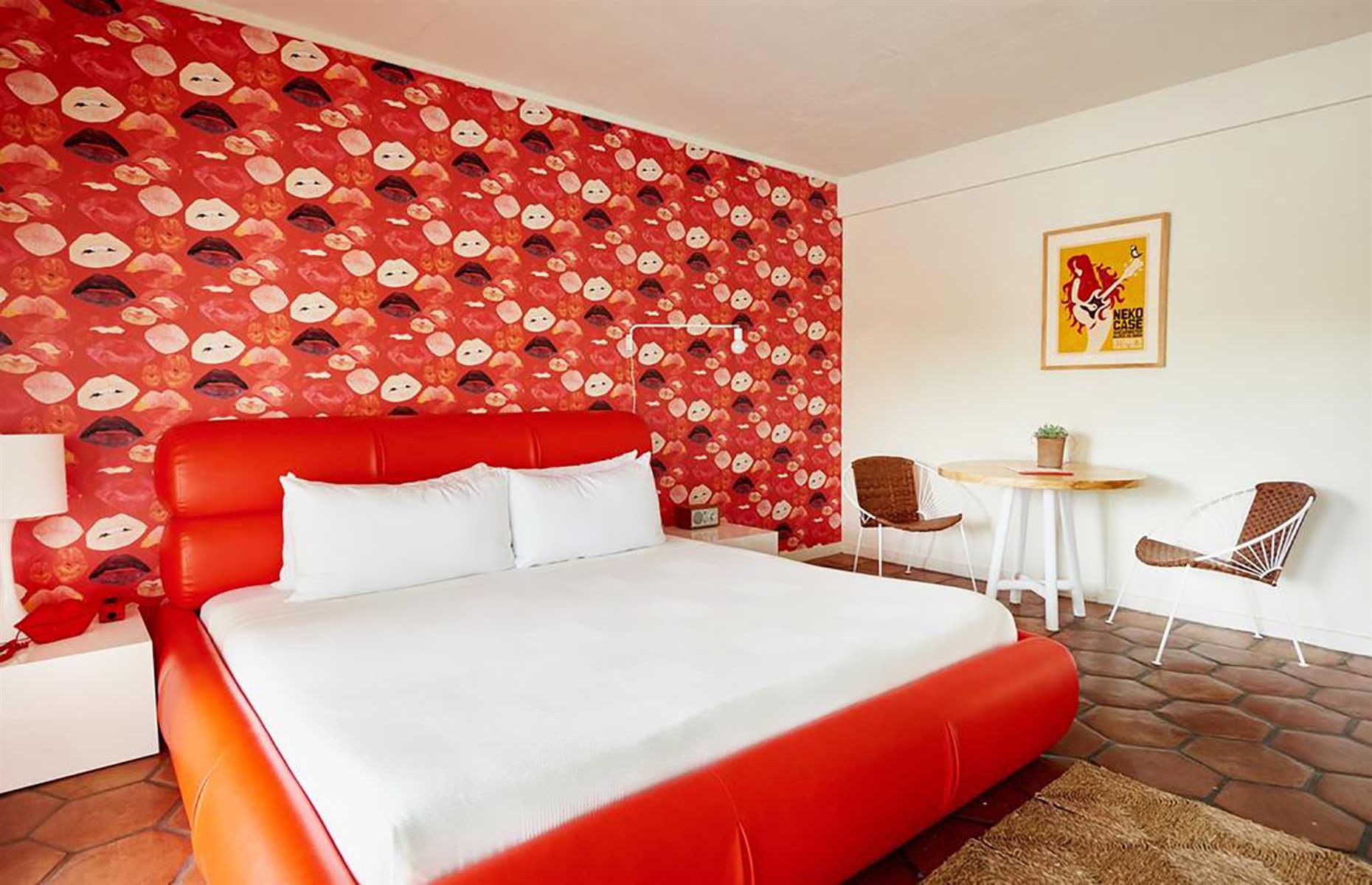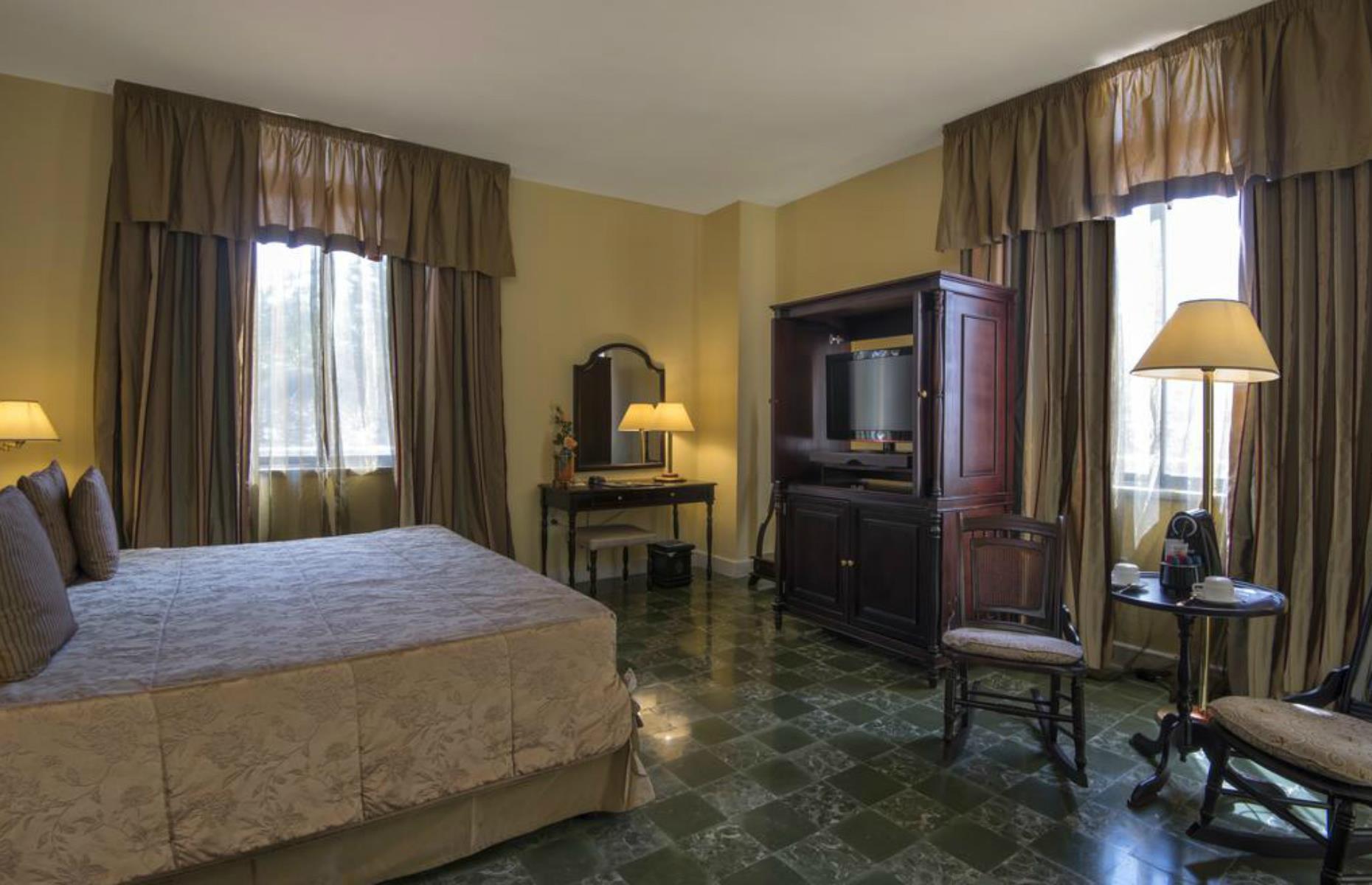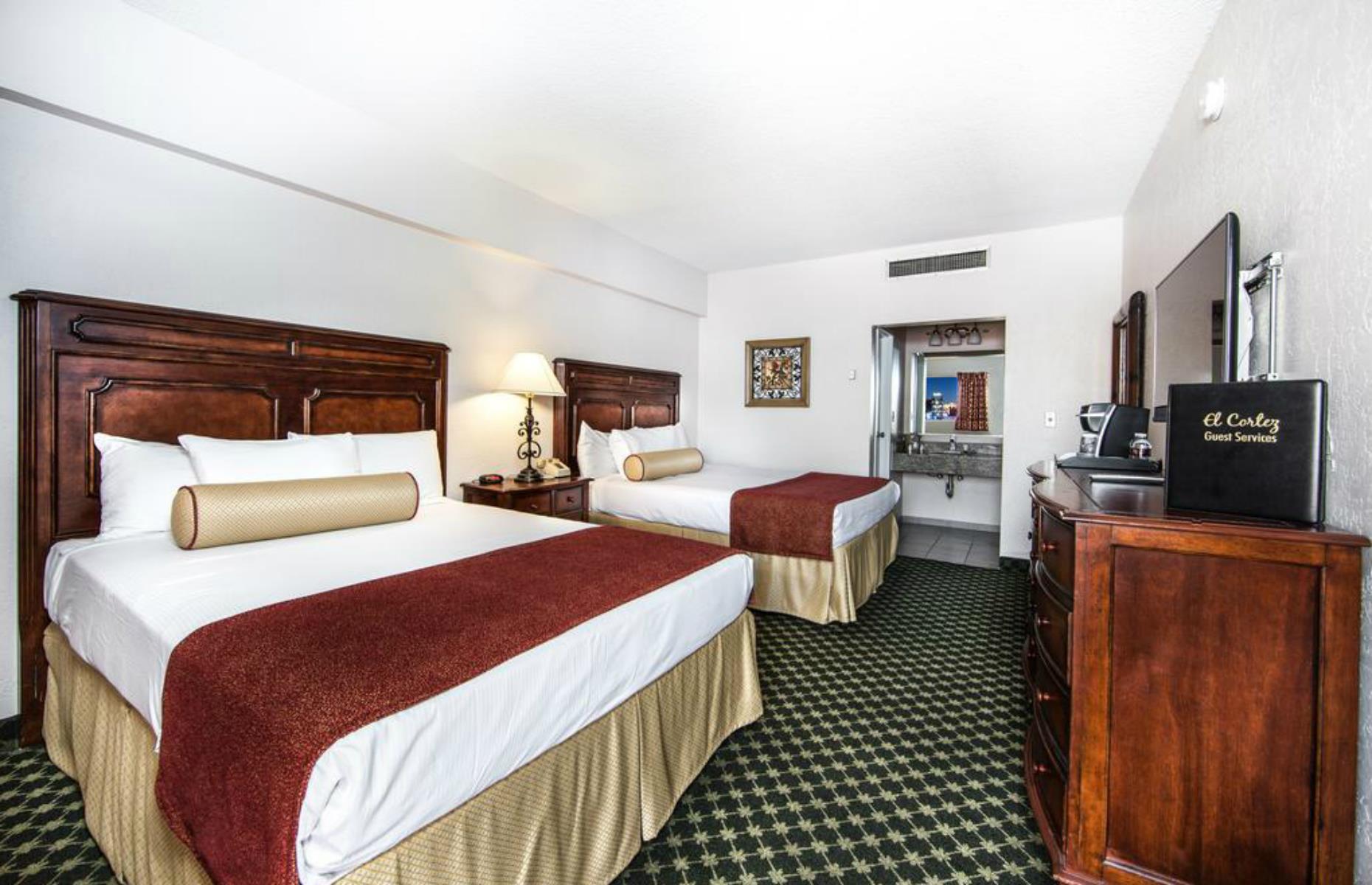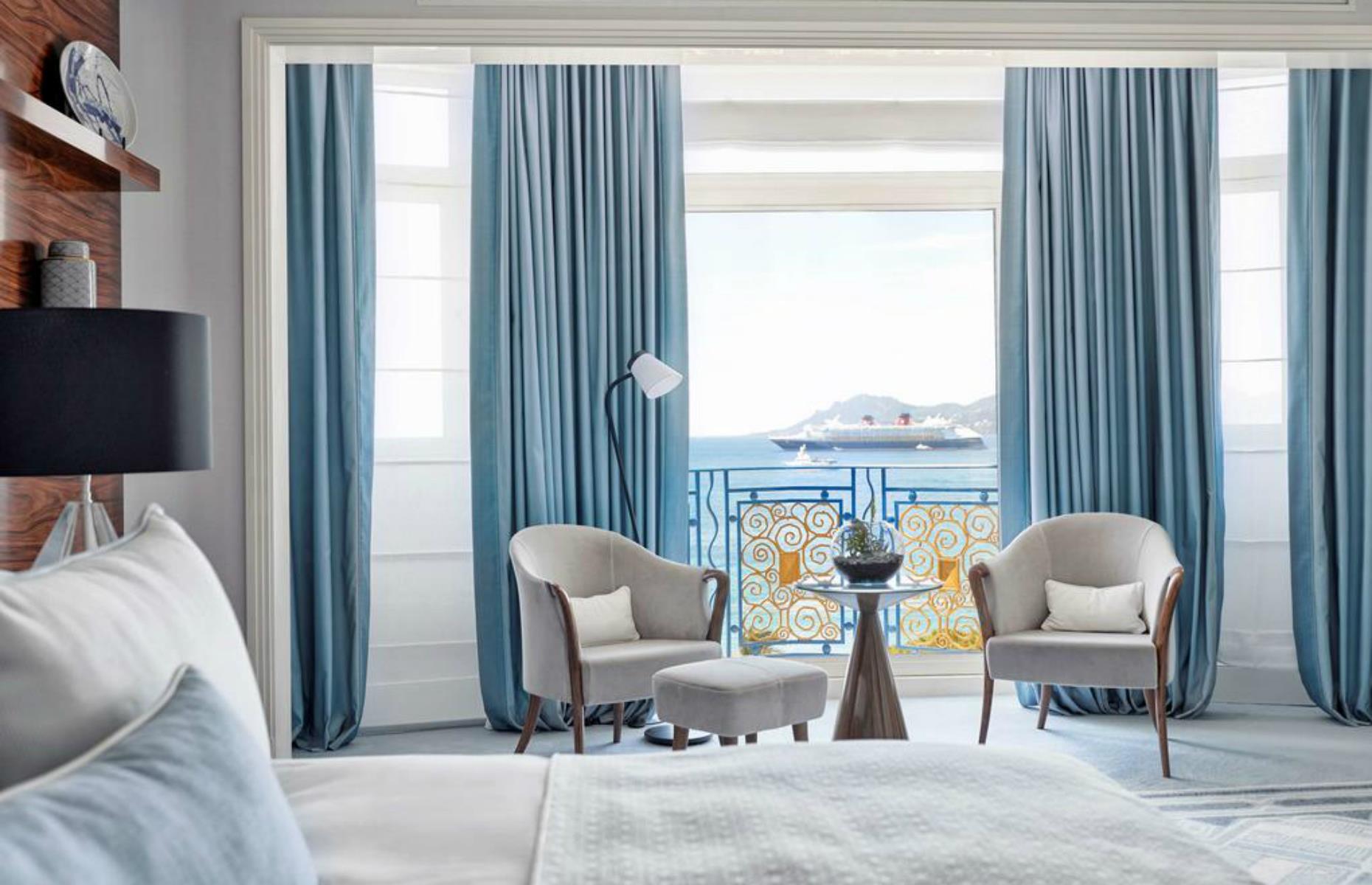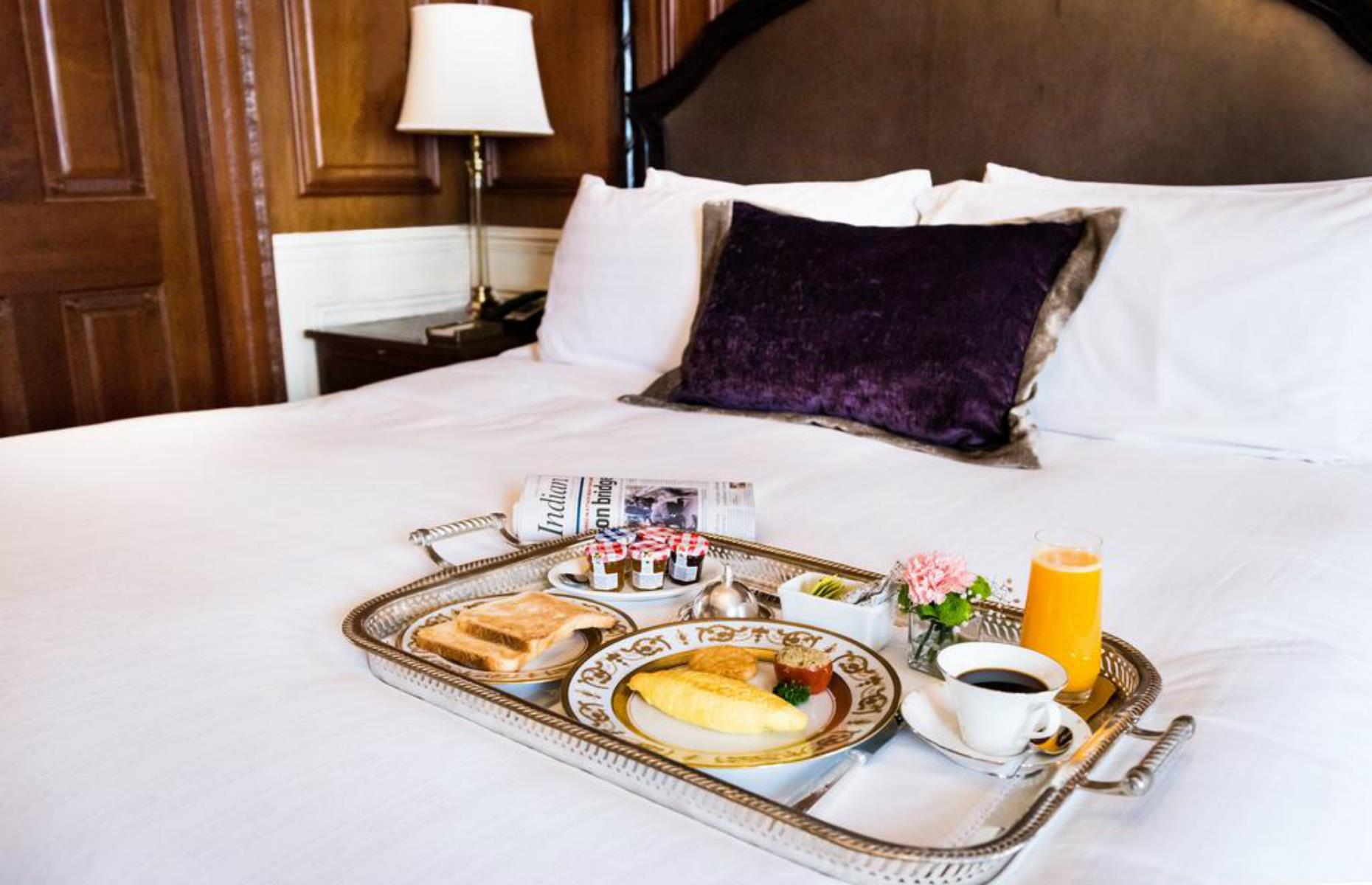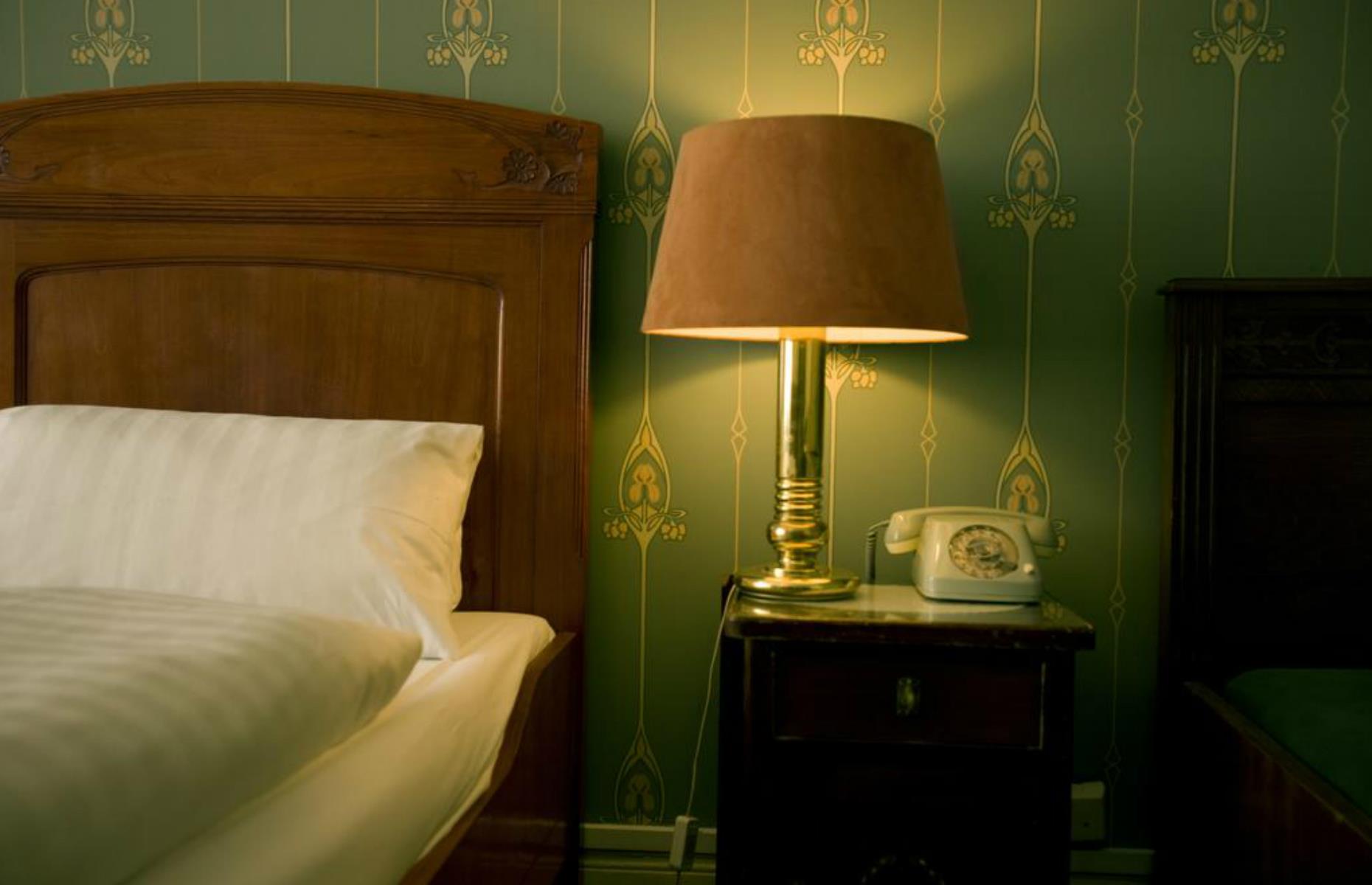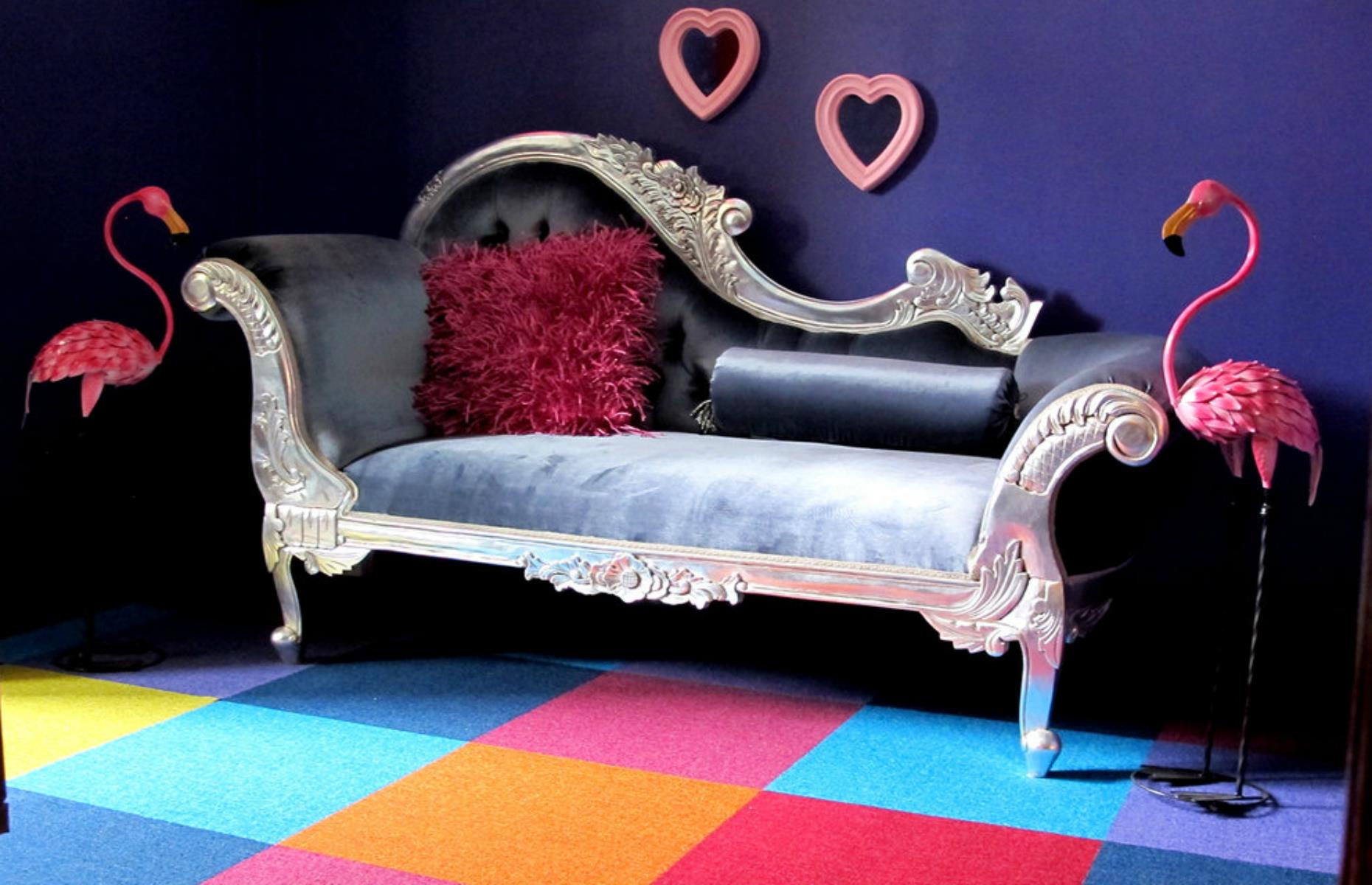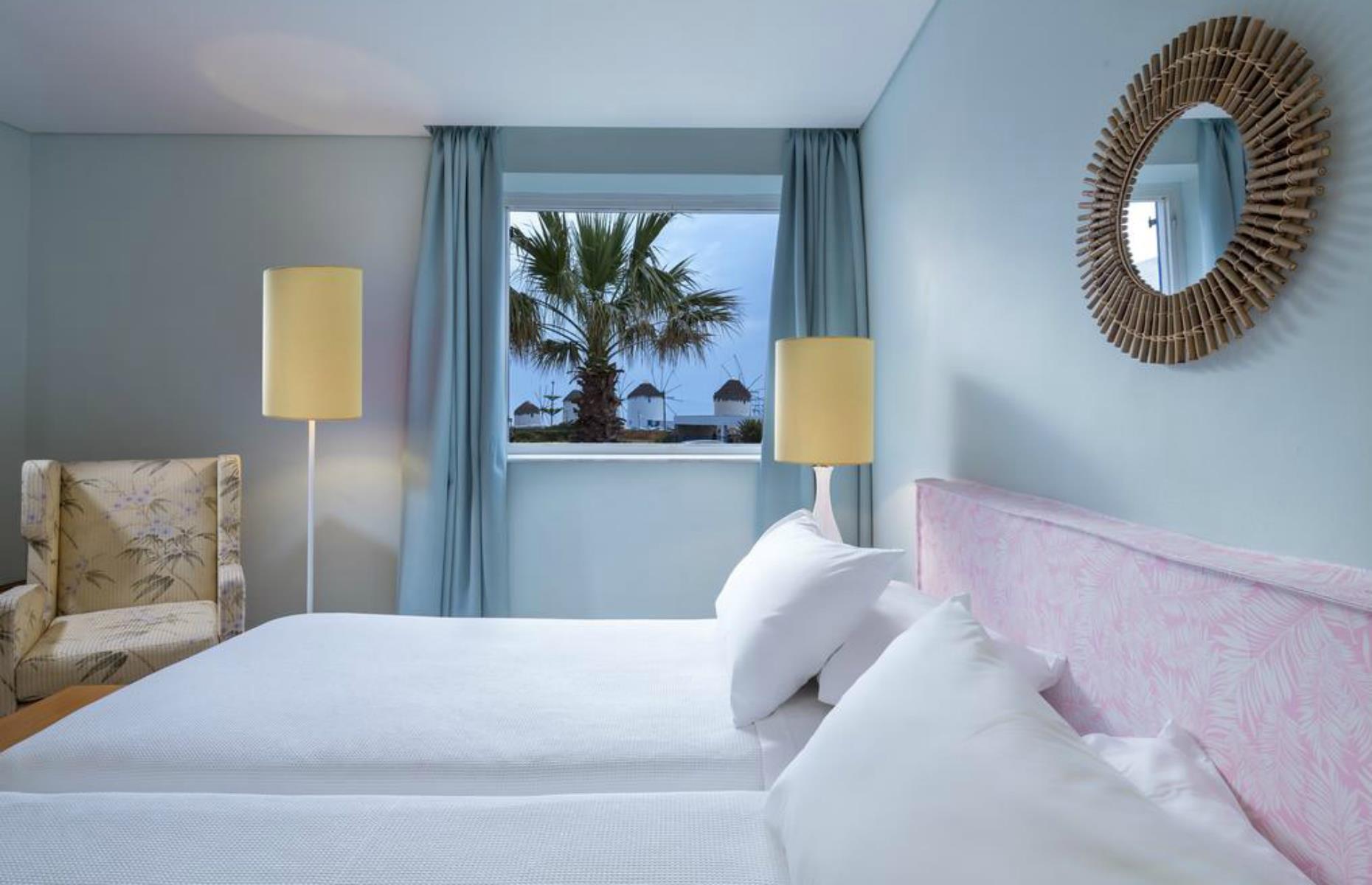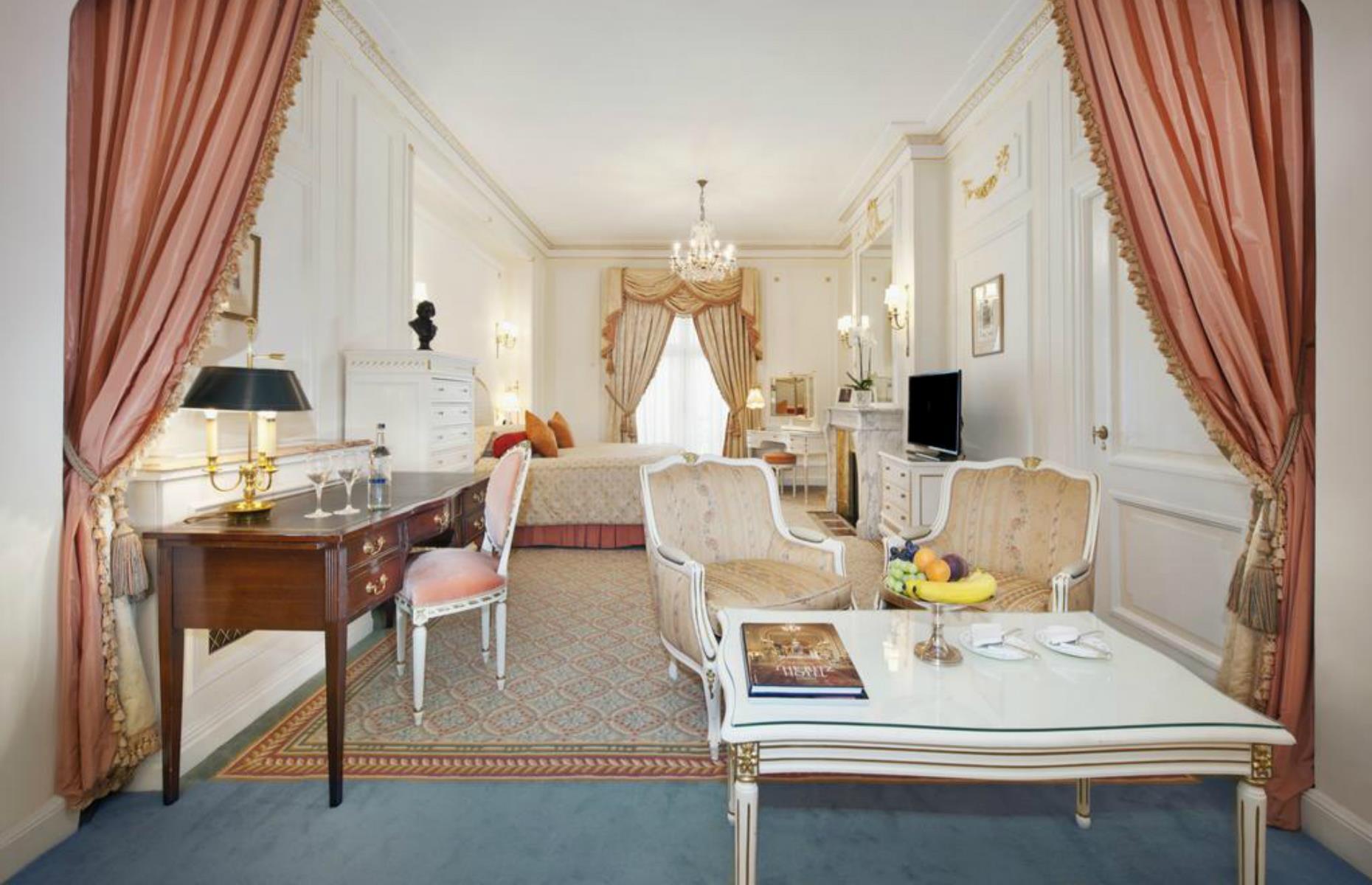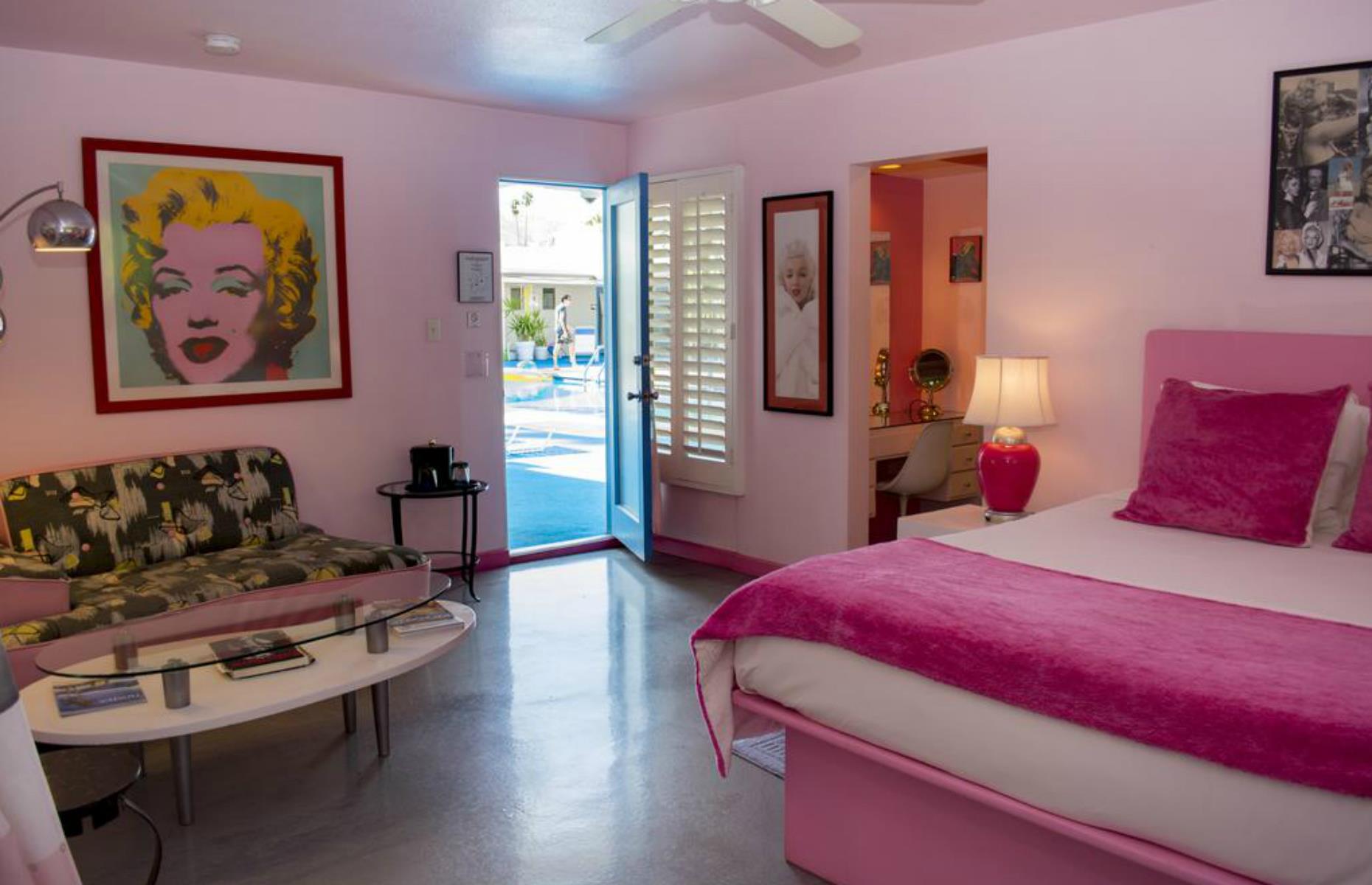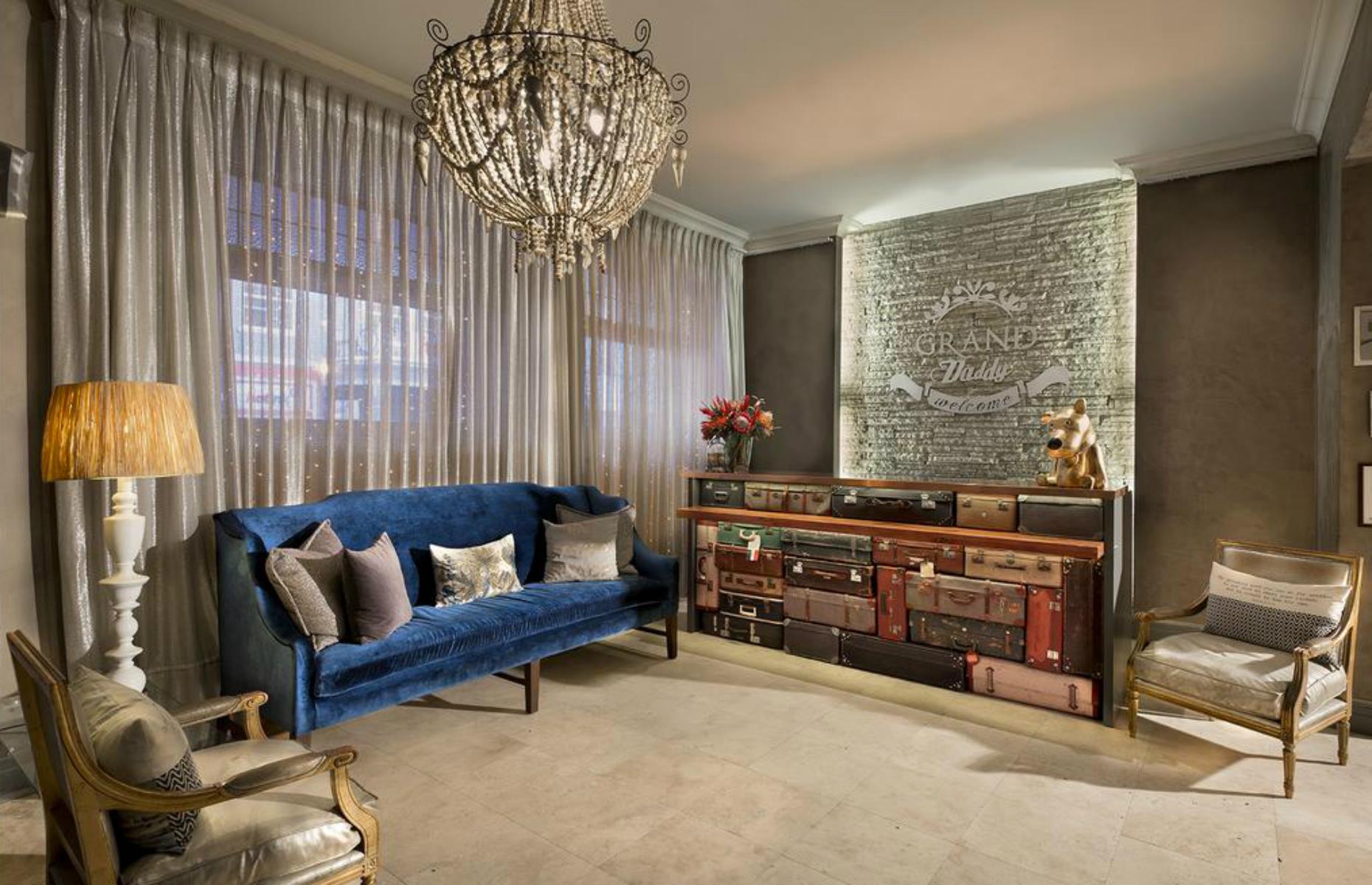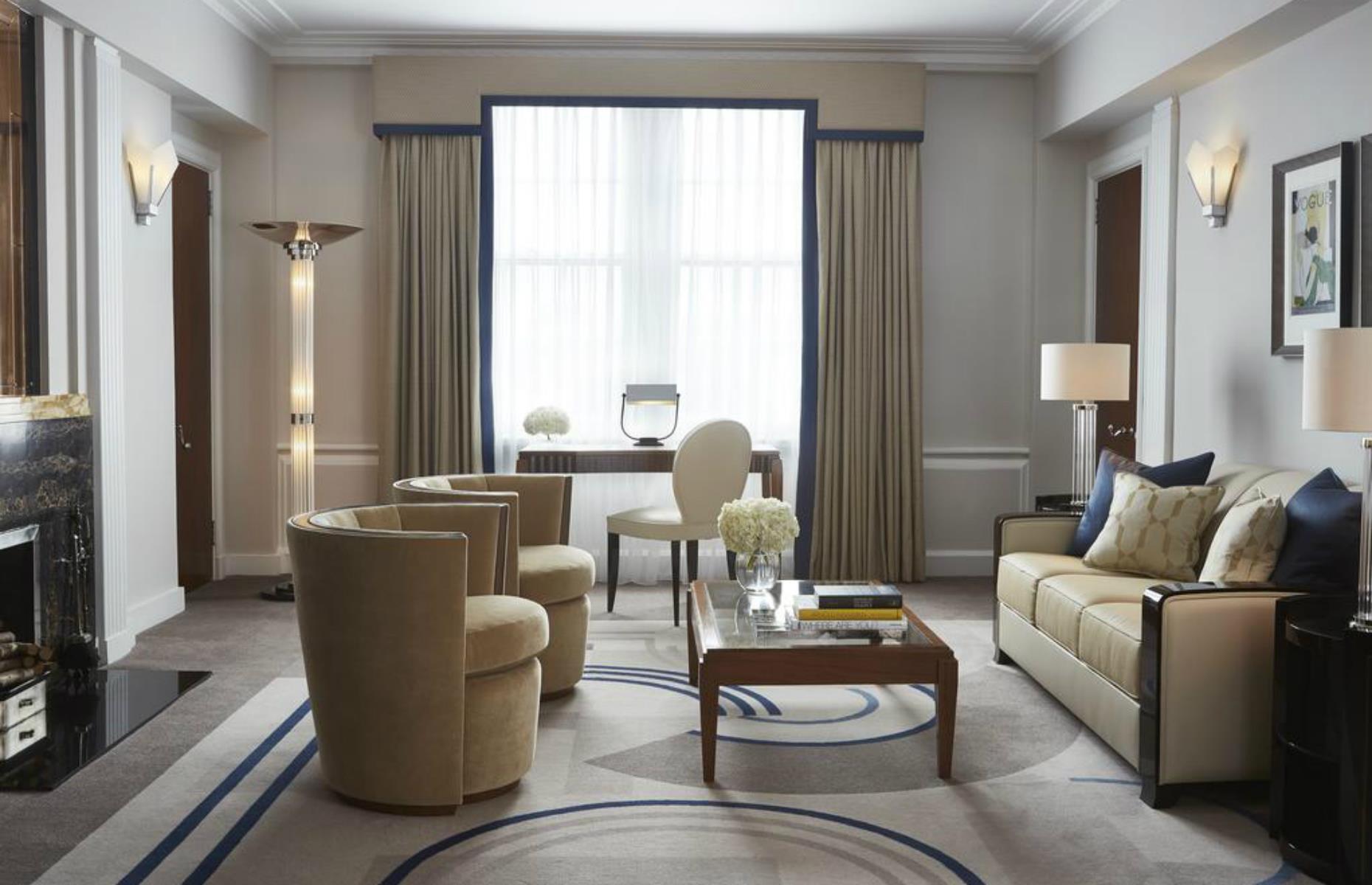 Vintage stays
Sleek and modern have their place but cozy and old-fashioned can be so much more charming. While the trend for vintage looks has influenced the design of many newer hotel rooms, we're paying homage to the originals – the places that have barely changed (aside from necessary maintenance and refurbs) since they opened decades ago. From gloriously kitsch 1950s motels to Art Deco classics, these are the rooms to check out if you want to do the time warp (again). Note that some hotel amenities may be restricted due to COVID-19.
The Saugatuck Retro Resort Motel, Michigan, USA
Built in 1953, The Saugatuck has been thoughtfully restored to reflect its roots and recall the bygone era of motor lodging in style. Rooms with patterned blankets and Adirondack patio chairs are steps from the shores of Lake Michigan, while shuffleboard by the firepit or pool adds to the charming old-fashioned vibe.
Hôtel Belles Rives, Cap d'Antibes, France
This dreamy French Riviera hotel inspired F. Scott Fitzgerald's novel, Tender is the Night, part of which is set on its pale sandy beach. Hôtel Belles Rives takes its role in preserving that history seriously, with photos of and quotes by the author displayed in the lobby. The rooms of this Antibes hotel recall the Roaring Twenties too, with period furnishings, frescos and gilded Art Deco design elements.
Cottar's 1920s Safari Camp, Maasai Mara, Kenya
This isn't so much camping, more like sleeping in a luxury hotel that happens to be under canvas. And this Kenyan safari base, just outside the Maasai Mara, was offering glamping before there was a name for it. The name is a little confusing as the camp was actually established in the 1970s, but the style hasn't changed. The decor is in muted tones of beige, stone, caramel and resin.
Chateau Marmont, California, USA
You don't mess with a true classic. Since being built in 1929, LA's Chateau Marmont has seen countless celebrities and luminaries enter its Gothic splendor – and has, we suspect, discreetly averted its eyes as overindulgence unfolded. It was painstakingly restored in the 1990s, with fresh appliances, paint and carpets, yet the apartment-style suites and cottages remain true to their original, grandly elegant style.
Burgh Island Hotel, Devon, UK
Hotels don't come much more Art Deco than Burgh Island in Devon, designed to look like an ocean liner and reached only via sea tractor at high tide. It opened in 1929 as an exclusive, invitation-only retreat, with Coco Chanel and Winston Churchill among the lucky few. Now anyone (who can afford it) can book one of the old-school rooms, decorated with the unmistakable geometric patterns and bold color schemes of the original period.
Madonna Inn, California, USA
Pinker than candy floss, a flock of flamingos and Miss Piggy put together, the Madonna Inn could never be accused of being understated. But that's not really the look this charmingly kitsch hotel, on the outskirts of San Luis Obispo on California's Central Coast, is going for. It's been a classic stop for road trippers since it opened in 1958 and its guest rooms, from the Madonna Suite – the pinkest of the pink – to stone-strewn Jungle Rock, would be right at home in Graceland. Take a look at more unusual things you'll find on an American road trip.
Raffles Hotel, Singapore
Famous as the birthplace of the Singapore sling cocktail, invented in the hotel's Long Bar in 1915, Raffles is equally renowned for the timeless elegance of its suites, with plush textures of velvet, wool and dark mahogany that hark back to another era. The hotel underwent a big renovation in August 2019 but has retained its style and its heritage's charm.
The Shady Dell, Arizona, USA
In brilliantly named Bisbee, The Shady Dell looks like your typical, retro-cool hipster haven. But it's even better, because this cluster of repurposed trailers started in 1927, catering to road-trippers traveling between San Diego, California and Savannah, Georgia, along the Highway 80. Highlights include the 1940s Tiki Bus and a vintage 1950s trailer complete with black-and-white television. Check out the best road trip in every US state.
The Monkey Tree Hotel, California, USA
The current owners of this 1960s hotel, designed by famed desert-modernist architect Albert Frey, made a radical decision when they reopened in 2016: they left much of it untouched. Elements were restored to bring it up to scratch and up to date in terms of conveniences, but many original features such as tiles and bathroom fixtures remain, whispering of Palm Springs' golden age.
Round Hill Hotel, Montego Bay, Jamaica
Legend has it that Oscar Hammerstein began writing the Sound of Music in one of the villas at this old-world Caribbean resort in Jamaica's Montego Bay. Fading photographs around the outdoor bar also boast about other starry guests from Bing Crosby to Michael Douglas. The rooms, with mahogany four-posters and shutters, blend with the timeless vibe.
Austin Motel, Texas, USA
The furniture might be (thankfully) mostly new and the cons might be mostly mod, but the Austin Motel in Texas stays true to its roots. Open since 1938, there are charming touches everywhere, from the mid-century chairs around the kidney-shaped pool to the bright yellow and red vinyl beds and pop-art wallpaper in the colorful rooms.
Hotel Nacional de Cuba, Havana, Cuba
Many visitors heading to Havana arrive with dreams of dusty streets, tiny jazz bars and pastel-hued vintage cars. The elegant, 1930s Hotel Nacional de Cuba slots perfectly within this vision. It hasn't messed too much with the classic style that has attracted guests including Frank Sinatra and Ava Gardner.
El Cortez Hotel & Casino, Nevada, USA
Not all Las Vegas hotels are head-spinningly large and lavish. Fremont Street, a couple of miles from the Strip, was the original heart of Sin City and many of the hotels here maintain a retro vibe. El Cortez opened in 1941 and was sold to mobster Benjamin 'Bugsy' Siegel four years later. While there are modern rooms and suites available, guests looking for an old-school Vegas experience should pick one of the Vintage Rooms, practically unchanged since Bugsy's day. Discover the fascinating history of Las Vegas here.
Hôtel Martinez, Cannes, France
This blazingly white Art Deco beacon is as Cannes as they come. From its sign, stenciled against a typically cloudless sky, to its private beach (the largest in the city, don't you know), Hôtel Martinez screams exclusivity and elegance. Its breezy blue and white rooms have been renovated over the years but have kept the original Côte d'Azur charm Grace Kelly would surely adore. Check out these vintage photos of Hollywood stars on vacation.
The Taj Mahal Palace, Mumbai, India
Any hotel overlooking a landmark so imposing as the Gateway to India – the 20th-century archway built to commemorate George V's visit to the country – should show suitable respect for history. But the storied Taj Mahal Palace in Mumbai goes above and beyond. Royals, dignitaries and global stars have stayed in the Florentine-inspired palace since it opened in 1903. Its old-world charm remains in the rooms, where silk rugs, four-poster beds and marble bathrooms add fitting dashes of luxury.
Hotel-Pension Funk, Berlin, Germany
This Art Nouveau time capsule, in the center of Berlin, was the home of silent film star Asta Nielsen. The decor has been kept reminiscent of her era – the 1910s and 1920s – with chintzy floral wallpaper, vintage telephones, net curtains, and peach, butter and peppermint shades.
Palace Hotel, New South Wales, Australia
One of the world's kitschiest hotels is tucked away unassumingly in the town of Broken Hill, in Australia's Outback. The Palace Hotel had a flash of fame as a location in cult 1994 film Priscilla, Queen of the Desert, and now hosts regular drag bingo nights and shows. Many of the rooms are pretty standard but the Priscilla Suite – where the characters stayed – still shines in all its glittery, glitzy glory.
The Edgewater Hotel, Washington, USA
The Edgewater Hotel was built for the 1962 World's Fair but this waterfront Seattle property has an even better claim to fame. The Beatles stayed here two years after the hotel opened and the group famously fished from the window of their suite, while special cordons had to be erected to keep fans at bay. The Beatles Suite, all Brit rock style, primary colors and clashing tartan carpets, has been maintained in its original style.
Hotel Theoxenia, Mykonos, Greece
This blue and white hotel, on the Greek island of Mykonos, is the ultimate in 1960s seaside glam – Jackie Kennedy Onassis stayed here, for one. Hotel Theoxenia has been spruced up to maintain luxury standards but pays homage to its swinging past with pop art and soft pastel furnishings straight from the era.
The Ritz, London, UK
The lavish London hotel has too much class to worry about trends and fads. This kind of timeless beauty just needs a little sprucing and freshening every now and again, not an entire facelift. Since opening in 1906, The Ritz has ushered luminaries from Paul Getty and Charlie Chaplin to erm, Anna Scott (Julia Roberts' character in Notting Hill) through its gilded lobby. The rooms, with fresh pastel shades and plush furnishings, are straight out of a Neo-classical manor house.
Palm Springs Rendezvous, California, USA
This 1930s hotel in Palm Springs was renovated in the 1950s and it's pretty much stayed the same way ever since. Rooms are in one-story buildings dotted about the courtyard and pool area, in typical mid-century style, and inside they dial the retro-glam up a few more notches. Marilyn Monroe fans should book Pretty in Pink (pictured), a candy-hued suite where the actress stayed in the 1950s. The Andy Warhol print came later… Take a look at these American hotels hiding historic secrets.
The Grand Daddy, Cape Town, South Africa
As the name suggests, this Cape Town hotel has that old-school cool vibe that so few manage to pull off. It opened in 1895 and has undergone quite a few refurbs since then, but this Grand Daddy hasn't forgotten its Renaissance-style beginnings. Rooms are plush havens with jewel-hued velvet sofas, chandeliers and vintage suitcases. Now check out the world's most remote hotels.
Claridge's, London, UK
This landmark London Mayfair hotel is as timeless as they come. Concierges first held open the doors in 1856 and it was remodeled in an Art Deco style in the 1920s. Since then, Claridge's has stayed true to that elegant period, with a restoration in the 1990s based on archive photographs. Tired furnishings have been replaced with luxurious fabrics and pieces that reflect the opulent glamor of the era that made it an icon.
Source: Read Full Article