It's more than four hours before kickoff at Mercedes-Benz stadium in downtown Atlanta on an unseasonably balmy October morning. The sprawling parking area known as the Gulch is bursting with activity, the sort of raucous, well-lubricated tailgate scene more commonly associated with America's two most popular sports: the NFL and college football.
Football is indeed the day's feature attraction, but not the brand traditionally linked to the deep south. Instead, red-clad fans numbering in the thousands have descended on the ground-level asphalt patch beneath a tangle of overpasses in support of Atlanta United, the nascent Major League Soccer (MLS) club that's become the most improbable phenomenon in American sports today – and a vibrant symbol of a new Atlanta.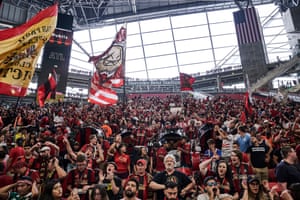 Atlanta United fans pack the stands at the Mercedes-Benz stadium
"Boxing was my number one sport, then NFL, then some basketball, so unless you were getting dunked on, run over at the one-yard line or knocked out in the first round, I wasn't interested," says Russell Gaither , a telecommunications worker and capo for the Footie Mob supporters group. "Then we got our team. And I just got the bug."
The contagion is spreading. The fact that Atlanta United, in only their second year of existence, are top of the MLS table with less than a month remaining in the regular season is remarkable enough. That an upstart soccer team are attracting upwards of 50,000 fans to games in a city notorious for professional sports apathy – and in a corner of the country where the other football is less pastime than cultural vanguard – is without precedent. Sunday's game was its seventh 70,000-plus crowd of the season and set a new MLS record.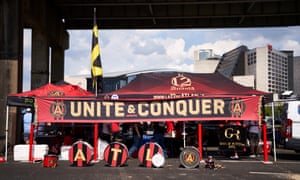 Atlanta's well-documented indifference to professional sports is down to several factors. The south didn't have a long-term presence in any major league until the 1966, when baseball's Braves relocated from Milwaukee and the Falcons joined the NFL as an expansion team – a stark contrast to the Southeastern Conference football programs, many dating back more than a century, and which many southerners are born into and follow with religious fervor. Even as the Braves won a staggering 14 consecutive division championships during the 1990s and 2000s, the team's struggle to fill seats even for playoff games became a national punchline.
Atlanta is also a city of émigrés, a demographic shift only accelerated by the influx of corporate headquarters and dramatic economic growth during the 1990s. A 2016 study shared by WABE, the local NPR affiliate, showed that 37% of the city's population were born in another state or country. Here the relative youth of MLS for once works in the league's favor: while a newcomer from Boston, for example, might be loth to surrender a generational allegiance to the Red Sox or Celtics upon relocating to the city, the ties that bind them to the MLS club they left behind may be more flexible.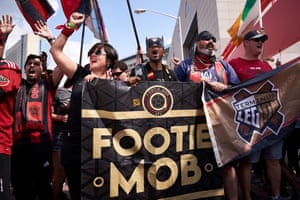 "You go to any other game, I don't care if it's Braves or Falcons or whatever, there can be a lot more away fans than home fans," says local native and Footie Mob co-founder Terri Harrington, a high school English teacher by day. She estimates less than 10% of the group were born in Atlanta: "It's a city of transplants."
This makes the eye-popping attendance figures for Atlanta United all the more remarkable. The club set the league's single-game attendance record during last year's inaugural campaign and broke it again when more than 72,000 fans turned up for 2018's opener. This year's average attendance of 51,826 is light years beyond any team in the league outside of Seattle – and ranks among the top 15 for any club in the world.
"I don't care where you're from," Harrington adds. "If you moved here in the past 10 years, this is your team."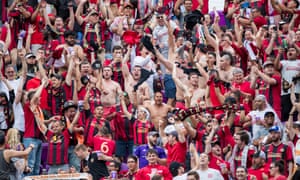 One of them is Gaither, a self-described air force kid who bounced around the country before enrolling at Morehouse College, one of the city's four historically black colleges and universities.
"For me, it's about bringing more black and brown people into the sport," he says. "So far I've brought about 10 of my friends from college over into Footie Mob and over to soccer. It's going to reflect more of the city."
Footie Mob is one of four supporters groups recognized by the club in addition to dozens of smaller offshoot groups. Nearby a rowdier party is under way where the larger, younger-skewing Resistance fan club are in rare form.
Jam Henson drinks a Rowdy and Proud
"I just wanted to be part of something that was like the Südkurve in Munich," says Jam Henson, shirtless while sucking down a Rowdy and Proud, the IPA specially brewed for the group by a local microbrewery. Henson was 17 when he emigrated from Germany to attend UCLA, where he took acting and improv lessons to get rid of his accent, before relocating with his wife to Atlanta. He's 30 now and a PhD student in history at Georgia State.
"This a little less regulated, in a weird way, especially for MLS," he says. "Germany are generally more mannered than Americans. This has more of an SEC football feel to it."
He pauses to reflect.
"It's just about being with people who like to get fucked up and yell."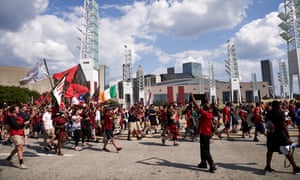 Atlanta United fans marching to the stadium
Other parties include the Faction, a more family-friendly club largely comprised of former players and parents looking to give back and growing the game through non-profit work. It offers a tamer crowd. Nearby are the South American collective La Decima and the Hispanic group La 12 de Atlanta.
Nick Jones, an IT risk manager by day, had never followed soccer closely before. He purchased a season tickets on a whim when Atlanta United began to play last year at Bobby Dodd stadium, where the team briefly held home games before the completion of the gleaming $1.5bn stadium they share with the Falcons. He was instantly hooked. Before long he was inspired to start a group to bring together LGBT supporters of the club: the All Stripes.
"The 'All' is anybody," says Jones, whose group has grown to about 370 members over the last year. "We are LGBT-focused, but we're open to anybody."
The parties dotting the Gulch start to break down about an hour before kickoff, when the groups begin to migrate to a strip of road leading to the stadium to make the final march in as a collective.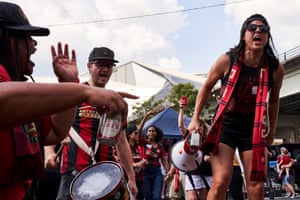 Members of the Resurgence fan club do some pre-game chanting
Winning alone, in a league constantly grappling for a mainstream foothold in America, can't account for an overnight success that has exceeded even the wildest expectations of MLS commissioner Don Garber.
All the supporters seem to agree that the commitment of the club's owner, Arthur Blank, who also owns the Falcons, has been crucial to Atlanta United's success and visibility in the community. Season tickets are reasonably priced: the team say they sold 37,000 this year. The downtown location helps, too.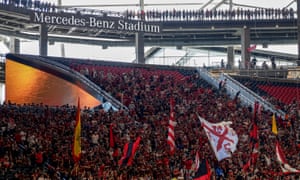 As is tradition, a celebrity guest with Atlanta roots – today it's the rapper Jeezy – pounds a ceremonial spike in a nod to the city's history as a railroad terminus, while a stadium full of supporters roar "A-T-L!" with each strike. But no amount of ceremony and promotional razzle-dazzle can compete with the sporting quality on offer over the next hour and a half, where the club win 2-1 over the New England Revolution to maintain their perch atop the league.
For Gaither, who spends the full 90 minutes front and center of the home fans end, the object is clear.
"You should be able to close your eyes and know who's playing," he says. "A lot of times when you go to games in other cities, you can't tell if it's NYCFC or LA Galaxy or whatever. But here, you know it's Atlanta."
Guardian Cities is live in Atlanta for a special series of in-depth reporting. Share your experiences of the city in the comments below, on Twitter, Facebook and Instagram using #GuardianATL, or via email to [email protected]
Source: Read Full Article