We come to a high pass. The trail ahead dissolves into a haphazard sea of pale rocks. An avalanche has ripped open a section of the mountain like a wound, splitting weathered rock apart to reveal the raw stone beneath.
"We walk quickly here," says our guide, Dawa. Without further explanation, he spins around and deftly picks his way through the rubble. We stumble after him. The loose stones grate and slide beneath my boots. The river roars in the ravine hundreds of feet below. Once we've crossed, he tells us three people were killed in a landslide at that spot last year.
We're tracing an ancient salt-trading route through the Manaslu region of the Nepal Himalaya. Near the Tibetan border, around 100km north-west of Kathmandu, the remote Manaslu trek roughly circles the world's eighth highest mountain, from which it derives its name.
Opened to tourists in the 1990s, the route was temporarily closed following the 2015 Nepal earthquake that killed nearly 9,000 people and left hundreds of thousands homeless. The Manaslu trail cuts through its epicentre. Two years later, evidence of the quake's destruction – including the avalanche site we have just crossed – is everywhere.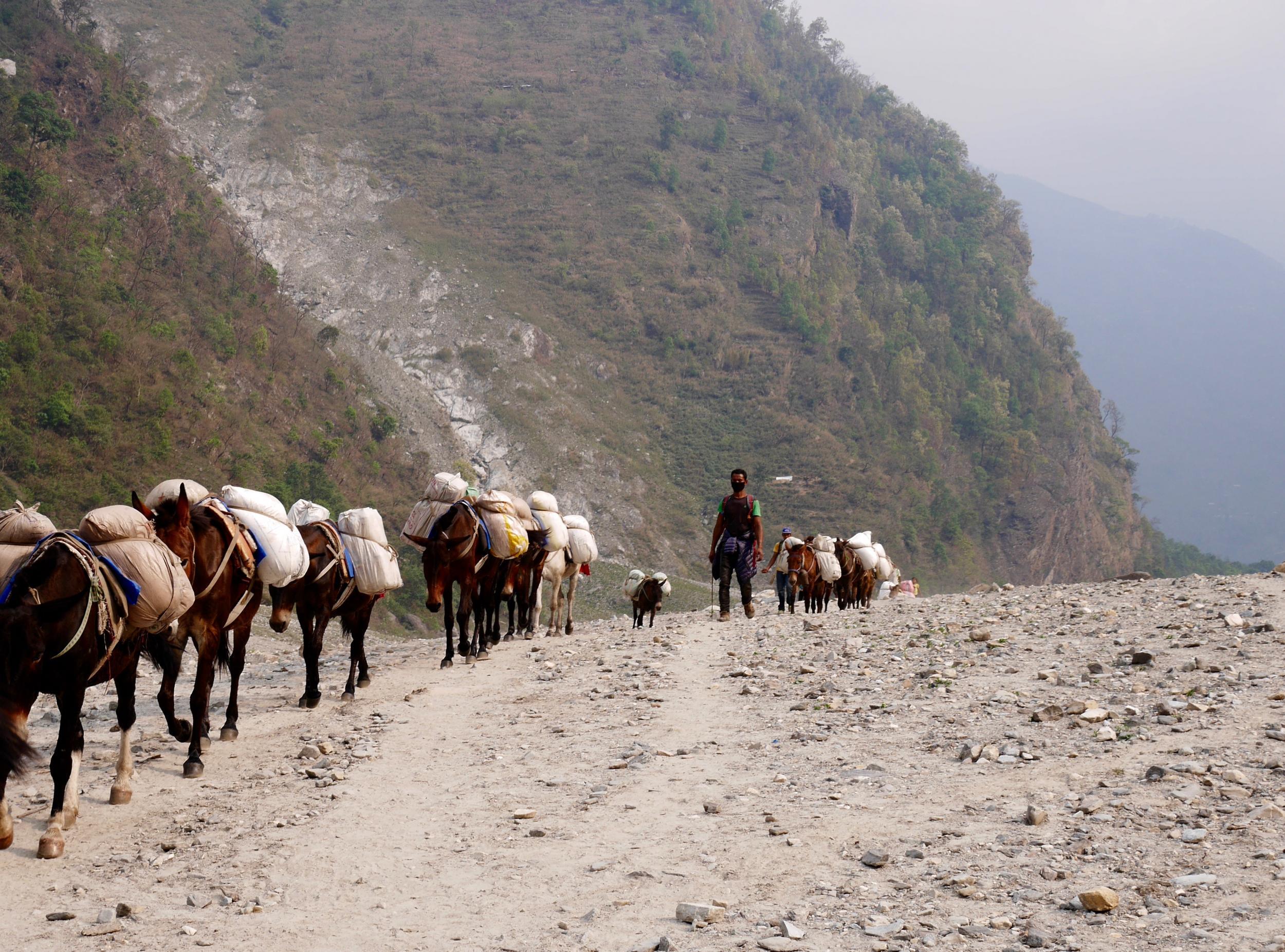 A day earlier, we had come across an entire village of temporary shelters. A series of blue plastic tarpaulins had been stretched out to form roofs. Sheets of corrugated iron formed disorderly walls. Mules had ploughed the section of empty ground running through the centre of the village into mud. A little girl, calf-deep in clogged earth, picked her way across it.
Known as Man Village, its occupants were forced to decamp there when their village was almost entirely flattened and over 40 people died.
As we continue upward, Man Village retreating below into a patchwork of brown and blue, I ask Dawa if its occupants are receiving help in the reconstructing process. He looks confused.
There were some aid packages that arrived initially, he explains. "It's difficult," he adds. "The area is very remote."
"And now?" I ask.
"The government says they will help. But no, these people are very far away. They will just carry on," he replies.
According to Nepal's National Reconstruction Authority (NRA), just 5 per cent of the destroyed houses nationwide have been rebuilt. Around 800,000 families are living in temporary accommodation.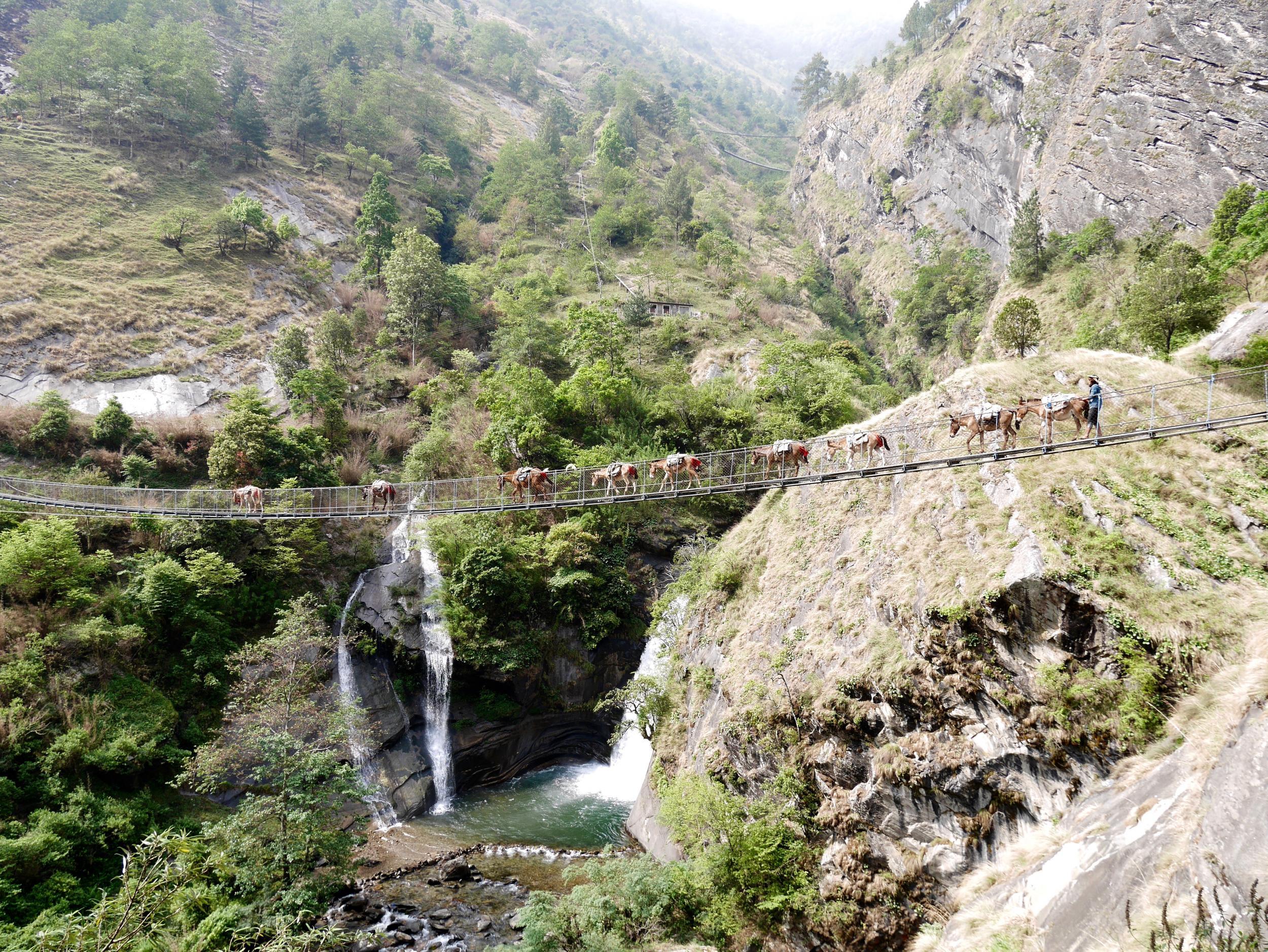 Immediately after the disaster, the international community raised $4.1bn (£3.2bn) for Nepal's reconstruction, but most of the homeless have yet to receive any of the promised cash. In the villages we pass, dislodged boulders the size of small cars have been wound into bamboo fences. Aid tarpaulins masquerade as shop awnings or are patched into gashes in rooftops. Mules trample out new trails through avalanche sites.
With little hope of funding reaching these rural communities, tourism has become vital to recovery. The Manaslu route became a "tea-house" trek in 2015. Tourists, previously restricted to camping, can now stay at lodges run by villagers. Standards vary, but each tea-house we stay in offers a bed, shower and long-drop loo. The hot water is erratic; meals are basic. Rice and vegetables aside, everything is transported by mule. Every night we order dhal bhat, a local dish of rice, cumin-spiced lentil soup and unidentifiable green vegetables. In the morning we eat circles of spongy Tibetan bread and drink granulated coffee with yak's milk. On the trail, villagers flog Coke, bottled water and cheap Chinese hiking boots to a string of hikers. One woman tries to sell us Pringles.
There are two treks within the Manaslu region. Both routes begin by tracing the icy coils of the Bhuri Gandaki River before climbing upward. We pass through carefully tended terraces of maize into a conservation area where groves of wild marijuana roll off the hillsides and jasmine and faded buddleia fringes the path. Strings of mules, laden with rice and tinned goods, pass by. We watch them weave into the distance, bells tinkling, until the rush of the river swallows the cries of the men goading them onward.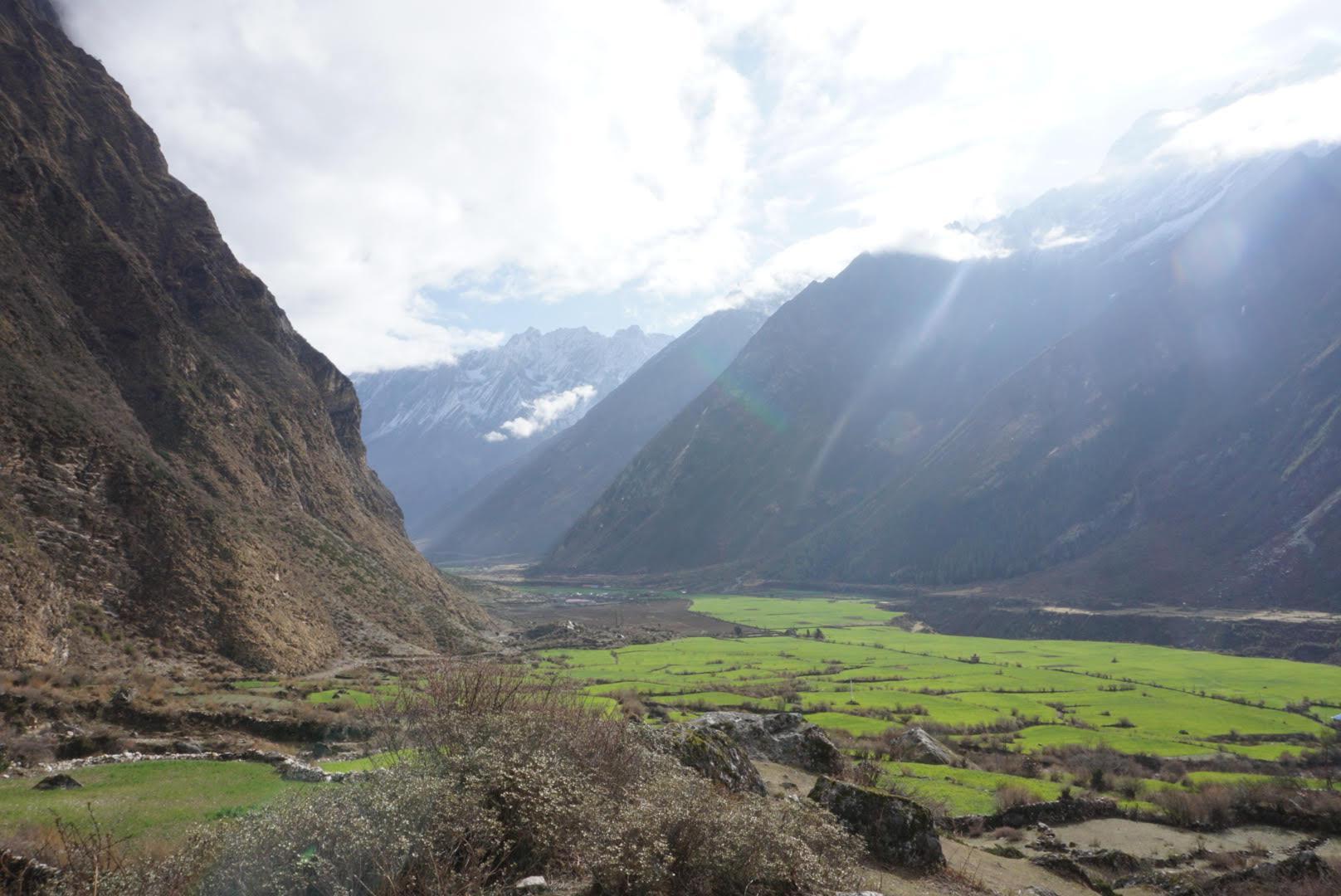 After two days, the route steepens, flowers and firs dwindle to balding rock and wiry scrub and the path splits in two. Half our party head to the left to complete the 14-day Manaslu trek, which rises sharply to the Larkya La pass at 5,125 metres before dropping into a forested valley.
But we head to the right, spending a tough day ascending rock-strewn terraces until we crest a ridge and the emerald-hued Tsum valley unrolls beneath us. Restricted until 2008, few travellers have made it to this remote Tibetan valley. Girdled by glacier-capped mountains, the 1,663-sq-km basin is lush with snowmelt. Fiercely protective of their verdant pastures, inhabitants – known as Tsumbas – practise polyandry, with one woman marrying a set of brothers so as to retain the family's land. The valley preserves a long history of Buddhism; occupants speak a unique dialect and many claim to have seen Yeti.
Eyes peeled for snow-monsters, we weave between stone-walled monasteries, ducking strings of faded prayer flags.
Depending on how large a loop you make of the valley, the trek takes between 16 and 21 days. It sounds lengthy, but I fell into a happy rhythm, drugged daily by the thump of my boots and lured forward by the glittering white Himalaya passing in and out of the clouds.
Over the past decade, the Everest base camp trek has become crowded, while a tarmac road now circles a large section of the hackneyed Annapurna circuit. Trekking in Manaslu makes for a wilder, and far emptier, alternative. Plus you can walk in the knowledge that your presence is now, sadly, a vital part of the shattered region's recovery.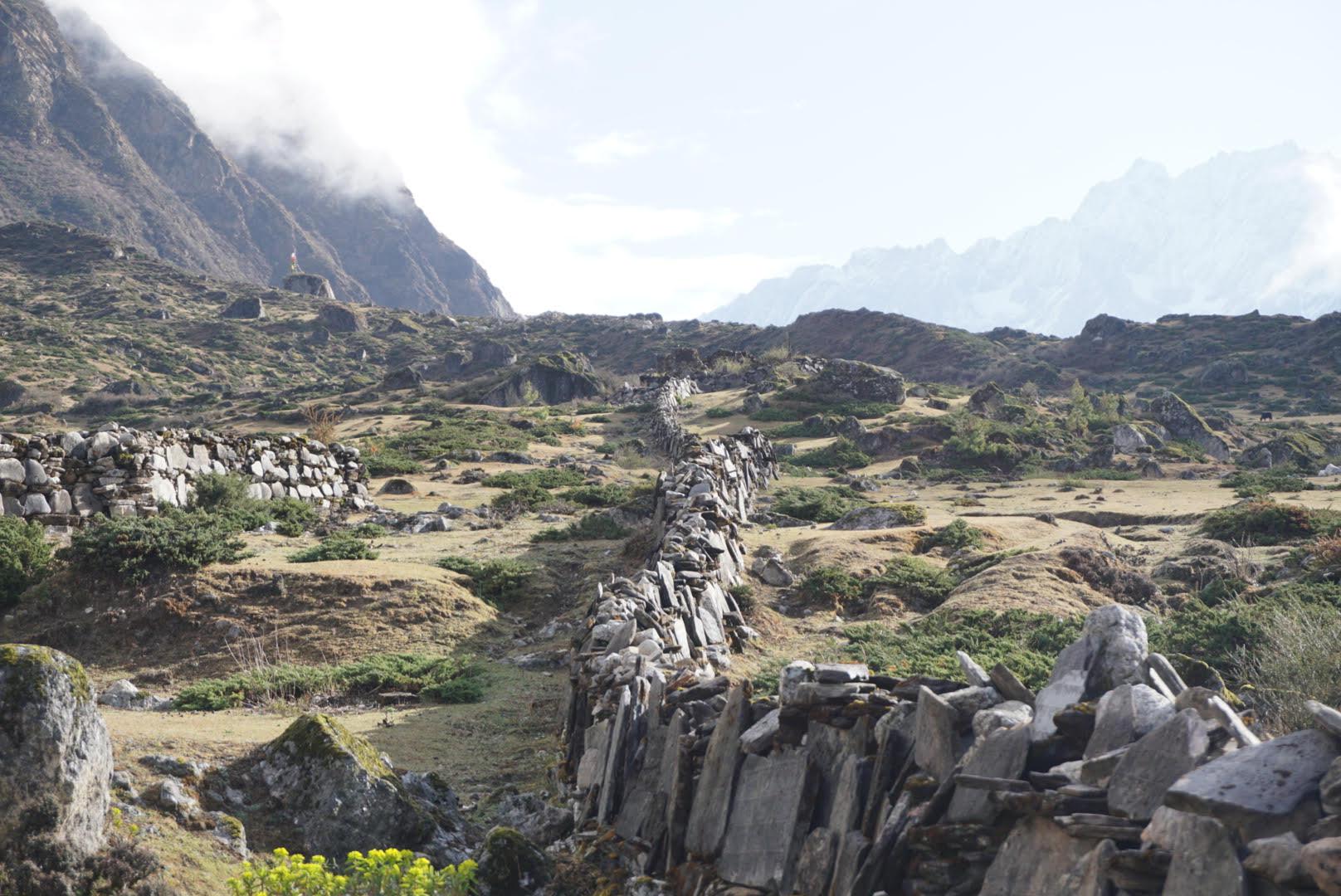 Travel essentials
Getting there
Jet Airways flies from Heathrow via Delhi to Kathmandu from £665 return.
Staying there
1905 Suites is a former artist's residence in Kathmandu converted into immaculate rooms – it's a good place to adjust to the altitude. Doubles from $150 (£117), B&B.
More information
Treks in the Manaslu region can be booked through Magical Nepal from $90pp (£70) with private guide. Manaslu & Tsum Valley permits cost $25pp (£20). Meals/board around $8pp (£6) per night.
Source: Read Full Article