"Touch each other's hands to complete the circle, then perhaps we can call forth spirits from beyond the grave." A woman clad in all black lace smiles creepily and raises her eyes – too piercing, too blue to be quite natural – to meet mine.
Everyone around the circular table glances nervously at each other before complying, sliding our fingers so they sit skin to skin.
One man makes a bad quip and we all laugh gratefully. Then the chanting starts. Led by our uncanny Victorian séance guide, we repeat the same rhyming lines over and over, louder and louder, faster and faster until, just as the anticipation reaches a fever pitch, all the lights go out and we're plunged into total darkness.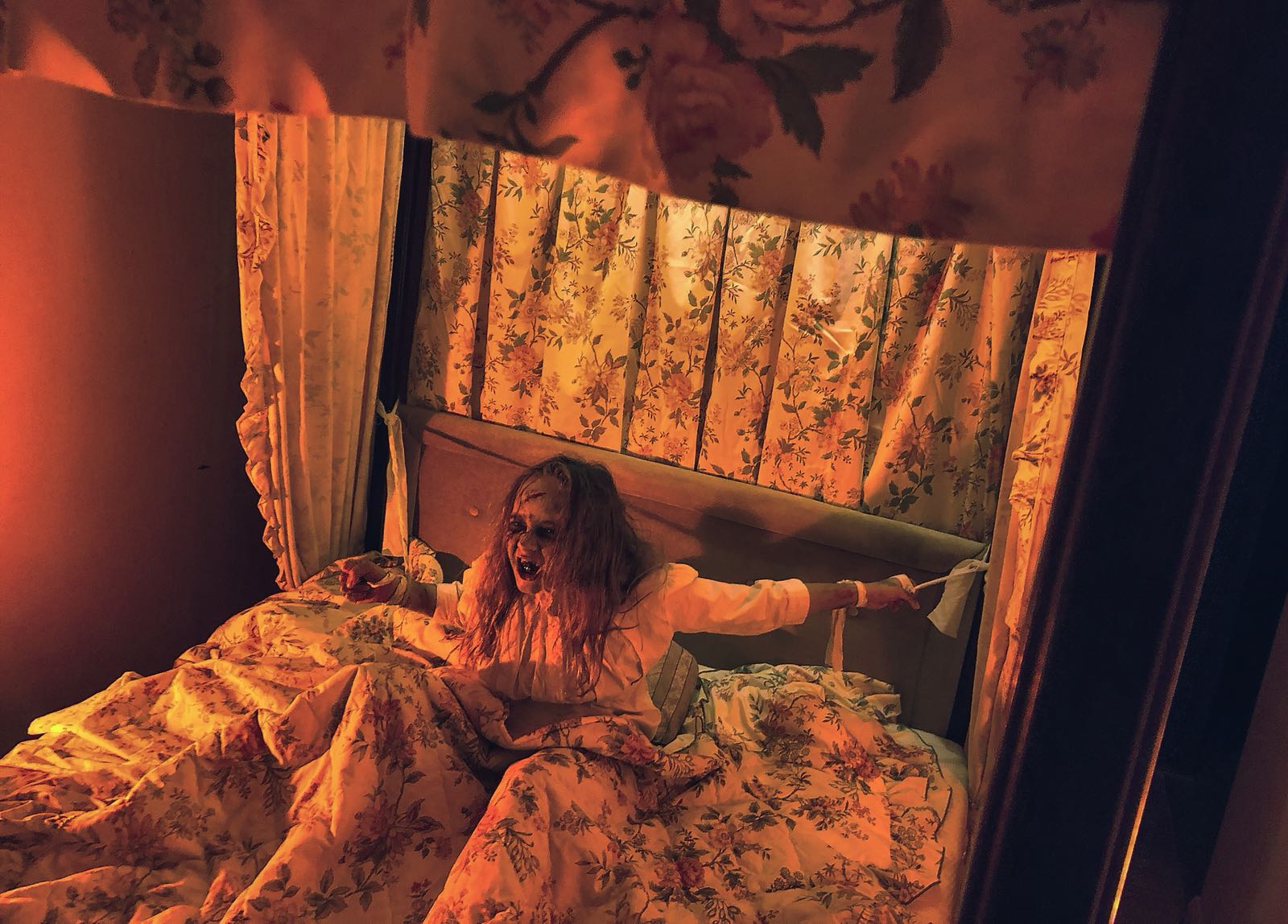 We fall silent instinctively. A loud banging starts on the other side of the room; discordant piano keys are played; my whole body tenses as I feel something, ever so softly, brush the back of my neck. My heart hammers a drumbeat in my chest and, in the tiny part of my brain that isn't currently consumed with terror, I wonder: "Why am I doing this again?"
I'm at a preview of House of Horror, a new attraction in Brentwood, Essex, that's billing itself as a 4D immersive experience "so scary you have to sign a waiver to take part". Using trained actors, it promises to recreate classic horror movie scenes through a series of 12 rooms before visitors are given the choice of whether they feel brave enough to take on the much-vaunted Room 13.
Although not the obvious candidate for such an experience, I'm the perfect test case. I jump if someone sneezes suddenly, knocks over a cup of tea or even just stands behind me without prior warning. Don't even get me started on scary films – if I wanted to spend the night unable to sleep I'd get a round of espresso martinis, thank you very much.
So if anyone's going to be left a trembling, dribbling wreck by this evening's events, it's going to be me. I keep reassuring myself by mentally running through the safe words – "code red" – which, when uttered, guarantee you'll be safely escorted out of the experience by a member of staff. Then I unhelpfully remember an episode of Black Mirror where the protagonist utters his safe words in a house of horrors to no avail, and fear floods my body again.
As suddenly as they went off, the lights flick back on and intense relief visibly washes over the group as we realise we're all still here: everything's OK. For a second.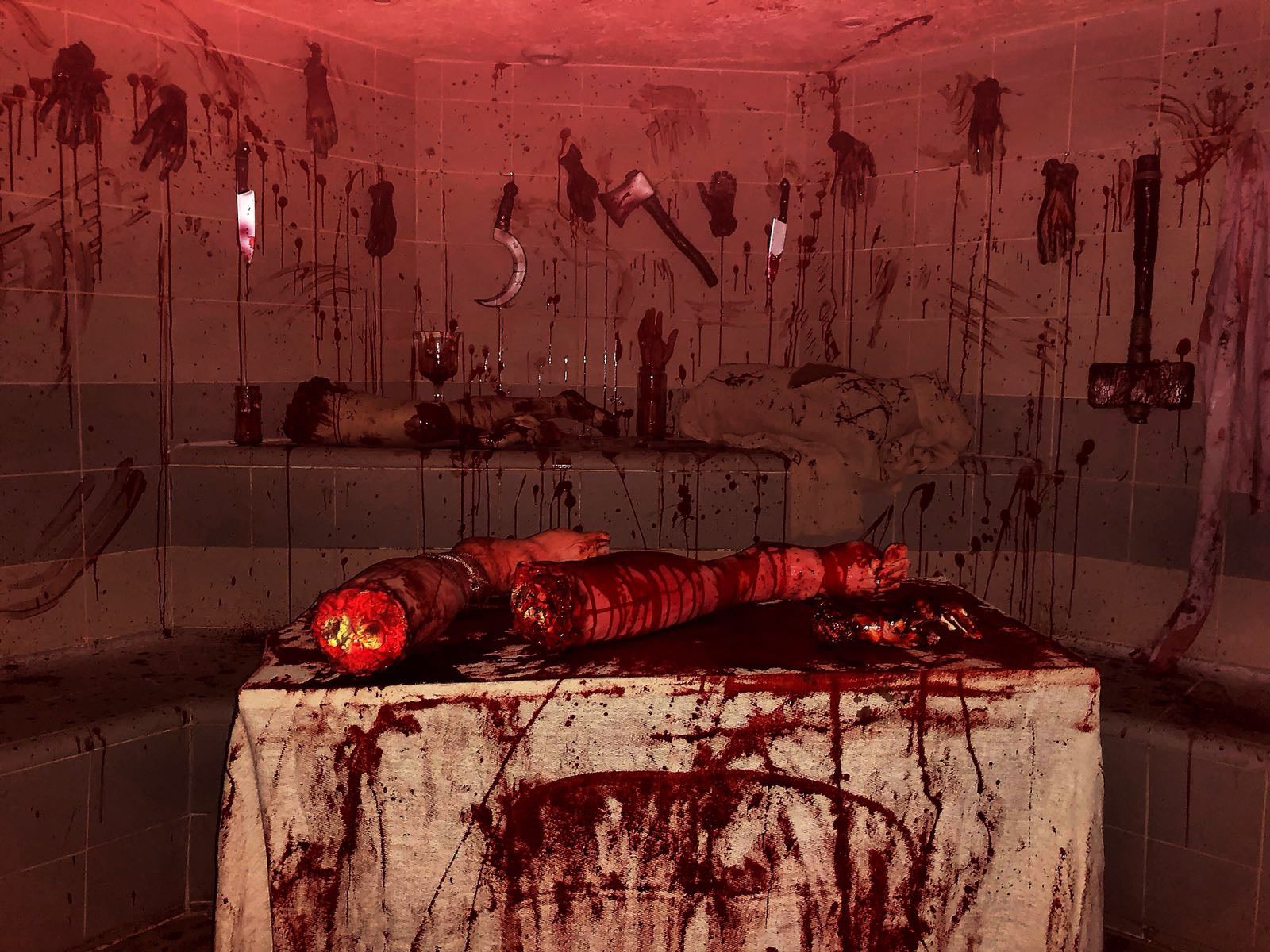 Next minute we're swept into another room by a priest trembling with religious zeal, who thrusts wooden crosses into our palms so we can take part in an impromptu exorcism.
Over the next hour or so – time soon loses all meaning – we're led from room to room, each telling a different, fright-filled story complete with amputations, scarecrows, stranglers and mad butchers with chainsaws. I am constantly on edge, poised for flight or fight at any moment, but manage to keep it together in a way that makes me feel strangely proud. Perhaps it's because we're in a group; although I've never met any of my comrades before this evening, it turns out fear is quite the bonding experience. My teammates, two guys who are clearly taking all the shrieks and shivers in their stride, keep making terrible dad jokes. It's like a release valve – whenever things get too much one of them cracks another pun, and we all laugh far more than is warranted.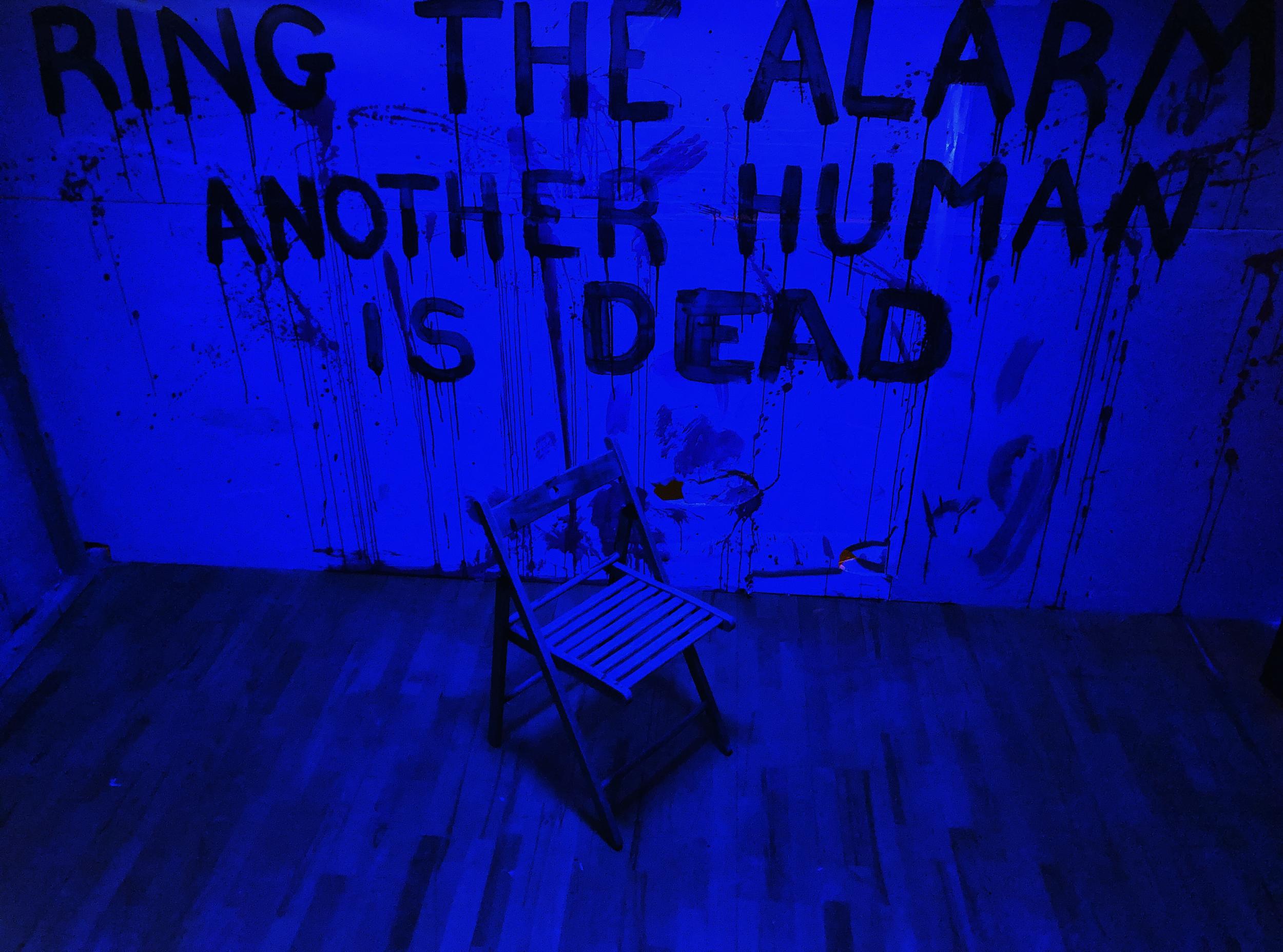 By the time we run the final gauntlet – think strobe lighting, mazes and crazy people waiting around every corner – I feel like I've run a half marathon. I have to physically force myself to put one foot in front of the other as my heart hits cardio-levels of beats per minute and big shots of adrenaline charge through my veins with every fresh scare. Finally here I am, entering a room filled with people and waiters standing ready with glasses of fizz. I'm shattered.
There's only one final ordeal to face: Room 13. And they weren't kidding about the waiver. I feel like I'm signing my life away (because I literally am) as I read over promises not to sue for loss of limbs, life or my sanity. Against my better judgement I scribble my name and patiently wait in line, watching in growing horror as people go in and come back out looking ashen-faced and shaken.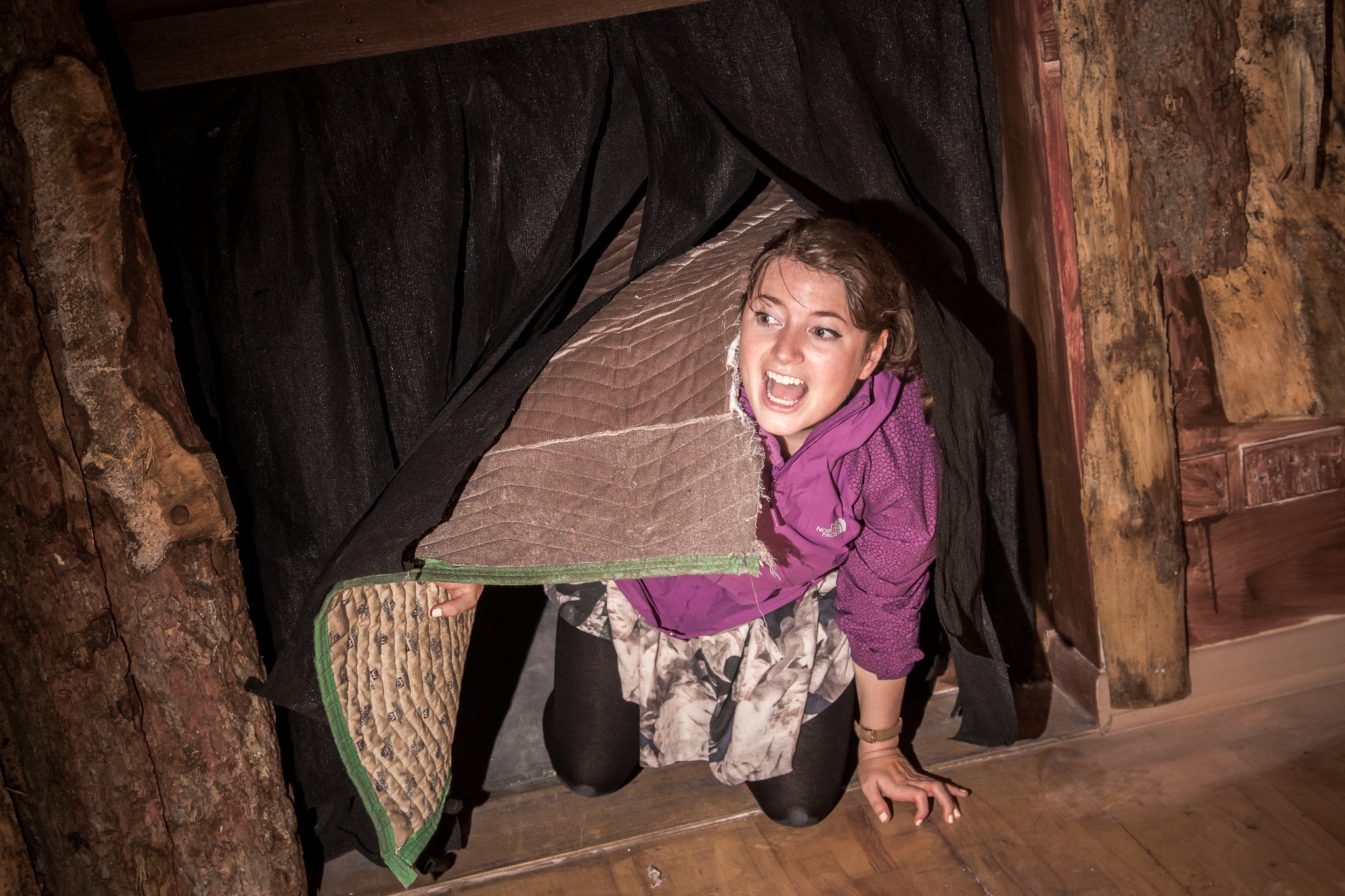 I won't tell you what happens – spoilers – but suffice to say the experience is enough to force the words "code red!" from my mouth and catapult me from the room in under three minutes.
As I wait outside for a taxi, a door bangs shut behind me and I don't even flinch. Yes, House of Horror was definitely thrilling. But much better than that, it turns out to be surprisingly effective immersion therapy to cure me of my scaredy-cat ways – and that means I might just have my first ever Happy Halloween. Bring on 31 October.
Travel essentials
House of Horror runs from Friday 28 September to Wednesday 31 October; tickets cost from £25.
The UK's best scary attractions
Hampton Court Palace, London
During October and November, visitors to London's Hampton Court can participate in an evening ghost tour of the palace. They range from family-friendly to an adults only late-night Halloween special. Adults only tickets from £27.50; tours take place 31 October and 4, 11, 18 November.
National Justice Museum, Nottingham
Nottingham's National Justice Museum is running hour-long Terror Tours this autumn. Visitors wander the winding corridors and dark dungeons of the original gaol, with actors taking on the part of the prisons' inhabitants. Participants must be over 10 years old and those under 16 must be accompanied by an adult. Tours take place on alternate Saturdays from 6pm; tickets from £10.95.
Screamland, Margate
Seaside theme park Dreamland becomes Screamland over Halloween, with seven interactive "scare mazes", including the Dreamland Sleep Experiment, Mary Decomposed and Upside Down, brought to terrifying life by professional actors. Tickets include access to all mazes from 6pm and unlimited use of the rides in the amusement park. Tickets from £20; open 13, 19, 20, 25, 26, 27 and 31 October.
Standedge Tunnel, West Yorkshire
For one night only, the country's longest, deepest canal will be open for a paranormal investigation, in which members of the public join the Soul Reaper Paranormal investigations team in exploring the tunnel's darkest reaches to conduct a series of experiments. Tickets £20; event from 8-11pm on 20 October.
Grand Pier, Bristol
The Halloween Unfairground is returning to Bristol this October, with live scare shows, House of Murders, Freak Show, Dead End, Crazy Circus, House of Horrors ALIVE and Zombie Infestation Zone. Most attractions are only suitable for children over the age of 12. Tickets from £12.50; open 25-31 October.
Source: Read Full Article