ORLANDO — Live entertainment is a Disney forte, and that is apparent during Mickey's Not-So-Scary Halloween Party.
It's undoubtedly one of the main draws to the party, which is a popular event every year. In fact, less than a week from Halloween, all remaining 2023 party dates have sold out. The seasonal, specially ticketed party is held on select nights at the Magic Kingdom until Nov. 1.  
At Tuesday night's party, where I was hosted by Disney, I made shows and parades my priority. I fit in my other goal, plenty of attractions, around those main events but opted to skip character meet-and-greets and trick-or-treating opportunities. This is an event where prioritization is key for an enjoyable visit.
Party nights are busy ones at the Magic Kingdom. Ticket holders can enter the park starting at 4 p.m., and the park closes to guests without Halloween Party tickets at 6 p.m.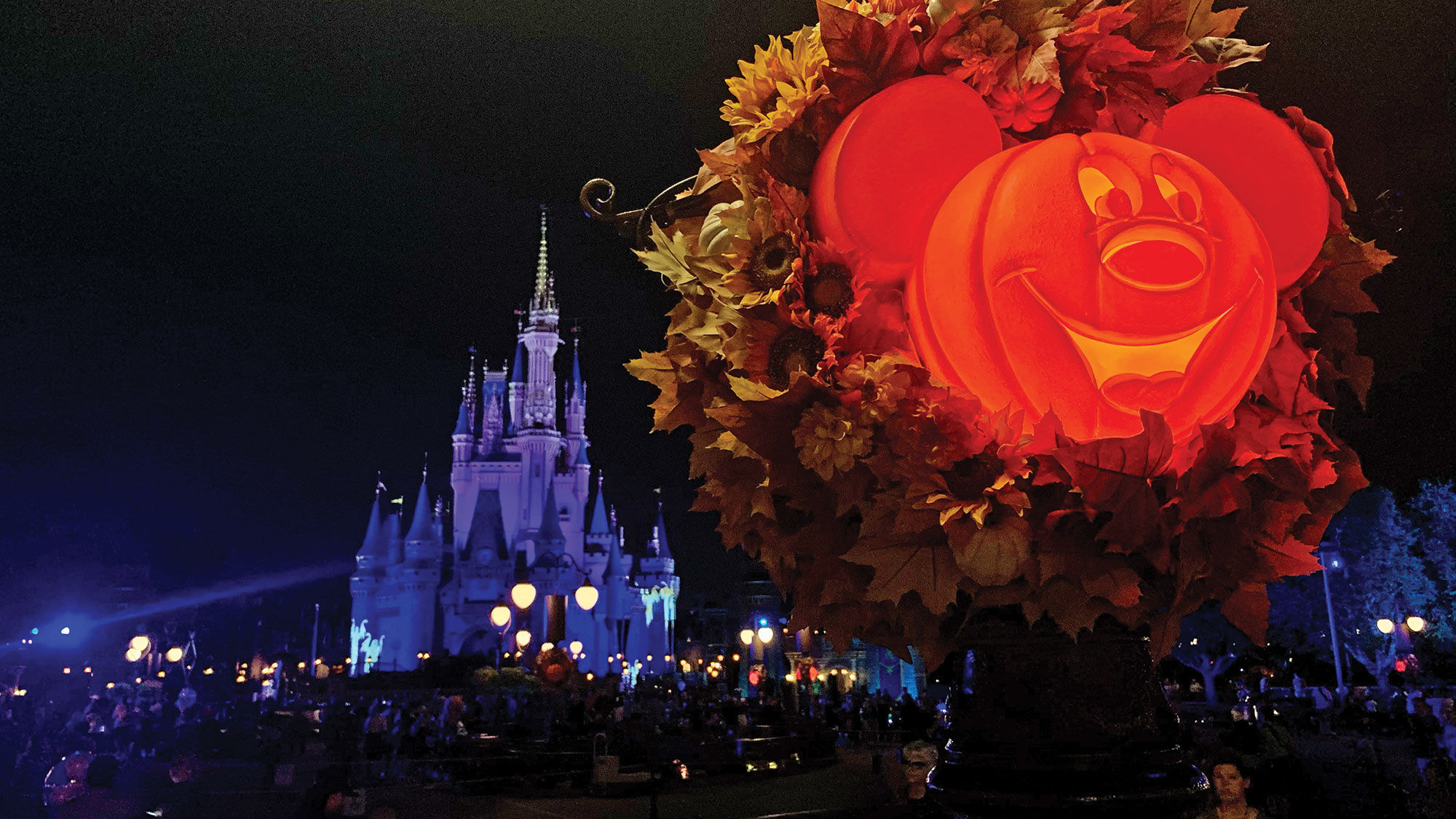 Hocus Pocus show is a priority
I arrived at the Magic Kingdom via monorail (is there any better way?) around 7:15 p.m. on Tuesday. My first stop was grabbing a spot in front of the castle for the first performance of the "Hocus Pocus" Villain Spelltacular show, featuring the Sanderson Sisters from the 1993 and 2002 films.
It's one of the best shows Disney puts on. I'm biased because I'm a millennial who grew up with and loves "Hocus Pocus," but the show holds plenty of appeal for everyone. 
Its nods to the original films are funny (Winifred singing "there's heck to pay" with accompanying air quotes — making the lyrics Disney parks-appropriate — always gives me a good laugh). There is a nice mix of newer and classic villains brought out on stage. And the music, to borrow a turn of phrase from those younger than me, slaps.
Later in the evening, I caught the first of two Mickey's Boo-To-You Halloween Parades. This is another one that lands squarely in my favorites list. The Haunted Mansion nods, and especially the gravedigger dancers who literally create sparks with their shovels as they dance, make this parade something special. The spooks are balanced out with classic Disney characters and an earworm of a song that keeps things lighthearted for younger viewers.
The Not-So-Spooky Spectacular fireworks show makes great use of projections on the castle mixed with old-school pyrotechnics. The giant Jack Skellington of "Nightmare Before Christmas" fame, who appears on the castle stage, is the icing on the cake. The show also has a cute storyline featuring Mickey and pals, again mellowing out the frights for youngsters.
Those three big shows are bolstered by some other happenings around the park, like a pirate band in Adventureland and the Cadaver Dans Barbershop Quartet presiding over Frontierland.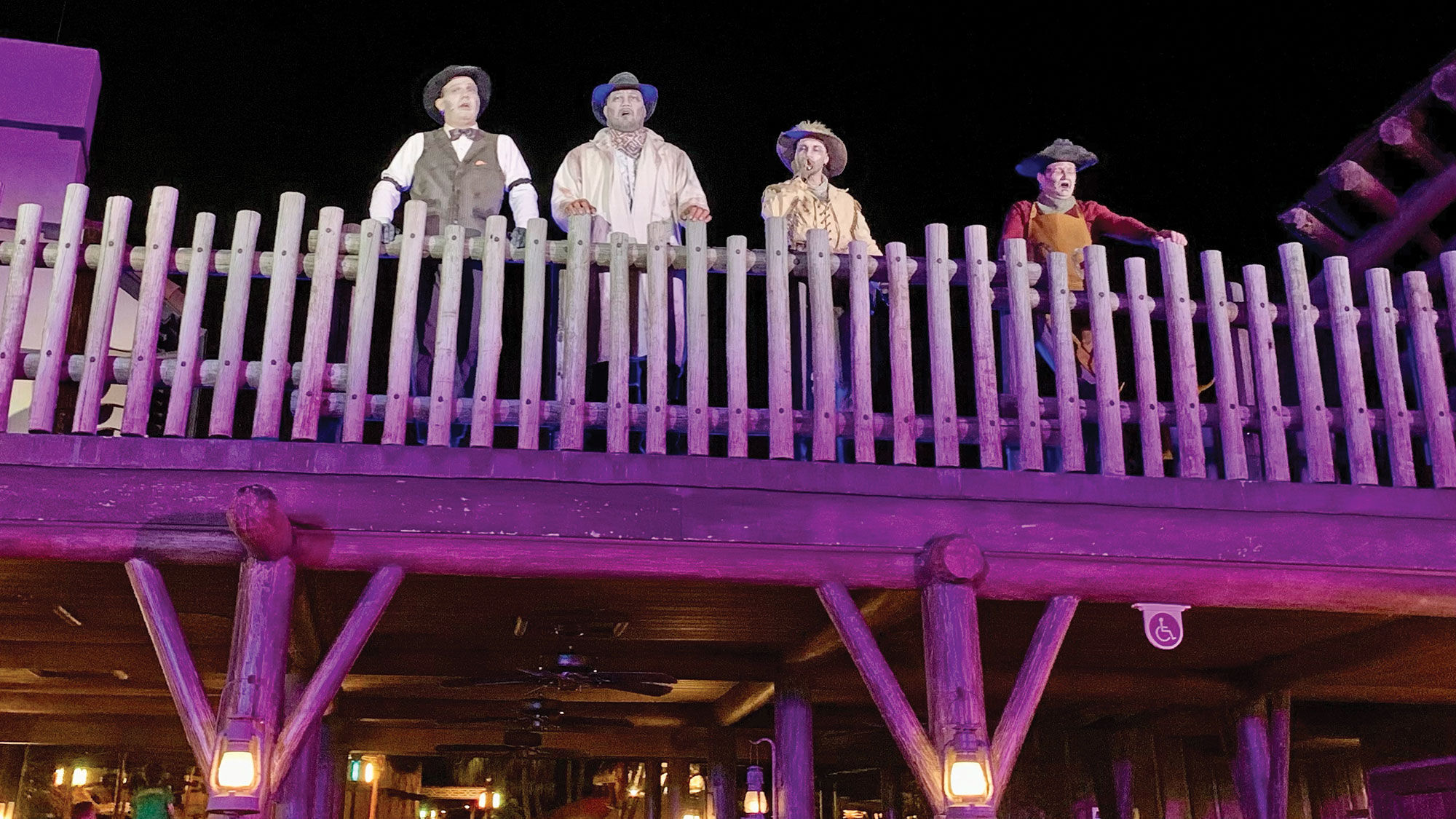 The Cadaver Dans, a personal favorite, sing thematically appropriate music like their take on "Grim Grinning Ghosts" from the Haunted Mansion. They also make wisecracks throughout the evening.
Perhaps one of my all-time favorites from the Not-So-Scary parties (I've been to several) is the live entertainment stationed outside the attraction that is arguably the star of the evening, the Haunted Mansion.
A cast of characters makes rotating appearances to entertain guests. This year, I spotted several in the graveyard located just before guests enter the mansion.
All are part of the 999 happy haunts who reside in the mansion, including Renata, who sat among the graves just before the party ended at midnight. 
"Pay me no mind, I'm just here on the graveyard shift," she said to laughs. "I'm usually in the ballroom, third girl on the right, spinning around and around because my partner doesn't know how to do anything else."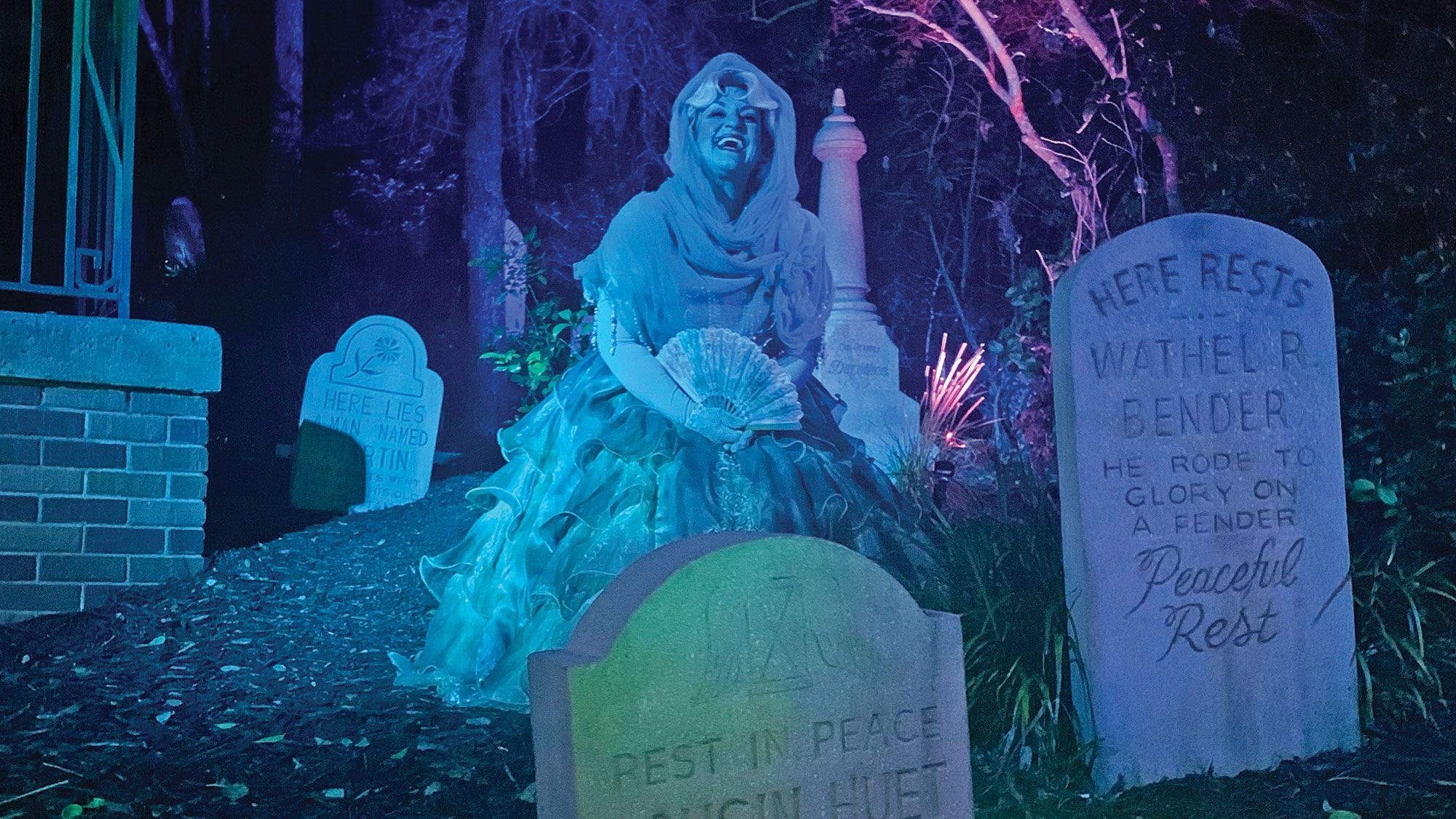 Rides are open, with shorter waits
A number of attractions remain open during the party and guests often benefit from shorter wait times. I rode Seven Dwarfs Mine Train after a 20-minute wait on line.
This year, Tron: Lightcycle / Run was open for Halloween parties for the first time following its April opening. A virtual queue was accessible at 6 p.m.
Some attractions get special overlays during the party. 
Space Mountain, for instance, goes completely dark and plays spooky music during rides. Riding in total darkness is very unlike the usual Space Mountain experience — without any visual clues, it's impossible to predict which direction you'll head next. It's a fun, wild ride that I would call delightfully terrifying.
The Mad Tea Party gets special lighting, and the comedy show at Monsters Inc. Laugh Floor is Halloween themed.
In the past, Disney has added live actors to Pirates of the Caribbean, in both the queue and ride itself. It's been a delightful addition but was missing from the lineup this year. It doesn't make Pirates any less fun to ride during the party, though. For me, it's a must-do.
If you're keeping track, here's what I fit in around the parade and shows: Pirates of the Caribbean (twice), the Tomorrowland Transit Authority PeopleMover, Space Mountain, Seven Dwarfs Mine Train, Peter Pan's Flight and the Haunted Mansion (twice).
Jack Skellington is in high demand
My focus at the party was shows and attractions, but there are a number of other things to do.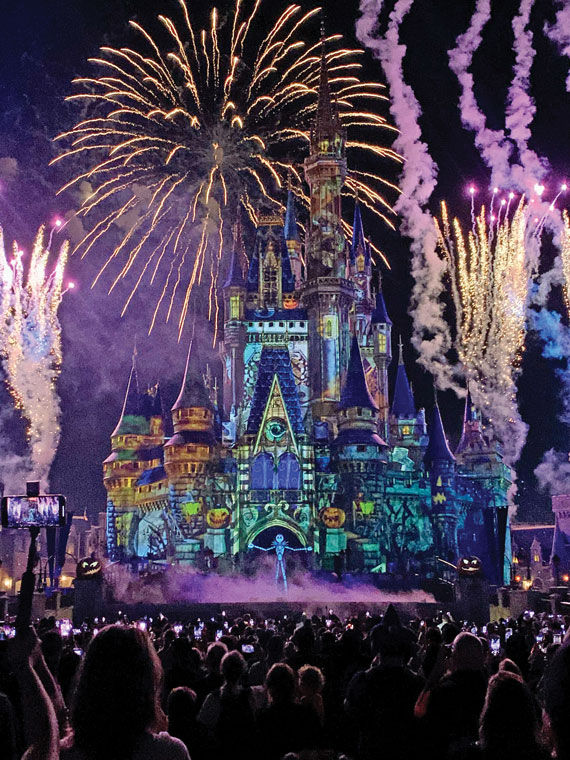 Trick-or-treating stations are set up around the park. There are also a number of specialty food and beverage items on sale as well as party-specific merchandise. Photo opportunities, including special "magic shots," abound around the park. 
Character meet-and-greets are perennially popular. Jack Skellington and Sally are exclusively available for a meet-and-greet during the Not-So-Scary Halloween Party and Mickey's Very Merry Christmas Party. As such, they're popular, with wait times often extending an hour. They usually start meeting guests in advance of the official 7 p.m. party start.
Other rare characters — like Winnie the Pooh and friends in their Halloween costumes — are sprinkled around the park.
This year's remaining parties are sold out, but prices ranged from $109 to $199 per person, depending on the date of the party. Guests do not need to purchase separate theme park admission if they enter the Magic Kingdom at 4 p.m. or later.
Source: Read Full Article