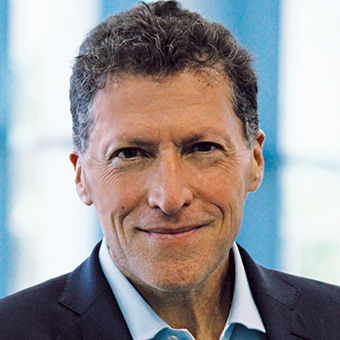 The triangle of relationships that's at the heart of travel industry transactions — client/advisor, advisor/supplier, client/supplier — was the almost-singular focus of Josh Bush, CEO of Avenue Two Travel, as he walked the aisles of the International Luxury Travel Market in Cannes, France, this week.
Whether evaluating new products or touching base with the reps of his existing inventory, this three-sided calculus was ever-present. Not only "What can you do for my clients?" but "How will you acknowledge, on property, my agency's advocacy in obtaining upgrades/perks/credits?" and "How can we facilitate better communications between you and your team and me and my team?"
The last of these has become increasingly important as Bush grows his network of independent contractors. Host agencies must add a fourth dimension to the traditional three prongs that undergird the industry: His responsibilities to his ICs are equally important to him as his relationship with clients.
He has built a training program for ICs with the goal of teaching recruits not just to familiarize themselves with preferred supplier products but of becoming travel professionals. While some hosts may feel ambivalent about who "owns" the client, Bush is clear on the point: the IC does. Not the host, not the supplier. Their success is his success.
I shadowed Bush for, in his words, "a trip around the world." I joined as he visited representatives of the Ritz-Carlton Maldives, Fari Islands; Kimpton Seafire Resort + Spa on Grand Cayman; and Auberge Resorts Collection and its property the Lodge at Blue Sky in Park City, Utah, and then joined him for lunch with executives of La Reserve.
Underlying every conversation I observed was the establishment or enhancement of trust. It was the common, and critical, component to relationships in every direction, which is why Bush believes that acknowledgement of Avenue Two's role in obtaining benefits for clients is so important. When the agency's role in the client's experience is noted, he said, "it strengthens the relationship with clients and our trust in the property. Those that understand how to integrate this into the operational side of their business will strengthen our trust in them."
While preferred relationships with parent corporations are important and provide a foundation for commission structures, the key relationships are with individual brands and properties, he believes. He is, for example, a Marriott "Star" agency, a program for high producers that provides a range of client amenities and benefits that may be equal to or better than those given to Virtuoso agencies (Avenue Two is a Virtuoso member). And to qualify, Bush said, the agency needs to "share the love" across Marriott luxury brands and locations; one large wedding at a single property won't cut it.
Nonetheless, Bush said he believes that parent company Marriott International has in some instances diluted its luxury brands.
"With their focus on RevPAR, it's harder for them to understand the luxury customer. But strong relationships [with individual properties and brands] have allowed us to transcend the dilution," he said. "Because of our relationships, we can get things done."
One reason he makes the effort to come to Cannes repeatedly is that circumstances change, new business models emerge and relationships evolve.
For instance, he has come to believe that there is benefit to clients, Avenue Two and suppliers by working out direct relationships with suppliers where now there is a third-party go-between via a wholesaler. He believes his agency has established a level of bookings with some properties that justify seeking his own, direct thresholds of productivity, which, if he meets them, would benefit the property and his agency, i.e., the money that would have gone to the wholesaler's cut can be shared between his agency and the supplier.
But it's about more than just money, Bush said. It's equally driven by client experience.
"If we're booking direct, there's also more direct communication with the property about the client's preferences. We are the conduit to make things happen," he said. "Sometimes, the wholesaler doesn't even pass along the client's name until the day before arrival. There's not time for us to personalize the stay in ways we would like to."
The question is a delicate one; the supplier does not want to alienate the wholesaler, who may be providing volume bookings.
Bush raised the topic at one of his stops; perhaps because of my presence, the supplier diplomatically deflected the question and quickly changed the subject.
Bush's focus on getting suppliers to understand the need to acknowledge an advisor's role in getting benefits for clients reminded me of something I've always regarded as a missed opportunity for hotels to strengthen relationships with agencies. When I check out of a hotel, the desk attendant will often say something to the effect of, "And if you enjoyed your stay, please post something on Tripadvisor."
They can see that a travel advisor made the booking. Why not, "If you enjoyed your stay, please tell your advisor"? 
Source: Read Full Article