With government ministers in London and Edinburgh warning prospective holidaymakers against booking any trips for the summer, there has been a distinct shift in peak bookings from the usual month, August, to October.
Sales data provided to The Independent by TravelSupermarket shows that in the week beginning 11 January, the normal sales pattern prevailed: with peaks at Easter, the late May bank holiday week and August, with a small spike for the October half term.
But a week later the pattern had changed comprehensively. Easter sales have almost collapsed. While there is still an appetite for late May holidays, August actually shows a dip – with the strongest sales for the entire year ahead being in October 2021.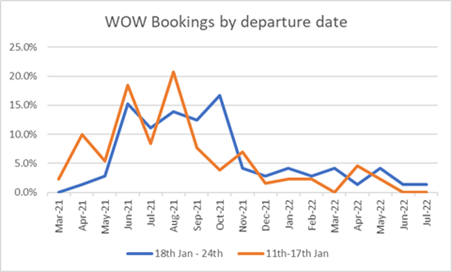 TravelSupermarket is an intermediary – a comparison site that connects travellers with suppliers such as Jet2 and easyJet Holidays. But the figures represent actual bookings, and the table of most popular destinations is revealing.
At the top is the biggest island in the Canaries, Tenerife. The Caribbean island of Barbados takes second place, just ahead of Dalaman on Turkey's Mediterranean coast..
Two other Canary Islands – Lanzarote and Fuerteventura – make the top 10. The other "premier league" destinations comprise the main Balearic isle, Mallorca; Paphos in Cyprus; the Portuguese holiday coast, the Algarve; Disneyland Paris; and Las Vegas.
At present travel to any of these destinations is prohibited. Lockdown rules in the UK do not allow holidays, and many destinations have travel bans in place.
INDY/
GO Weekly Newsletter
TIME TO TRAVEL!
Read our full mailing list consent terms here
INDY/
GO Weekly Newsletter
TIME TO TRAVEL!
Read our full mailing list consent terms here
Portugal is on the UK government's "red list" of countries to which flights are banned.
Thirteen of the top 20 destinations are islands.
The lower half of the chart includes two European cities – Rome and Vienna – as well as the Greek islands of Crete and Zante.
The long-haul destinations of the Dominican Republic, Dubai, Orlando and Aruba are also popular.
Emma Coulthurst, travel advice expert for TravelSupermarket, said: "The Algarve has seen some of the biggest year-on-year price drops.
"Crete is offering some great prices for 2021 and remained off the quarantine list for most of last year which probably explains its position on the list.
"My guess as to why the likes of Aruba, Dubai and Barbados are on the list is because they have been very open and encouraging of tourism and British visitors, have had travel corridors in place for most of the pandemic and also have remained virtually covid-free.
"Similarly, the Dominican Republic has come out and said that it will help any visitors get tests if they need them before they fly home."
Earlier Johan Lundgren, chief executive of easyJet, criticised politicians for discouraging travel bookings. He said they should instead advise prospective holidaymakers to "check what the cancellation policies are with the operators".
Ms Coulthurst said: "Clearly, anyone booking should consider a package for its additional legal and financial protections, book on a credit card and be comfortable with the holiday providers' terms and conditions and look for flexible booking terms."
Andy Tomlinson, managing director of Sutton Travel in Sutton Coldfield, West Midlands, described ministers' warnings against bookings as "yet another kick in the teeth for us travel agents, most of whom are 90 per cent or more down on business over the past 10 months".
"No-one denies the fact that we need to do everything to protect the NHS during the pandemic, but if you're going to dish-out hard-hitting blunt comments like this, you have to give some kind of road-map on when it is likely to be OK to book and depart in a holiday for this spring/summer."
Top 10 destinations sold through TravelSupermarket between 18 and 24 January 2021
1 Tenerife
2 Barbados
3 Dalaman
4 Lanzarote
5 Mallorca
6 Paphos
7 Algarve
8 Fuerteventura
9 Disneyland Paris
10 Las Vegas
11 Costa del Sol
12 Crete
13 Dominican Republic
14 Dubai
15 Orlando
16 Zante
17 Rome
18 Antalya
19 Aruba
20 Vienna
Source: Read Full Article