Ken Muskat spent nearly three decades in the cruise industry largely working for cruise lines with big ships. Now he's going small. After leaving MSC Cruises as executive vice president and COO, Muskat joined Scenic Group as managing director in December as the company that owns Emerald Cruises and Scenic Luxury Cruises and Tours prepares to double its oceangoing capacity. He chatted with cruise editor Andrea Zelinski about his shift to small-ship cruising and the trends he's noticed since the pandemic.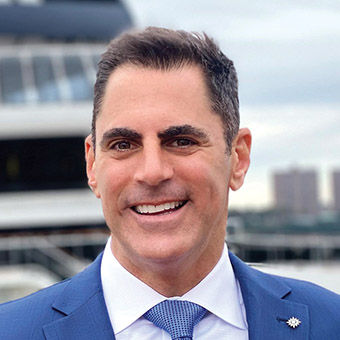 Q: Why move to Scenic?
A: At this point in my career, it was an exciting time to move into this new category, and in a very growing category of river, ocean yacht and expedition. That's not only because I think it's a great opportunity for me from a professional perspective to learn a new category of the business — especially one that is becoming so popular — but also from a personal perspective. At this point in my life, it's the kind of vacation I would want to take myself.
Q: What trends are you seeing in the industry now?
A: Guests today are looking for unique experiences, their bucket-list experiences. They're looking for these special stories to bring home to their friends and family that are very unique and customized, and they're looking to travel around the world and meet people from around the world. Sailing on our ocean yachts, we have the ability to do this. We get to destinations big ships cannot get to. We give guests the ability to meet other guests in a very easy way because there's only 200 or so guests onboard at any given time. The crew-to-guest ratio is one that can provide service on these smaller vessels that you can't do on larger ships. Most important is the smaller ships provide the ability to meet people and build relationships with people onboard, whether they're guests or crew, and get a kind of service that you just can't get anywhere else.
Q: It sounds like you're saying the trend toward smaller luxury ships is about that intimacy?
A: Yes, I think it's about the intimacy, and then I think it's also equally about the fact that these ships can just go to places around the world that a lot of other ships can't go to. Being able to bring these ships to places where there are world events going on, whether there's the World Cup or the Monte Carlo Grand Prix or being able to go directly into the ice in Antarctica and just fit in places that most ships can't go. You're really talking about smaller vessels that can offer an experience that even some luxury larger vessels cannot offer, let alone the big ships.
Q: Some brands are trying to remove the word "cruise" from their name or are trying to distance themselves from that term. What do you think about that?
A: There's a lot of things that have changed because of the pandemic, obviously. We're now coming out of it. Ship capacity and demand are getting to the levels that are prepandemic levels. Whether you call it a voyage or a cruise or an ocean yacht experience, the fact of the matter is, people can brand it in different ways. I think guests are looking for this ocean experience or this river cruise experience where it goes back to the traditional way of unpacking once, getting to visit a different destination every single day of the voyage, being able to walk right off the ship onto the ice or walk right off the river ship right onto the land and the different destinations that we go to. People are looking for that.
I don't think there's going to be any reason to hide that it's a voyage or a cruise. The industry is coming back very, very strongly, and it continues to be a growing and important industry for destinations all over the world. 
Source: Read Full Article