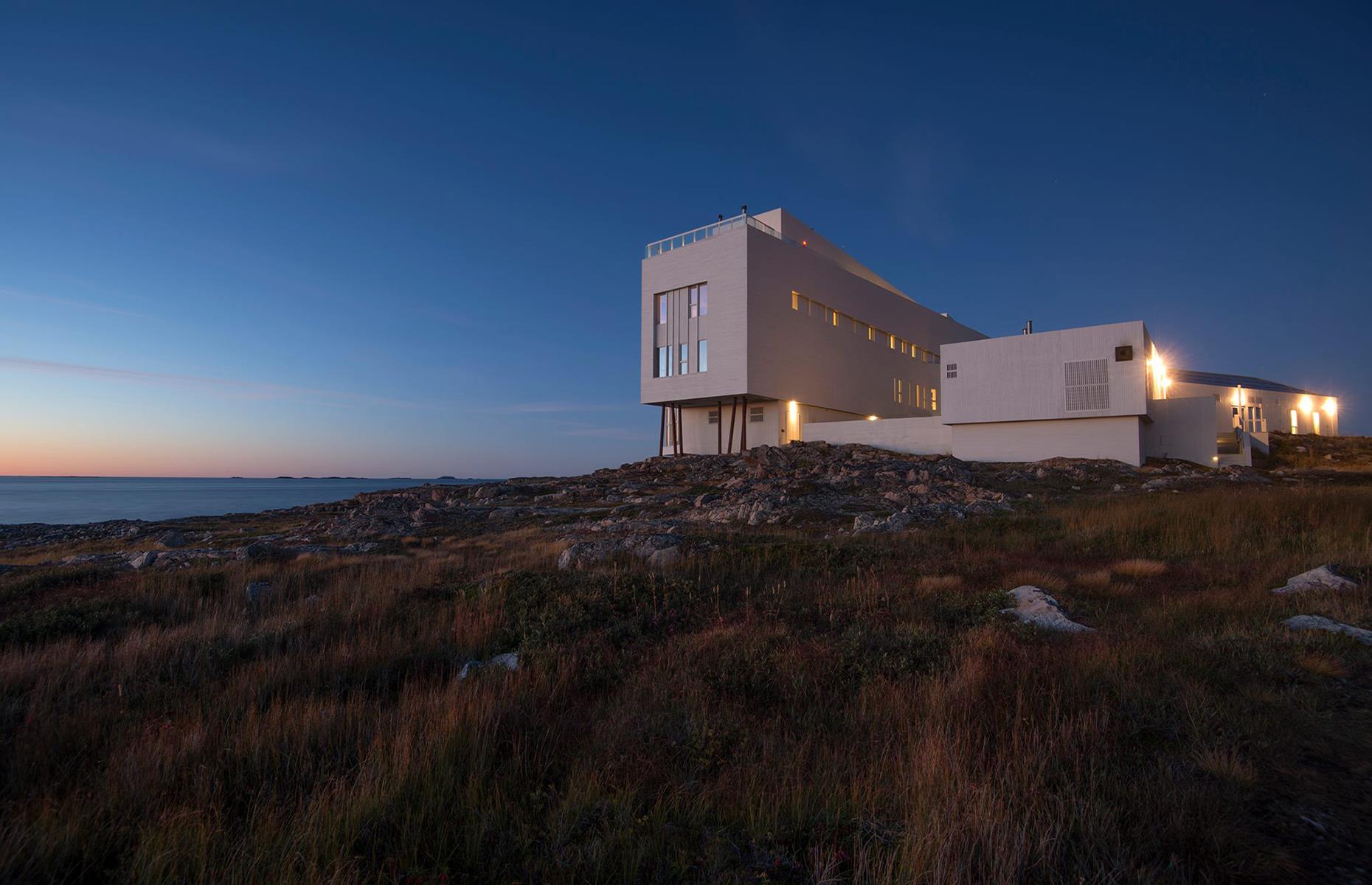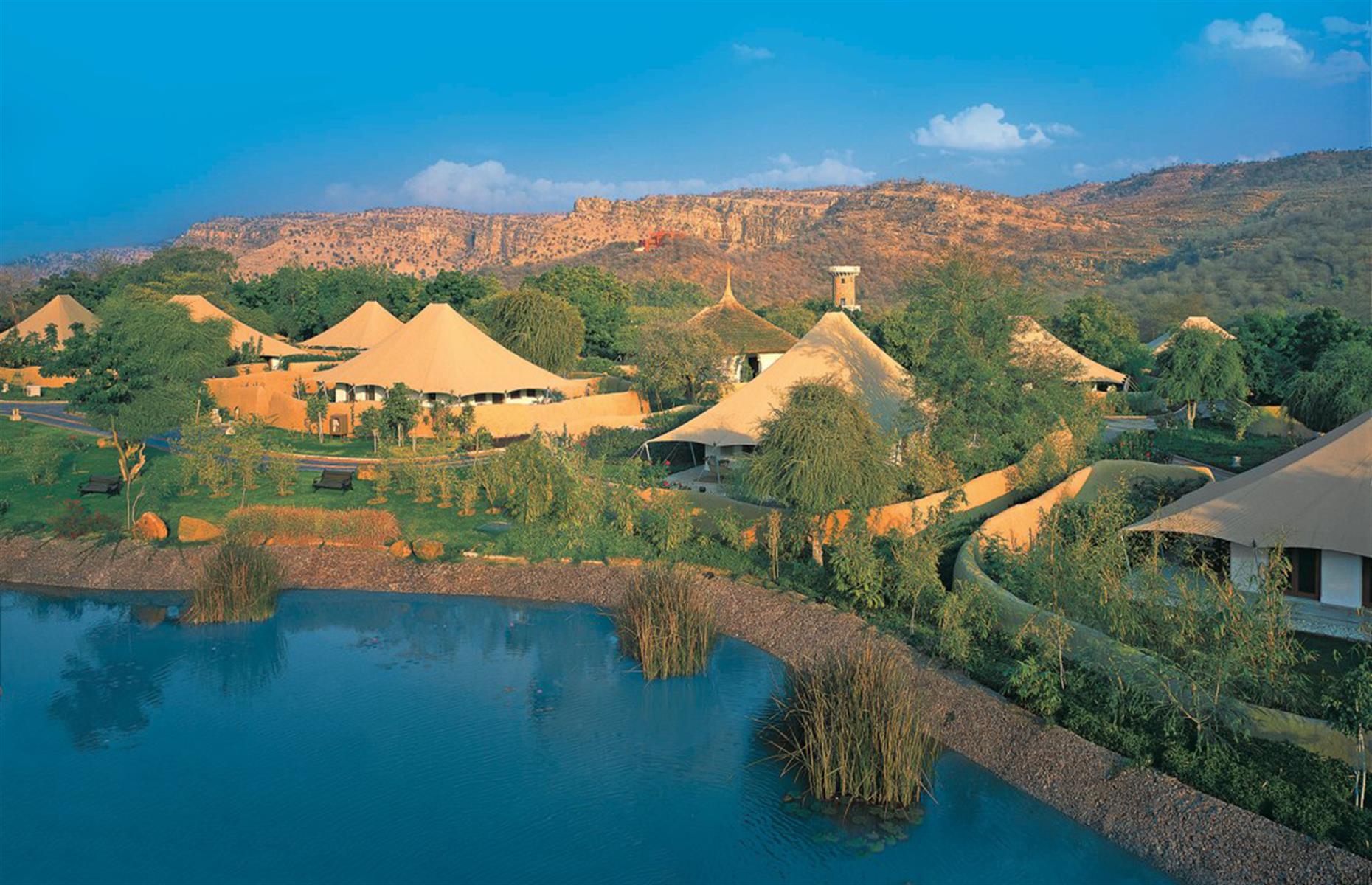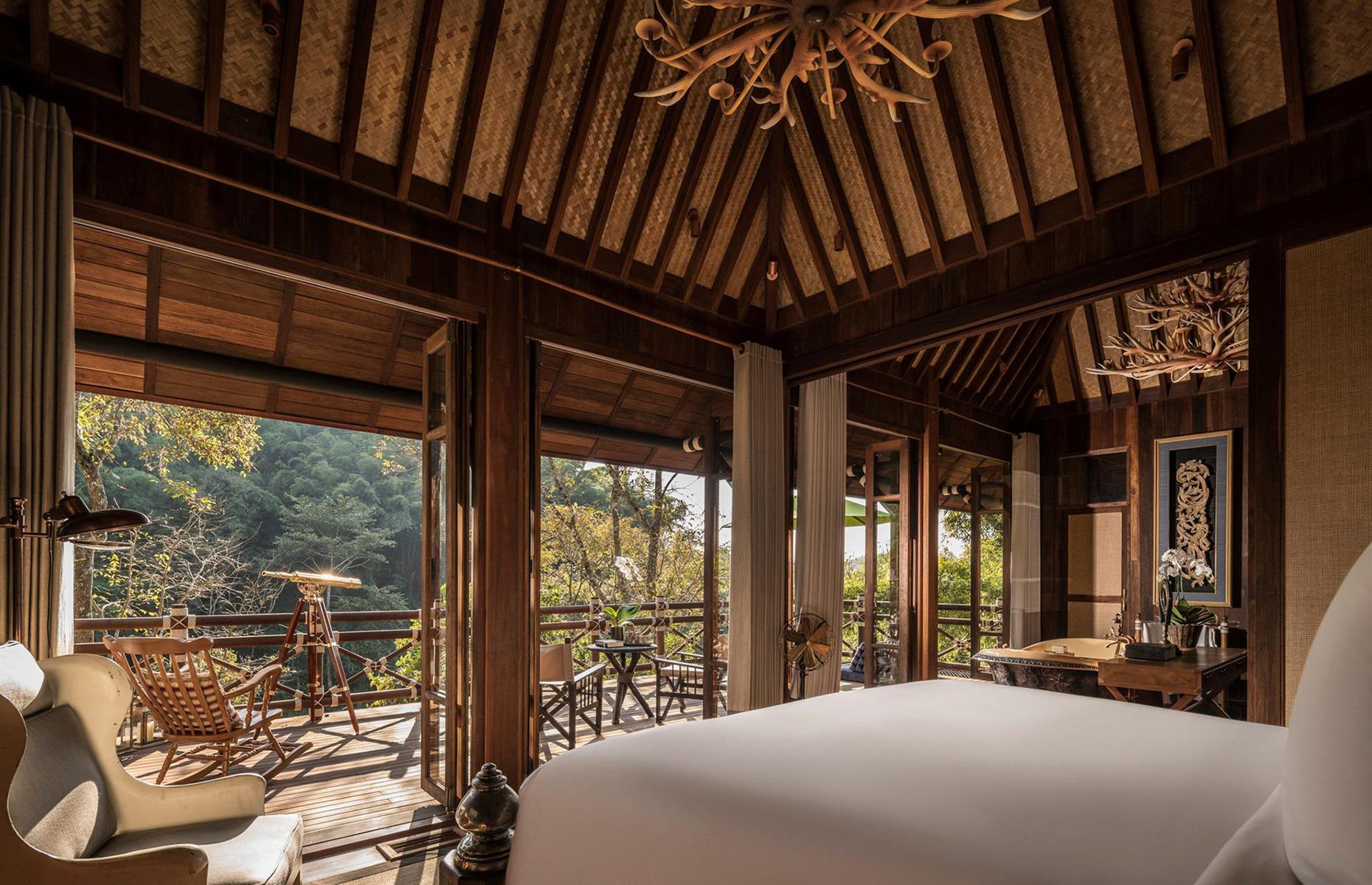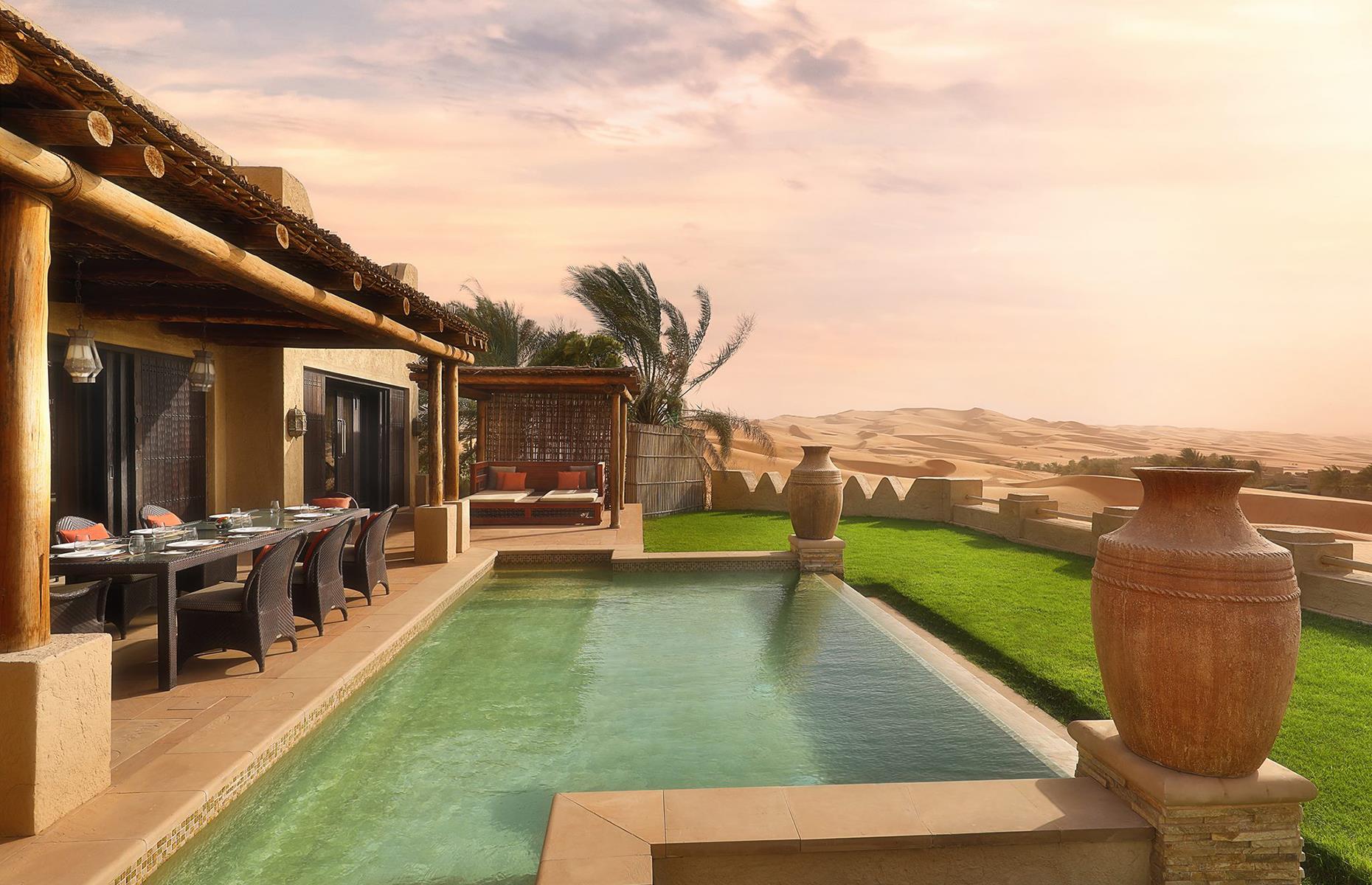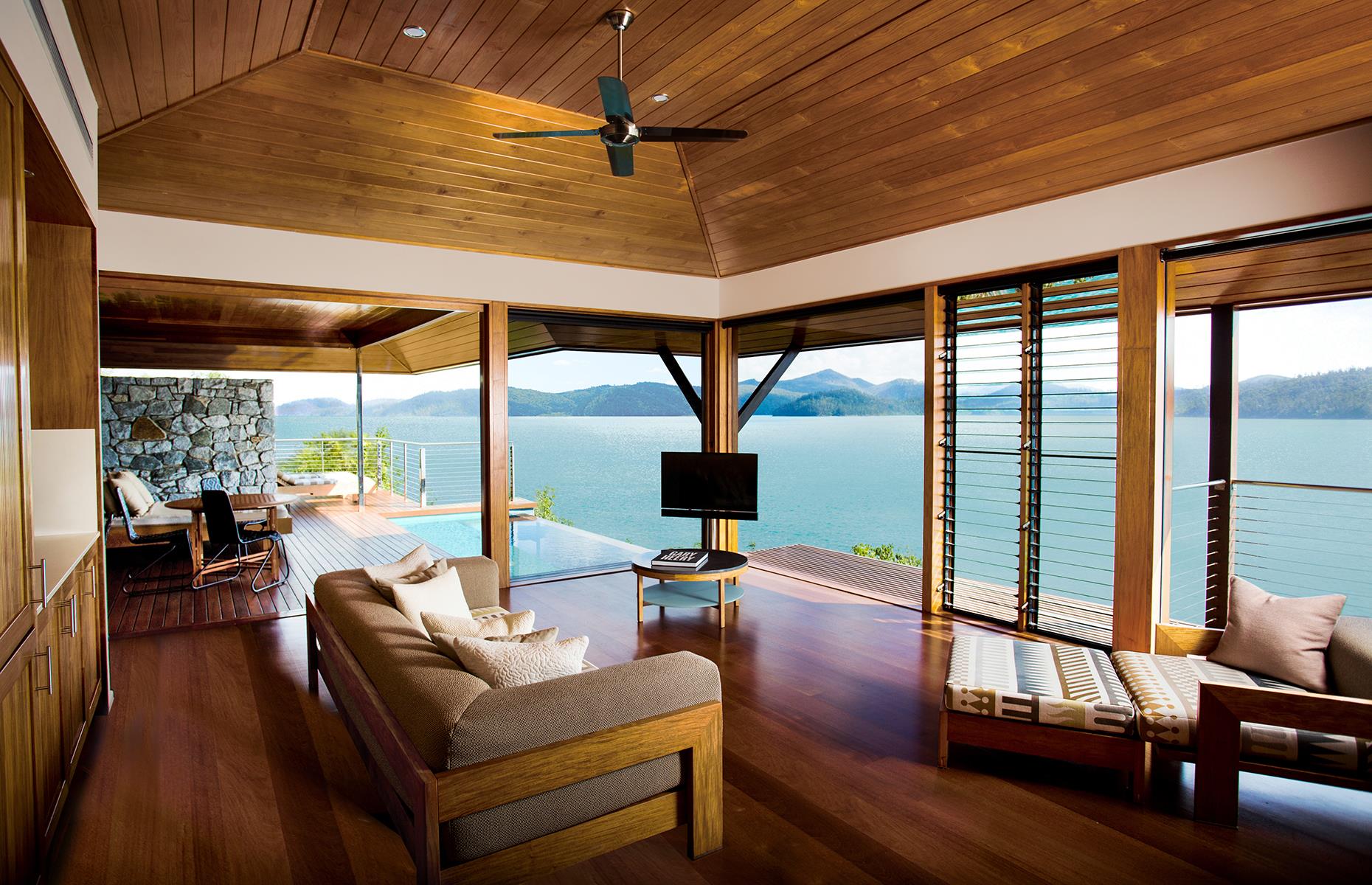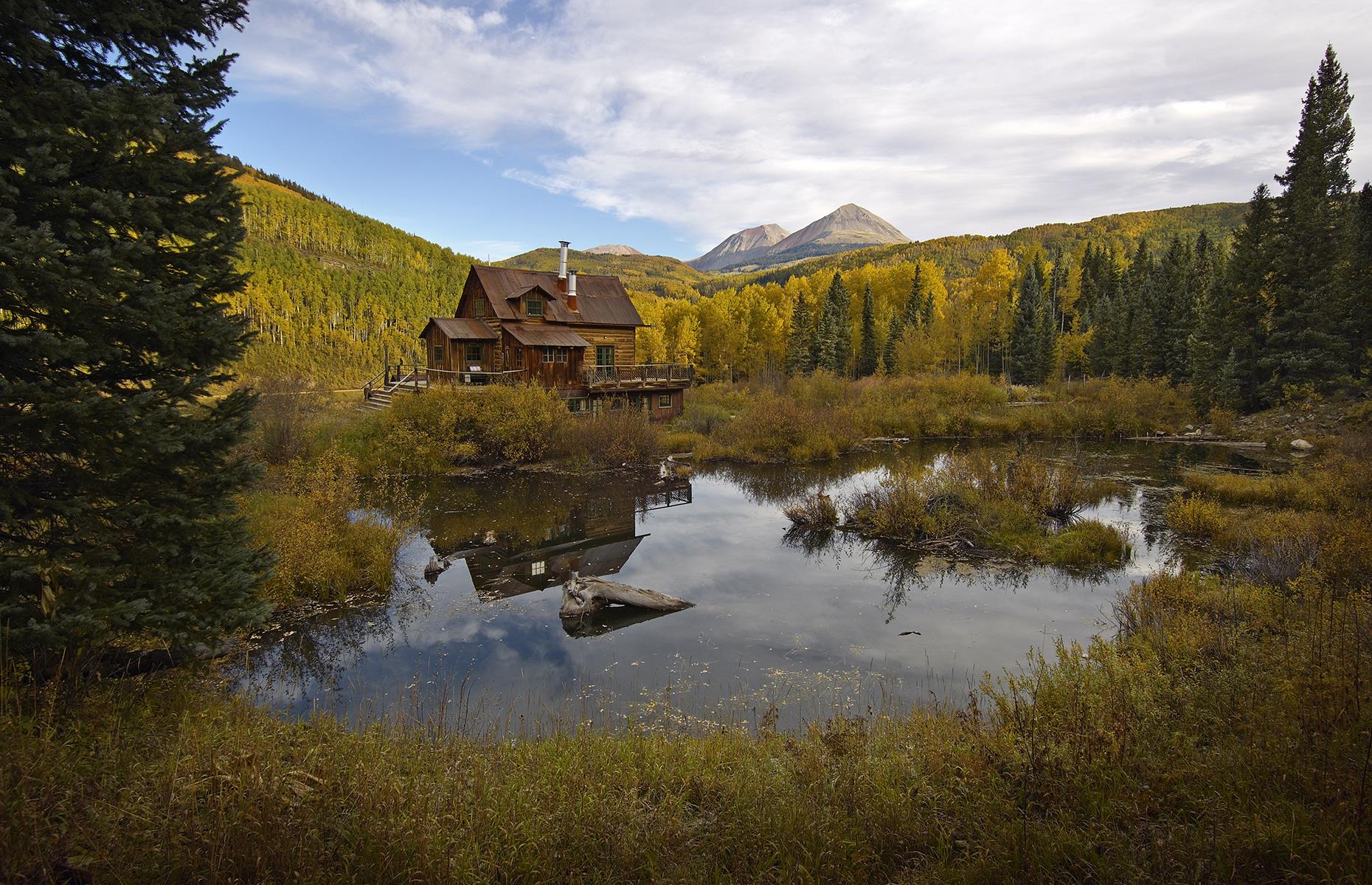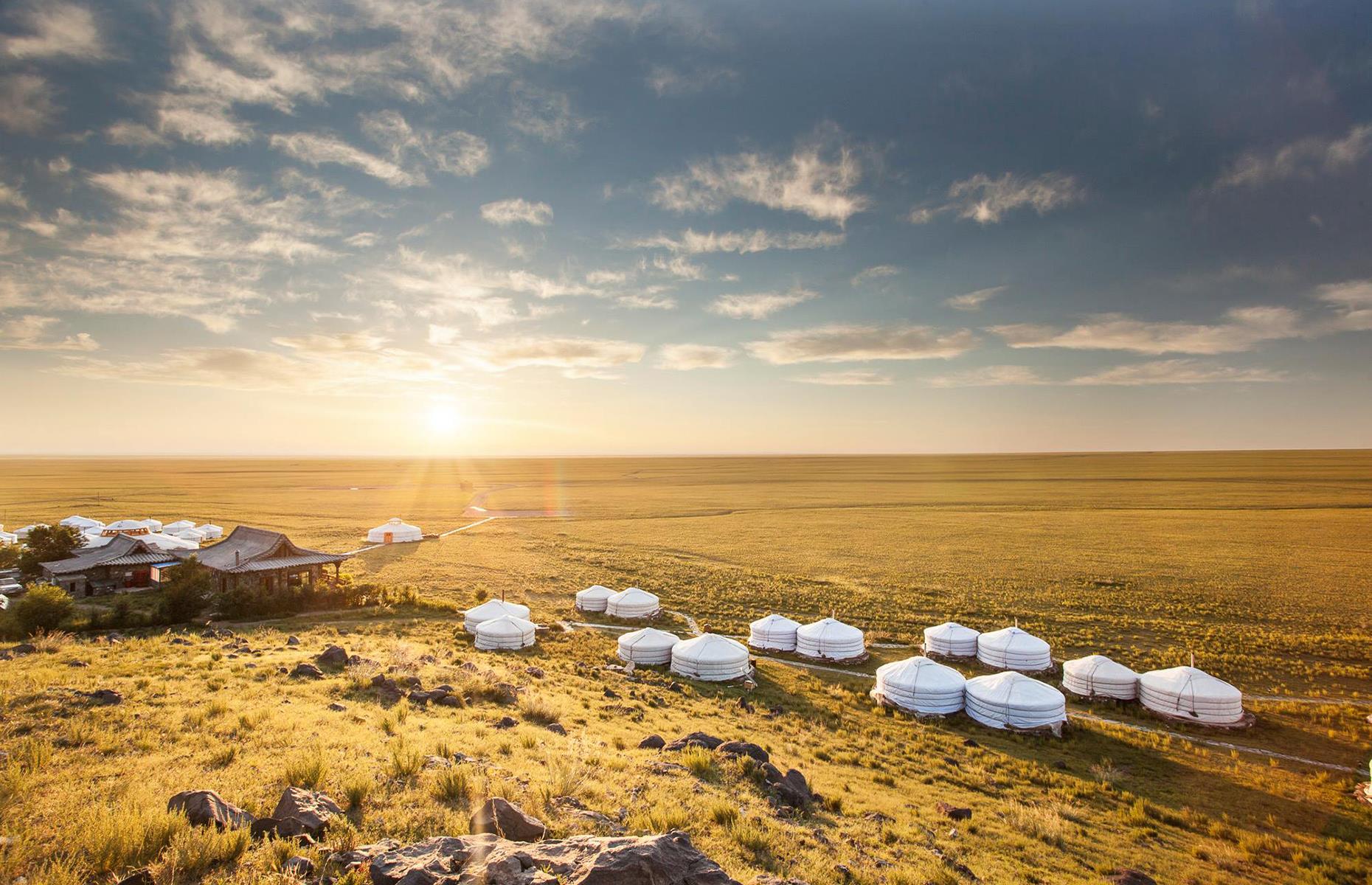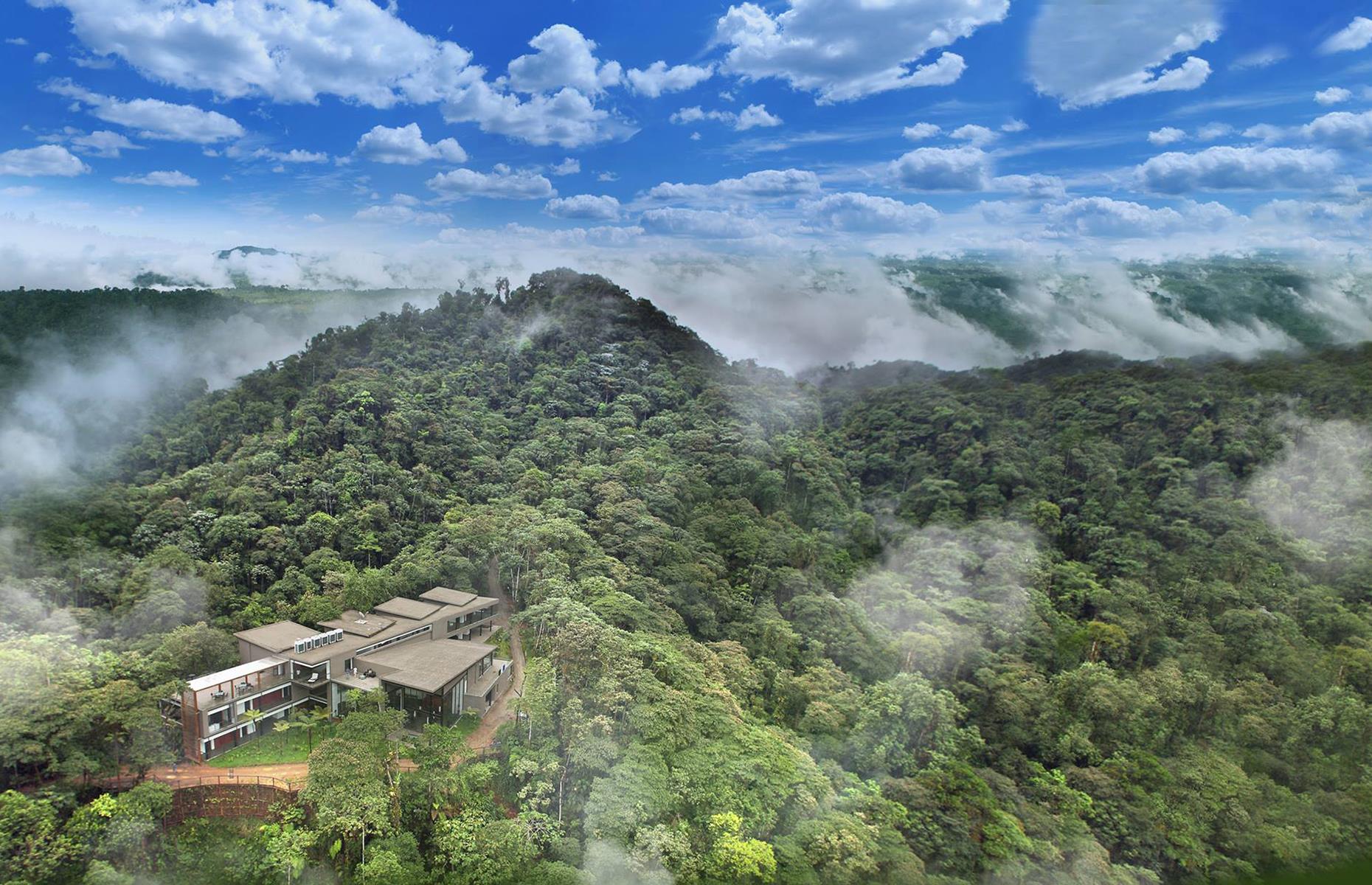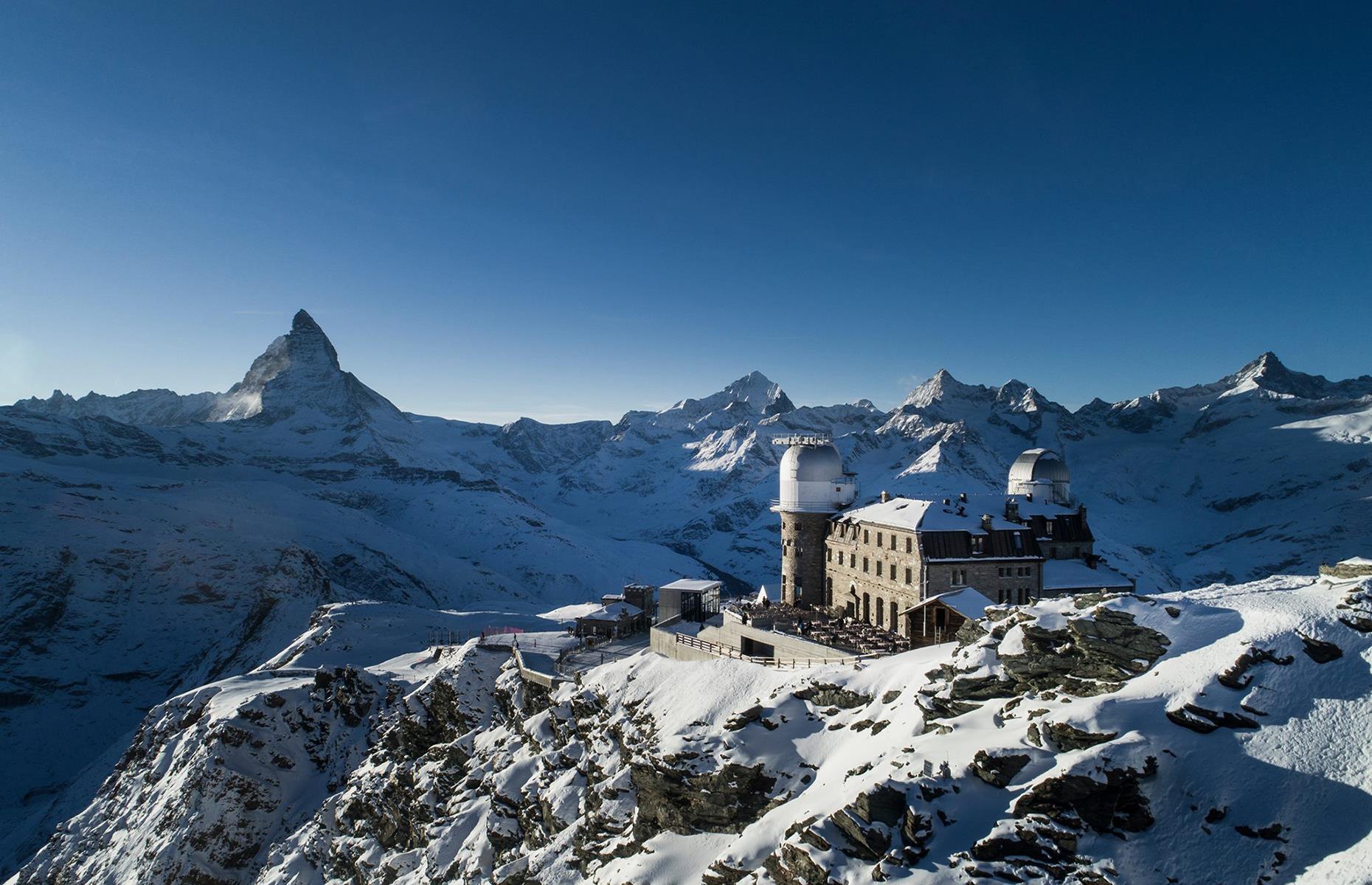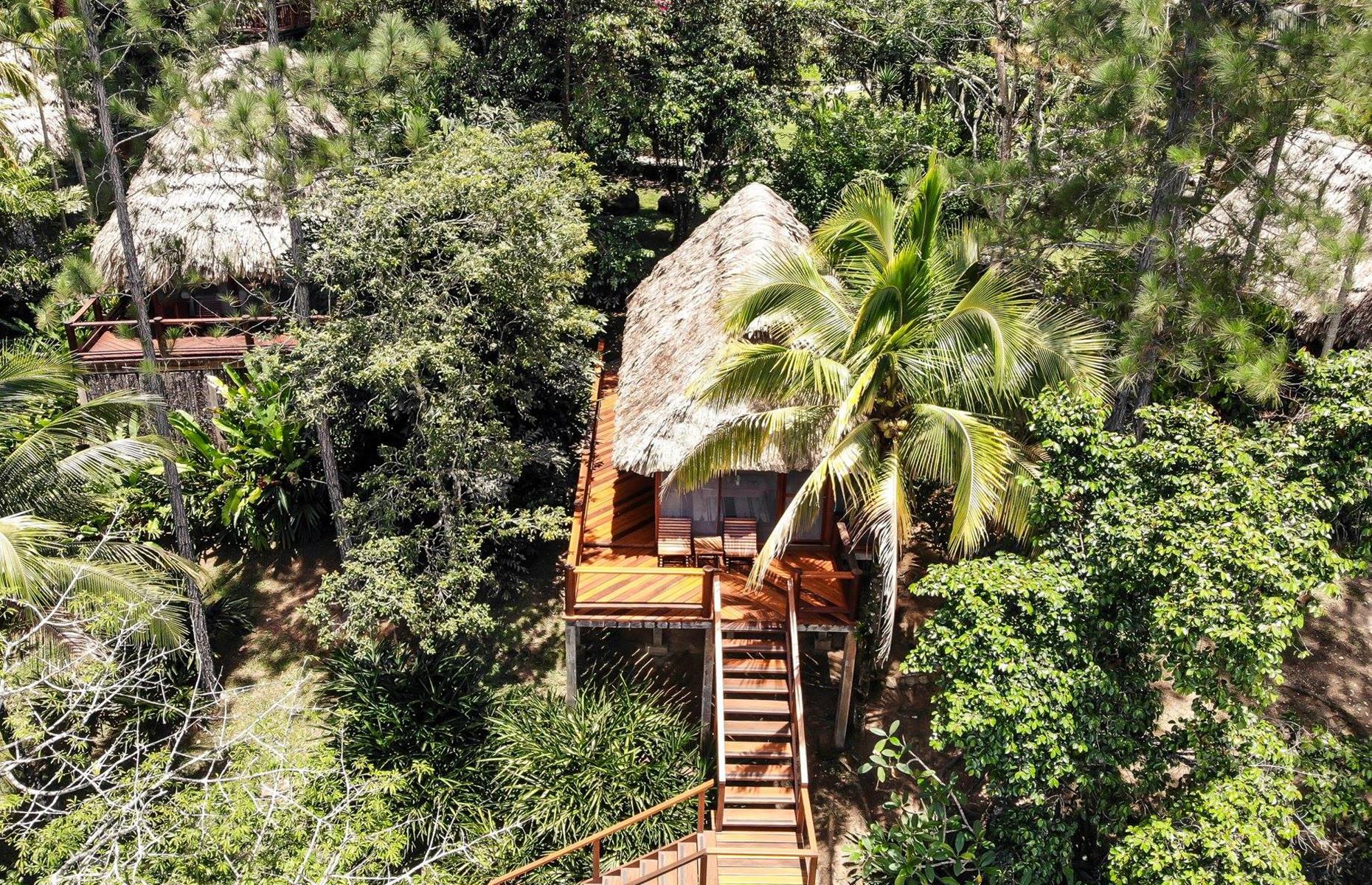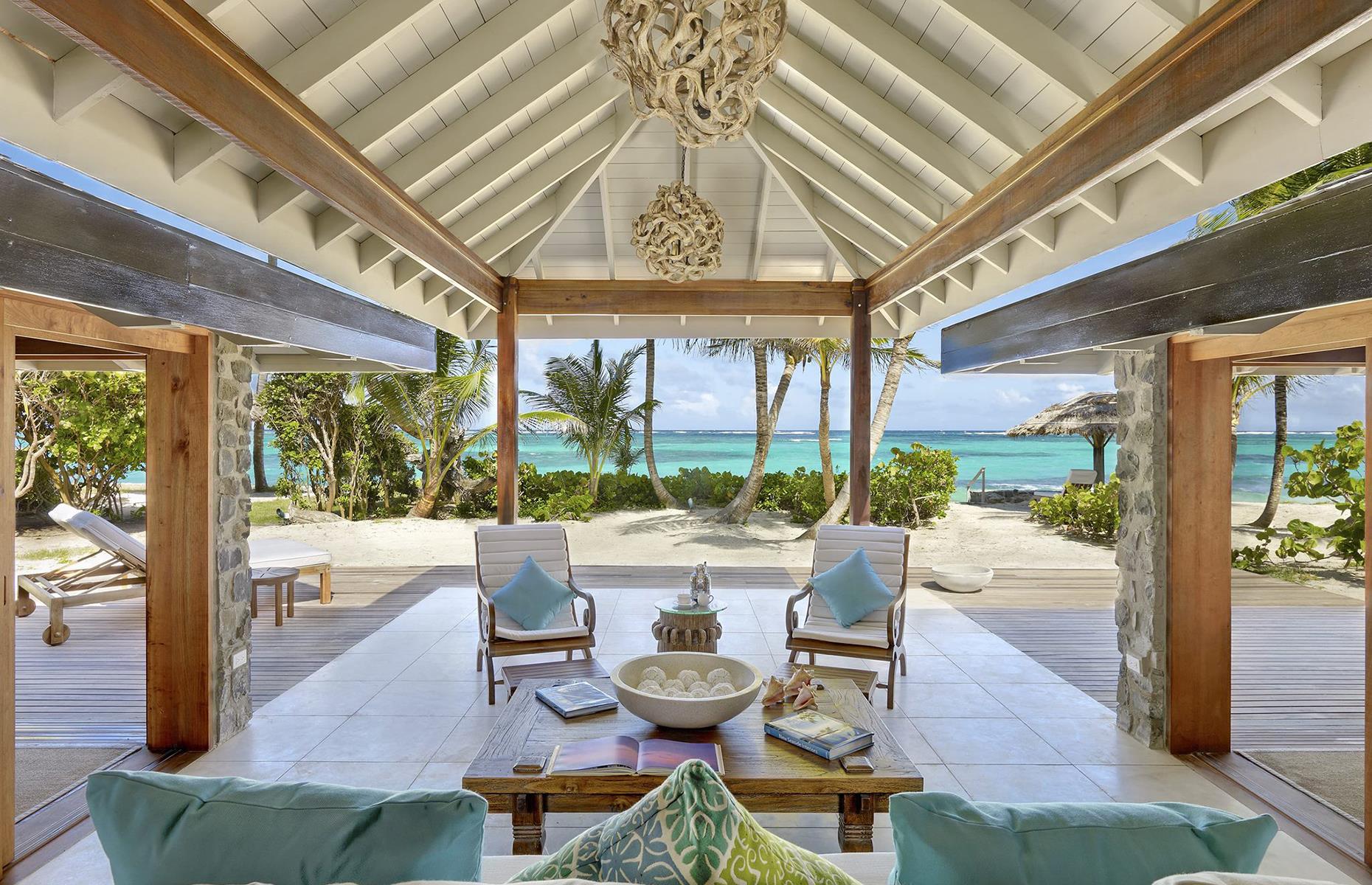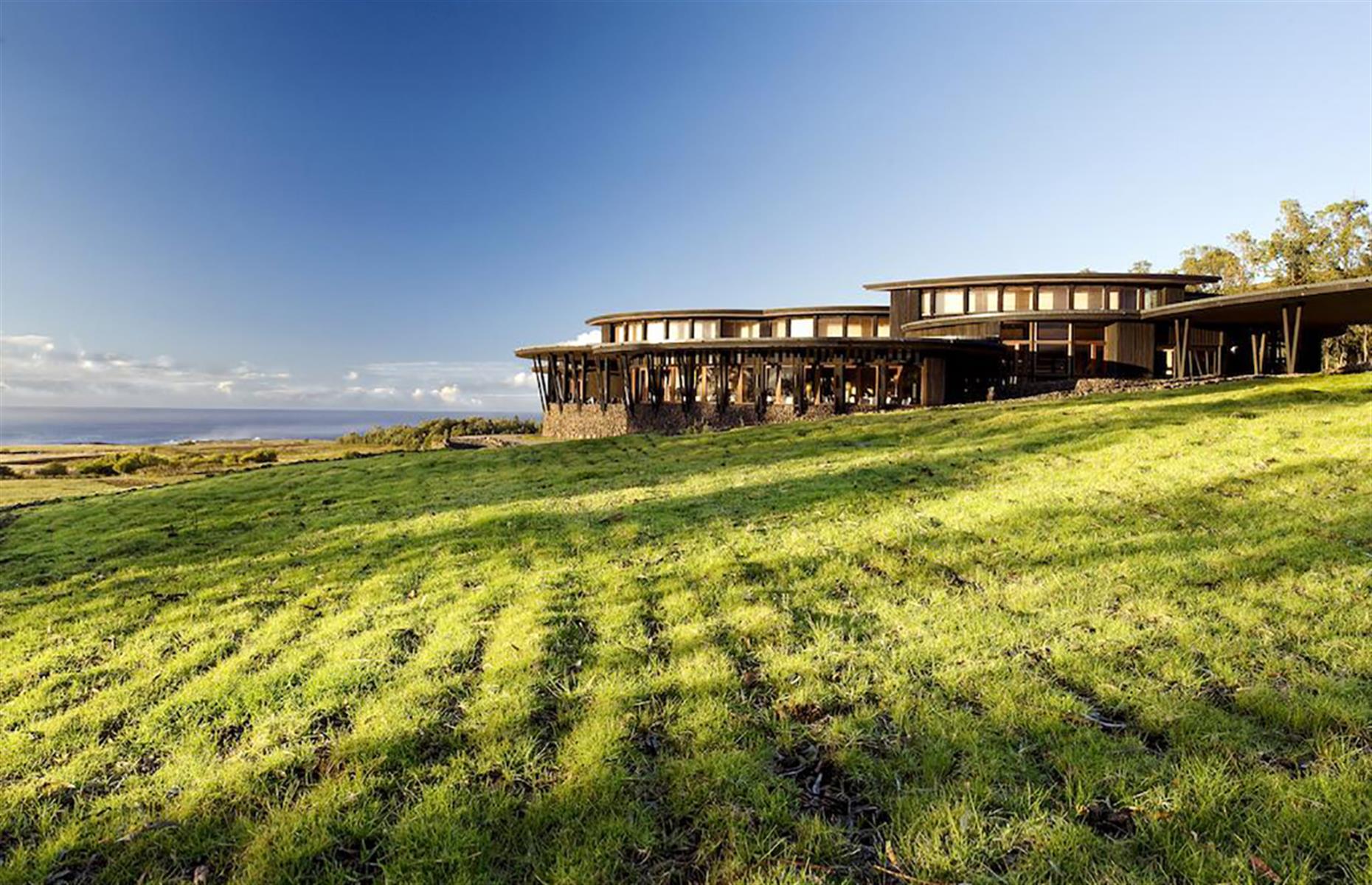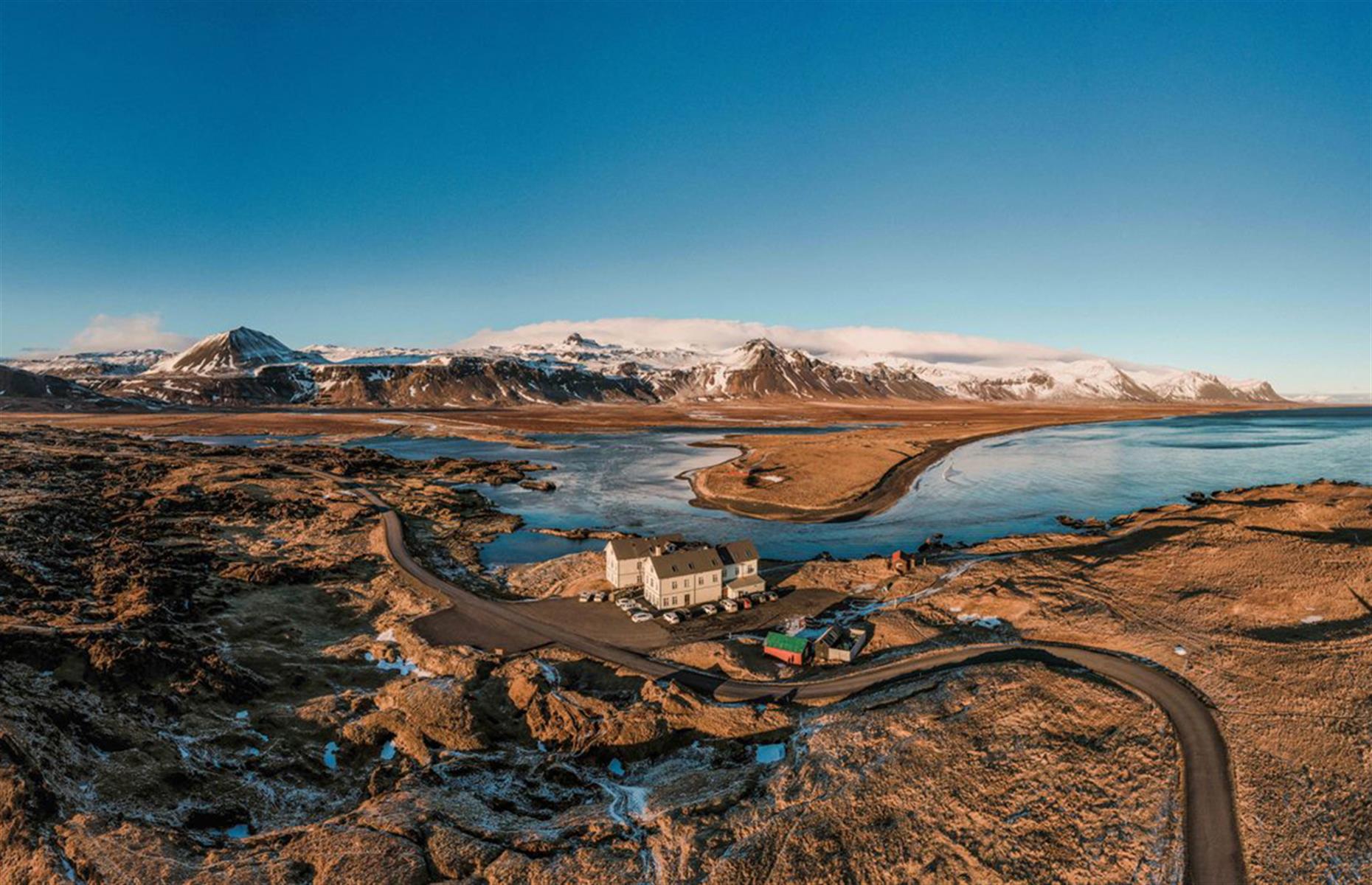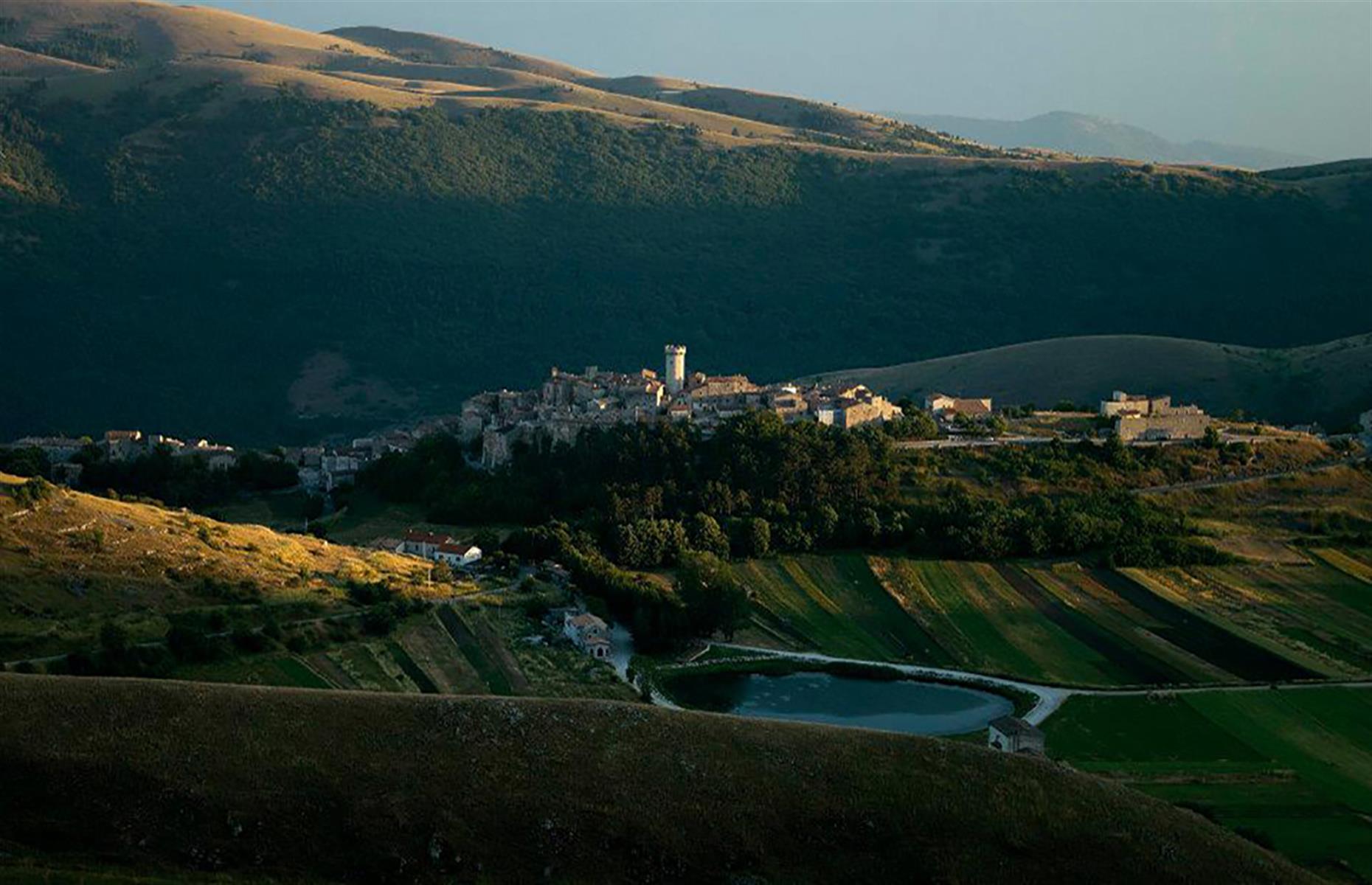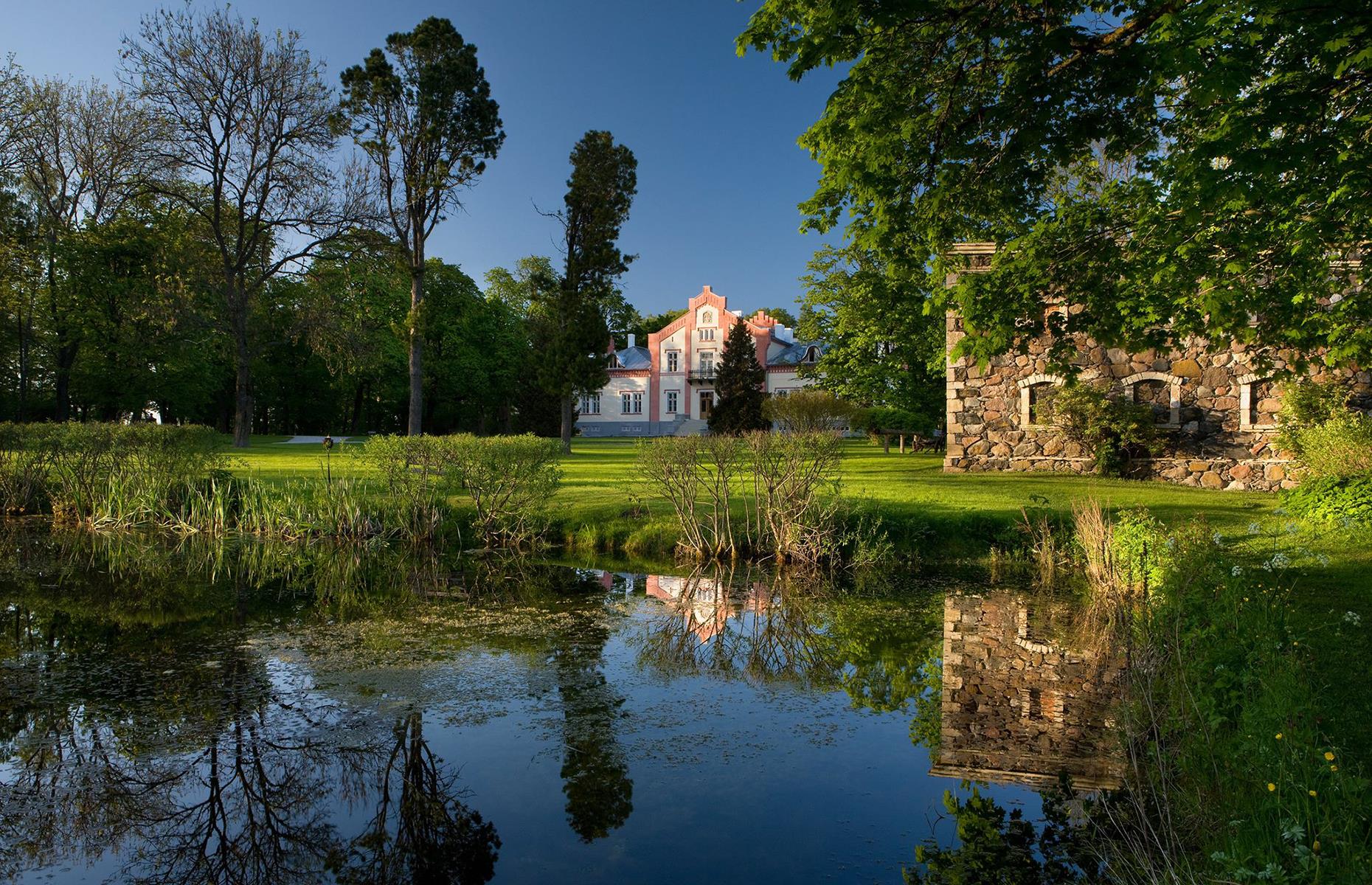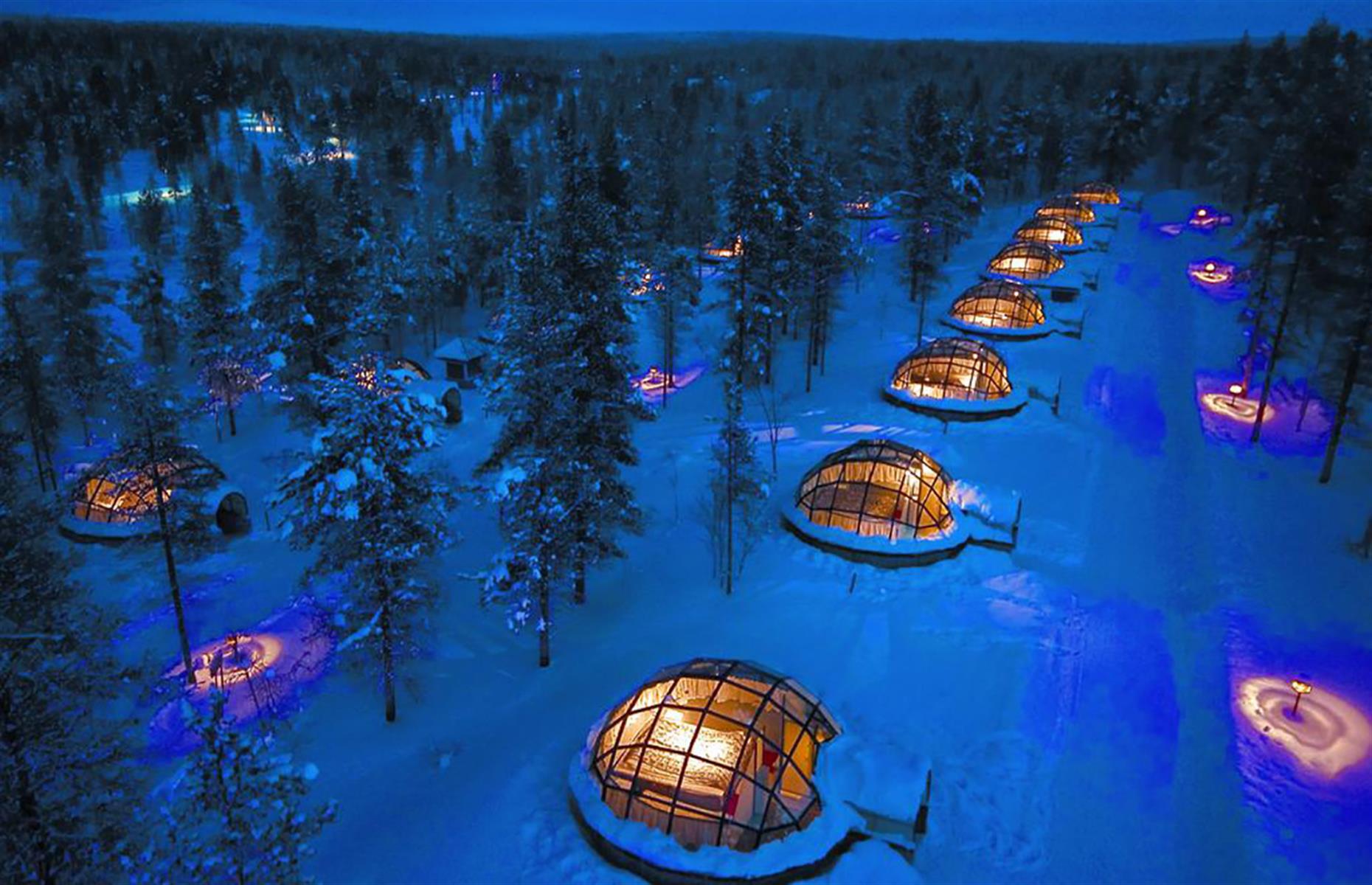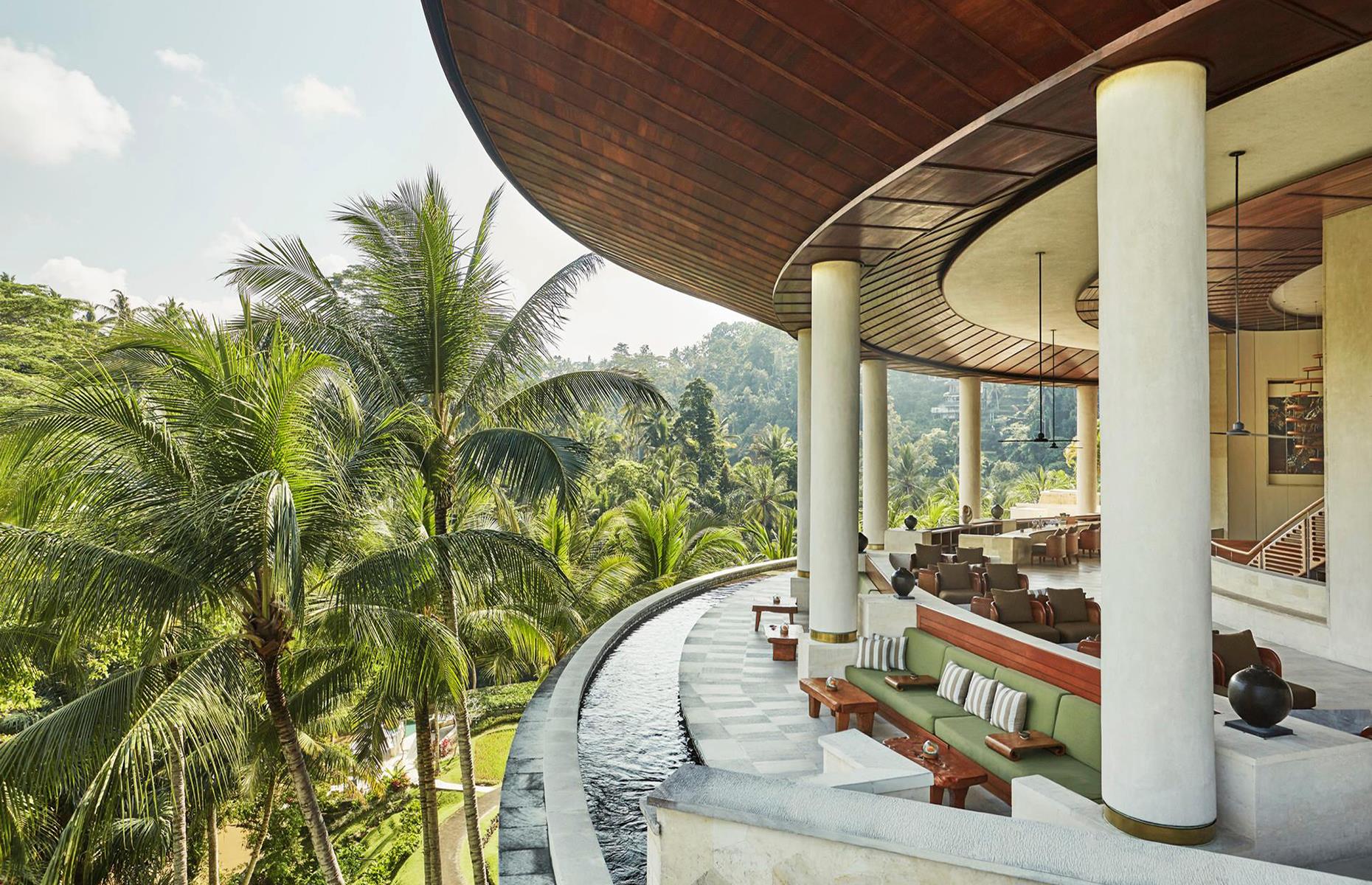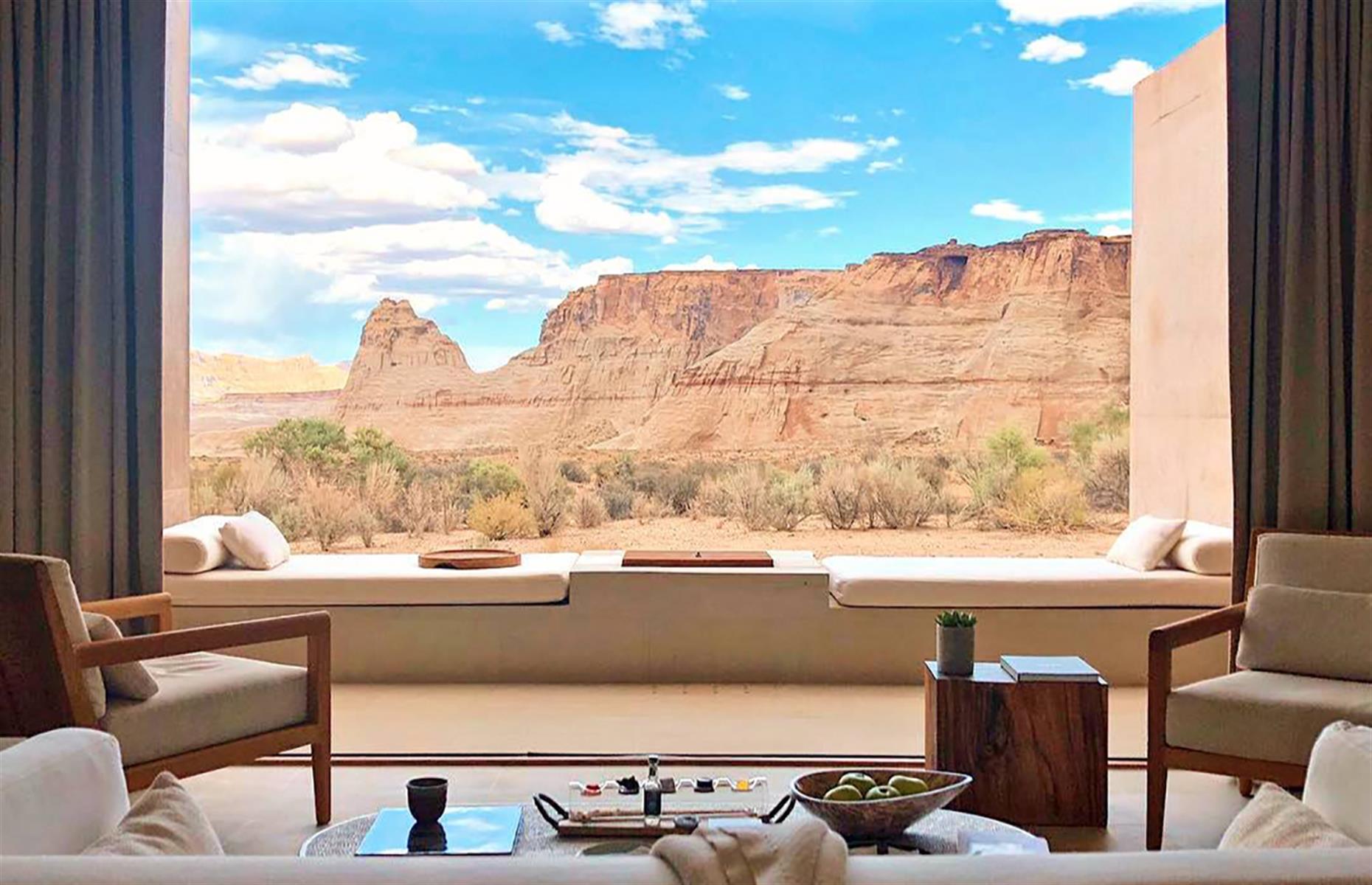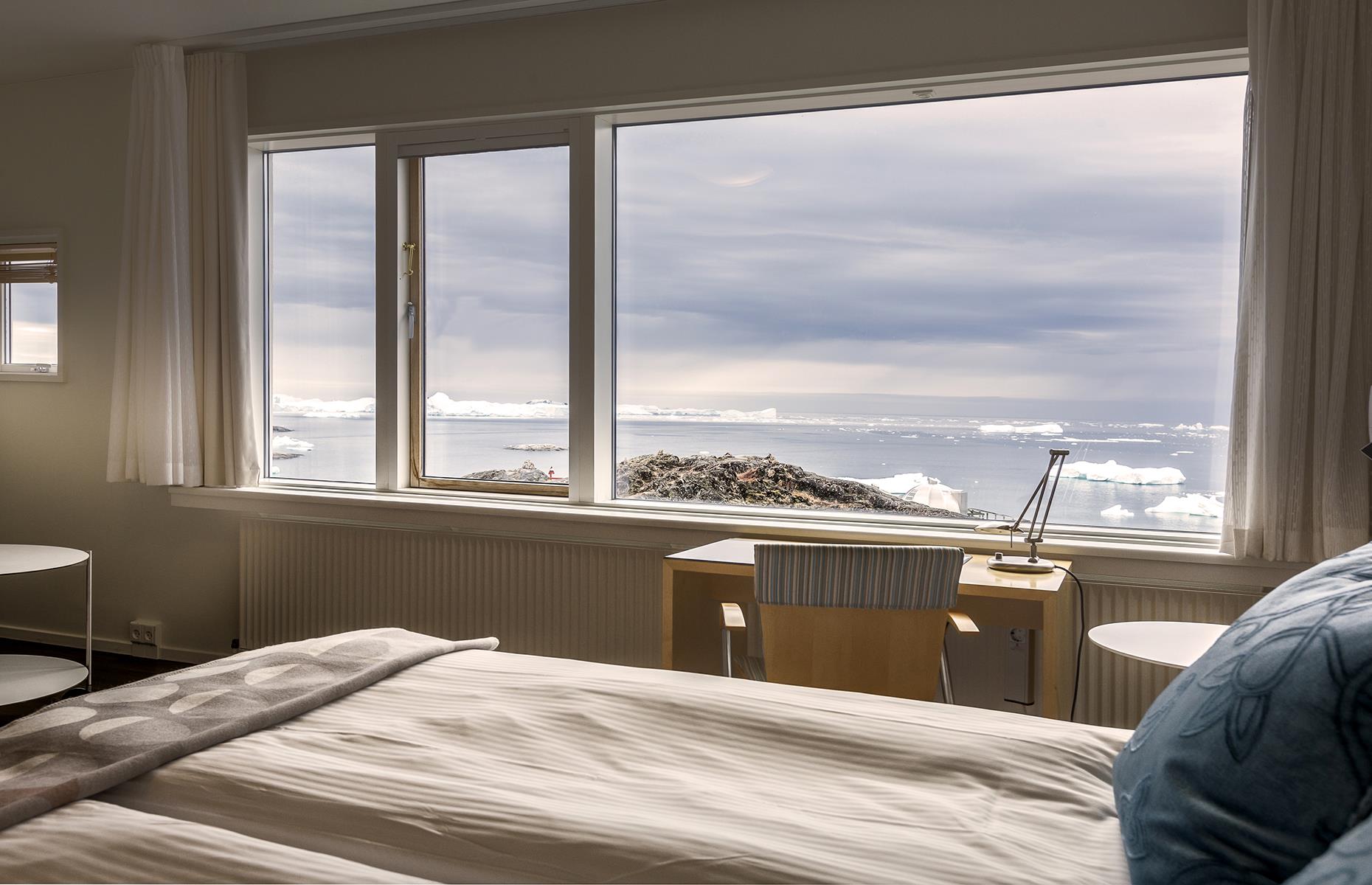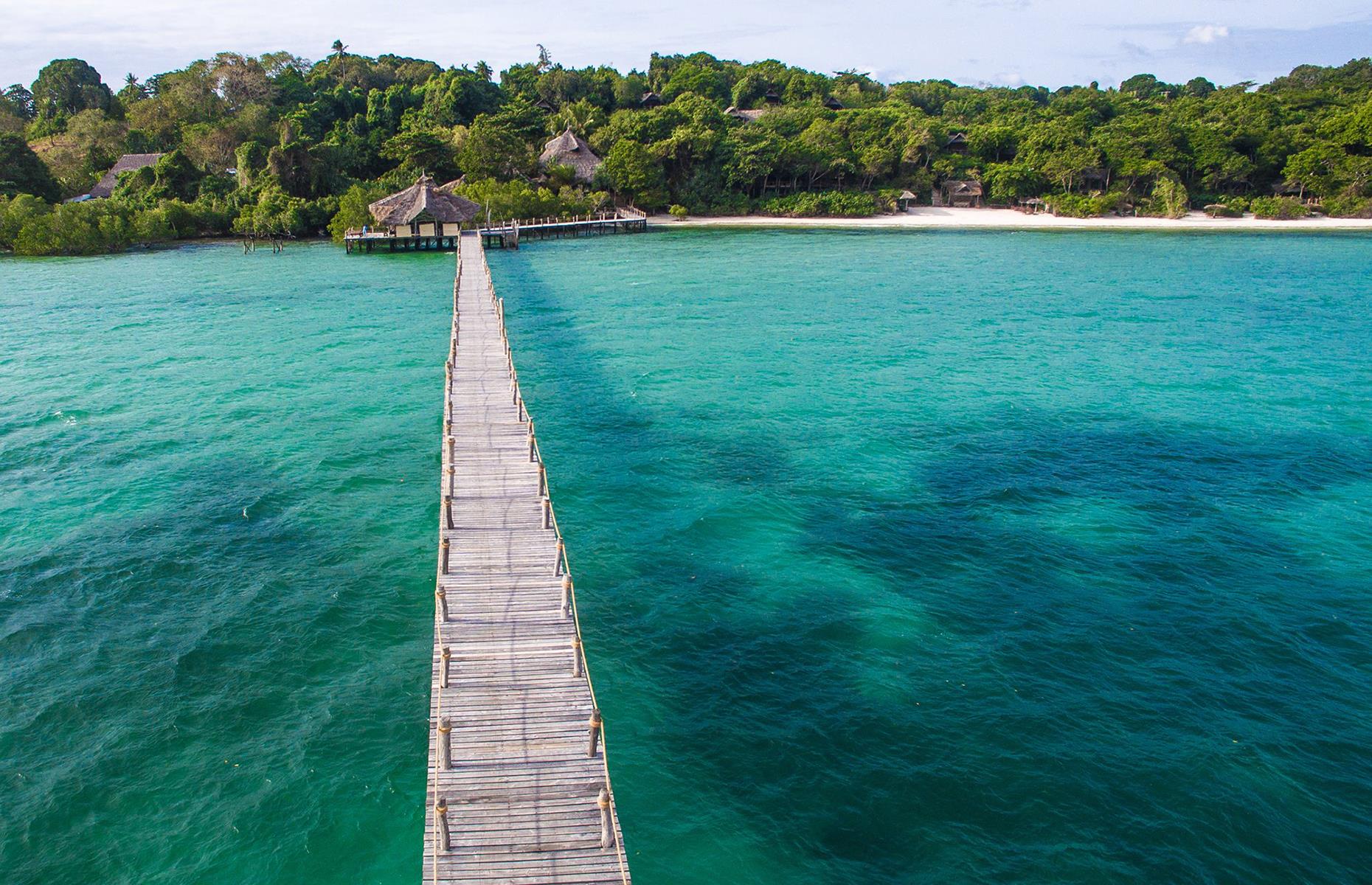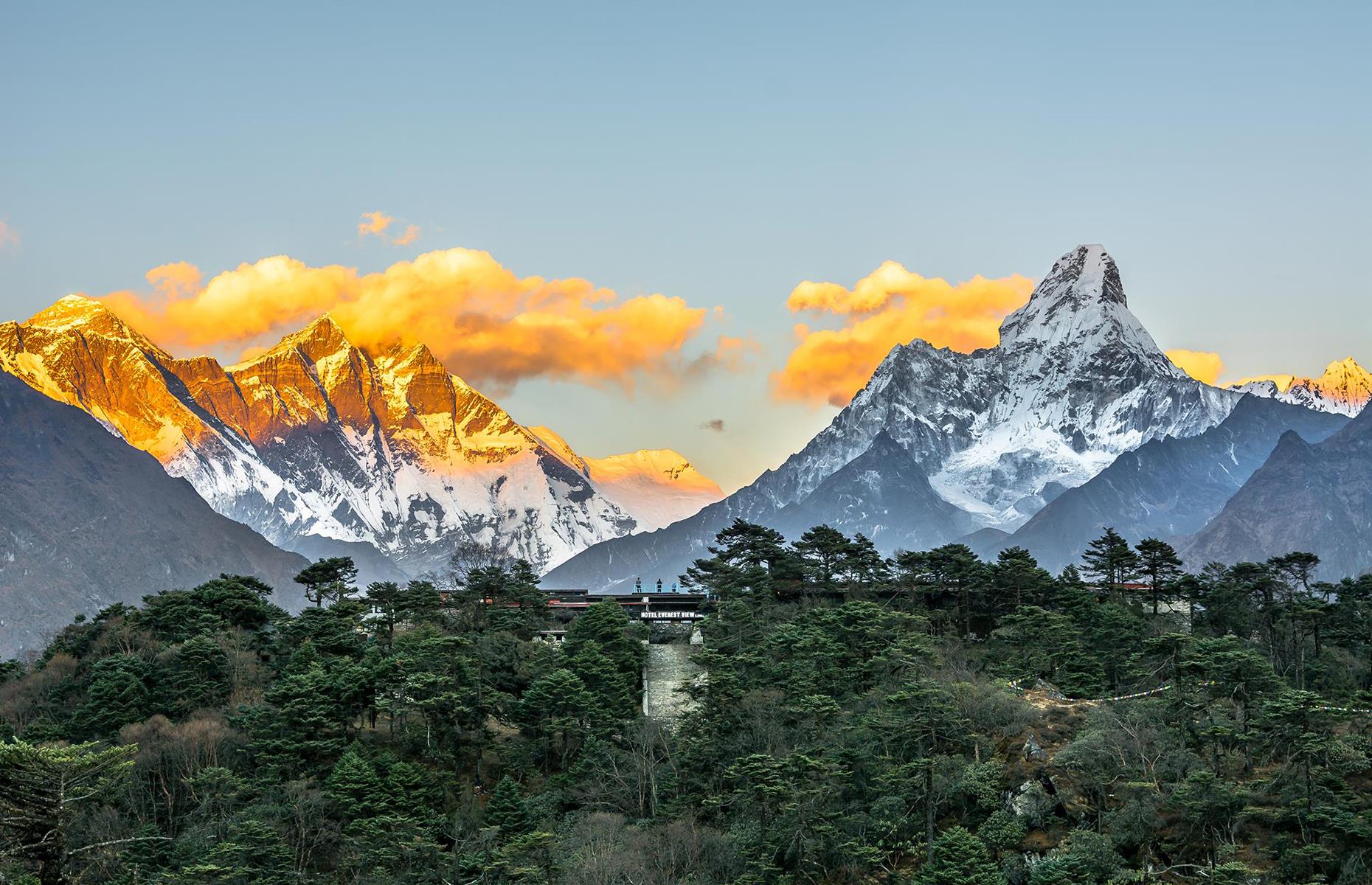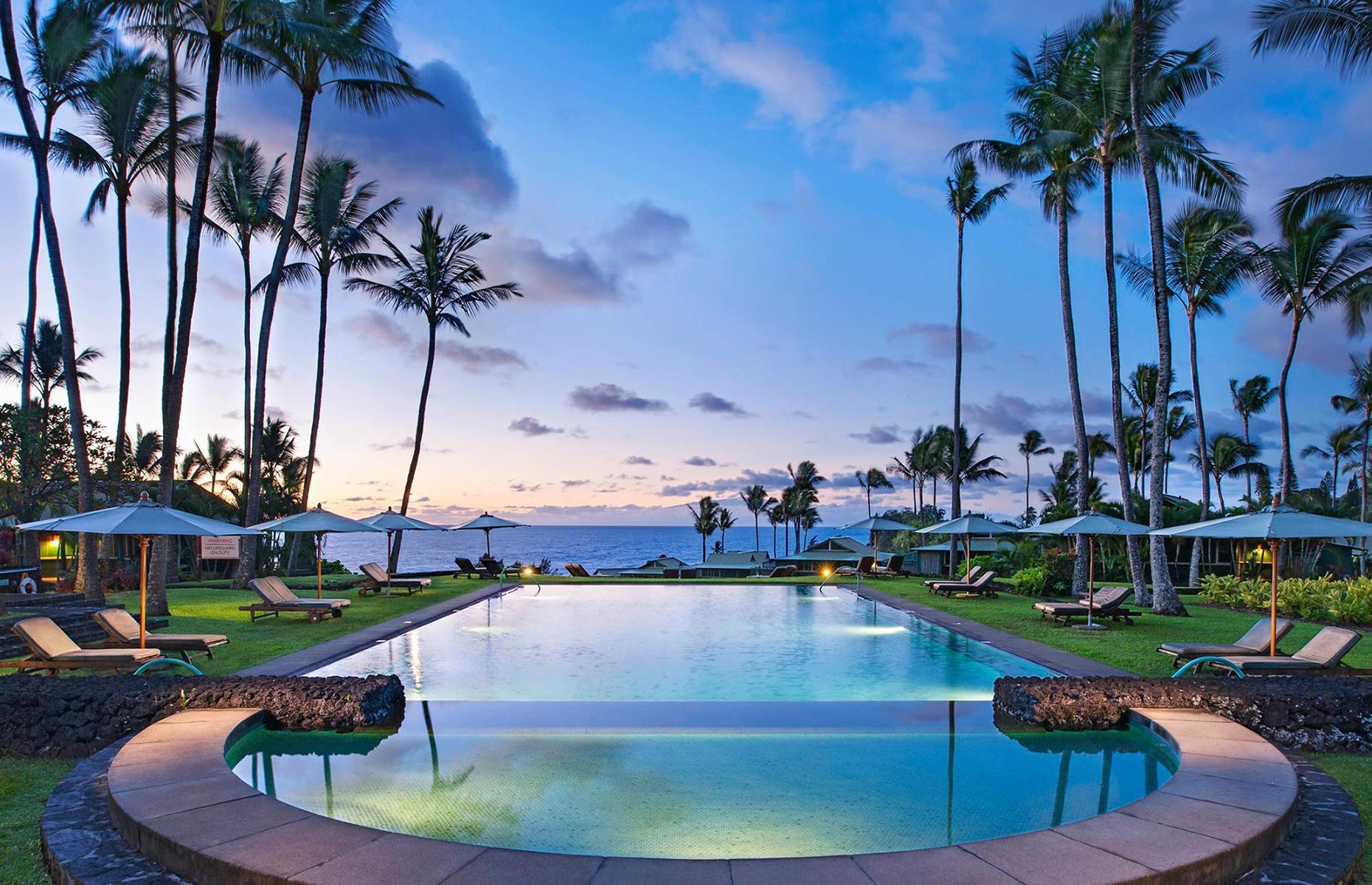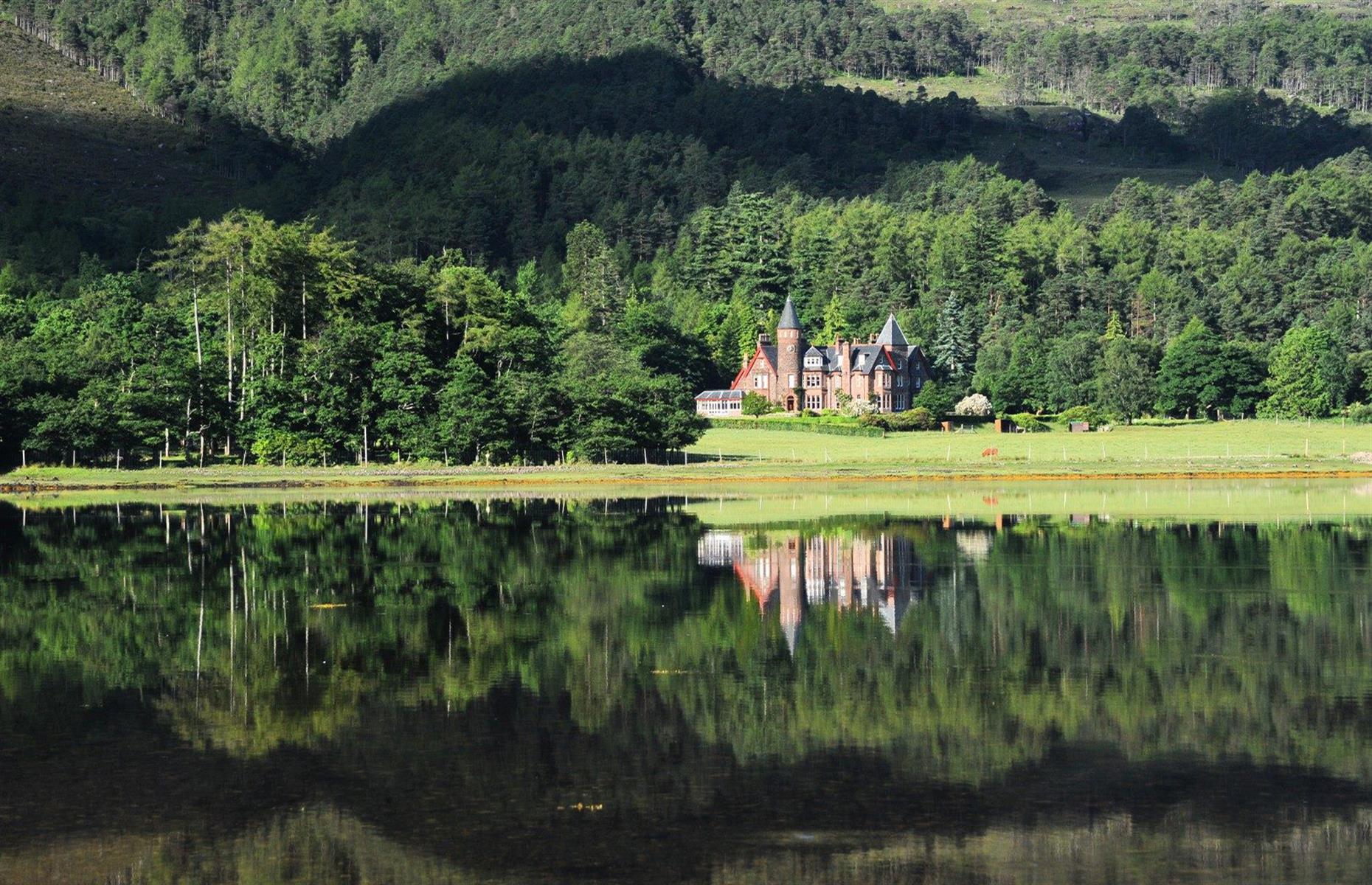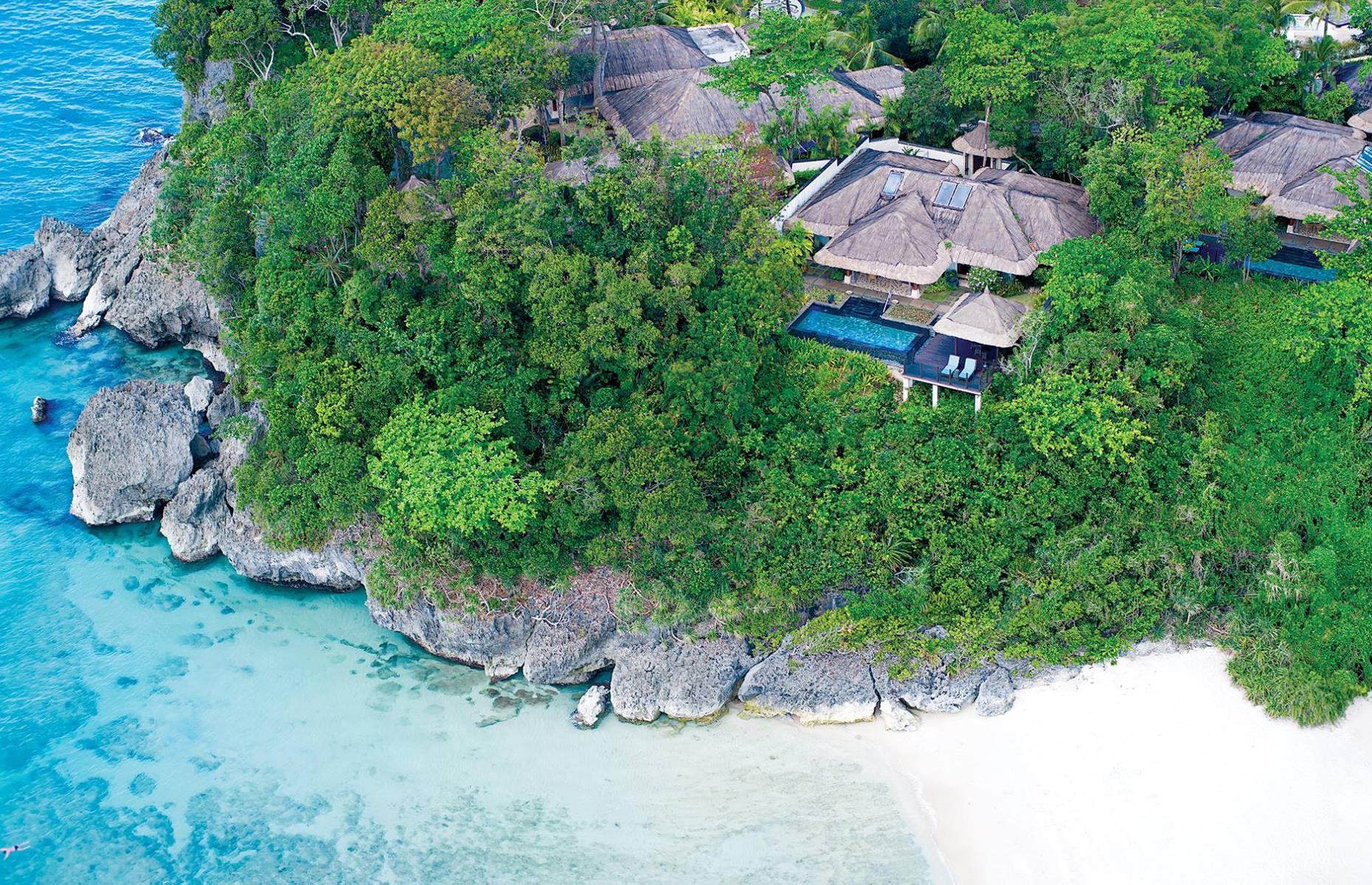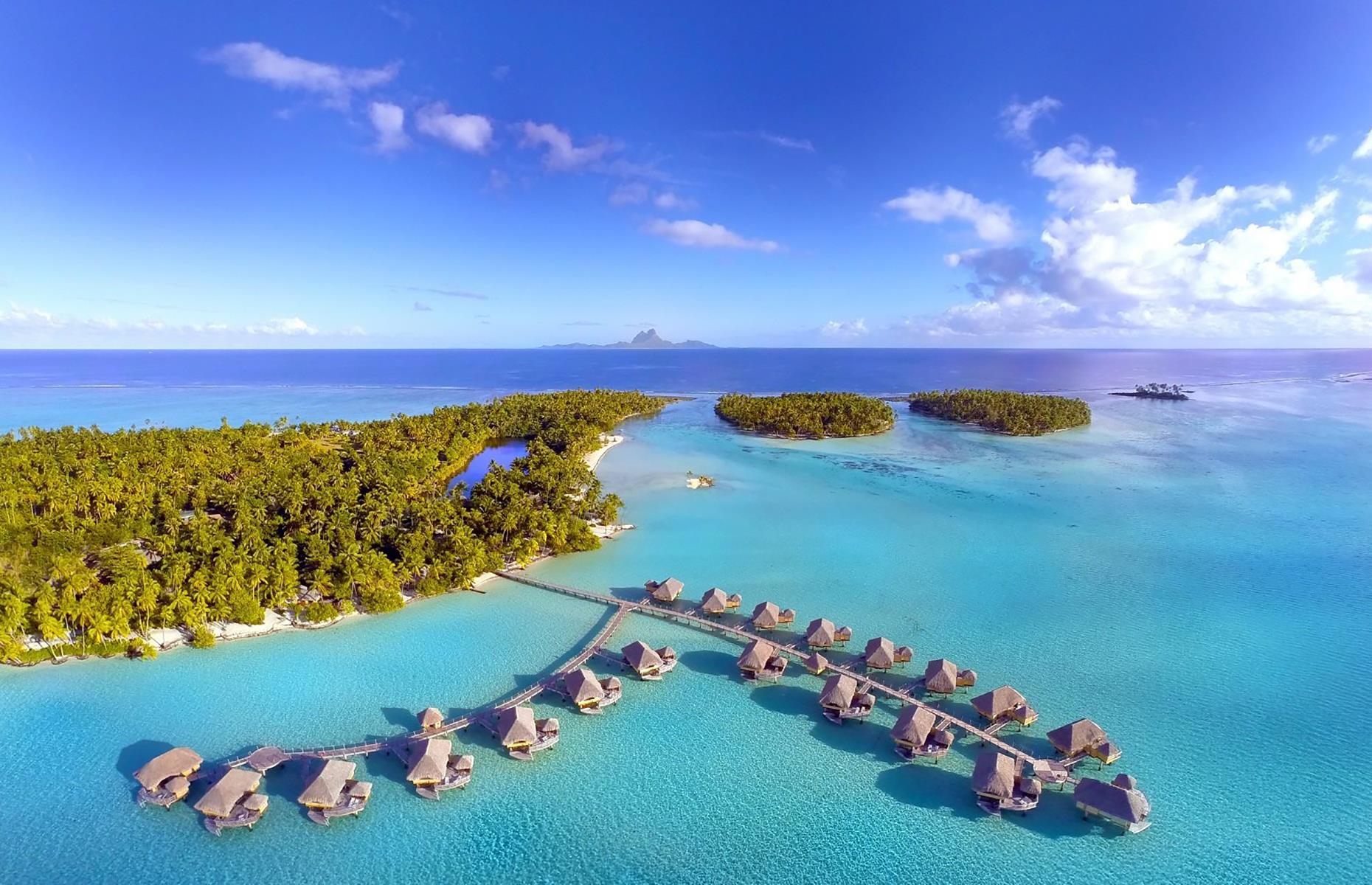 Off-grid hideaways
Fogo Island Inn, Fogo Island, Canada
A minimalist masterpiece, Fogo Island Inn is tucked away from the world in a traditional fishing village on the northern coast of Newfoundland's Fogo Island. The 29 suites all come with access to a wood-fired sauna and rooftop hot tubs (both currently closed), plus a cinema, contemporary art gallery and a library specializing in Newfoundland's history. There are strict health and safety procedures in place.
The Oberoi Vanyavilas Wildlife Resort, Ranthambhore, India
This spot is located next to a tiger sanctuary, so while you might not meet many humans out here, you'll most definitely make friends with a few animals. The luxurious tent-style accommodation at The Oberoi Vanyavilas is a three-hour drive away from Jaipur, the capital city of Rajasthan. The tents are carefully spaced out, providing lots of privacy, and all have large four-poster beds and freestanding baths. There are also health and safety measures in place, like regular cleaning of high-touch points and social distancing.
Four Seasons Tented Camp Golden Triangle, Chiang Rai, Thailand
On a hillside overlooking a thick bamboo forest and the border with Laos, the Four Seasons Tented Camp is the ultimate hiding place. While seclusion is the main draw, there's plenty to keep you occupied and guests can experience the local area on day visits to the city of Chiang Rai. The resort also offers an all-inclusive package of spa treatments, meals and transfers. There is currently an enhanced health and safety program prioritizing guests' and employees' health.
Anantara Qasr al Sarab Desert Resort, Jurayrah, UAE
With nothing but a desert surrounding it, the Qasr al Sarab Desert Resort is the ultimate oasis. A two-hour drive from Abu Dhabi, the resort is located on the border of the Empty Quarter – the largest uninterrupted stretch of sand in the world. There are plenty of opportunities to relax within the resort, either with a massage in the spa or a swim in the infinity pool, and lots of activities guests can book, from Emirati cooking classes to camel trekking in the desert. Current safety measures include enhanced cleaning, physical distancing and temperature checks.
Qualia, Hamilton Island, Australia
Clinging to a cliff at the northern tip of the tropical Hamilton Island, in the middle of Australia's Great Barrier Reef, Qualia is one of the most serene and beautiful escapes Down Under. The resort has two infinity pools that both face out to the ocean, two restaurants and a bar. If you want to contact civilization, you can visit Whitehaven, the most photographed beach in Australia, or take part in diving and snorkeling experiences. Qualia is currently only open to Australian residents.
Dunton Hot Springs, San Juan Mountains, Colorado, USA
You can relax in the middle of nowhere thanks to Dunton Hot Springs. Wild and rustic on the outside, and cozy and warm on the inside, the cabins at this hotel are part of a restored mining town. The bathhouse and the old saloon restaurant are now open, with guests asked to self-regulate social distancing. The library remains closed and guests are required to wear a face covering indoors.
White Desert Whichaway Camp, Antarctica
It doesn't really get more remote than this Antarctica escape. Whichaway Camp is the ideal base for several Antarctic adventures, from visiting the geographical South Pole to getting to know the nearby emperor penguin colony. The six state-of-the-art pods at the camp are spacious with a comfortable sleeping area, a writing desk, and a wash area and toilet. The rest of the camp comprises a kitchen and three centralized pods that make up the reception, lounge and dining room. 
Three Camel Lodge, Mongolia
For a truly off-grid escape, head to Three Camel Lodge in Mongolia. A collection of gers – traditional felt tents – overlook the Gobi Desert and the Gobi-Altai Mountains, and have all the home comforts you need, including the Bulagtai Restaurant and traditional massages on offer. It's a completely wild and remote experience. 
Mashpi Lodge, Pacto, Ecuador
Get back to nature at Mashpi Lodge in Ecuador and enjoy everything its beautiful location within the Mashpi Nature Reserve has to offer. The nearby hiking trails wind past gushing waterfalls while the hotel, dropped in the middle of the jungle, has spacious rooms with floor-to-ceiling windows and a stunning restaurant serving Ecuadorian dishes.
3100 Kulmhotel Gornergrat, Zermatt, Switzerland
You can almost touch the stars at 3100 Kulmhotel Gornergrat. It's located more than 10,000 feet (3,100m) up Gornergrat ridge in the Swiss Alps. With unparalleled views of the Matterhorn, the hotel offers an incredible mountain experience. There are 22 comfortable rooms, two restaurants and countless opportunities to make the most of your surroundings. Although anyone can book, it's advised not to stay at the hotel if you've visited a foreign country in the last 14 days before your stay, which also includes traveling to Switzerland.
Blancaneaux Lodge, San Ignacio, Belize
The adventure begins by traveling to the hotel's cabanas by puddle jumper or private jet (it's the only way to reach the isolated spot). Tucked away deep within the Mountain Pine Ridge Forest Reserve in Belize, the hotel, created by Francis Ford Coppola, is all about luxury. All guests at Blancaneaux are treated to fine dining meals, spa treatments and guided forest walks to nearby waterfalls and natural pools. The lodge is currently not taking any reservations.
Petit St Vincent, Saint Vincent and the Grenadines
A gorgeous private island retreat in the Caribbean, Petit St Vincent is an ideal destination to forget the rest of the world. There are no phones and televisions in the rooms, and no internet throughout the resort. You'll have to fill your time with activities like snorkeling, scuba diving or lounging on the deck of your private villa – it's a hard life. There are just 22 cottages and villas on the island, so you're guaranteed total privacy.
Explora Rapa Nui, Easter Island, Chile
Easter Island is one of the most remote spots on Earth and draws in many travelers. It's not an easy destination to reach so Explora Rapa Nui is the ideal place to rest after the long journey. The five-star accommodation is around five miles (8km) from Hanga Roa, the island's main town. Every room overlooks the ocean, there's a heated infinity pool outside and a spa. Note the hotel is currently closed.
Hotel Búdir, Búdir, Iceland
Hotel Búdir in Iceland is one of the best locations to enjoy the country's jaw-dropping beauty. All rooms offer stunning views of the glaciers, mountains or lava fields which adds to the truly wild experience. A two-hour drive from the capital city Reykjavík, the hotel also offers several activities to explore the landscape including hiking, fishing and whale watching. Discover more incredible places to visit in Iceland here.
Alila Jabal Akhdar, Al Khuţaym, Oman
Alila Jabal Akhdar is one of Oman's best-kept secrets. Situated right on the edge of a canyon, the hotel's incredible location means it's surrounded by breathtaking mountains, without any civilization in sight. The hotel offers guided hiking and cave exploring trips as well as Arabic-inspired dinners before guests retreat to their rooms or luxury villas with private pools. 
Sextantio Albergo Diffuso, Abruzzo, Italy
This once-abandoned medieval village has been lovingly restored and turned into a chic, rustic hideaway. Sextantio Albergo Diffuso is spread throughout the village and a lot of time is taken to introduce the hotel's guests to the local history and culture. A wide range of classes are offered, from soap-making to baking traditional bread. Discover more time warp travel here with the world's most fascinating ghost towns you can visit.
Pädaste Manor, Pädaste, Estonia
Give the Nordic way of life a go and tune out the world at the Pädaste Manor in Estonia. Set in a beautiful countryside location, the hotel is just a two-hour drive from the capital of Tallinn yet feels extremely remote and peaceful. Beautifully decorated rooms await after a day of fishing or horseback riding and the restaurant serves superb traditional Nordic cuisine. The hotel can be reached by a ferry or a helicopter and is great for reconnecting with nature without having to jet off to the furthest corners of the world. 
Kakslauttanen Arctic Resort, Lapland, Finland
To live the ultimate Northern Lights dream, book a stay at the Kakslauttanen Arctic Resort in Lapland, Finland. Hidden deep in a forest, the glass igloos and traditional wooden chalets offer excellent views, perfect for observing the light show in the sky. Some igloos even have a private sauna in the bathroom for you to make the most of your remote Arctic adventure.
Four Seasons Resort Bali at Sayan, Ubud, Indonesia
Although the hotel isn't too far away from Ubud center, once you get here, there's nothing but green tropical jungle and total serenity around. There are several suites and villas at Four Seasons Resort Bali, as well as four dining options, an outdoor pool and a spa. There is an enhanced health and safety program in place, taking care of guests' and employees' health.
EOLO, Santa Cruz, Argentina
Set in the vast expanse of Patagonia and located halfway between El Calafate and Los Glaciares National Park, this hotel is a fantastic stopover on a longer trip. The 10,000-acre property offers horseback riding, mountain bike rides, trekking and bird watching. EOLO really is the perfect place to shut off the world and reconnect with yourself. 
Bushmans Kloof Wilderness Reserve and Wellness Retreat, Clanwilliam, South Africa
Set amid the dramatic and sparsely-populated Cederberg Mountains, Bushmans Kloof is a former 19th-century farm that has been transformed into charming rooms, suites and villas. Guests will love the restaurant, serving dishes with herbs and vegetables from the property's organic garden, and the wealth of activities available, from canoeing, hiking and biking to discovering the area's rock art heritage. The hotel is currently only accepting local guests.
Amangiri, Canyon Point, Utah, USA
Surrounded by the Mars-like environment of Utah, Amangiri feels like an escape to a different planet. With nothing apart from impressive arid landscapes for miles, it's a truly off-grid getaway. The resort offers plenty of adventures from horseback riding to private plane tours of Lake Powell. Alternatively, guests can just relax by the swimming pool or at the spa.
Wolwedans Dunes Lodge, Sossusvlei, Namibia
Wolwedans Dunes Lodge is set in the dune highlands of the NamibRand Nature Reserve with nothing but clay-colored desert around. Nine comfortable wood and canvas cottages and villas all have private terraces ideal for watching sunrises and sunsets. Take a safari drive or a hot air balloon ride to truly appreciate the remoteness of this destination and in the evening, enjoy a four-course dinner. 
Hotel Arctic, Ilulissat, Greenland
Wake up to monster-sized icebergs right outside your bedroom, spot seals frolicking in the water and go on dog-sledding adventures – staying at Hotel Arctic in Greenland is a one-of-a-kind experience. Although it's not as far away from civilization as some of the other hotels on our list, Greenland itself feels like an entirely different world. 
Fundu Lagoon, Pemba Island, Tanzania
Safari-style tents and thatched buildings, a sunset-facing bar and a totally secluded ambience are just a few things that Fundu Lagoon has to offer. Located next to a beautiful, white-sand beach on an island in the Indian Ocean, it feels like a little slice of paradise. Discover the world's most amazing floating hotels.
Wickaninnish Inn, Vancouver Island, Canada
Perched on cliffs overlooking the waters of the northern Pacific, the Wickaninnish Inn is surrounded by rugged forests. Although the Tofino-Long Beach Airport is just a 20-minute drive from the hotel, there's not much else in the area apart from stunning wilderness. Each room has a giant soaking tub, a fireplace and a balcony to admire ocean views during the day and gaze at the stars at night. The hotel is currently only open to residents of Canada.
Hotel Everest View, Khumjung, Nepal
The highest hotel in the world, Hotel Everest View offers, as you might guess, first-class views of the famous mountain. Located 13,000 feet (3,962m) above sea level, the hotel has 12 rooms with panoramic views, a restaurant serving regional Khumbu cuisine and a bar. To get to the hotel you'll have to splash out on a helicopter transfer from Kathmandu or trek in true Himalayan style. 
Travaasa Hana, Hana, Hawaii, USA
Many who travel to Hawaii completely miss its more remote eastern reaches, which is exactly where you'll find Travaasa Hana. Imagine waking up in a bungalow overlooking the Pacific, with the palms swaying in the breeze and waves crashing into the rocks on the beach – that's what this hotel is about. Leave the crowds behind and enjoy a peaceful coastal walk or learn how to fish with a Hawaiian throw net.
The Torridon, Achnasheen, Scotland, UK
The grandeur of the Scottish Highlands is on full display at The Torridon on the shores of Loch Torridon. The boutique rooms all look out to the lake or to the 3,461-foot (1,054m) mountain Liathach. There's something for everyone at this hotel, whether that be a reviving outdoor escape or a pampering luxury getaway. Guests can expect some changes, like a single point for checking in, physical distancing and enhanced cleaning procedures. Now take a look at 50 of the most unusual places to stay in the world.
Shangri-La's Boracay Resort and Spa, Boracay, Philippines
Everything about Shangri-La's resort in Boracay exudes privacy and peace. After you arrive on the island by speedboat and take in the breathtaking views of the azure ocean, the hotel will welcome you with spacious yet cozy rooms and villas. There are four restaurants within the resort, and guests can typically enjoy the on-site spa or explore the lush green nature of the island.
Le Taha'a Island Resort & Spa, Motu Tautau, French Polynesia
Imagine pristine beaches, sparkling waters and no civilization in sight – that's exactly what Le Taha'a Island Resort offers. Located on Motu Tautau, a 20-minute helicopter ride from Bora Bora, the resort has 45 water villas and 12 beach villas, as well as tropical gardens, three restaurants and two bars. 
Now read about the most unique hotel in every US state
Source: Read Full Article