With its rich colours, tradition, history and culture, Kyoto is a city which allows visitors a glimpse into the past. The city embodies the Japanese aesthetic concept of "wabi-sabi" – the art of finding beauty in transience or imperfection. It also happens to have one of the world's largest collections of Unesco World Heritage sites; it's impossible to see them all, so focusing on a few is key. That leaves time to wander the alleyways, duck into small shops and enjoy top-notch cuisine in the former imperial capital of Japan.
What to do
Meet the monkeys
The sprawling Arashiyama Bamboo Grove transports visitors to another world. After taking in the stalks of bamboo, walk towards the river, rent a boat and head uphill to meet and feed the monkeys at Kameyama-koen Park. There are no cages here; you can buy bags of peanuts or apples for the monkeys, who greedily hold out their hands for treats.
Go geisha
Known as the geisha district of Kyoto, these days Gion probably has more tourists dressed in geisha garments than the real thing. However, the area has not lost its charm with its many tea salons, artisan shops, temples, shrines and traditional Japanese houses, or machiya.
Get a brew on
A traditional Japanese tea ceremony takes hours to perform and years to master. It is part art, part hospitality and part meditation. Camellia (tea-kyoto.com) offers the chance to both experience an abridged version of the tea ceremony and talk with masters about this important tradition – plus learn how to make your very own cup of matcha green tea.
Breathe and reboot
Learn Zen meditation and mindfulness from Rev. Takafumi Kawakami, who leads sessions in English at Shunkoin Temple (shunkoin.com/courses). It's located inside the Myoshinji temple complex, which was established in the 16th century and is full of cultural artefacts.
Visit a palace
During the Edo period, this Nijo Castle was the official residence of Tokugawa Shogunate rulers of Japan. It consists of two concentric rings of fortifications, inside which are beautifully painted ceilings, sliding doors and tatami mat-covered rooms. The vast grounds cover some 275,000 square metres, with impressive gardens, stone walls and moats.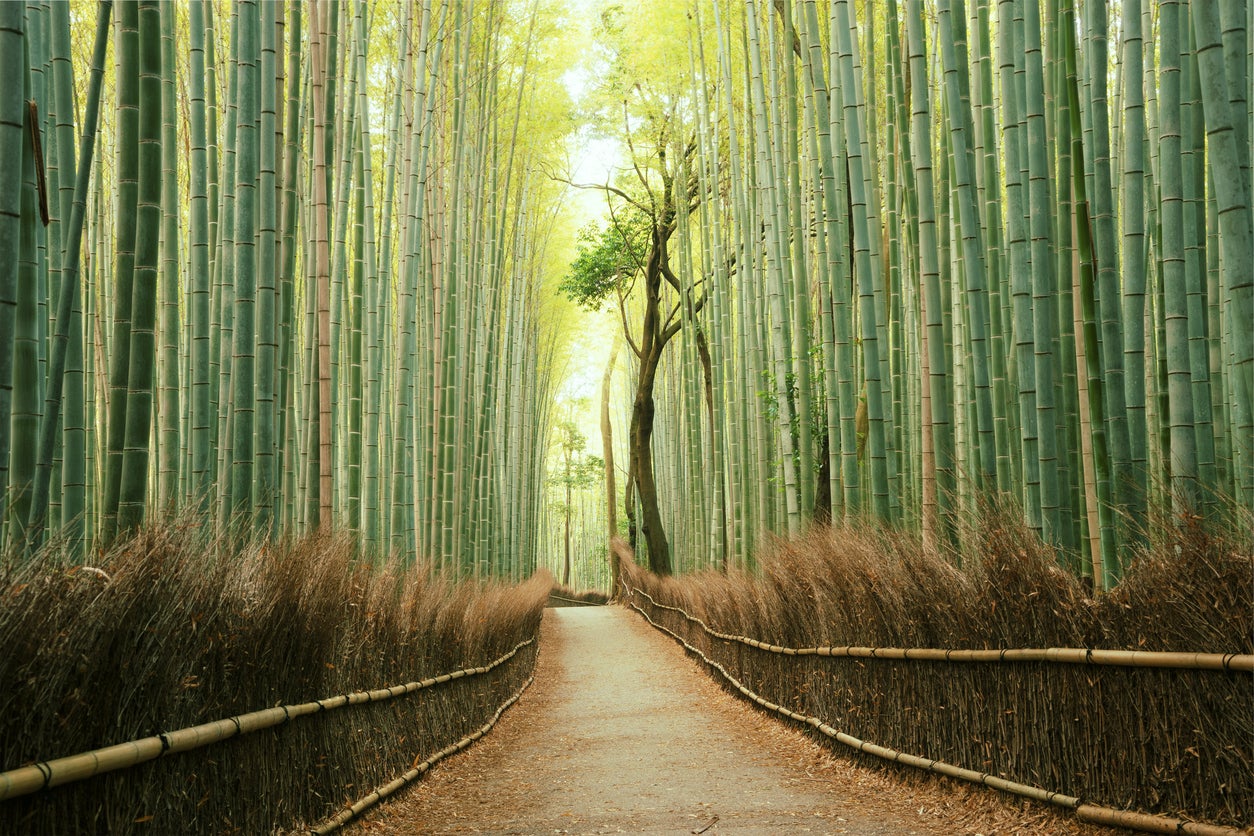 Tour the temples
There are many temples in Kyoto, but arguably the most striking is Kinkaku-Ji (aka the Golden Pavillion). Even if you've spotted it in photos, nothing can quite prepare you for this unique sight – and all the selfie-taking tourists surrounding it. The Fushimi Inari Shrine is also worth a visit, while the 4km path is perfect for a hike.
Take a bath
Visiting an onsen is a quintessential Japanese experience. These hot spring water baths can either be public or private (part of hotels and ryokans). Some of Kyoto's best include Kurama Onsen near Kurama-dera Mountain Temple, which has both indoor and outdoor baths, and the massive Tenzan-no-yu Onsen near Arashiyama.
Where to stay
A stone's throw away from Kyoto Station, Sakura Terrace The Gallery (sakuraterrace-gallery.jp) opened in 2015 with a modern aesthetic and plenty of artistic flair. You'll find an unusual open air lobby with fire pits, complimentary drinks each night, live music, a self service cafe and even an onsen. Doubles from 6,000 yen (£40), room only.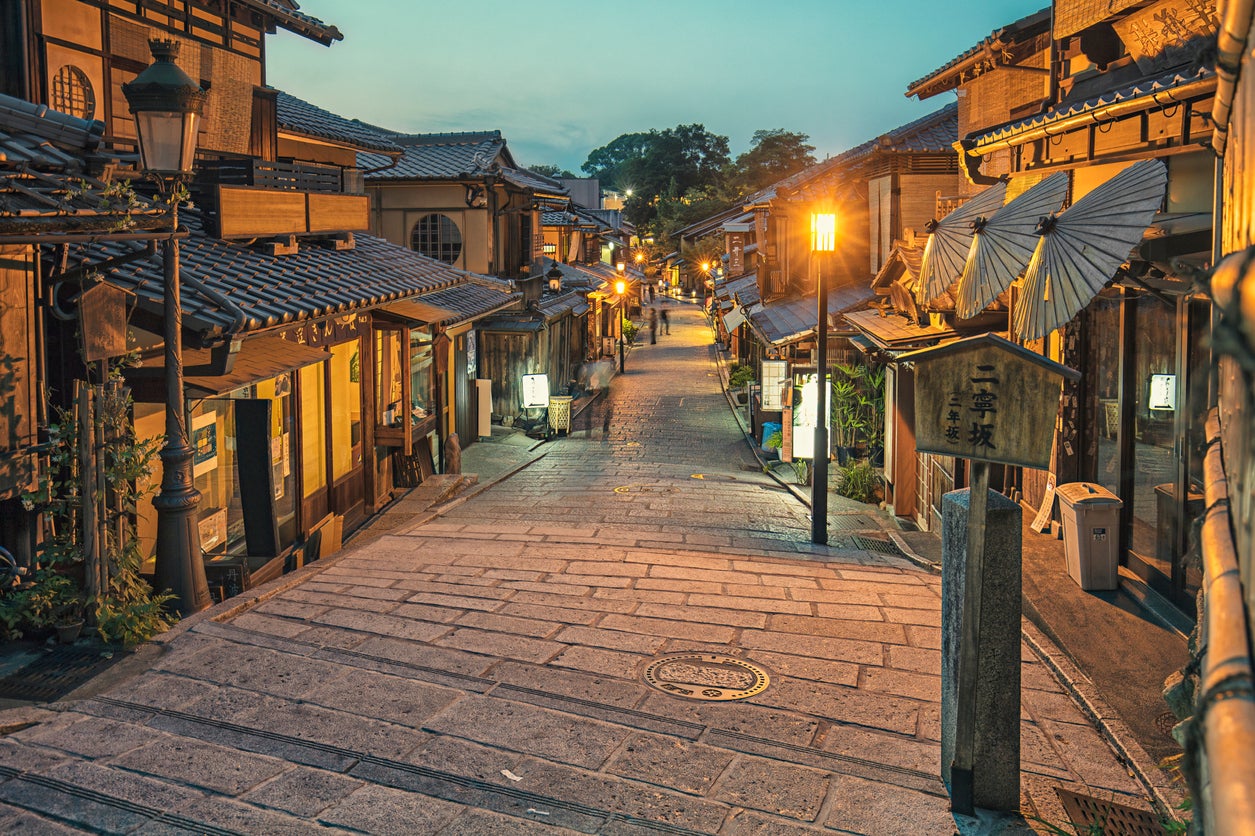 The Ritz Carlton Kyoto (ritzcarlton.com) has a ryokan-like feel but western beds and high threadcount linen. Near the Kamogawa river, the hotel is a seamless fusion of modern comforts with traditional design sensibilities. Expect a four-storey waterfall, bonsai trees, local art and a Pierre Hermé Paris patisserie in the lobby. Doubles from 74,520 yen (£495), room only.
A low key Japanese-style lodging, Matsubaya Ryokan (matsubayainn.com) will have you sleeping in a futon on tatami mats in no time. You'll even get to wear a traditional yukata robe. Doubles from 14,800 yen (£98), room only.
Where to eat
Shoraian (shoraian.com) is situated in Arashiyama, perched on the edge of a mountain overlooking the river. Kyoto is known for its tofu, and Shoraian delivers some incredible varieties, including silky yudofu in a hot pot, custard-like "burrata" tofu, Agedashi tofu and even tofu ice cream. Another delicacy is the crispy "Oke Yuba" dried soymilk skins, which are served alongside delicate vegetable tempura and matcha salt.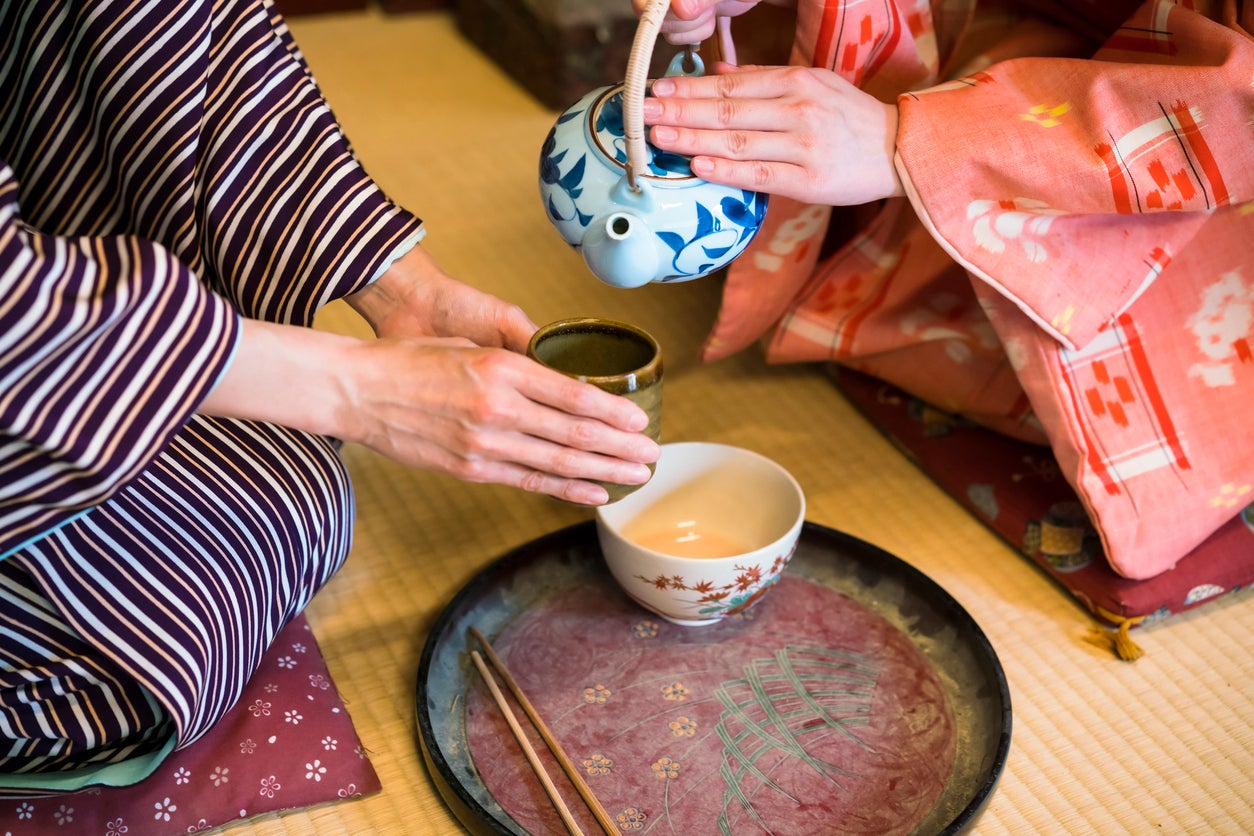 For dinner, head into the city centre and grab a seat at the bar at Kyo Apollo (kyo-apollo.jp), located inside a traditional townhouse. Try their extensive selection of deep fried skewers, which include salmon and pumpkin.
Miyakoyasai Kamo Shijo-karasuma (nasukamo.net) is a vegetarian's dream come true. The all-you-can eat buffet of locally grown, healthy comfort food features soups, salads, unusual vegetables, oden and other dishes.
Where to drink
Japanese bars are well known to have a soft spot for vinyl collections, and Jazz Spot Yamatoya (jazz-yamatoya.com) is no exception. The owner has amassed a vast collection of vinyl jazz records over the years – they're stacked around the bar, and can be requested to be played on the vintage turntables. A great ambience, friendly staff, and good drinks at reasonable prices make for a wonderful night in Kyoto.
At Saka Maruyama (sakamaruyama.com), an elegant and intimate authentic teahouse, you'll enjoy artisanal Japanese tea along with beautifully presented "wagashi" sweets. Coffee, wine and beer can also be served at Saka Maruyama (sakamaruyama.com). In Maruyama-koen park, near Gion, this is a garden hideaway with paper windows, bamboo furnishings, and a lacquered bar.
Step into a dimly lit, smoke-filled 1930s time capsule at Hello Dolly (hellodolly.hannnari.com), in Kyoto's Pontocho neighbourhood. Grab a seat by the window overlooking the river, and sip on fine whisky or a martini as jazz records play in the background. Better yet, catch a live performance (cover charge applies). It's what the Japanese imagine a New York bar of a bygone era to be.
Where to shop
Along Higashiyama District's narrow, stone-paved streets you'll find speciality foods, handicrafts (such as the famous Kiyomizu-yaki pottery), incense, printed fabrics and vintage kimonos.
Head to lively Nishiki Market for traditional food shops selling fare including Japanese pickles (tsukemono), Japanese sweets (wagashi) and speciality teas. Grab a "tabearuki" on-the-go snack at one of the food stalls before browsing the many souvenir shops.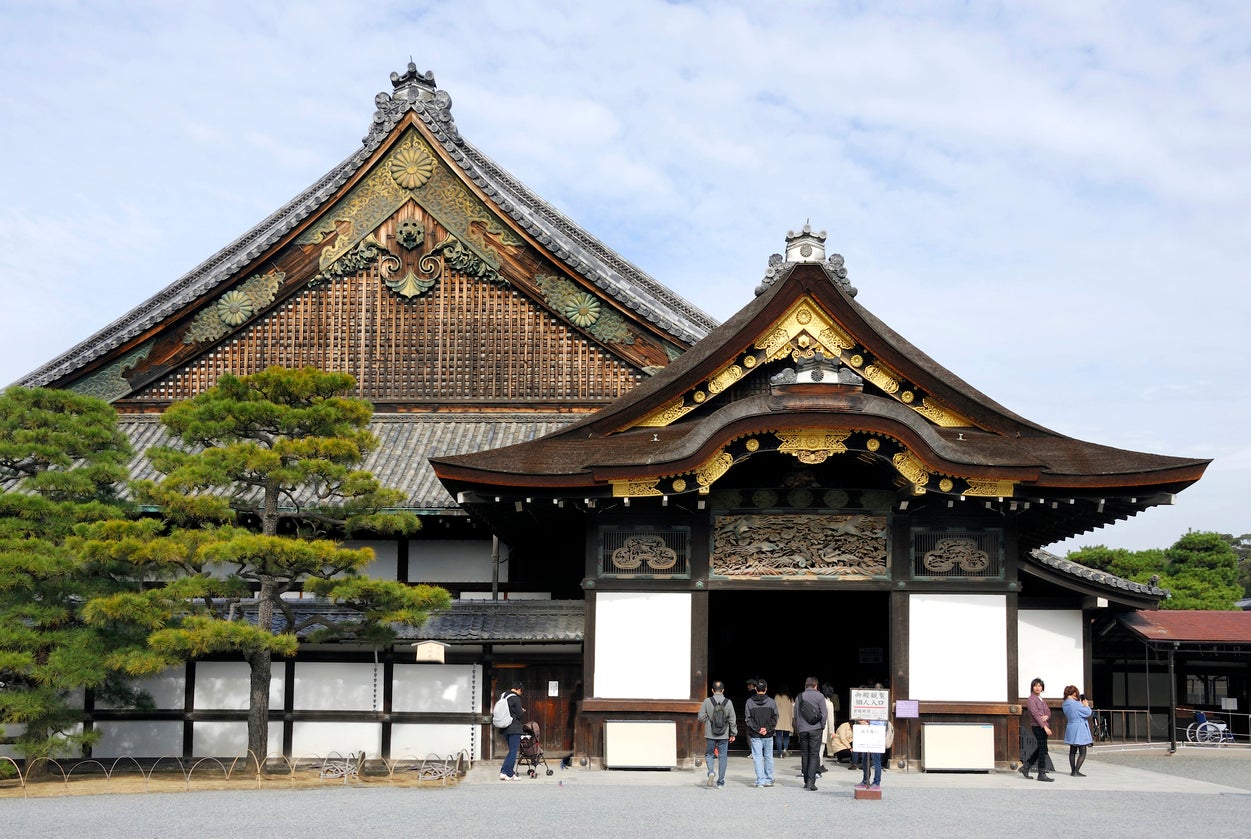 Founded during the Kamakura period (1190-1329), Shigeharu near Nijo Castle is possibly the oldest knife shop in Kyoto, yet is much less crowded than some of its competitors and has much lower prices. You can get your name engraved on your knife. Be warned that it's cash only.
Architectural highlight
The Golden Pavilion – the perfect reflection of its bright yellow tiers in the lake is a must-see.
Nuts and bolts
What currency do I need?
The currency in Kyoto is Japanese yen, roughly 149 yen to the pound.
What language do they speak?
Japanese.
Should I tip?
Japan does not have a tipping culture and tips aren't expected. In fact, they will more likely than not be refused.
What's the time difference?
Kyoto is nine hours ahead of the UK. Fight times average 14 hours and 50 minutes.
When's the best time to go?
Cherry blossom season is when Kyoto is at its most majestic, but Kyoto has temperate weather yearround.
Public transport
Kyoto can be explored by foot and public transport such as buses and trains. Taxis aren't cheap, but drivers are honest and very professional.
Best view
The peak on a hike up to Kameyama-koen Park offers spectacular views of Kyoto.
Insider tip
Kyoto is the perfect city to explore by bike, especially following paths along the Kamogawa river.
Source: Read Full Article