With grand palaces, historic city walls and buzzing streets, Jaipur, aka the Pink City (named for the colour of the buildings at its historic centre), is the perfect stop as part of a larger North India tour. It's the most complex and largest of the cities in Rajasthan, though it's perfectly possible to navigate solo or as part of a small group. Its modern offerings, juxtaposed with centuries-old institutions and bazaars, make it a haven for design junkies and foodies. Experience the boom in contemporary cafes and bars and upscale textile and clothing boutiques – and leave room in your luggage for bargain and luxury finds.
What to do
See how the royals live
Spend a few hours touring the opulent City Palace, entry 500 rupees (£5.60), where you can take in the intricately carved arches, chandleries and marble of the Diwan-i-Khas gallery. Plan to wait in line if you want to snap a selfie in front of one of the four elaborate doorways of the Pitam Niwas Chowk, including the fanciful peacock gate. It's 2,500 rupees (£28) to gain entry to the private Chandra Mahal, which includes a guide and access to the divine Sukh Niwas room.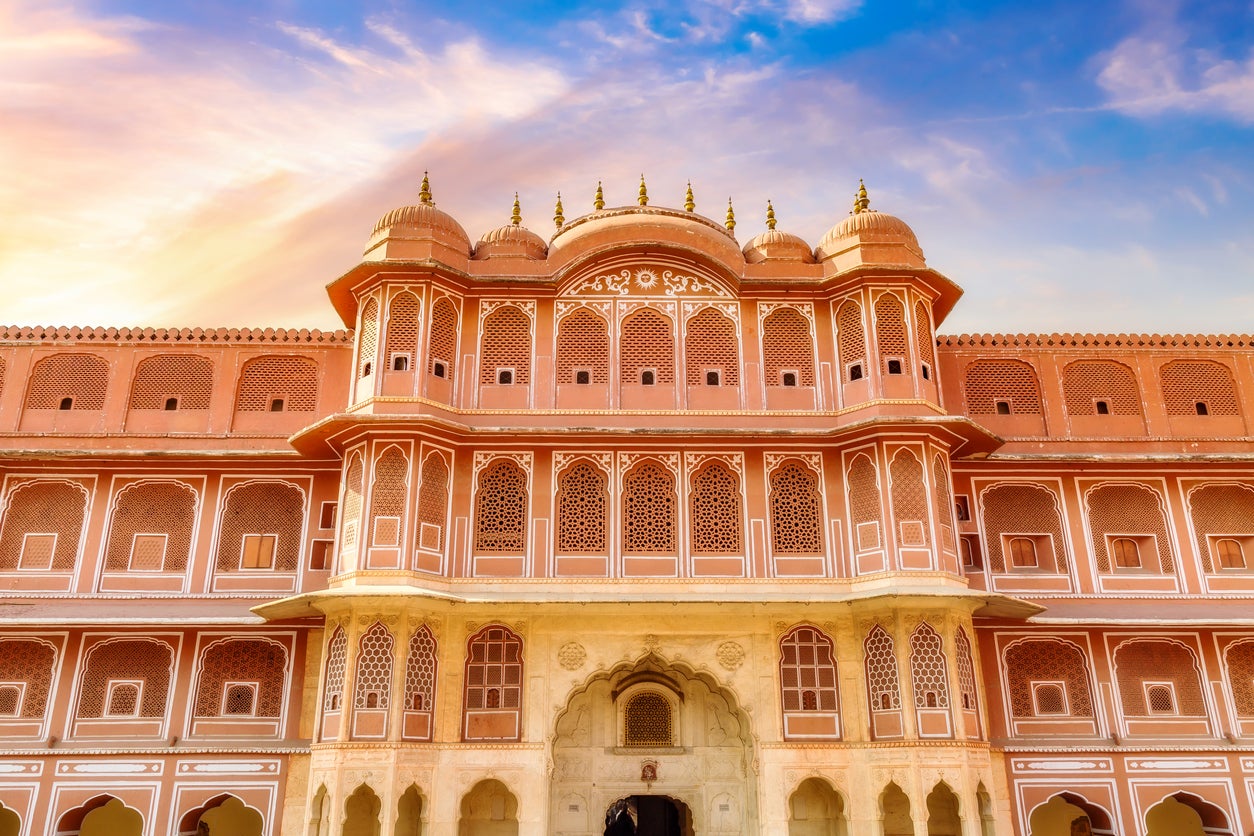 Experience Bollywood with a crowd
Snack on popcorn and take in the scene of hundreds of moviegoers oohing and aahing along to popular Bollywood movies at the Art Deco Raj Mandir Theatre. It's worth buying tickets at least a few hours (or a day) in advance for new releases.
Climb to the top of the fort
The 30-minute ride from the city centre to Amer Fort, 500 rupee (£5.60) admission, is worth the effort. The complex of palaces and fortified structures, which is more than 400 years old, shimmers with exquisite sandstone and marble, rooms decked out with gold, silver and mirrored-tile mosaics. Search out the silver door leading to the Sila Devi temple, and walk or take a rickshaw up from the bottom of the fort to the main gate. But avoid the elephant rides – animal rights groups have long decried the treatment of overworked pachyderms.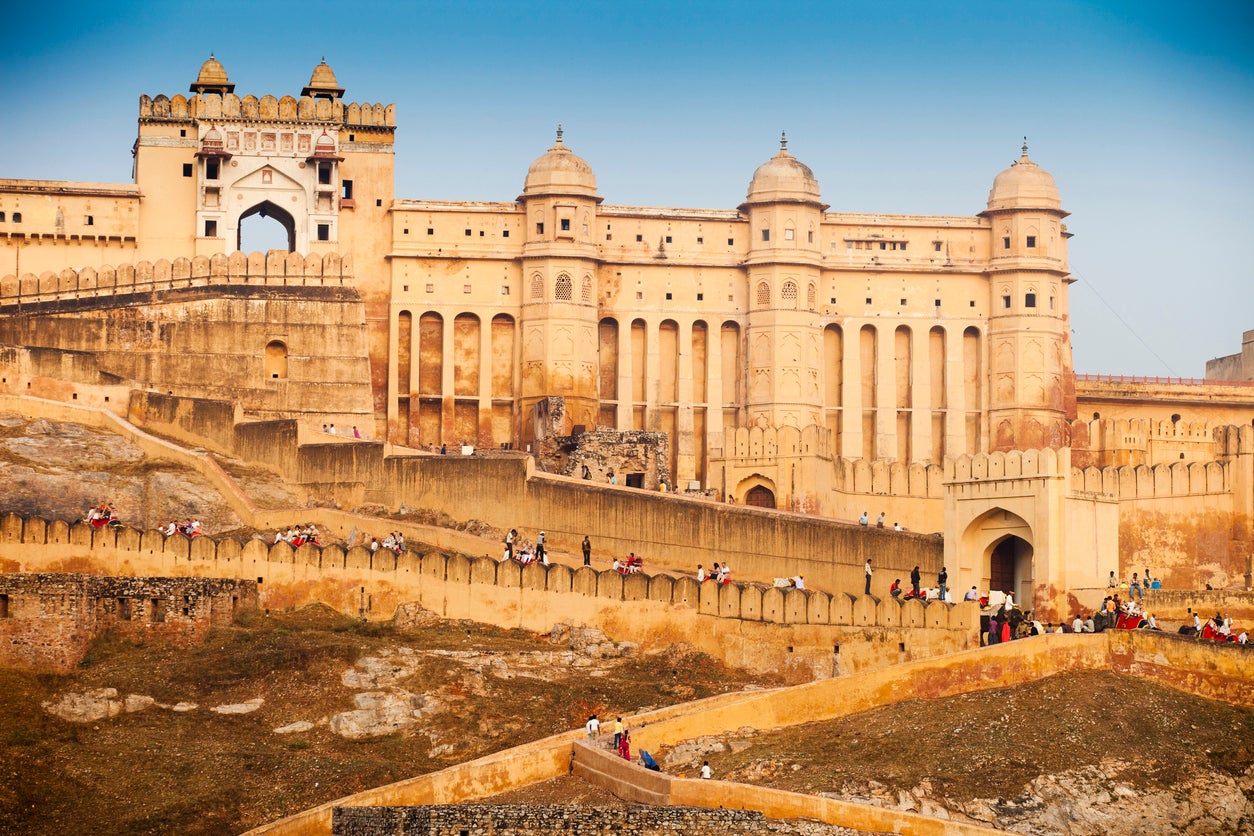 Get lost inside the Pink City
Step inside the walls of the Old City and wander down twisting alleys of street bazaars, food stalls, cows, goats, motorbikes, chai sellers and tuk tuks. It's an overwhelming experience that's best undertaken in early mornings or evenings to avoid the often soaring midday temperatures.
Where to stay
With traditional Rajasthani architecture – think carved arches and colourful glass windows – a sleek pool and updated bathrooms, the Samode Haveli provides great value for palatial feeling quarters within the Old City. Doubles from £95, B&B.
Hotel Pearl Palace provides a comfortable getaway with quirky, cheery rooms for a variety of budgets; there are options for singles, non air-conditioned rooms, doubles and suites. It's a hotspot for hip tourists from around India and the world. Doubles from £22, room only.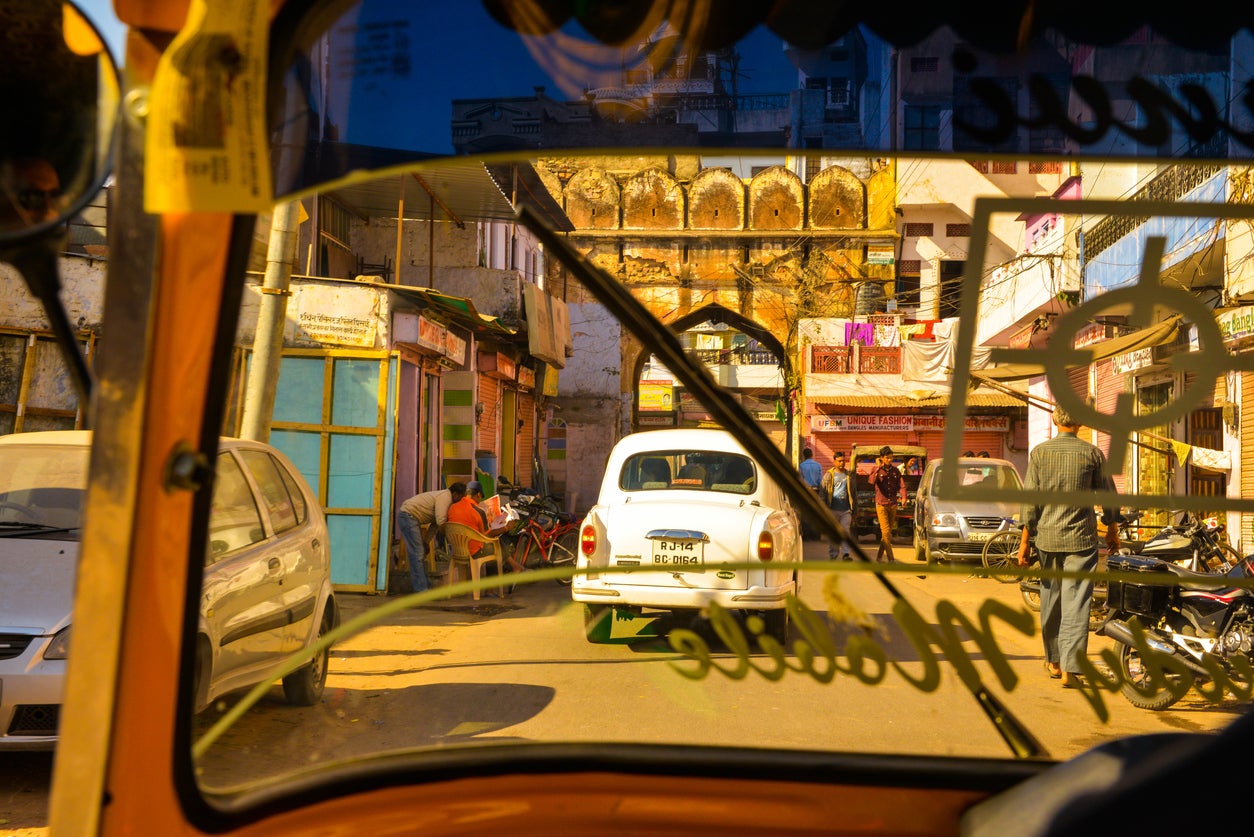 With modern rooms and a Europe meets India vibe, the Zostel Hostel is ideal for those on a tight budget. Dorm rooms at the centrally located hostel down the street from Hawa Mahal start at £6, while private rooms for two start from £18, room only.
Where to eat
Lunch and snacks
Caffé Palladio (sister restaurant to Bar Palladio) serves up Mediterranean and Middle Eastern specialties in a gorgeous dining room that feels like a sunny conservatory. Stop in for a refreshing iced tea or crisp salad, or linger over a pot of Moroccan mint tea.
Lakshmi Mishtan Bhandar (LMB) located near the Johari Bazaar has been around for nearly 300 years and is famous for deep fried savoury snacks and sweet desserts. Don't let the slightly faded exterior put you off – locals and tourists flock here for fresh flavours.
Street food is a way of life in India and there are plenty of places to nosh on local specialities. Masala Chowk, across from the Albert Hall Museum, is Jaipur's answer to an open-air food court. Opened in early 2018, it boasts more than a dozen vendors selling favourites including Dahi Papdi Chaat (a messy snack of fried crackers, lentils and chutney), samosas, sweet treats and omelettes.
The famous LassiWalla on MI Road has a continuous line of people waiting for sweet or salty lassis served in disposable clay cups. Insider tip – the original lassi is found at the shop with the green and white striped awning.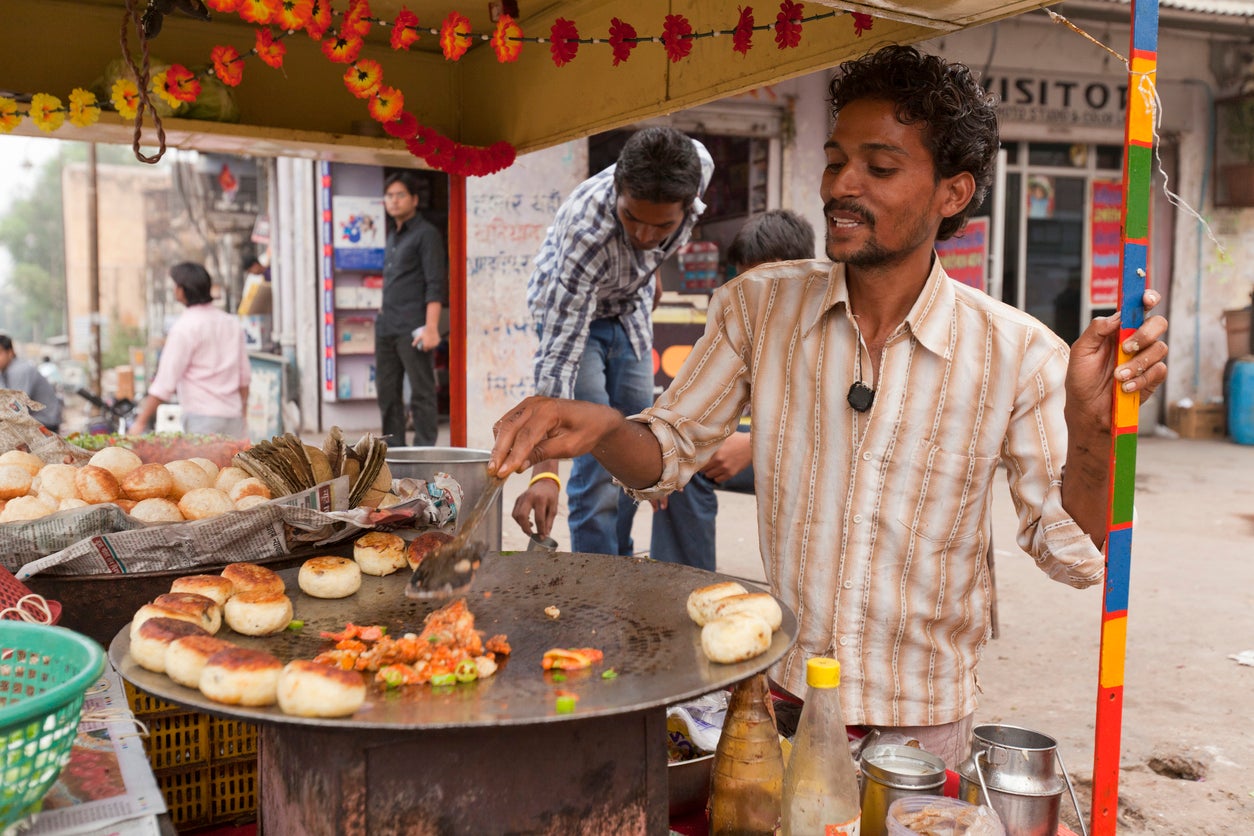 Dinner
Nestled in a mid-century bungalow in the upscale C-Scheme neighbourhood, Jaipur Modern Kitchen serves up Mediterranean and creative vegetarian cuisine in this hip hideaway. Much of the produce is organic and locally sourced.
Head out for a late dinner at Steam. The restaurant and bar is located in a refurbished Victorian train car as part of the Taj Rambagh Palace Hotel, where diners can feast on Mediterranean dishes and creative cocktails.
For perfectly crisp naan, tandoori specialties and a range of meat and vegetarian dishes, The Forresta offers relaxed outdoor dining under a canopy of trees. There's a well-stocked cocktail bar, too.
Where to drink
Bar Palladio, located on the grounds of the Narain Niwas Palace Hotel, is a lush retreat amid the pulsing, smog-filled city streets. Sip a gin and tonic or classic cocktail inside the full-service Italian restaurant, which boasts hand-painted murals. The overstuffed couches on the expansive lawn are the perfect place to unwind on cooler evenings.
To understand Jaipur's modern, urban allure, tuck into Tapri Tearoom across from Central Park. Choose from five pages of teas and snacks, and even some coffee options. The rooftop patio offers fantastic views of the park and city.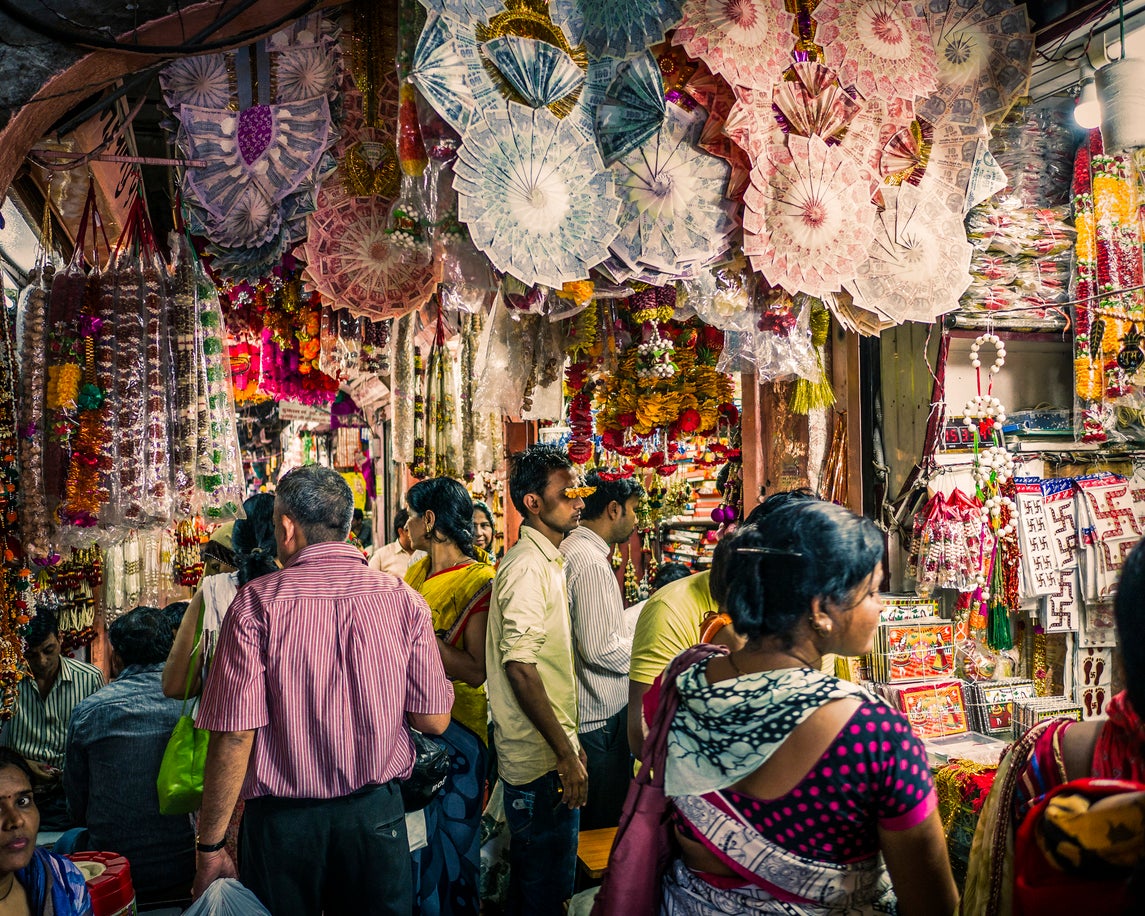 Where to shop
Jaipur is one of the best places in Northern India for shopping; it's easy to find everything from delicate textiles to jewellery fit for a queen, plus enough homeware to fill a palace.
Head to the cluster of bazaars inside the Old City. Johari Bazaar is the place to browse silver and gold jewellery along with gemstones, while Nehru Bazaar is where to find juttis (embroidered leather shoes). More practical brassware, kitchen items and carpets line the streets of the Tripolia Bazaar, and traditional lac bangles (made from resin extracted from insects) can be found at the small Maniharon ka Rasta lane, just around the corner.
For a leisurely trip around the city making stops at pottery, jewellery, clothing or textile shops, hop aboard the Pink City Rickshaw shopping tour. More than 200 women from low income households, who are specially trained in hospitality, run the tours and drive the bright pink vehicles.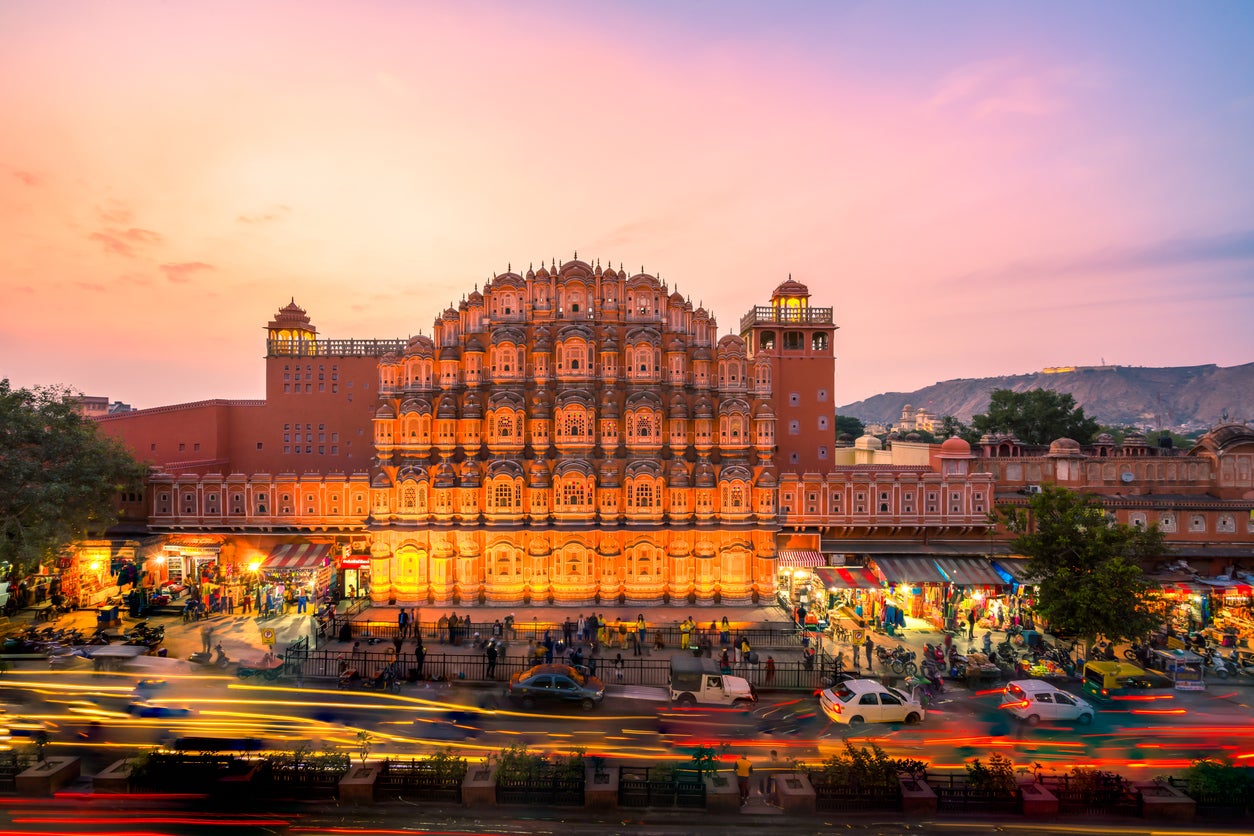 Jaipur offers far more than traditional shops – there are loads of boutiques that combine Rajasthan styles with more modern aesthetics. Anantaya is a design-lover's dream, full of contemporary home decor, jewellery, brass and kitchen items and precious trinkets. Ratan is a favourite with local fashionistas and visitors for its hand block printed clothing, accessories and stationery.
Those who covet dazzling, candy-coloured fine jewels can window shop or splurge at Amrapali, a favourite with Bollywood stars and Jaipur's elite. For something slightly less showy and much more affordable, Diane Singh's Concept French Jewellery collection features the designer's contemporary, gold plated pieces, which are perfect for everyday wear.
Architectural highlight
The Hawa Mahal is a must see in the walls of the Pink City. The best views of the delicate honeycomb structure, erected to provide royal women with the opportunity to view the streets without being seen, is from one of the rooftop cafes across the street.
Nuts and bolts
What currency do I need?
Indian Rupees (INR).
What language do they speak?
Hindi is the main language with English widely spoken and included in signage and menus.
Should I tip?
Yes, 5 to 10 per cent for meals.
What's the time difference?
Four and half hours ahead of the UK.
What's the average flight time from the UK?
A direct flight from London to New Delhi is about nine hours. The connecting flight to Jaipur is about an hour.
Public transport
Use tuk tuks and traditional taxis or download the Ola app for car service on demand.
Insider tip
Unless you're at a high-end boutique, always haggle when shopping. The rule of thumb is to negotiate down 20 to 40 per cent of the original asking price.
Source: Read Full Article