Despite a nationwide staffing shortage that has had an outsize impact on the tourism industry, American river cruise lines say that they are near pre-pandemic staffing levels. 
Hiring incentives, job perks and trendy marketing campaigns that aim to reach a younger generation of workers are among the arsenal of recruitment tools domestic cruise companies have used to promote job opportunities.
American Queen Voyages and American Cruise Lines both saw staffing numbers take a hit at the height of the pandemic, not unlike many travel businesses throughout 2020. But both companies say they have returned to relatively normal staffing levels two-and-a-half years later, albeit with certain departments still needing a personnel boost. 
"Since the March 2021 restart, we've been as short in our food-and-beverage operations as any other hospitality-driven businesses," said Christina Hobbs, vice president of human resources for American Queen Voyages. "But we've been able to overcome those challenges and maintain a 95% to 97% staffing level thanks to an aggressive recruitment team."
David Luxeder, director of marketing for American Cruise Lines, said that the line, which resumed cruising in March 2021, has been "back to normal for a while now. ACL offers an amazing hospitality training program and many opportunities for advancement both onboard and ashore."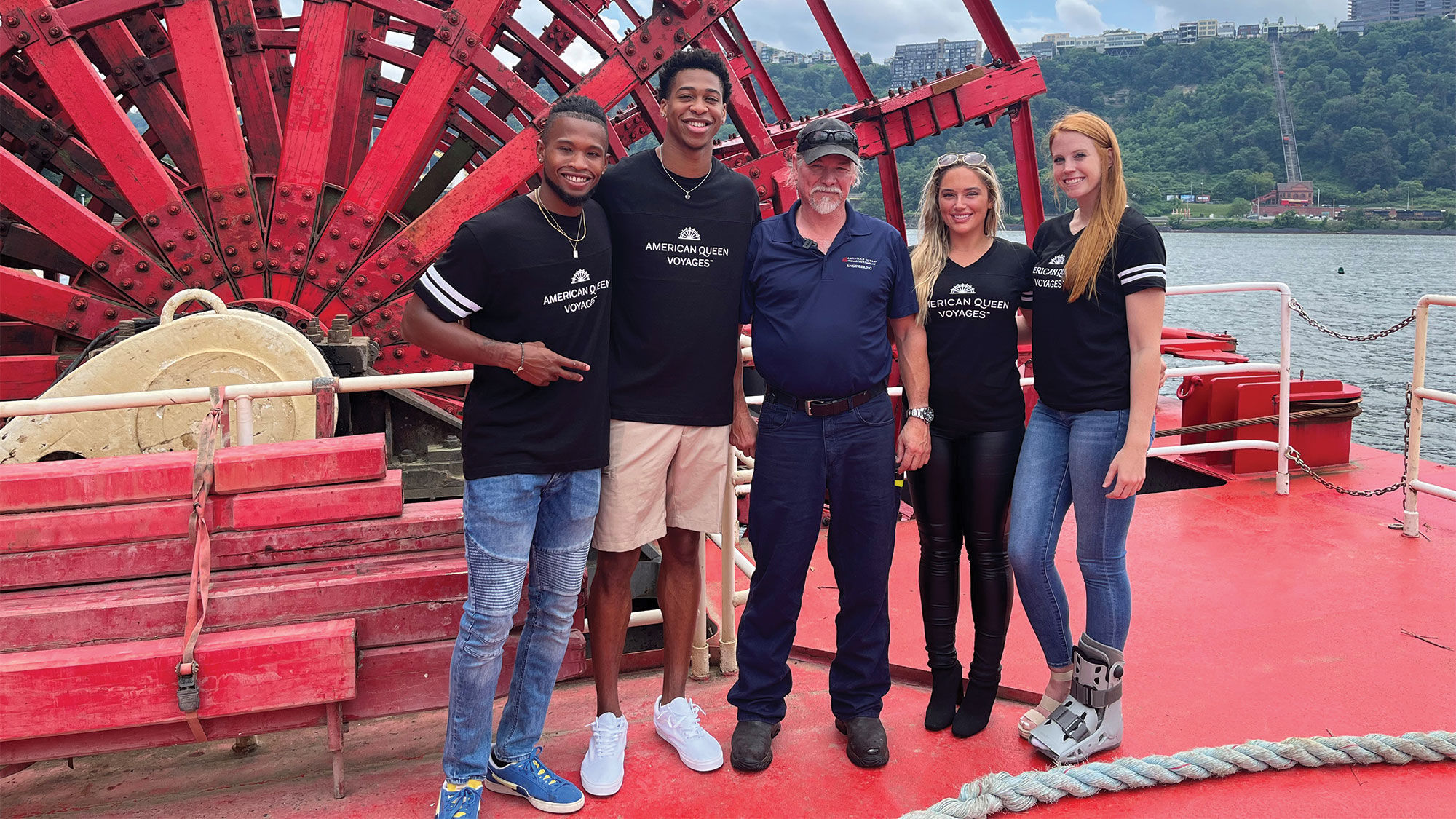 American Queen Voyages has partnered with a number of the port cities where its ships dock to offer a variety of career events and launch job marketing campaigns. 
"American Queen Voyages has leaned into our relationships in port communities, taking part in job fairs, most recently with Detroit Wayne Port Authority, a community our lake and ocean vessels visit that is also rich in talent to staff our riverboats," Hobbs said.
Younger workers looking for new opportunities may find a career path with American Queen — at least, that's what the company is hoping for in a new promotional video for social media featuring student-athletes in Pittsburgh. 
The "Name, Image and Likeness" campaign showcases the different jobs the company said it takes to operate its largest riverboat, the American Queen. Four students from diverse backgrounds are featured in the video and meet with a number of the crewmembers onboard, including the captain, an engineer and an entertainer, to learn about how those occupations are carried out.
Beyond port-side career fairs and social media efforts, American Queen Voyages is also getting the word out about job opportunities the old-fashioned way: passing out business cards. 
"American Queen Voyages has taken our recruitment to the streets with grassroots efforts, as well," Hobbs said. "Teammates … have business cards to pass out when they meet a candidate in their everyday lives saying 'We are Hiring, Join Our Crew' and includes a QR code to see current openings."
American Cruise Lines said it remains focused on matching its growing fleet of river and coastal ships with new hires through regular recruitment efforts in the 34 states where its ships sail.
"We have more than doubled our fleet in just the past five years, and we have three more brand new small ships coming in 2023," Luxeder said. "That said, ACL is always recruiting, because we are always growing."
Luxeder said having a choice of where to work is one job perk they hope will catch on with new recruits. 
"For instance, a qualified crew member might work for several seasons along our Mississippi River cruises and then transfer to work aboard one of our small ships cruising Alaska or Puget Sound or the New England islands," Luxeder said. "So while the opportunities for advancement and growth here are ongoing, the flexibility and range of experiences you can have working for ACL in any one position are also tremendous." 
Maritime training for nautical hires is also a primary focus for the company and where strong investments in education are being made. "American Cruise Lines is one of the only cruise lines with a state-of-the-art ship simulator, which provides benefits to even the most highly skilled captains and mariners working in the industry," Luxeder said.
Source: Read Full Article