Far out in the Andaman Sea, dawn is breaking on remote Havelock Island. Aside from the water lapping gently against a few dinghies anchored close to shore, the only sounds that can be heard are murmurs from a busy team of young divers.
One by one, they shuttle back and forth from the white-sand beach to a dinghy, life jackets and bulky air canisters slung over their shoulders.
Standing side by side with folded arms, three short, friendly-looking men give directions and wait patiently for their team to finish packing the boat.
This unassuming trio – Dickson, Jackson and Johnny – are the Poayasay brothers: known locally as "the diving legends of Havelock".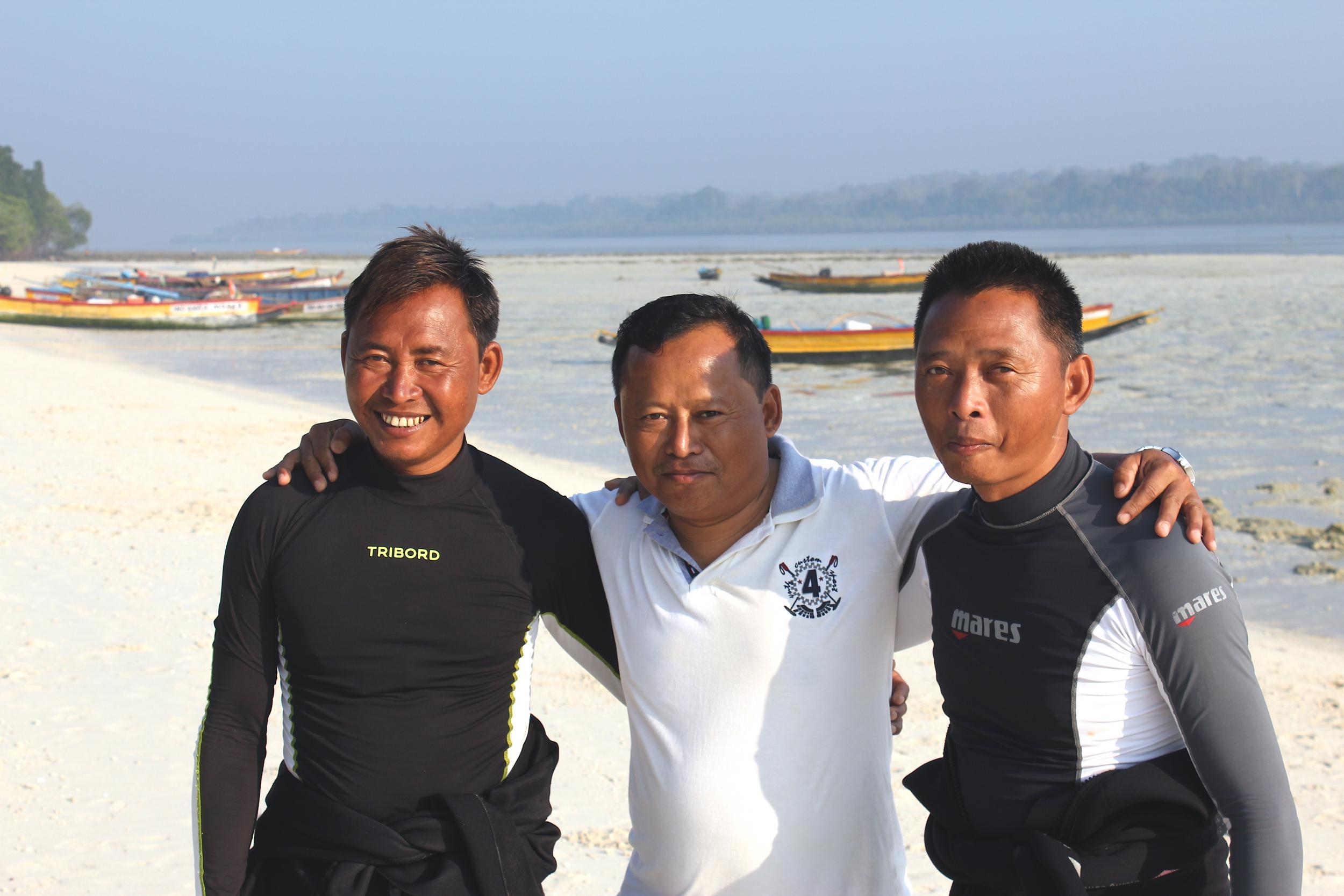 Belonging to the local Karen tribe, which settled on Havelock island last century, the brothers have been exploring these waters since they were young boys and have helped to put the Andamans on the global diving map, thanks to their expertise and discoveries.
"Diving is in our genes," the eldest brother Dickson says, referring to his ancestors. "In the rainy season they would grow rice, but when the sea was fine they would go fishing or spear fishing."
A lifetime spent investigating this vast underwater nirvana led to the men to discovering three of the best dive sites in the Andamans, which are now named after them: Dickson's Pinnacle, Johnny's Gorge and Jackson's Bar. A visit to one of these sites will bring you face-to-face with manta rays, tropical fish, sea snakes, turtles – and even the odd whale.
As the brothers look on, their team carries the last bits of equipment to the boat they built with their own hands. "If you told a Karen to work in the hotels on the island, they'd do great work, but I don't think they'd last longer than a year," Dickson laughs as he joins his brothers perching on a fallen coconut tree.
"But if you tell them to carry air tanks at 4.30am for a dive, they will say, 'No problem'. We enjoy the water that much."
With a passion to share their skills, the brothers set up Ocean Tribe in 2011 to give Karen diving lessons to people from all over the world, including beginners. Today is no exception: five eager students are zipping up their wetsuits close by.
The dinghy is packed to the brim with modern scuba equipment, which for most divers is a necessity – but not for the Karens.
"Johnny can go down to the bottom of Johnny's Gorge and touch the sand just by free-diving," Dickson explains. It's a common skill amongst the tribe.
"It's just our way," explains Johnny, the youngest brother, who can hold his breath for nearly four minutes underwater. "We don't need to dive with fins or masks, we just use our hands."
"But you have to practise little by little," Jackson adds. He can also free-dive, although admittedly not for as long as Johnny.
As for Dickson, he's most content in his scuba gear, taking his time. "Whenever I go exploring, I'm so happy and excited," he says. "I don't know what I'm going to find or what I expect to see, but I feel at home in the water."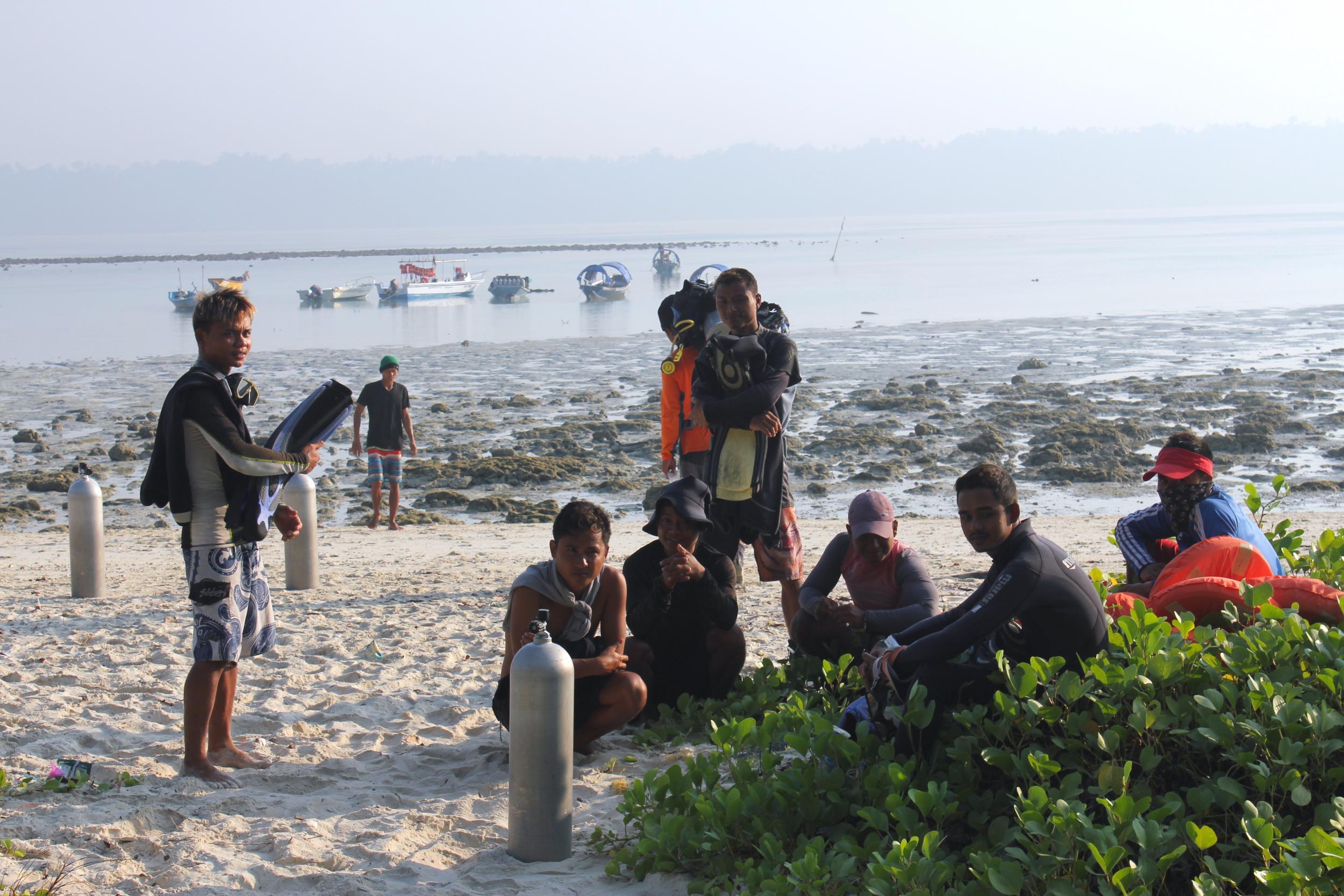 With the sun now up and the tide coming in, it's time to dive. They start to walk towards the dinghy, ready to make for the coral reefs. Visitors see these islands as a slice of paradise – but for the brothers, it's just home.
Scuba diving isn't the only way to explore the Andaman and Nicobar Islands' waters. Here are five other activities to try.
Snorkelling
If you don't have the time and money to spend on a scuba course, then this could be the activity for you. A few favourite snorkel spots include Elephant beach on Havelock, Neil Island's Laxmanpur beach, where you can spot dugongs grazing on sea grass, and Long Island's hidden beach: Lalaji Bay.
Night kayaking
Looking for something a little more relaxed? Sign up for a night-kayaking trip on Havelock or Port Blair, where you will be taken around the islands' lush mangrove-covered backwaters.
Undersea walking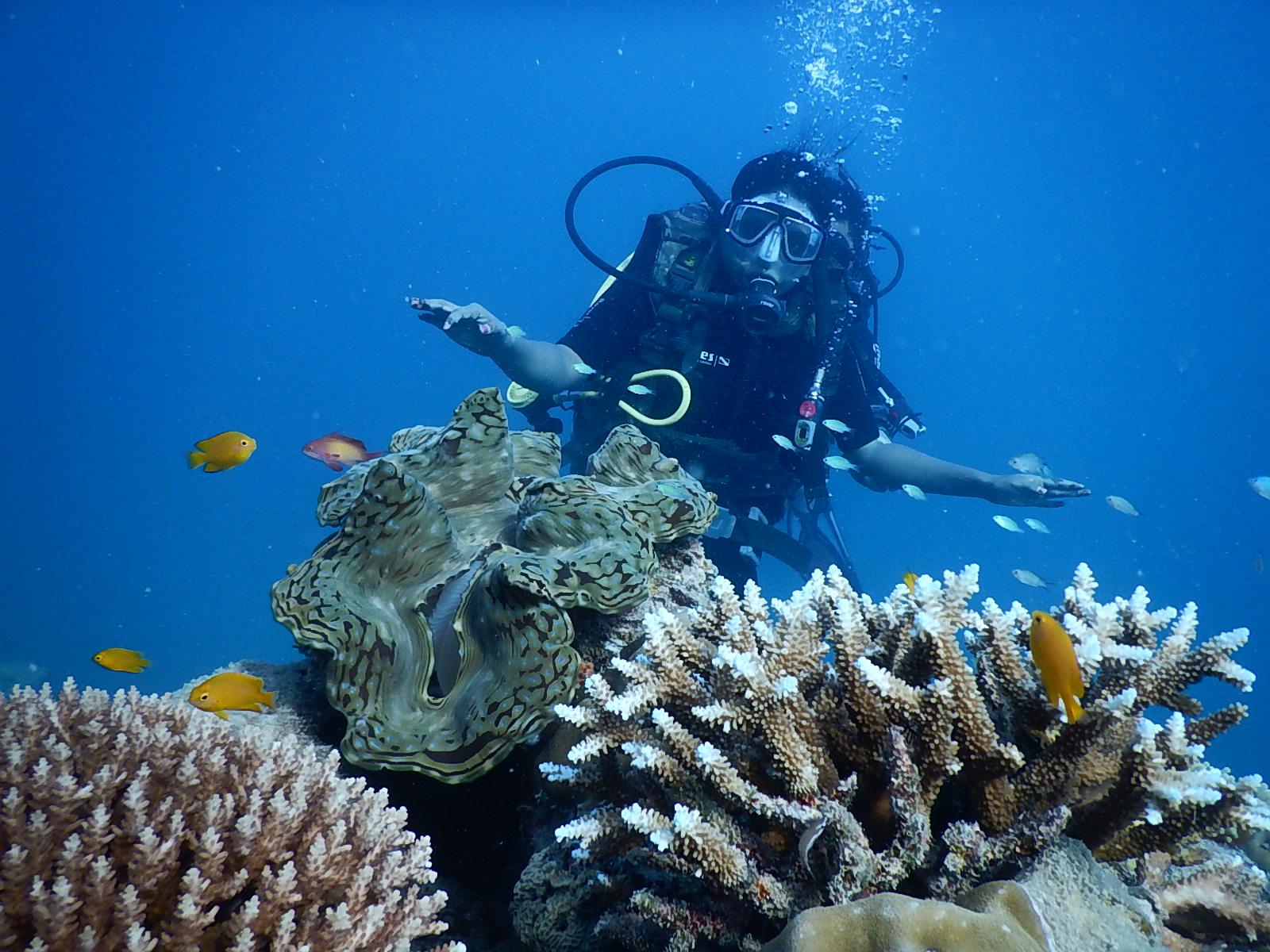 "Walk" along the seabed on North Bay, Port Blair or Elephant Beach on Havelock. Here you can strap on an astronaut-style helmet and experience the ocean like you never have before.
Glass-bottom boating
If you'd like to experience the water without getting wet, then hop on a glass-bottomed boat, where you can peer down into an aquatic world of tropical fish and sea life.
Parasailing
Who doesn't like being tied to the back of a boat and dragged around at high speed?
Travel essentials
Getting there
From the UK, it's easiest to get to Chennai or Kolkata, both of which have flights to Port Blair, the main town on the Andaman and Nicobar islands. Airlines with connections include Etihad and Jet Airways, and flights start from around £700. From Port Blair, ferries leave for Havelock daily. The journey takes 2-4 hours.
Staying there
Barefoot at Havelock, a rustic "rainforest resort" has doubles from £156, B&B.
More information
Most people opt for the PADI Advance Open Water Diver course with the brothers. It takes about four days and costs around £200 for a single person, £160 in a group. ocean-tribe.com
Source: Read Full Article