How far is it to Italy? Depends which bit you mean of course, but for those living in the south-east of England what feels like a tiny enclave of the land of pasta and gelato has just opened a short drive away down the M20, in Kent.
At Amano, in the prosperous small town of West Malling (it rhymes, I learn, with galling and appalling) the menu is authentic Italian – not anglicised high-street trattoria fare. Seven of the eight chefs are Italian, as are most of the bar staff; and the pasta is made fresh daily in a specially dug cellar workshop.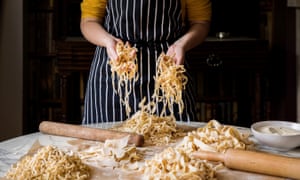 Owners Nick Levantis and Darryl Healy are not Italian but they are passionate about the country and its food. So when they were looking to expand from the Swan, the gastro pub up the street they have run since 2011, to offer a neighbourhood restaurant with rooms, there was only one direction to go. A mano means by hand, and to ensure that artisanal quality, the pair recruited head chef Fabio Moschini – a Roman married to a Venetian – over a year before Amano opened in July. Moschini worked on developing the menu and sourcing quality ingredients: risotto rice, pasta flour, cured meats and a full tonne of single-estate extra-virgin olive oil from Umbria.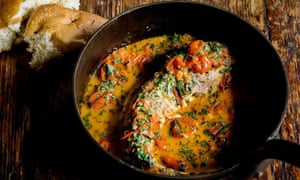 We arrive at around 5.30pm and already a happy buzz is coming from the dining room. At this early hour, in real, as opposed to Kentish, Italy, aperitivo time wouldn't even have begun and it would be near-impossible to find a restaurant open. However, Amano has gone against type in offering its full menu – antipasti, primi, mains and desserts – all day from noon.
We perch at the bar and admire the way a tiny, rundown, but Grade II-listed pub, the Lobster Pot, has been transformed. There is now seating for 80, which stretches into a new minimalist "orangery" – pale walls and floor, plants, dark-wood panelling and in subtle olive and duck-egg blue.
Upstairs wait Isabella, Francesca, Carla and Sophia – classic names for en suite rooms squeezed into the first-floor space, all in restful greys and white, with the requisite quality linen, big beds, Bluetooth radios and posh tea and coffee things. Ours, Carla, has dark tongue-and-groove panelling to the ceiling, a smart, spacious shower, a cute little sofa at the end of the bed – and an extreme surfeit of scatter cushions. (I stagger across the room trying to find somewhere to stow one monster the size and weight of a punchbag.) An iron and ironing board ensure guests can fare bella figura at dinner.
The hubbub of contented customers is even louder when we go back downstairs. People who haven't managed to snag a Saturday night booking still seem to pop in for a cocktail or glass of prosecco. Poor them: they are missing a treat. Zingy antipasti of grilled squid with aioli, and stracciatella (sort of unformed mozzarella) with heritage tomatoes are an ideal curtain raiser to husband's risi e bisi, where fresh peas pop with flavour against creamy but al dente rice, and my tagliolini with lemon, where the chewy pasta, made with a mix of ancient grains, is the star.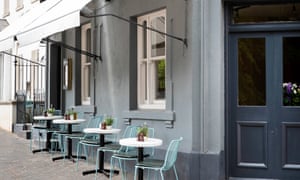 Moschini says: "When people eat my pasta, I want them to taste the pasta and not just the sauce." Ingredients are "on the throne" again in simple mains of sea bream and rolled pork. One strange aberration is a torta della nonna that not only lacks lemony flavour but instead of the classic pine nuts is topped with the same thickish flabby pastry as its sides and bottom.
Stay during the week and you breakfast two minutes away at the Swan but at weekends Amano serves a brunch that places it very much in the home counties rather than the hills of Rome: smoothies, granola, and a very millennial mashed avocado (on focaccia), rather than a strong caffè and a sticky pastry. Seems even Italophiles can only bear so much authenticity.
• Accommodation was provided by Amano, 47 Swan Street, West Malling, Kent (doubles from £110 B&B, three-course dinner from £27pp, pizzas from £9.50)
Ask a local
Andrew and Julia Smith, jewellery and antiques dealers, West Malling
• Eat
Franks Restaurant and Mussel Bar, in a 15th-century building, round the corner, has been run by three generations of the same family. It's excellent but decidedly old-school, with dishes such as lobster thermidor (£35) and prawn cocktail. Down the road, the Farm House is a revamped gastro pub, part of a small chain, with a French chef and a nice garden.
• Shop
West Malling High Street is 90% independent traders. Monks & Co is an old-fashioned gents' outfitters that actually sells quite new-fashioned threads. For women, Eves, in the town for 23 years, is an Aladdin's cave of beautiful dresses. The Smith & Webb cookshop also has good finds.
• Visit
The National Trust-owned Ightham Mote, 20 minutes' drive away, is a medieval manor house dating from 1320. It is surrounded by a square moat, with a walled garden. Even older Aylesford Abbey, on the edge of the village of the same name, is free to visit, with lovely grounds and a contemporary pottery. For a more active outing, there's paddleboarding and other watersports at Leybourne Lakes.
• See
In West Malling, don't miss the Malling Abbey Cascade, a waterfall on Swan Street painted by JMW Turner in 1791-2. And the Beatles' Magical Mystery Tour was filmed here in 1967: the Rain Grill kebab house, which appears in the film (it was a newsagent then), has a blue plaque.
Looking for a holiday with a difference? Browse Guardian Holidays to find a range of fantastic trips
Source: Read Full Article