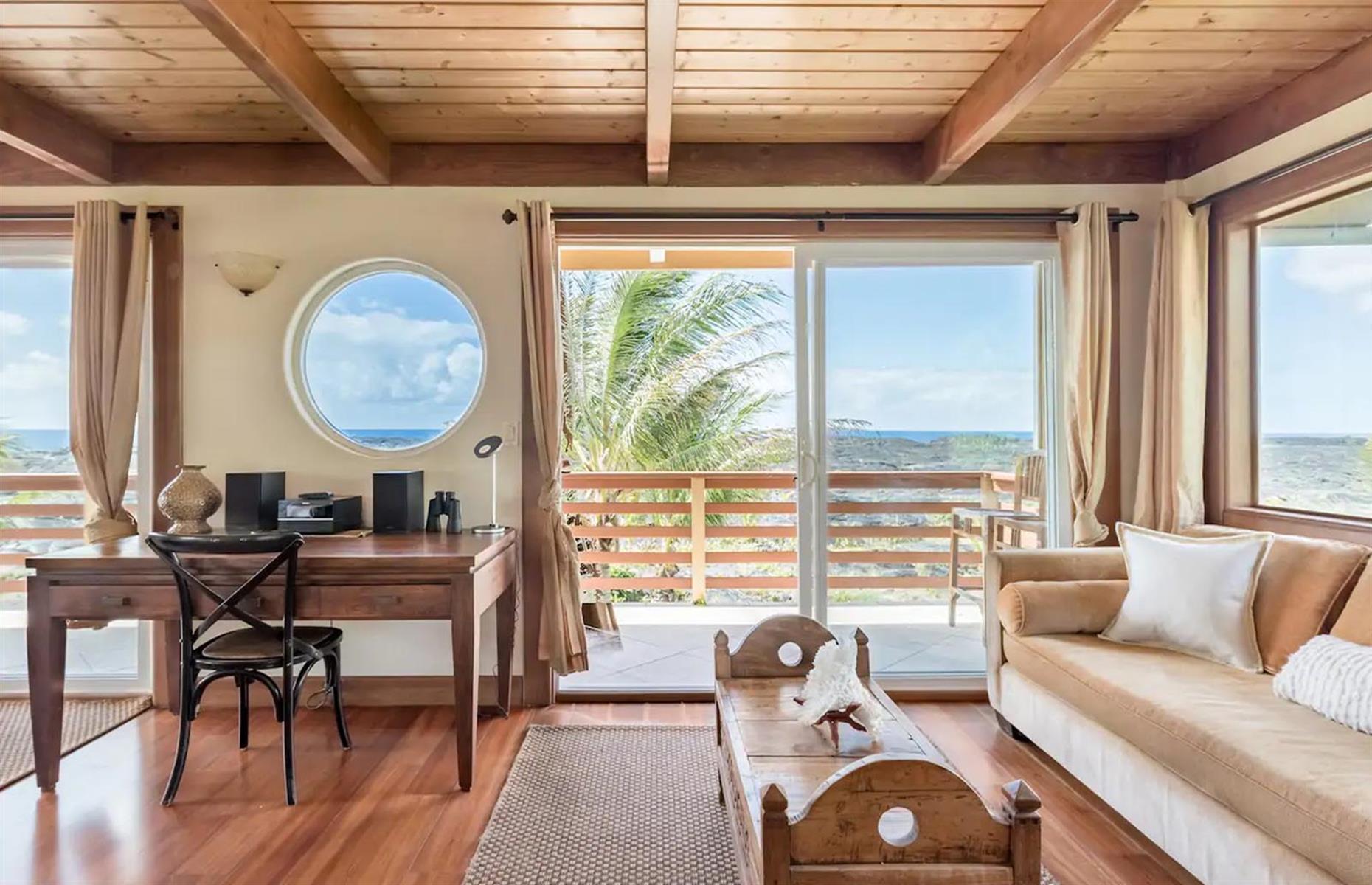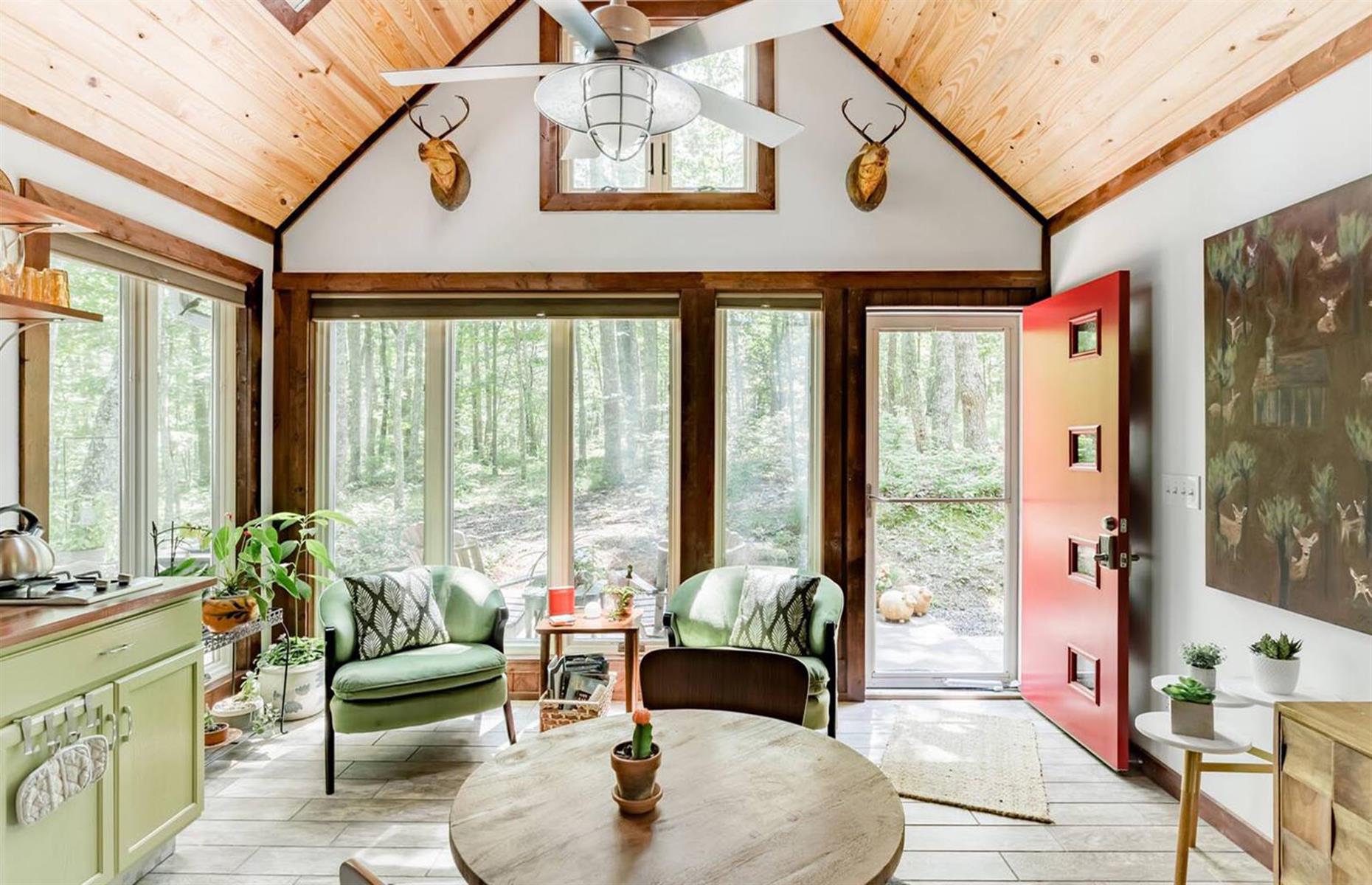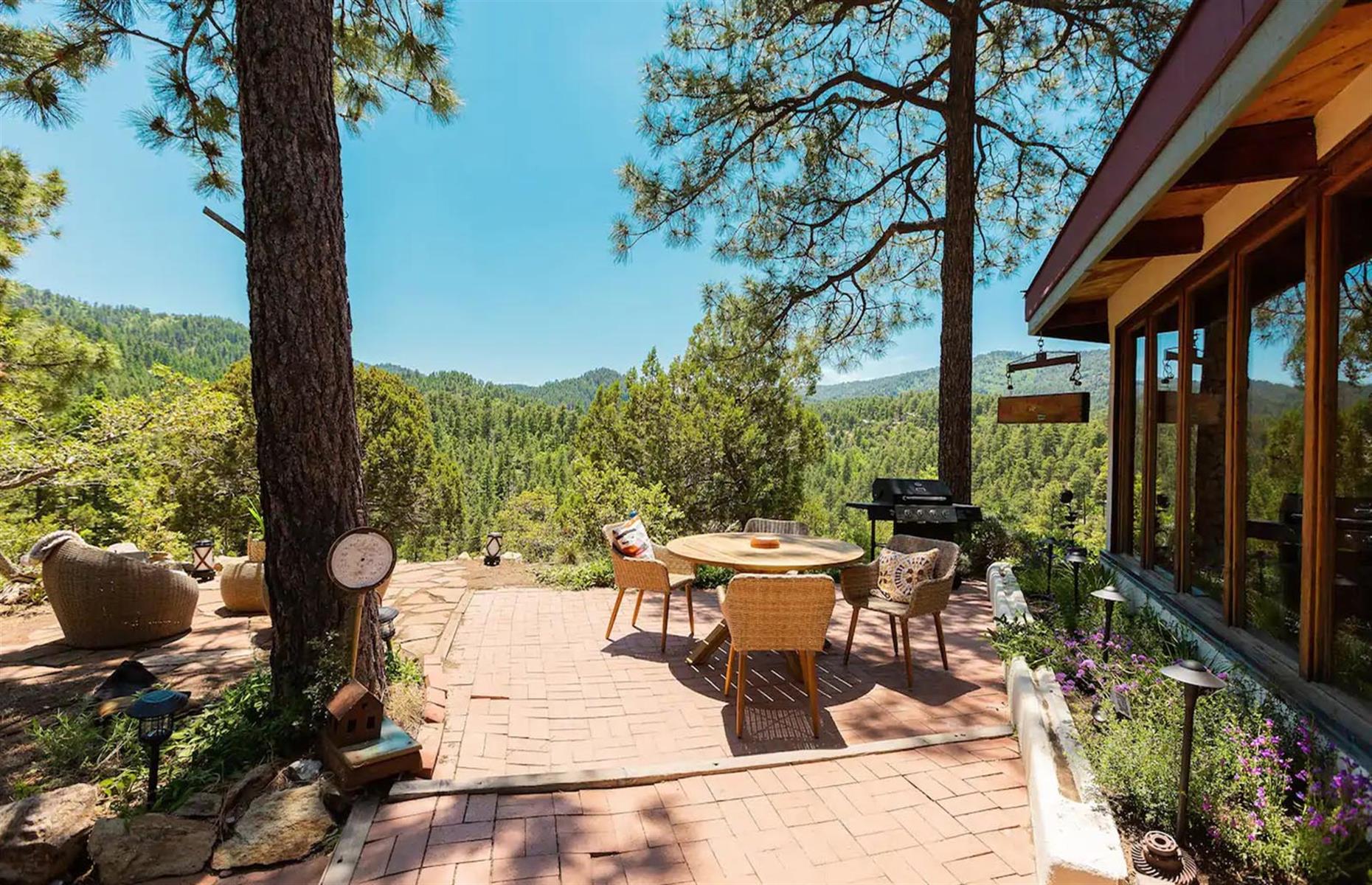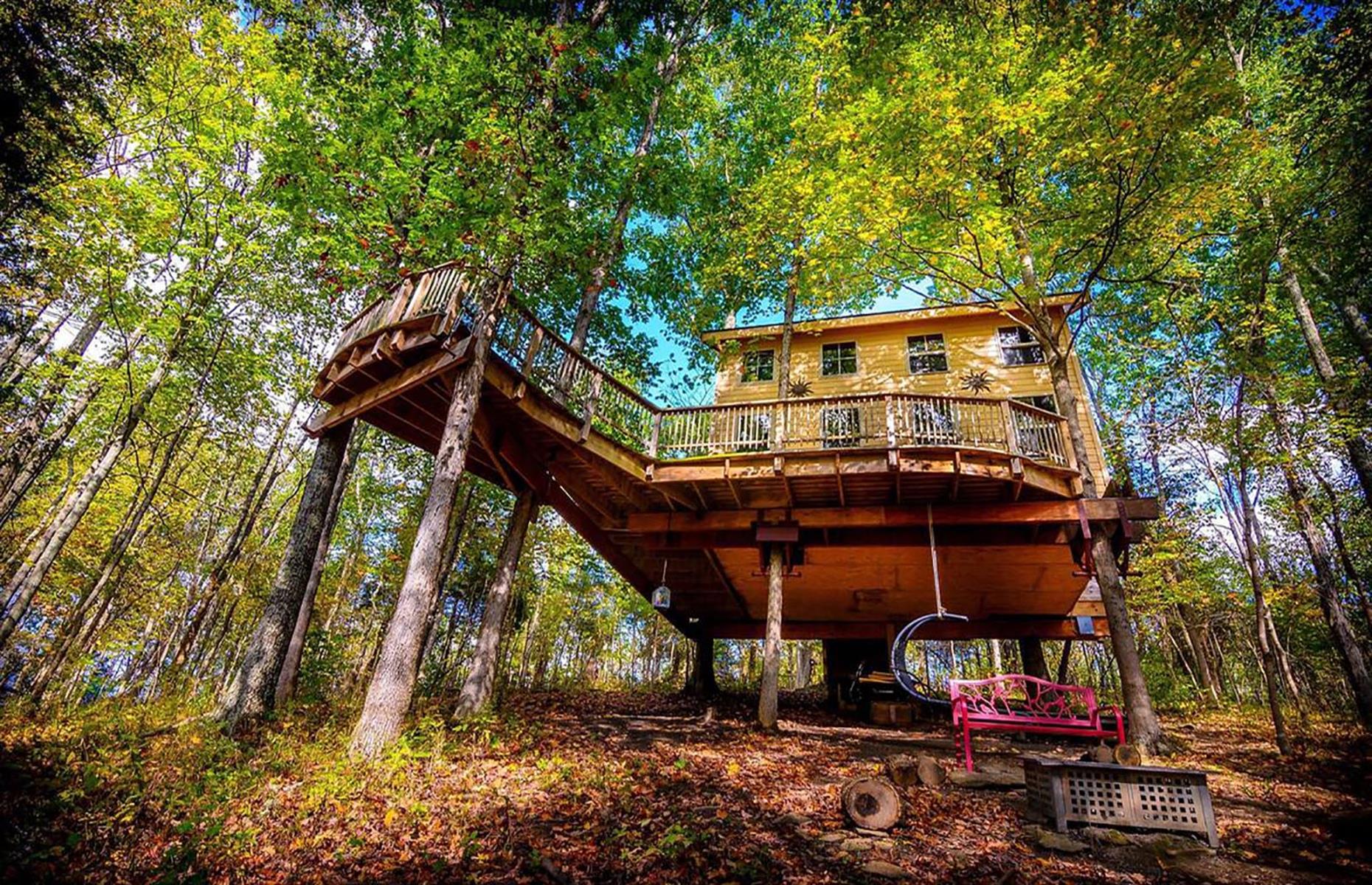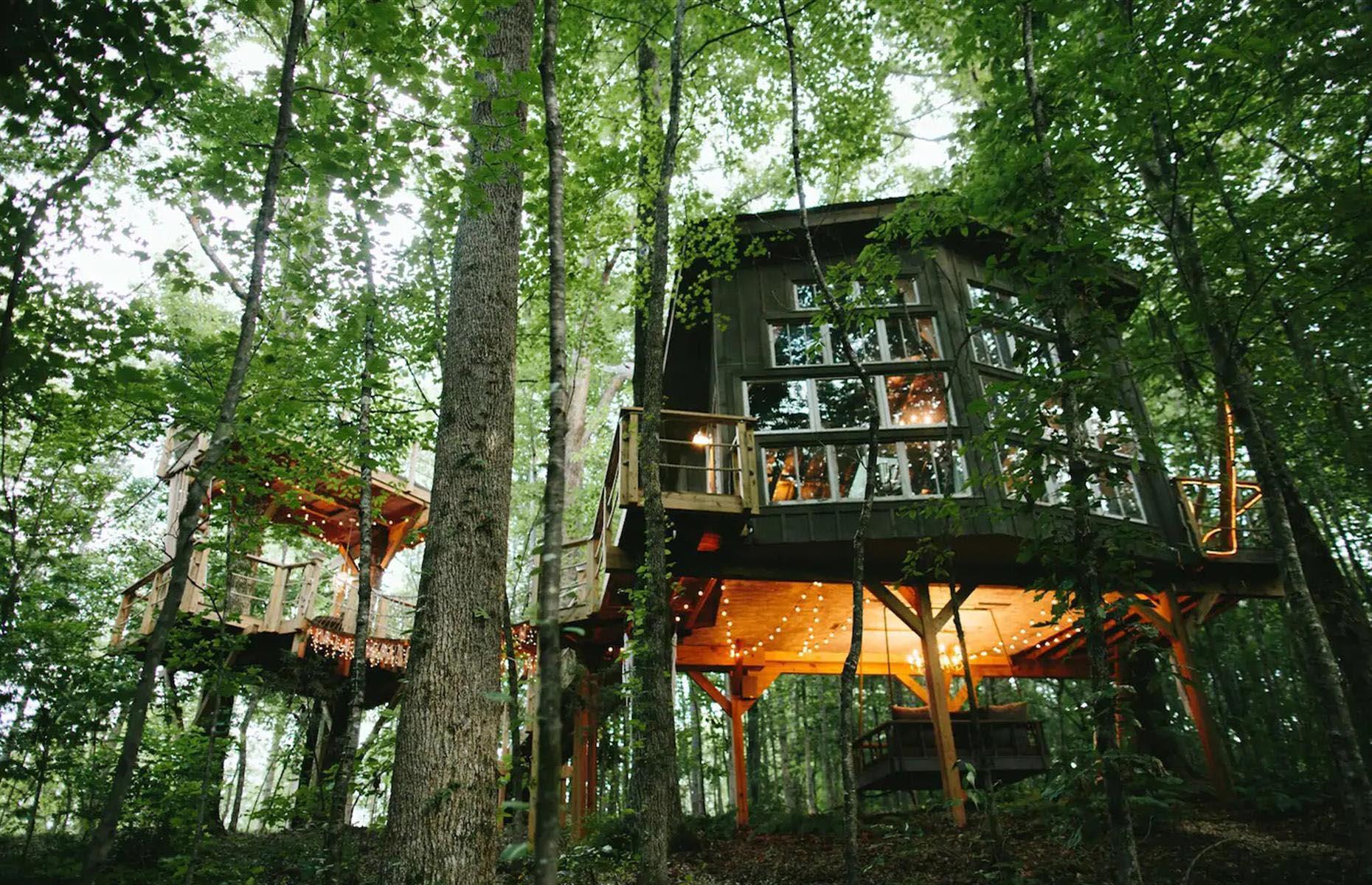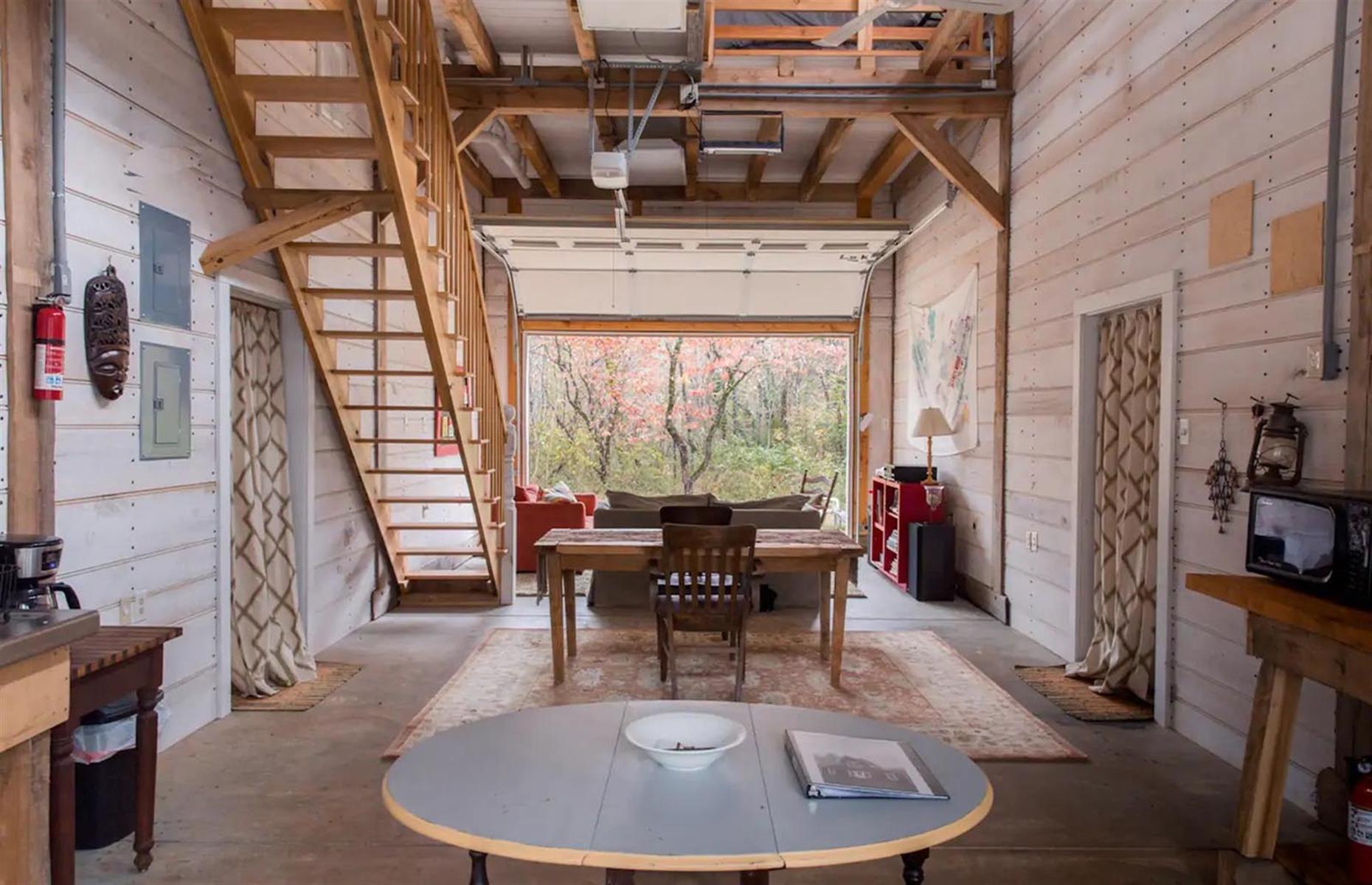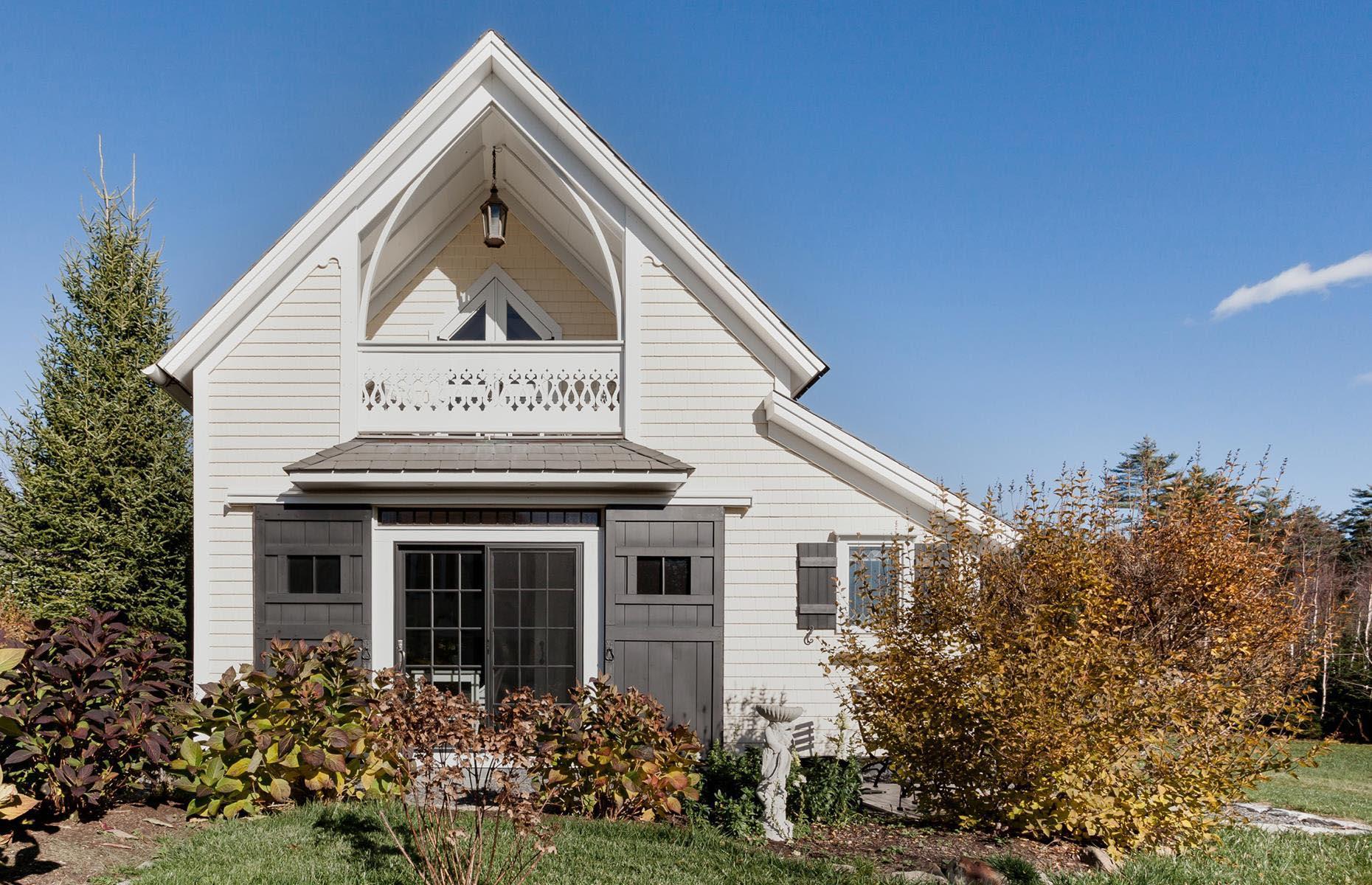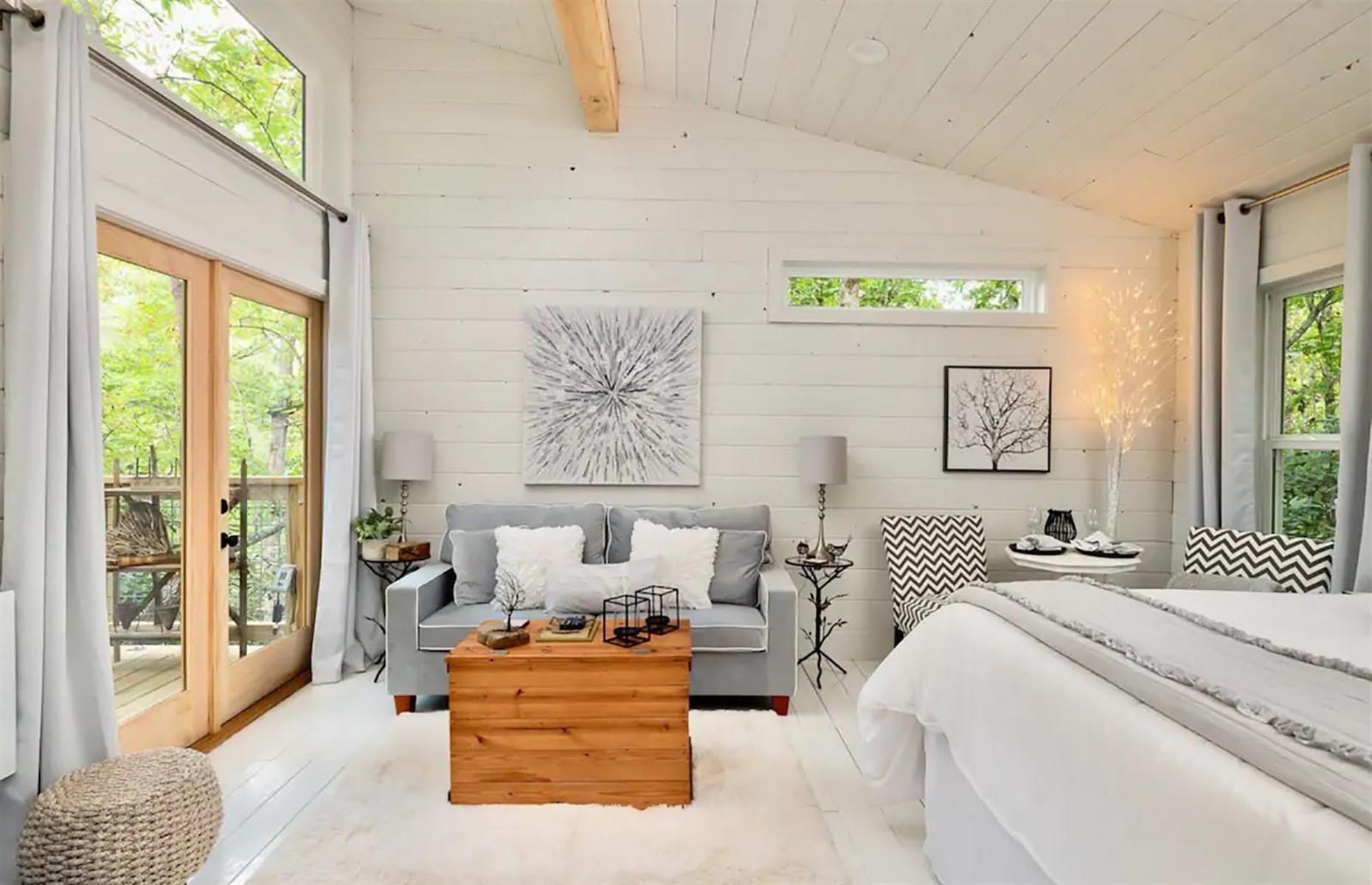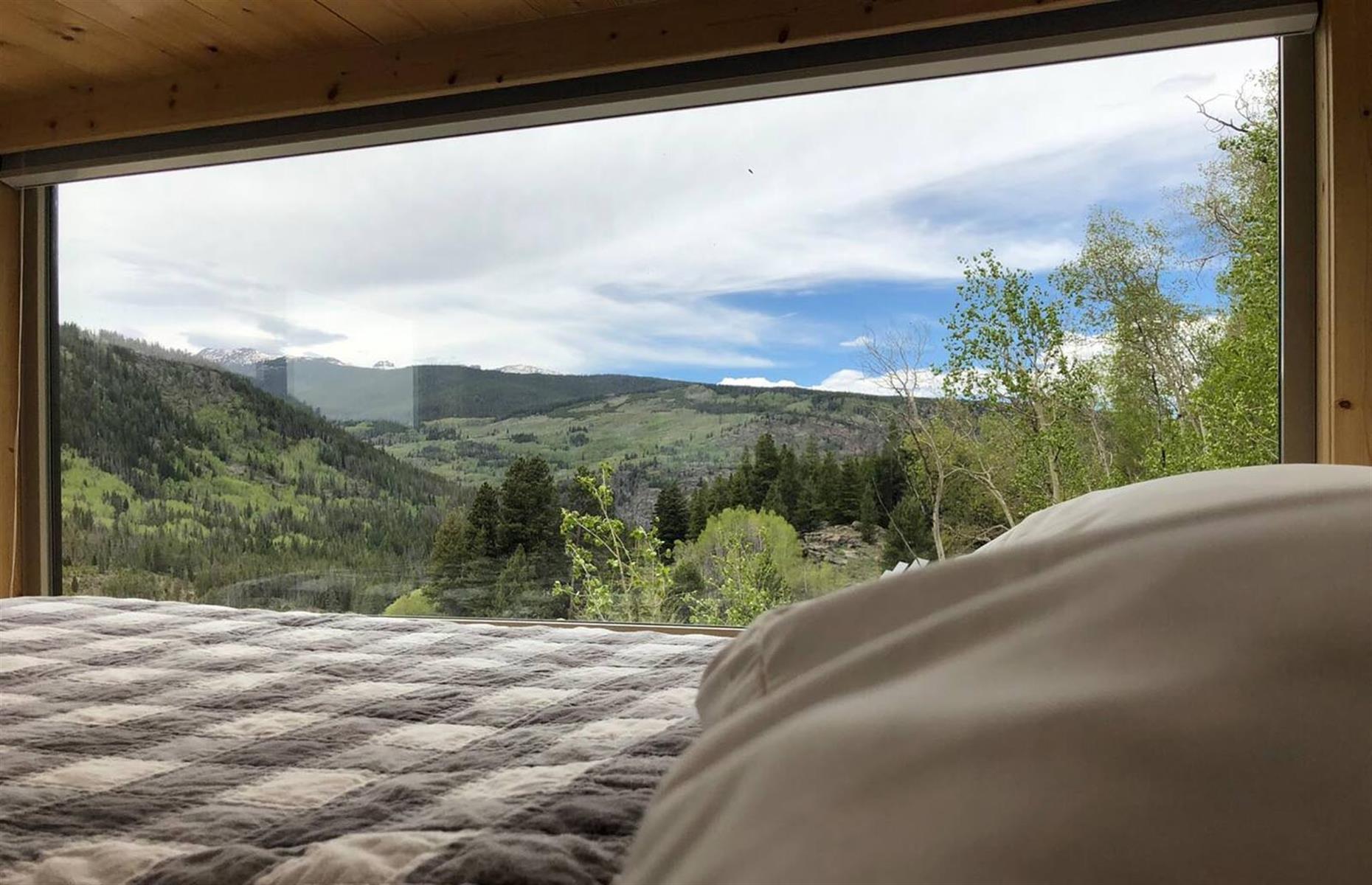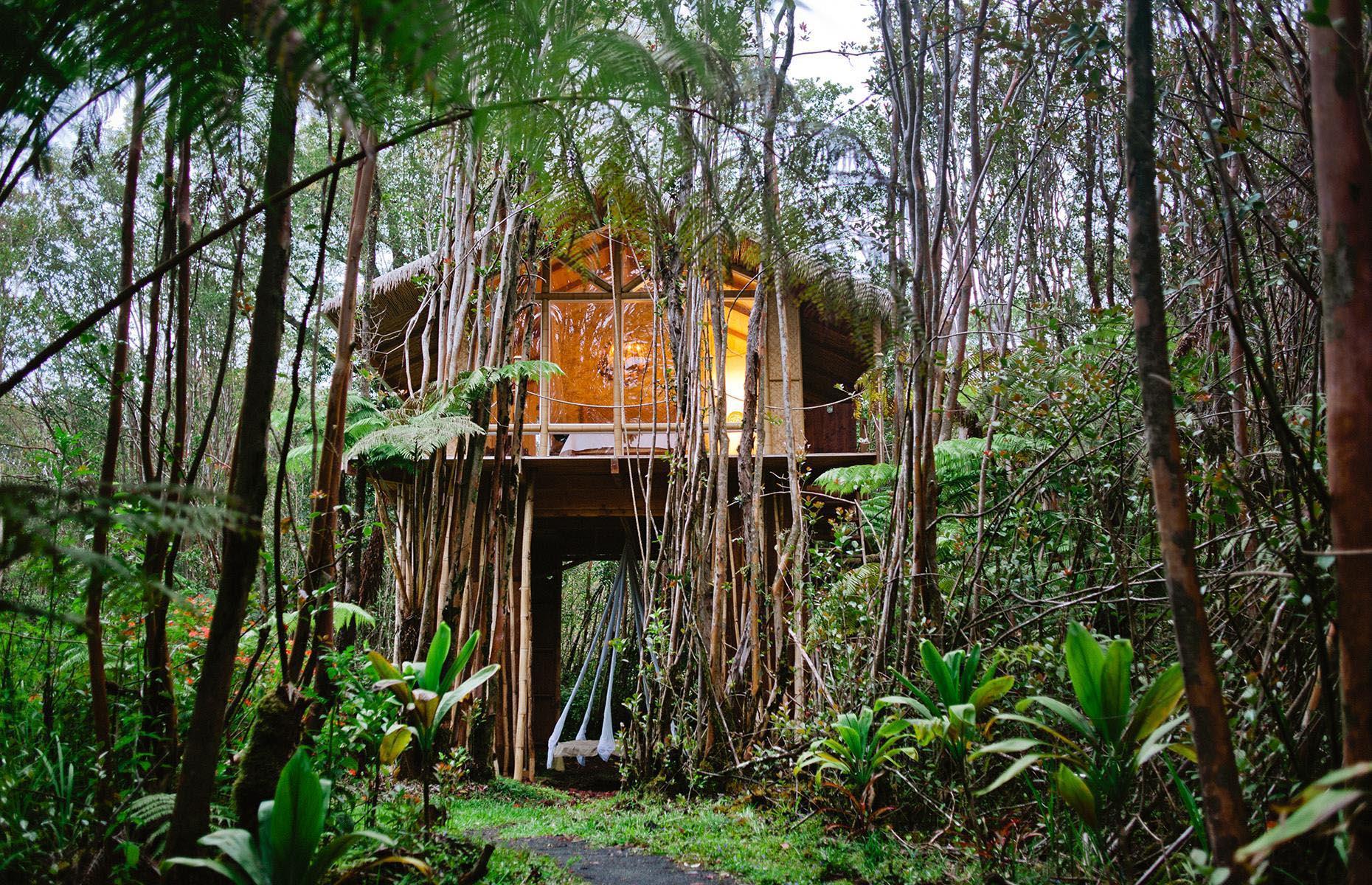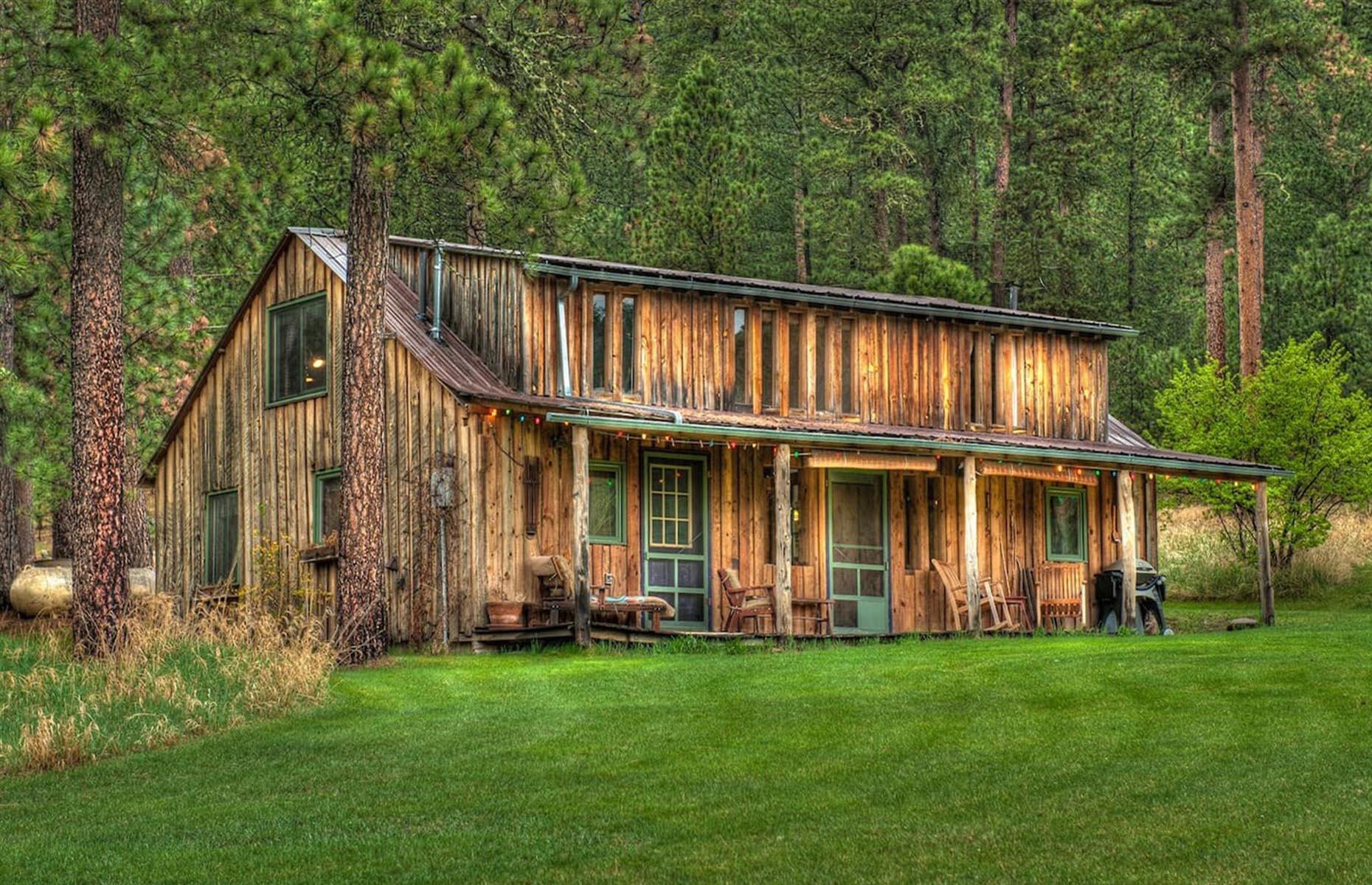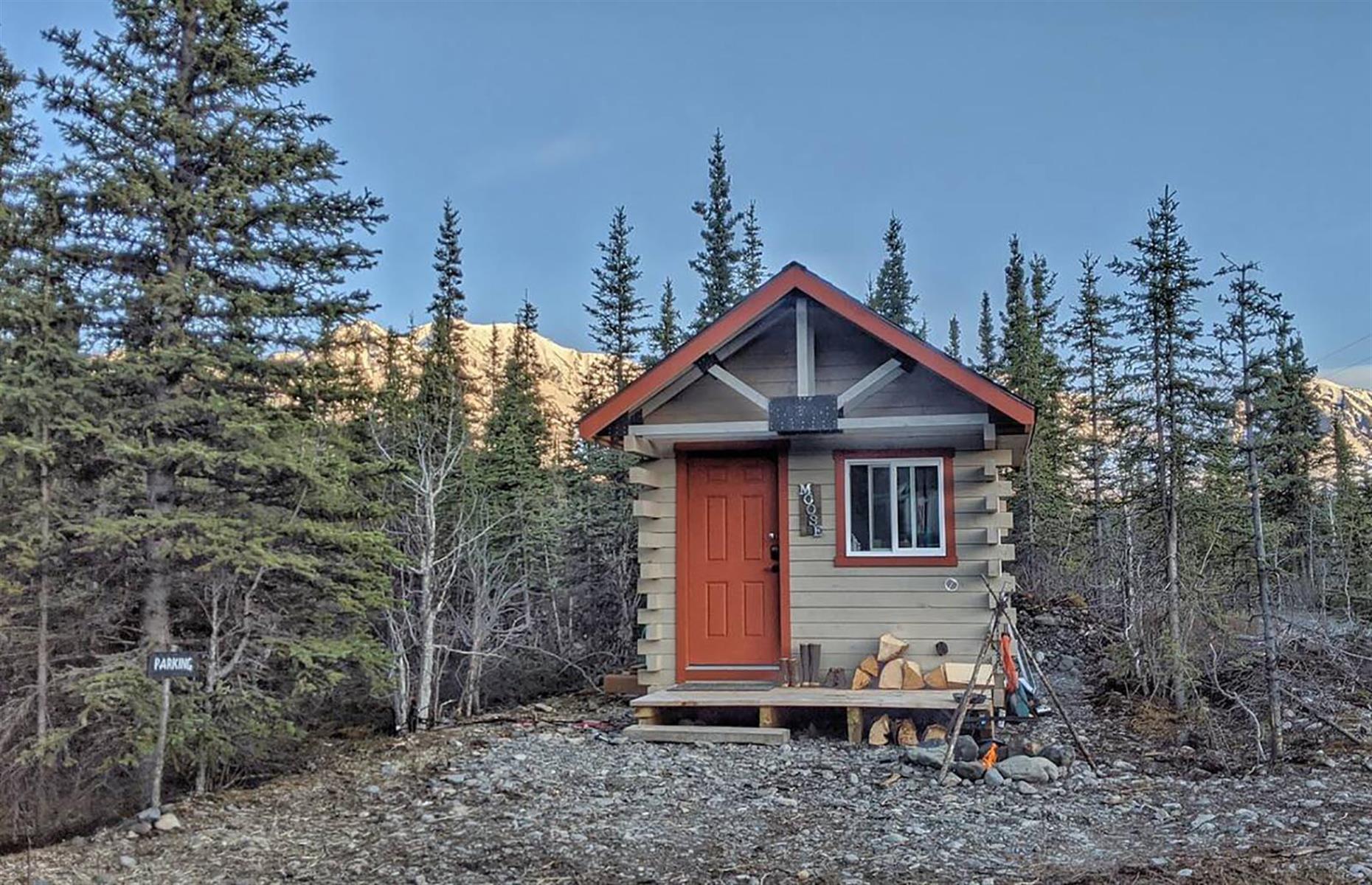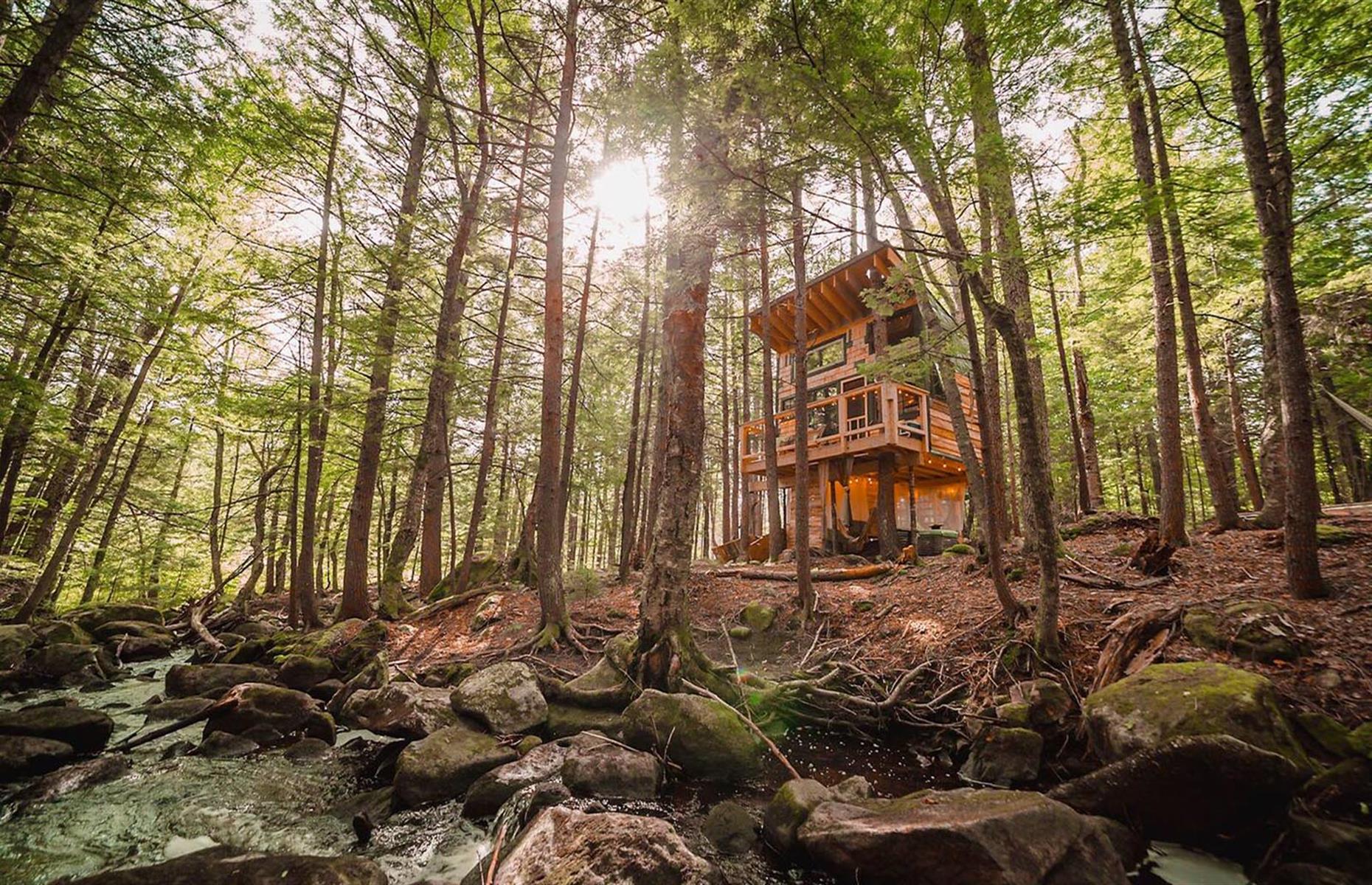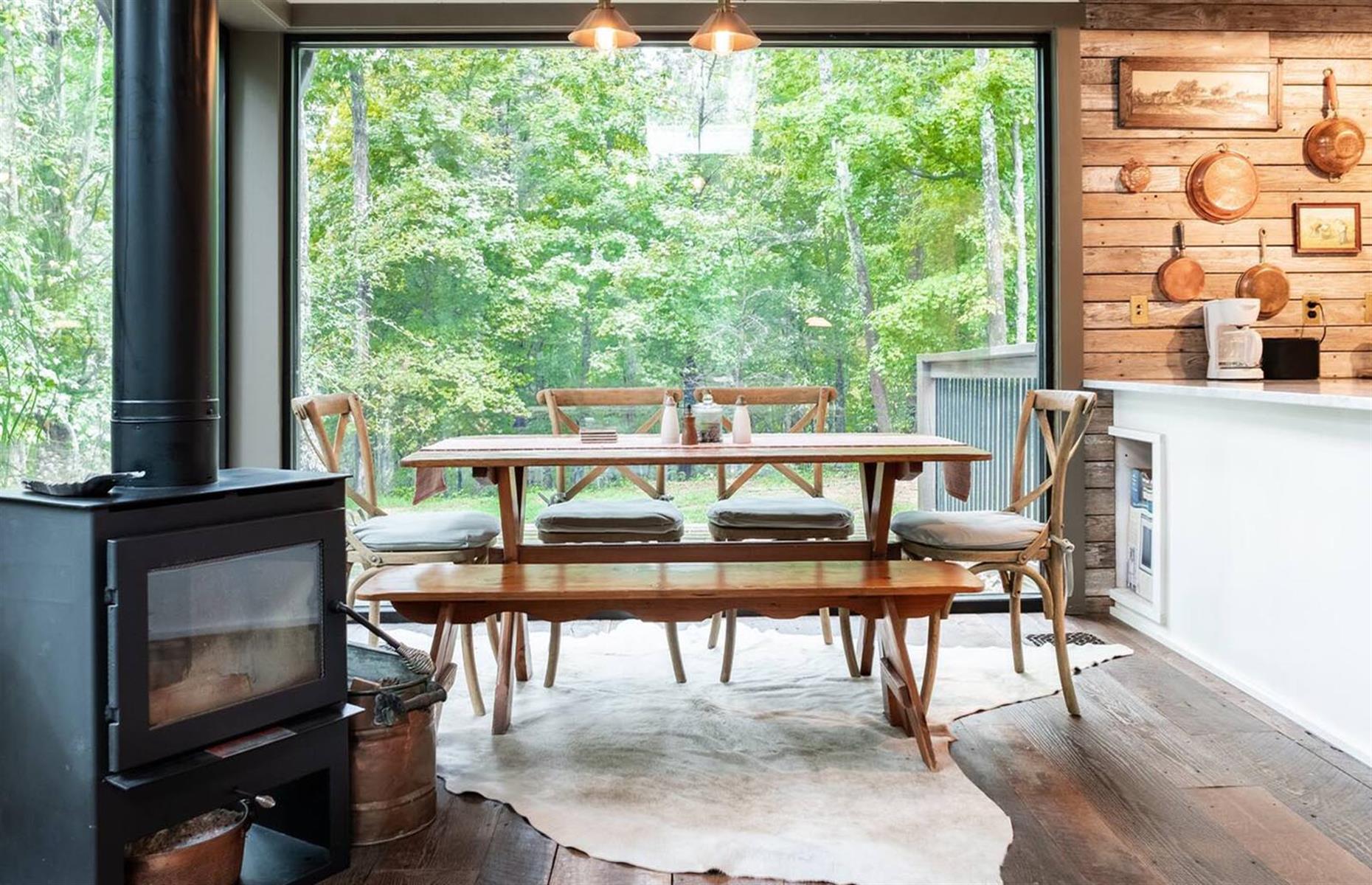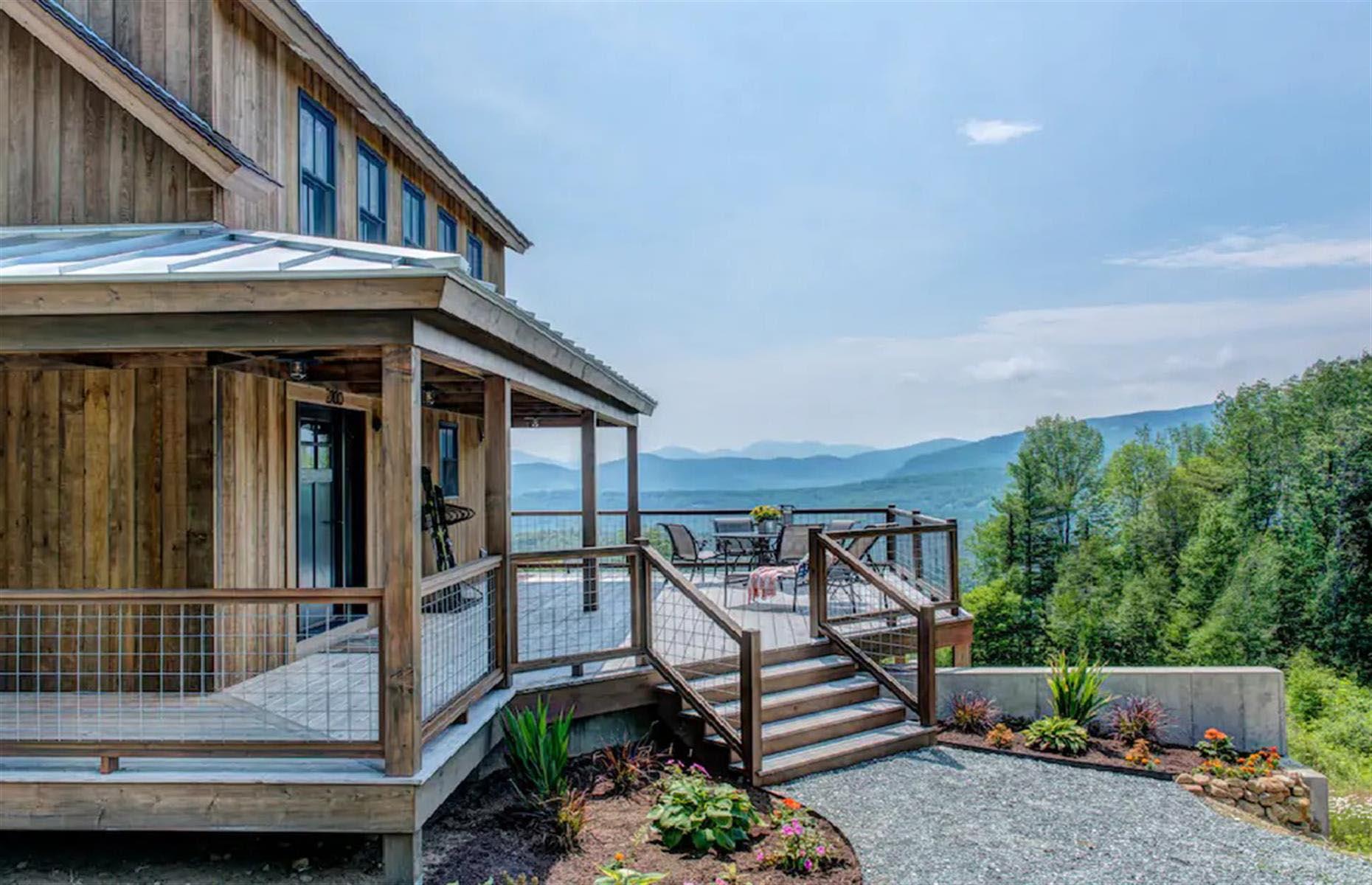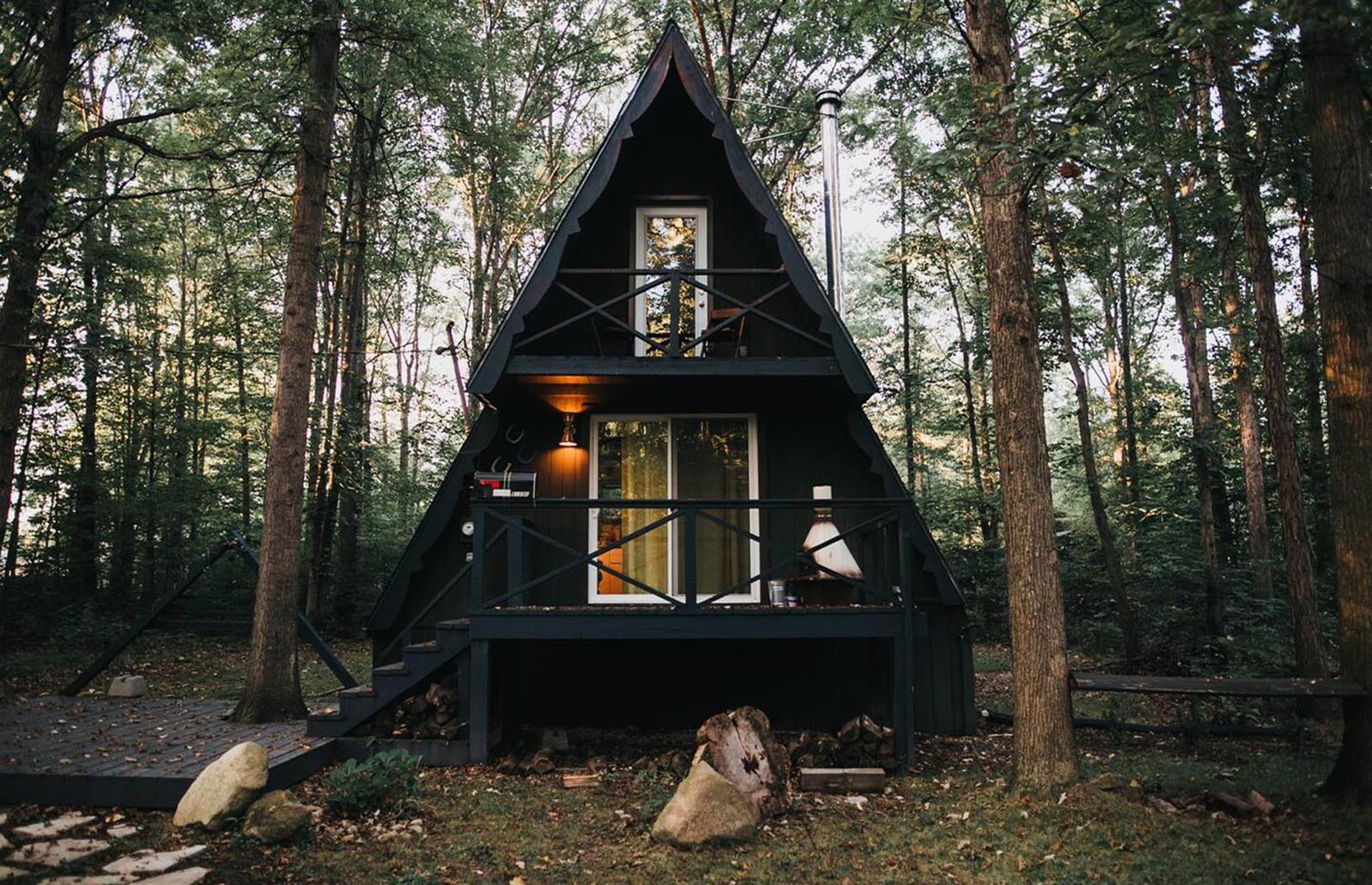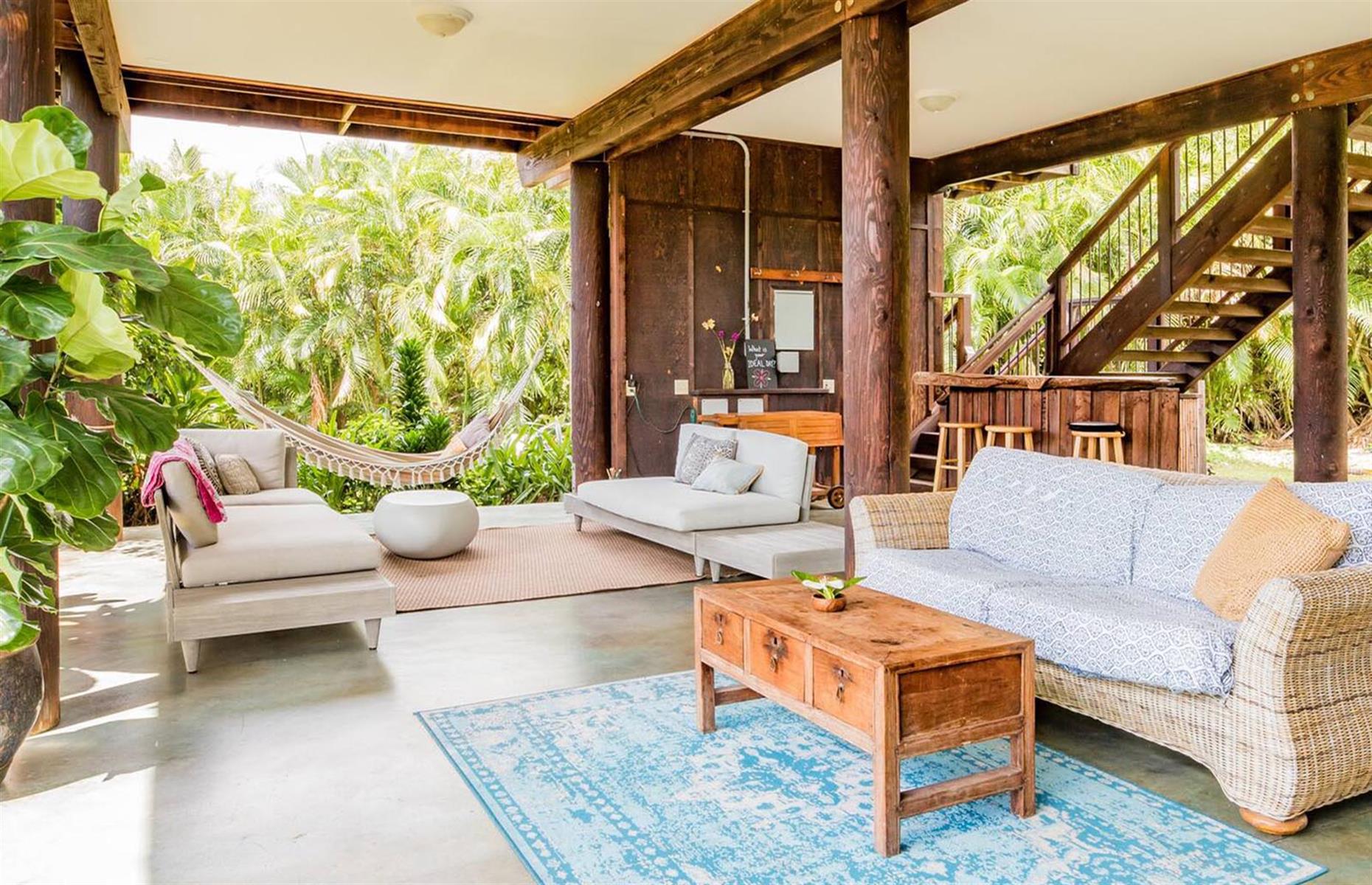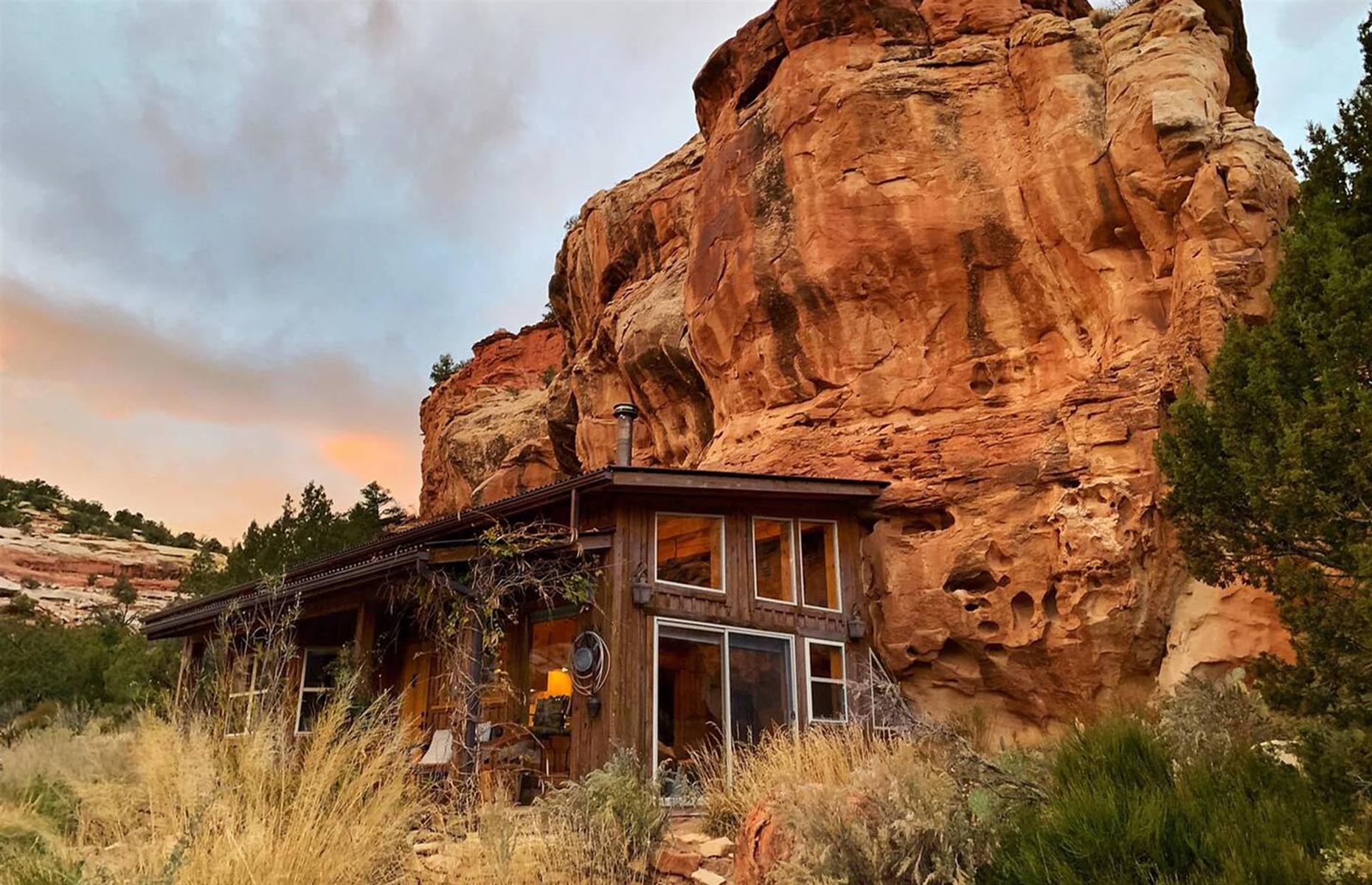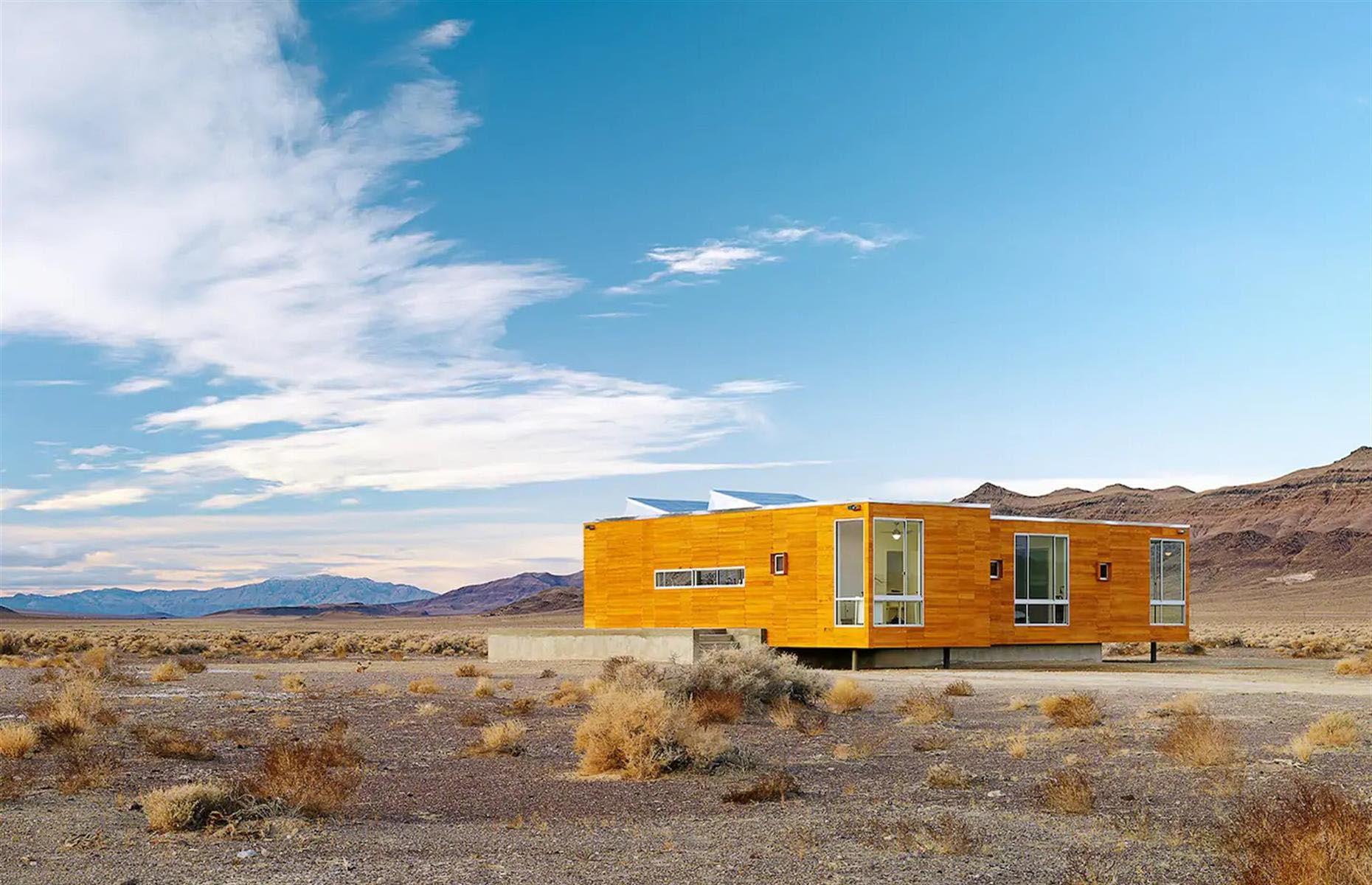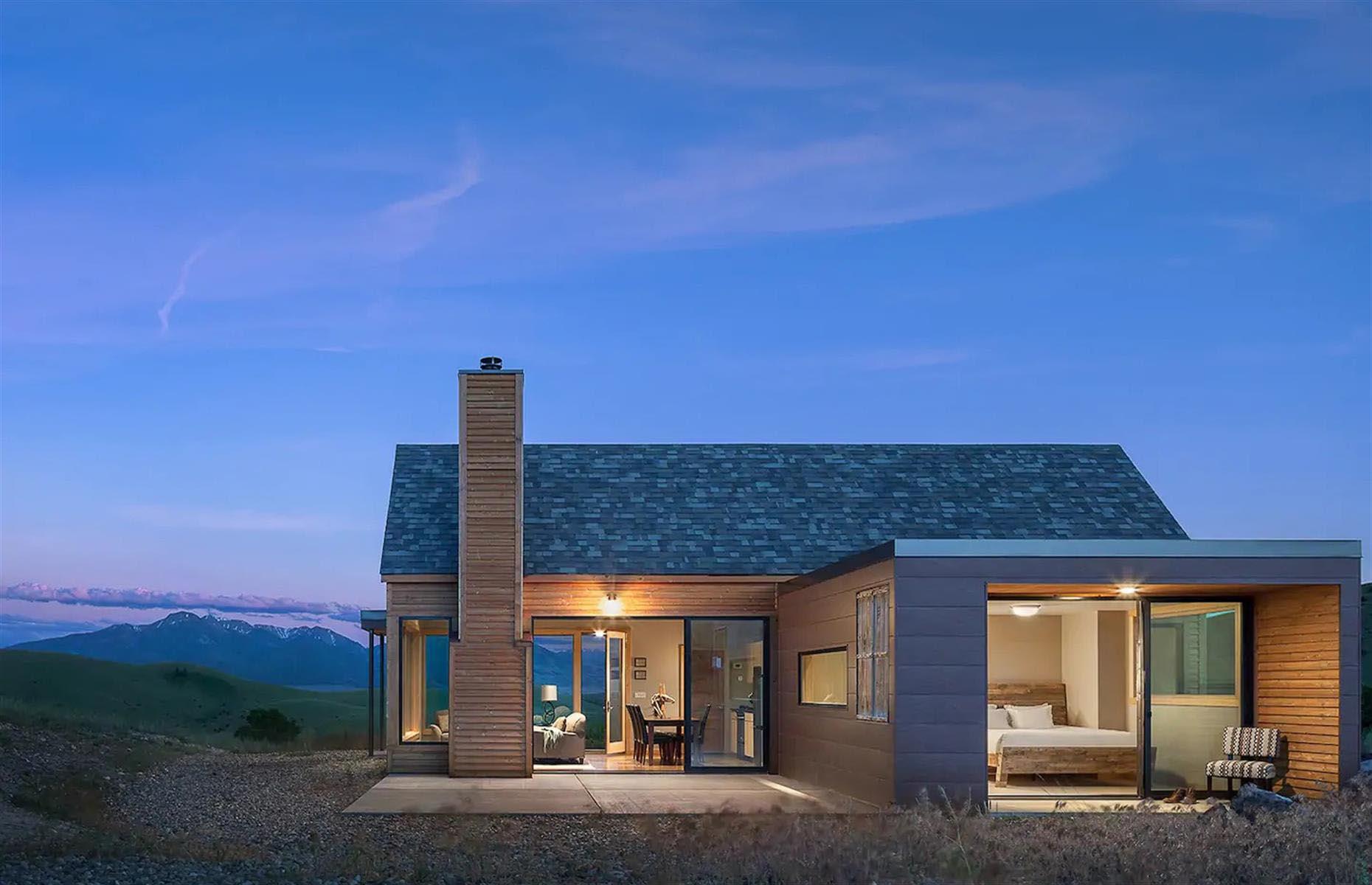 Off-grid escapes
At a time when crowded beaches, busy city breaks and fully booked resorts don't sound that appealing, remote and more secluded destinations are really coming into their own. Away from bustling cities and major highways, these Airbnbs welcome visitors with buckets of fresh air and uninterrupted gorgeous scenery for miles. They are also conveniently located so that you don't have to drive to the ends of the world to reach them but can still find peace and quiet somewhere relatively remote. Just remember to double check state travel advisories before you head out.
Secluded cabin, Oak Island, Maine
Located on a small island in the East Penobscot Bay off the coast of Maine, this secluded two-bedroom cabin is a little piece of wildlife paradise. You won't meet another soul on the 23-acre private island bar a few bald eagles and deer, and both the sunsets and sunrises are nothing short of spectacular. Cycling, swimming and walking are great activities to get up to here during the day and when the lobster boats pass, make sure to flag one down to buy a freshly-caught crustacean for dinner.
Beach house, Pahoa, Hawaii
Overlooking black lava fields and a peaceful ocean horizon, this one-bedroom beach house is conveniently located right by more than 500 secluded acres of state land perfect for hiking or long walks next to the ocean. One of the best features of the house is the wraparound picture windows that can be fully opened to let the salty ocean air in. For convenience, there's a small store nearby and a bar less than a mile away, but it's more than possible to spend your time in total isolation.
Barn guesthouse, Lookout Mountain, Georgia
Conveniently located just off the Lookout Mountain Scenic Highway, this charming barn home is secluded enough for nature hikes or bike rides, but close enough to a couple of small towns to enjoy dinner at a local restaurant if you wish. The one-bedroom house features gorgeous tall windows which frame the serene forest views, high ceilings with skylights and a rustic cabin-inspired interior. There's an outside seating area with a grill too, while the kitchen is fully-equipped for cooking meals inside.
Mountain retreat, Prescott, Arizona
Crowds are definitely not a problem at this mountain home in Arizona and it's a wonderful place to relax and enjoy epic views with no neighbors in sight. There are great hiking and biking opportunities and while the home is remote, there is a shop within a 15-minute drive in case of an emergency. There is also a beautiful patio with a gas grill and dogs are welcome too.
Off-grid treehouse, Germantown, Kentucky
For an off-grid experience, book an escape at this remote treehouse in rural Kentucky. It has all the amenities guests might need during a stay at this rustic haven. It may be tempting to hunker down but make sure to explore the gorgeous surrounding area – it's great for trekking, hiking and horseback riding. The towns of Augusta and Maysville are also nearby if the necessity arises. 
Treehouse escape, Walhalla, South Carolina
Cozy interiors, amazing forest views and an outdoor swing seat await you at this unique treehouse escape. Nestled right by the Blue Ridge Mountains in Oconee County, this property is surrounded by a green paradise. Take a dip in the county's serene lakes or go for a hike along the rolling country roads. At the end of the day, recharge in a comfy super-king bed with floor-to-ceiling windows looking out to the trees. 
Vintage barn, Mulberry Springs, Virginia
A stunning vintage barn, this Virginia escape has plenty of rustic charm and cozy spaces to relax in. Painted black, white and red, the barn has one bedroom and a fully-equipped kitchen that transitions into a living area. Originally built in the 1750s, the barn is located in a remote area north of Charlottesville. But if wine is your vice, there are plenty of wineries in the surrounding area you could visit (check for opening times and if tours are running). 
Country cottage, Boothbay Harbor, Maine
Bigger doesn't always mean better, as demonstrated by this charming country cottage in Maine. Wake up in the plush queen bed and, if you're lucky, catch a glimpse of deer eating apples in the garden. After a walk in the stunning Boothbay Harbor area, enjoy a sundowner on the patio then retire to the whitewashed house for dinner. These are the world's most remote hotels.
Cedar treehouse, Santa Cruz, California
It's not easy to find properly secluded corners in California, but this beautiful, lush retreat in Aptos, Santa Cruz is as good as it gets. Set on several acres of a remote and peaceful mountain top, tucked beneath the redwoods, this unique 10-sided treehouse brings you back to nature. Partially off-grid, it features a king-sized bed in the loft, small kitchenette and bathroom, but it's the dome skylight, which showcases the starry night skies in all their glory, that makes the whole stay here romantic and rural.
//ABODE³, Orderville, Utah
An incredibly stylish space with an equally impressive view to match, you won't regret escaping to this tiny house in Utah. Accessible from the Scenic Highway 89, the home's picture windows open up to scenery of the soaring Elkhart Cliffs. The studio features a huge walk-in shower, fully-equipped kitchen and a queen-sized bed. Discover fantastic fairy-tale retreats you can book on Airbnb.
Romantic treehouse, Old Fort, North Carolina
Birdsong and the hum of the forest welcomes visitors as soon as they arrive at this romantic treehouse, which is located on 14 peaceful acres. Accessed via an illuminated path and a swinging bridge, the cozy home features luxury bedding, a LED fireplace and everything you might need to enjoy a bit of time to yourself. There's a hot tub to relax in too and plenty of windows throughout to let the natural light in.
Tiny mountain home, Red Cliff, Colorado
Imagine how great waking up to this soaring view would be… Located in the heart of the Rocky Mountains, the cabin sits on private land and is the only place in the area that's completely surrounded by a national forest. Inside, there are two lofts with a king bed and a double bed. On the main level you'll find a fully-equipped kitchen, living area with a fold-down sofa and a small dining table.
Tropical treehouse, Fern Forest, Hawaii
Sleep nestled among the trees in this secluded haven on the outskirts of Hawaii's Volcanoes National Park. A wraparound veranda gives panoramic views over the rainforest while the shower cascades with naturally caught rainwater. Fall asleep to the sound of coquí frogs chirping away and wake up surrounded by the stunning jungle scenery.
Mountain cabin, Deadwood, South Dakota
Enjoy true mountain living in total comfort at this Deadwood cabin located near Nemo, a tiny mountain town set in the picturesque valley of Boxelder Creek. Convenient for secluded relaxation after visiting South Dakota's most famous attractions, including Mount Rushmore, the brilliantly redesigned 1910s cabin has two bedrooms, a lofted cathedral ceiling and a large fireplace. Take a look at America's most important National Monuments.
Moose cabin, Cantwell, Alaska
A truly wild Alaskan escape just 30 minutes away from Denali National Park, this adorable little cabin offers a properly rustic lodging experience. Although it has all the basic comforts you need for a good night's sleep, the electricity is limited as it's solar-powered and guests have to be mindful of the wildlife in the area. Exceptionally located for exploring the surrounding outstanding natural beauty, it's remote enough to feel like you've escaped civilization, but there's a bakery, a gas station, some restaurants and a grocery store within driving distance.
Rumbley Cottage, Westover, Maryland
Away from the hustle and bustle of Maryland's more popular destinations, this charming cottage overlooks the Manokin River at Tangier Sound. Located right by the coastline that's easily accessible via a boardwalk, the surrounding area is perfect for a peaceful getaway. The three-bedroom home has everything you need to enjoy a relaxing vacation swimming, watching the wildlife or just sitting out on the porch with a book.
Treehouse in the woods, Hardwick, Vermont
Tucked away in the woods three miles (4.8km) from the closest village, this charming treehouse in Vermont is a lovely getaway. There are plenty of activities, like hiking in summer and skiing in winter, to get up to during the day or you could just relax at the house with the soothing sound of the nearby stream in the background. The house has one bedroom with a double bed, a small kitchen and a small deck.
Ranch cabin, Greycliff, Montana
Imagine enjoying your morning coffee on the front porch while watching the sun rise over the stunning Crazy Mountains. This cozy cabin at the Hagerman Ranch offers the perfect peaceful getaway. Situated a 25-minute drive from the nearest city of Big Timber, the cabin is kitted out with one master bedroom, one bathroom, a full kitchen and a small loft (complete with pull-out mattresses that can accommodate an extra four people). But the main USP, aside from the remote setting, is the fact the Yellowstone River is less than 100 foot (30m) away, perfect for a spot of fishing.
Secluded cabin, Goodlettsville, Tennessee
Made from recycled materials, this cozy cabin is the ultimate secluded getaway. Hugged by the surrounding forest, the open-plan home has an attractive vintage feel to it. Thanks to the floor-to-ceiling picture windows, you can drink in the area's natural beauty from almost every corner of the house. These are America's most stunning natural wonders.
Mountain cottage, Jackson, New Hampshire
Everyone will find something to love at this luxury three-bedroom mountain cottage in Jackson – whether you want to cook up a storm in the fully-fitted kitchen, enjoy a game of billiards or kick back on the deck overlooking the mountains. An elegant winter resort, nearby Jackson is well-suited for skiing vacations, or hiking and trekking in summer.
The Triangle, West Farmington, Ohio
If you're longing to escape the city, look no further than this unique A-frame home called The Triangle. Able to accommodate four guests, it's great for a family, friends' or couples' trip away from Cleveland. There's a wood-burning stove, exposed beams throughout and small terraces on both levels. The quaint village of West Farmington has several local produce shops while the surrounding landscape is fantastic for relaxing nature walks.
Tropical garden retreat, Captain Cook, Hawaii
This tropical retreat on an organic mango farm is as close to paradise as it gets. Soak up the sunshine in the spacious outdoor living area or relax in the open-plan indoor area with large picture windows. Decorated in an eclectic style, this beautiful home is located a mile (1.6km) from the spectacular Kealakekua Bay that offers ocean activities like snorkeling and diving. Discover these American hotels hiding historic secrets.
Canyon cliff house, Cortez, Colorado
A unique home built into a sandstone cliff, this Airbnb in the McElmo Canyon is unlike anywhere else. Looking out to the Sleeping Ute Mountain and the surrounding red sandstone rocks, the one-bedroom house has all the amenities for a comfortable stay. When you're not at the house, there's easy access to a wide range of hiking trails. 
Desert Gold, Beatty, Nevada
Shut out the outside world at this remote Death Valley home and enjoy starry night skies and beautiful sunrises and sunsets. This three-bedroom house is located deep in the desert, 20 miles (32km) off the Death Valley National Park boundaries. You won't feel stranded here though. It has a beautiful open-plan kitchen, a comfortable living area and a large deck with sunken-in hot tub. Now take a look at the most wish-listed Airbnb homes during lockdown.
Guest house at Erik's Ranch, Livingston, Montana
Make the most of ranch living at this outstanding two-bedroom guesthouse in rural Montana, at the edge of Yellowstone National Park. The beautiful home has floor-to-ceiling picture windows, offering breathtaking views of the surrounding mountain scenery. Who knows, you might even get to see a bear or a deer.
Source: Read Full Article