The Garden of Dreams
For most visitors, a trip to Nepal begins in Thamel. This labyrinth of streets and alleys lined with souvenir shops, bars, hotels and restaurants has been the hub for backpackers since the country opened itself to outsiders in the late 1950s. Of the city's handful of green enclaves, the Garden of Dreams is a serene spot in which to escape the bustle of the streets. Just across from the former royal palace (which is now a museum), the garden, with its pavilions and ponds, is the perfect spot to unwind with a book or take a nap on the lawn mats.
Boudhanath stupa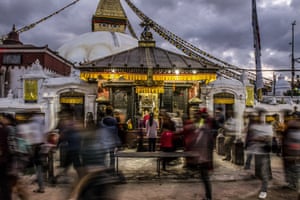 Boudhanath is one of the holiest sites for Buddhists, but don't expect to feel zen vibes right away at this Unesco-listed site: it's loud, busy and next to a teeming thoroughfare. It can take a few minutes to take in the grandeur of the great white dome of Boudhanath, badly damaged by the 2015 earthquake but now restored. After the noise of the traffic recedes, you can hear soft chanting and smell the burning incense. Boudhanath is also an important place for Buddhist scholarship, with many monasteries built around the holy site. The area is home to a large Tibetan community, and the shops and restaurants in the vicinity offer a great introduction to Tibetan food and culture. If you can handle spicy food, try lhaphing, a cold noodle dish, found in any of the Tibetan restaurants.
• Entrance $4
Jazz Upstairs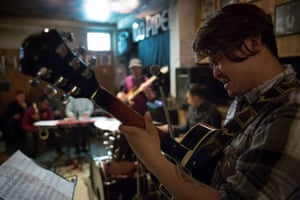 Jazz Upstairs used to be a regular haunt for Nepali youth in the late 1990s; an intimate seating area on the floor of an old rundown house with a tiny side entrance was the perfect place for clandestine dates and great jazz. The old building has succumbed to a concrete makeover, but Jazz Upstairs, in the Lazimpat neighbourhood, remains popular. Within walking distance of Thamel, the bar hosts live performances on Wednesdays and Saturdays. With excellent music, affordable prices and a rooftop bar with a 360-degree view of the hills that surround the valley, Jazz Upstairs is a welcome change from more touristy haunts in Thamel. A bottle of Gorkha beer with a plate of Alu Dum (a spicy, tangy potato dish) costs around $6.
• jazzupstairs.com
Nepal on a plate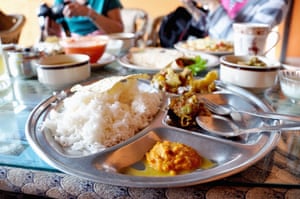 A thali (a set meal on a metal plate) comes with the Nepali staple daal bhat (rice and lentils) along with masu (meat), tarkari (vegetable curry), saag (leafy greens) and achar (pickle). But a thakali-style thali also makes generous use of Sichuan pepper and jimbu, an aromatic herb native to the Himalayas. In Nepal, it is found in the northern region of Mustang, where the Thakali community is originally from. Tukche Thakali Kitchen is a family-run restaurant loved for its delicious food and warm hospitality. The interior is full of copper pots and brassware, and its traditional chulo (stove) adds to the experience of devouring a thali – that comes with generous refills.
• Thalis with chicken, mutton or vegetables from around $5, tukche.com
Momo joints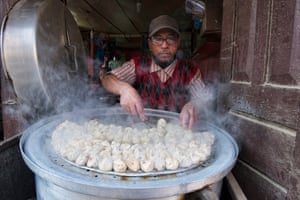 Everyone in the city has their favourite place when it comes to eating momos (steamed meat or vegetable dumplings). Whether it is a hole-in-the-wall bhatti or a posh restaurant, momos are representative of the Kathmandu valley's ethnic diversity. The Newar traders are said to have brought the recipe back from Tibet. Some of our favourite momo places are Jatra Cafe & Bar in Thamel, for vegetarian momos; the jhol (soup) momos at Le Trio in Jhamsikhel; and pork momos at Yellow Pomelo on Jawlakhel Road.
Stay in the city of beauty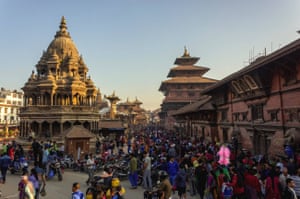 Patan is only a 20-minute taxi ride from Thamel, but feels distinctly different from Kathmandu. Its Sanskrit name was Lalitpur, meaning City of Beauty, and a walk there offers a glimpse of the intimate lives of Newari people, the indigenous inhabitants of the Kathmandu valley. Its Durbar Square is the finest collection of temples and palaces in Nepal, even after the 2015 earthquake. The most memorable experience comes at dusk, when temples and monasteries light upready for evening prayers. People throng to the square to drink tea and watch the evening glow on the gold-plated spires. Newa Chen is a 350-year-old Newari house belonging to the Shrestha family, who restored their three-storey property and opened it to guests in 2006. The beautifully carved windows overlooking the courtyard, brick interiors, beamed ceiling and straw mats transport you back to the 17th century.
• Doubles from $50 B&B ($40 with shared bathroom), newachen.com
Tour of Kathmandu Durbar Square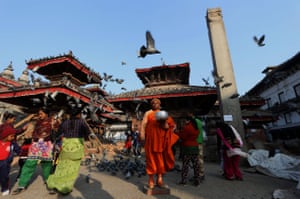 Up until the mid-18th century, the Kathmandu valley was split into three kingdoms: Kathmandu, Lalitpur and Bhaktapur. Each of these three cities has a sprawling palace complex, or Durbar Square, which are testament to Nepal's monarchical past. All three are listed as world heritage sites. The Kathmandu Durbar Square, above, is an intricate mix of temples, palaces, monasteries and shrines that are not only of historical importance, but each structure and statue evokes myths and legends passed down through generations. The best way to discover this square is by on foot. Alok Siddhi Tuladhar, a cultural heritage conservationist, conducts a free Heritage Walkevery third Sunday of the month. The walk begins at the north end of Kamalachi street near Ason, a marketplace in the heart of old Kathmandu, and the beginning of the ancient trade route that connected Kathmandu with Tibet and India.
Sam's Bar, Thamel
The roof terrace of Sam's Bar, in Thamel, has a cosy rooftop terrace and is popular with both backpackers and locals. The graffiti on the walls reads more like love letters to Nepal, left behind by visitors from all over the world. While it doesn't serve food, expect generous portions of salted popcorn to accompany a cocktail or bottle of Gorkha beer (both about $4). If you are there in winter, grab a seat next to the log fire and order a hot rum punch made with Nepal's very ownKhukri rum. The communal feel of the terrace means you are sure to have made friends by the end of the night.
• Chaksibari Marg, no website
Full moon classical music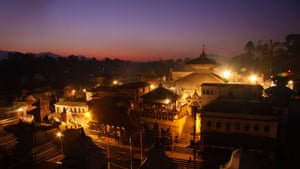 Kirateshwar Sangeet is a music school that puts together enchanting classical music performances every month on the night of the full moonat Kirateshwar Mahadev temple. Running for over 25 years, these concerts attract eastern classical music talents from Nepal and abroad, the musicians putting on a spellbinding performance with their tablas, flutes, harmonium and sitar. These concerts are free, usually start at around 5pm, and last about two hours. Sitting out in the open under a full moon listening to classical music is a unique experience, so make sure you check the lunar phase before your trip. The temple is in the Pashupatinath temple complex, between Pashupatinath and Gujeshwori temples.
Honacha restaurant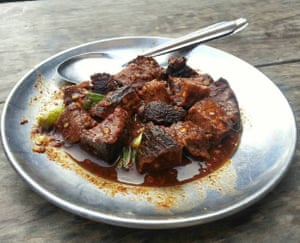 Newari cuisine is famous for its variety. Each dishholds a meaning or plays a specific role in a traditional Newari bhoj (feast). Behind the Krishna temple in Patan's Durbar Square is Honacha, one of the oldest restaurants serving authentic Newari dishes. The place is always teeming with hungry diners often sharing tables while snacking on chhwela (spicy marinated buffalo meat), bara (round, fluffy lentil pancakes), and spicy potato curry. Don't forget to try aila, home-brewed Newari liquor, the perfect accompaniment to the delicious food.
• Full meal around $5, on Facebook
Getting there
From the UK, the quickest routes are with Oman Air via Muscat, Qatar Airways via Doha, and Jet Airways and Air India, both via Delhi.
Best time to go
Between October and December, when the skies are clear and the views spectacular.
Where to stay
Pilgrim's Guesthouse (singles $18, doubles $14-28) or the Bodhi Boutique Hotel (twins and doubles $55).
Recommended reads
Kathmandu by Thomas Bell.
Thamel: Dark Star of Kathmandu by Rabi Thapa.
Arresting God in Kathmandu by Samrat Upadhyaya.
• Bhrikuti Rai is a journalist and Itisha Giri is a poet. Both are producers of Boju Bajai, a monthly podcast on feminism and Nepal
Looking for a holiday with a difference? Browse Guardian Holidays to find a range of fantastic trips
Source: Read Full Article