Sandy McKnight is a pagan, a bibliophile, a metal detectorist and – at 71 – claims to be Scotland's most-tattooed man. Flames, skulls, demons, dragons: his entire body is covered, with the exception of his face and a rather delicate area lower down. For that, however, Sandy has plans: his scrotum, he thinks, might look well if inked to resemble a brain.
I learn all this standing at the counter of the Bookshop in Wigtown, having stopped off on the South West Coastal 300, a new 300-or-so-mile driving route looping through Dumfries and Galloway, and parts of Ayrshire. Wigtown, Scotland's National Book Town and celebrated for its annual book festival, is one of the highlights of the route; the Bookshop is one of the highlights of Wigtown; and Sandy is one of the highlights of the Bookshop. He is its most regular and most colourful (literally and figuratively) customer. To fund his book habit, he carves walking sticks from the "nine sacred woods of the druids" – including hazel and rowan – and sells them here in exchange for credit. He collects books on archaeology, folklore and local history, and has built quite a library, which he expects will return to the Bookshop's shelves one day.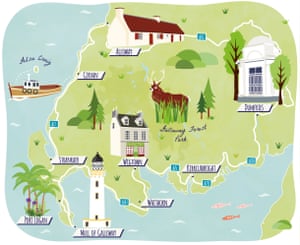 "When I pop my clogs, he'll walk into my house rubbing his hands," Sandy says, nodding to the shop's owner, Shaun Bythell. "I've told my kids: when that day comes, just phone Shaun."
"Yes," Bythell smiles. "I'll come round and rip you off. Actually, did you not tell your kids that when you die they should flay you and sell your skin?"
Sandy nods with the blithe air of a man who knows his own value: "Somebody said my skin was worth about £60,000."
The Bookshop is labyrinthine and atmospheric, home to 100,000 second-hand books and almost as many first-class nooks. A skeleton, strung from the ceiling, holds a fiddle to its left scapula. A Kindle, blasted by a shotgun, is displayed as if it were a big-game trophy. In the history section, a stuffed badger has faded from black and white to brownish, from everton mint to humbug.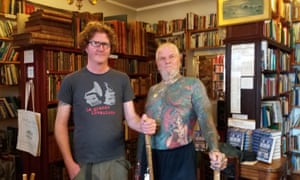 In Bythell's memoir, Diary of a Bookseller, he quotes from a 1916 guide which states that Galloway – the area that includes Wigtown – "has remained unknown to the world longer than any other part of Scotland, with the possible exception of the island of Rockall". This is still true. In the country's far south-west, Galloway is often described as a "forgotten corner". Unless you're catching a ferry to Northern Ireland, it isn't really on the way to anywhere.
"Everybody who comes here says how wonderful it is, but so few people make it in the first place," one local says, ruefully. "When you go up and down the M74 (the cross-border motorway), there's no indication anything exists on this side."
One must, in other words, make a special effort to visit. The SWC300 provides a reason. You can start anywhere and drive in either direction. I choose to travel anti-clockwise as it seems in keeping with the contrary, stubborn nature attributed to folk in this part of Scotland.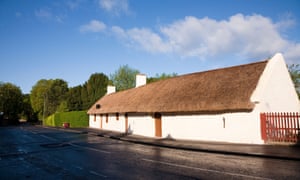 I begin in the village of Alloway, in order to visit the cottage where, in 1759, Robert Burns was born. It's a kind of shrine. Keats and Tennyson came here, as did that other poetic heavyweight, Muhammad Ali. It is a low stone building, painted white, with a thatched roof. Though extremely popular, the cottage is not universally loved. It has been regarded as emblematic of the moist-eyed sentimentality to which Scots are prone, and a symbol of patriarchy.
The writer and translator Edwin Muir, in his classic 1935 travelogue Scottish Journey, called it "ludicrous and pathetic" and suggested it be pulled down. In 1914, the suffragettes Frances Parker and Ethel Moorheadattempted to blow it up.
The humble room in which Burns is said to have come into the world is just a few steps wide and long. The lowing of cattle from the adjoining byre must have been one of the first sounds he heard. There is an air of the Nativity about it, a touch of Away in a Manger. It's an odd mix of anticlimactic and overwhelming to stand on the stone floor, looking at the box bed, and thinking, "Well, this is where Auld Lang Syne and A Man's A Man got their start." Yes, Burns's cottage is a bit shortbread tin-ish, but it has an untouched grace for all that.
From Alloway, it's a run down the coast, passing ruined Dunure Castle, and pausing only to conduct a purification ritual outside Trump Turnberry, the golf resort that was the scene of the president's summer visit. The island of Ailsa Craig, a great dark dome, looms out of the sea to the west. There are boat trips to it from the seaside town of Girvan. It is the most dramatic sight in the whole 300 miles. If the mountainous North Coast 500, after which this route is modelled, is all operatic crescendos and arias, the SWC300 is a pastoral symphony – a journey through a green and gentle landscape.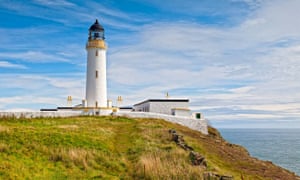 Well, perhaps that's not quite true. The clifftop lighthouse at the Mull of Galloway, Scotland's most southerly point, has a certain discordant wildness, especially in stormy weather, when waves crash around the rocks far below.
Near the town of Whithorn, I fall in with a group of friends – among them the writer Sara Maitland, who lives locally – picnicking on scones and jam in preparation for a short pilgrimage of three miles or so to St Ninian's Cave. Whithorn is known as the "cradle of Scottish Christianity" as it washere that, in the fourth century, Ninian established the first church in Scotland. Every year, on a Sunday close to his feast day of 16 September, his life is celebrated with a mass on the beach near the cave which he is said to have used as a retreat.
"Do you mind if I bring Zoe?" Sara asks us. Zoe is a border terrier.
"Is she Catholic?" asks Eddie, mock-sternly.
"No," Sara replies. "She transcends that. Dogs are without sin."
We set off, and soon join a crowd. A couple of hundred pilgrims have come from far and wide, some even walking from Glasgow on the Whithorn Way long-distance trail. Some do so in the same spirit that leads people to support lower-league football teams: a preference for authenticity over glamour. St Columba, they'll tell you, draws the crowds to Iona, but Ninian was here in Galloway first. Visitors can see the remains of his shrine, and an excellent museum of early Christian stones, at Whithorn Priory.
The mass itself is a very British occasion. The bishop leads the service from inside a sort of gazebo, the altar cloth held down against the wind by pebbles from the beach. Girl scouts hand out hymn sheets and worshippers rise from tartan rugs and folding stools to go up for communion.Afterwards, a lone piper plays Bonnie Galloway, an appropriate tune for this most beautiful stretch of coast.
Onwards, now, to Kirkcudbright, which calls itself Scotland's Artists' Town. Since the 19th century, painters have been drawn here by the light and the prettiness of the place. Kirkcudbright Galleries, opened this summer, has a splendid collection of works by artists who called this town home, among them Jessie M King and her husband Ernest A Taylor, part of the bohemian set between the wars.
One local artist is a living link to those glory days. John Halliday is 86, and the people who run the gallery might do well to provide him with a comfortable chair, a cup of coffee and a permanent spot by his painting, A Woman in Black. There, he could take his ease and tell stories. As a teenager, Halliday was on good terms with some of Kirkcudbright's most-celebrated names. "In the heavy winter of 1947, Charles Oppenheimer gave me two shillings to take his painting to the station on my sledge to go to the Royal Academy," is the sort of thing he says as an aside.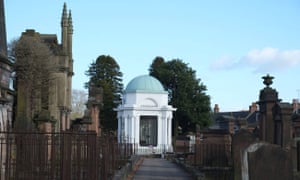 My final stop is the Burns Mausoleum in Dumfries. Having started at the cottage where Robert Burns was born, it seems fitting to end with the town where, in 1796 at the age of 37, he died.
St Michael's and its churchyard are the colour of rust, or dried blood; the tomb stands out for being a brilliant white. A heavy gate, topped by golden thistles, prevents entry, but, on the wall above the grave, an extraordinary marble tableau shows Burns at his plough being visited by the muse Coila, who is throwing her cloak about him. Like Alloway, it takes sentimentality to the point of vulgarity, and yet there is something undeniably numinous about this place.
Still, it is something of a relief to notice a seagull pecking at a discarded crisp packet and then flying up to the copper dome of the mausoleum with its prize. Burns, that poet of mice and lice and the humble creatures of the world, would doubtless approve of its cheek.
• More information on the South West Coastal 300 at visitsouthwestscotland.com. The Wigtown Book Festival runs from 21-30 September. Peter Ross will be talking about his book, The Passion of Harry Bingo, on 23 September. Hillcrest House on the edge of Wigtown is a comfortable hotel, with doubles from £75 B&B
Looking for a holiday with a difference? Browse Guardian Holidays to find a range of fantastic trips
Source: Read Full Article