Garlanded with wispy clouds, jagged mountains rise sharply above glassy lakes, reflected to sky with such perfection you are almost dizzy with how upside down it all appears. Or is that a mirage – from exhaustion? From the moment 250 cyclists clattered nervously, like skinny, helmeted warriors on to a ferry at 6.45am to battle through the water in mist and rain for 45 minutes even before the start, it was clear this would be no ordinary event. Cycling in Norway is less travelling on land, more an undulating series of roads and bridges linking breathtaking fjords; a constant movement between mountain, sea and lake.
Haute Routes sportives are always challenging, designed to replicate professional-level riding, except unlike Alpine routes, this inaugural event is three days long, pleasingly located in one place, the harbour city of Stavanger on Norway's west coast. One hotel, one race village nearby, and three days of circular routes. So the logistics were easy, everything close at hand, and the post-ride food and massages were excellent.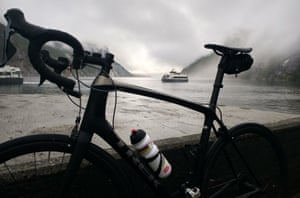 But don't let that convenience fool you, or the route profiles with apparently shorter climbs than many in the Alps, Pyrenees, or Dolomites. Day one, beginning with that ferry to Tau, also then required a very damp 12km warm-up ride to the official start at Jørpeland before 157km of relentless ups and downs totalling 2,700m of ascent – breathtaking in every sense.
https://youtube.com/watch?v=rzjBMVTQrL8%3Fwmode%3Dopaque%26feature%3Doembed
I had worried that the longest heatwave since 1976 would make this even tougher, but Norway kindly dropped to a more traditional British 20C just as we arrived, accompanied by that familiar ration of continuous rain. The routes overall were superbly conceived, dishing out equal doses of beauty and pain, stunning views, rolling hills and short, sharp climbs. Sadly, poor first-day visibility decreased the beauty and increased the pain, leading to a 40km final carwash-like slog back to Tau via a final nasty climb.
Soreness aside, the second day (125km/2,350m ascent) gradually brought the stunning visibility we craved, not so much on the outgoing boat along one of the most beautiful fjords in Norway to Lysebotn, but improving from Lysefjord bridge and around Pulpit Rock and Kjerag Rock, and then eventually to Sandnes, our destination.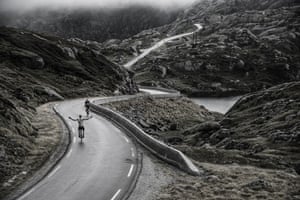 The route's dramatic fjord base-jumping locations were also used in the latest Mission Impossible film. Not that we had much time to contemplate this – our own mission impossible began with a long, brutal climb – almost 10km at 9% average gradient, with 20 hairpin bends. On the way up this included all of us in bottom gear and panting like dogs along a hot, dark tunnel for 3km. Never have I been more grateful to see the light.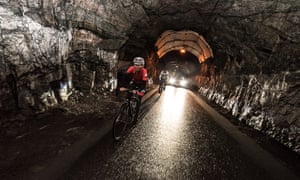 Finally at the top, and onwards around Keirag mountain, this turned into a stunning day. It was one to savour from that first summit in particular, when a few kilometres of descent were untimed to allow for what turned out to be very minimal tourist traffic.
The only gripe of the day was the need to cycle an extra 25km back to Stavanger after the end of of this stage, which, with a more car-filled, urban setting, was a drag.
The final day, a 17.5km time trial from Stavanger harbour was by contrast a sunshine burst of adrenalin. Its profile appeared to be flat, but again rarely was, and included three short but lung-busting climbs of well over 20% gradient, ending with a celebratory view over the city.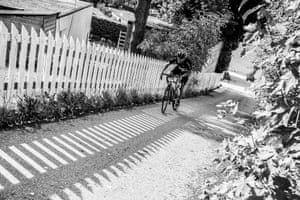 And then suddenly it was all over. I was very pleased to have planned a short extra stay to enjoy the area, and revisit these views at a more leisurely pace, in better weather by boat or on foot.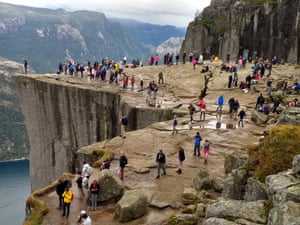 Any event like this is full of personal ups and downs, digging deep, going to dark places, but also wonderful camaraderie and humorous moments. The distinguished guest rider was former pro star and now pundit David Millar, riding with his wife. He cheerfully shared gallows humour about the toughness of the course, although he's hardly out of shape. On the time trial stage he mostly destroyed the rest of the field.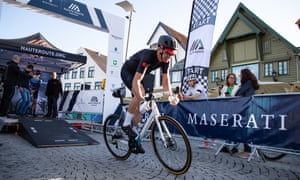 Acts of kindness, such as stopping to give up your water bottle to a needy rider, or helping each other on long, windy, remorseless stretches, can heighten the sense of humanity and esprit de corps to a profound, emotional level, and even some mild chit-chat really helps pass time on long false flats. And I couldn't help but admire the rider who, I was told, stopped to help another with a stuck chain, even during the time trial. And on this same, short, frantic stage, nor could I stop laughing as I rode past a very carefree competitor who decided to take a pee after only 2km. It proves that even with the clock ticking, riding and fun can still be more important.
But for the weather, and paying £10 for a Norwegian beer, it would all have been perfect – but that's a risk that comes with the territory. Skål!
Peter Kimpton took part in the Maserati Haute Route Norway, flew to Stavanger via Norwegian Airlines, stayed at the Clarion Hotel, and hired a bike from Norway Bike Rental.
Source: Read Full Article