Hong Kong is known for its dim sum and milk tea. But this is a distinctly international city, where you can find a range of world cuisines to rival the stalls of Saigon, the noodle bars of Bangkok, or the grills of Galicia. Here's where to eat to get a taste of a truly global city.
Thai: Samsen
Chef Adam Cliff trained at Nahm in Bangkok, whose fine-dining approach to Thai food was a game-changer in the capital. And Cliff's imprint on Hong Kong has been no less remarkable: his first independent venture in the city is no regular noodle joint. Samsen, built into an old Hong Kong shophouse on Stone Nullah Lane, specialises in Thai "boat noodles", so named because they used to be served from the thousands of boats which plied Bangkok's canal system. But he brings a fine-dining touch to this humble dish, with wagyu beef delivering a stunning, melt-in-your-mouth richness – the perfect counterpart to a hearty, heavily spiced soup broth that's enriched with pig's blood to deliver an unforgettably velvety texture. Between the superb noodles and the no-reservations policy, there's almost always a queue at Samsen. But you're in the right spot: leave your number and grab a brewed-in-Hong Kong craft beer opposite at Stone Nullah Tavern while you wait. Afterwards, a nightcap is in order at Hong Kong-kitsch bar Tai Lung Fung, just up the road.
Vietnamese: Le Petit Saigon
The bánh mì is probably the best sandwich in the world, and Le Petit Saigon serves up the best iteration of this classic Vietnamese snack this side of Hoi An. It consists of a crusty baguette lined with a touch of mayo, and stuffed full of five different juicy cuts of pork, rich chicken liver paté, handfuls of crisp fresh herbs and pickles, and a mandatory blast of chilli. Add a Saigon Export lager and chow down on the porch outside for a taste of fresh, vibrant, delicious Vietnam. Just imagine the constant buzz of scooters, and you could be right in the heart of Ho Chi Minh City. The Saigon Mi Hour runs daily from 5-7pm and is a great deal: HK$58 (£5.80) for a half-sized bánh mì and a bottle of beer. The regular-sized sandwiches (HK$88, £8.80) are available from noon until they sell out, and they tend to. But the shop is actually an offshoot of the neighbouring Le Garçon Saigon restaurant, so head there if you've missed last orders or you're in search of a larger meal.
Northern Spanish: The Optimist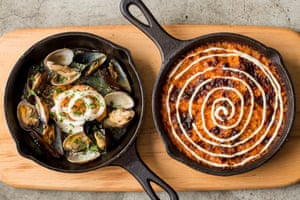 The problem with most Spanish food in Hong Kong isn't the quality, but the price. Tapas are meant to be cheap bites, not the ludicrously expensive nibbles they become when you factor in the costs of flying produce halfway across the world. Thankfully, The Optimist skips the conundrum by going northern Spanish, a less widespread cuisine that's heavy on grilled meats and seafood. In this gorgeously designed restaurant, highlights of the menu are the grilled Galician octopus, pincho moruno Iberian pork skewers, and the charcoal-baked truffle rice. But the real stars of the show are the meats to share: the 45-day dry-aged Galician txuleta rib eye, a monster of a cut bursting with flavour, or the whole charcoal-grilled turbot. The ground-floor cocktail bar has some excellent drinks – and just as excellent, a happy hour.
Indian: Chautari
Hong Kong's cooked food centres – food courts built into government market buildings – are rarely visited by tourists. It's a shame, because while they may be unglamorously tiled with glaring lighting, these food courts contain some of the city's finest food. The Queen Street Cooked Food Market is a particular standout: especially Chautari, a family-run Indian and Nepalese restaurant that combines charming service with some wonderfully genuine, affordable food. The standouts are the grilled tandoori dishes, but you should make time for the superb naans: the cheese naan in particular. Next door, ABC Kitchen serves fantastic bistro fare (complete with chequered tablecloths laid over humble plastic tables), while the Traditional Beijing Dumpling House (Shop CF11) has hands-down the best pan-fried lamb dumplings in Hong Kong.
Nordic: Frantzén's Kitchen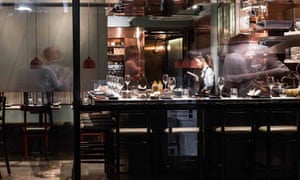 Hong Kong may seem like a curious outpost for new Nordic cuisine pioneer, chef Björn Frantzén, whose eponymous restaurant in Stockholm holds three Michelin stars. But Frantzén's Kitchen, the chef's first overseas outpost, is a welcome arrival. Helmed day-to-day by Frantzén's number two Jim Löfdahl, this 36-seater restaurant serves up some alarmingly good cooking, heavily Nordic but with a touch of Asian influence. Dishes are fairly small but prepared with extreme care, such as the signature French toast, topped with aged cheese and a not entirely sensible amount of truffle. A particularly stunning dish is the white onion velouté, with smoked almonds and a touch of liquorice foam – deeply, intensely flavourful in a way that almost beggars belief. If you can, score a seat at the counter to watch the dishes being assembled with painstaking precision.
Source: Read Full Article