Manchester's Northern Quarter is usually described, in the media, as its bohemian enclave. But in recent years the area's creative spirit has been diluted by the opening of scores of new bars, restaurants and chain hotels.
This corner of the city centre – once a ragbag of sex shops, curry cafes and cheap 'n' ratty pubs and music venues – still has its rough edges and its outlier spots (Soup Kitchen, Eastern Bloc, Aatma). However, such challenging cultural hubs are now vastly outnumbered by generic venues trading on the vapour trails of the Northern Quarter's once "edgy" appeal. On Saturday nights, it is just another raucous open-plan booze zone – more Love Island than Modern Love (a neighbourhood techno label). The underground has migrated to Manchester's border with Salford.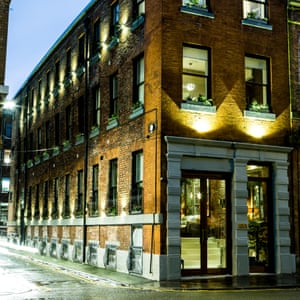 From its website (lots of promotional photography of beautiful young people partying), Cow Hollow looks like another stage in that empty gentrification. Thankfully, in reality, this new 16-bed conversion of an old Northern Quarter textile warehouse is more individual and less flashy than it first appears. It is certainly chic but also easygoing and no-nonsense, in an identifiably Mancunian way.
Three years in the making, owners Muj and Amelia Rana's labour-of-love makes fantastic use of the building's industrial heritage. My room, Afra, has huge mechanical winding gear in one corner. The weatherbeaten door to the handsome stone-clad bathroom (downer: the shower takes an age to heat up) is original to the building.
All exposed brick and metal staircases, Cow Hollow has been softened with diverting art, neo-Moorish tiling, interesting decorative objects and centrepieces (a fireplace here, a rustic log-burner there). Everywhere you look there are piles of (mainly) coffee table art and fashion books. In one, I found Alexa Chung filed alongside Tolstoy.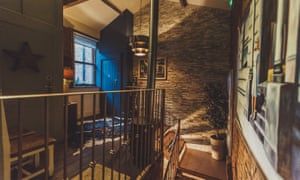 Occasionally, this self-conscious styling takes precedence over functionality. Towels left on a packing case in my bedroom look neat but are little use when you step dripping out of the shower and have forgotten to take them with you. Likewise, some may find Cow Hollow's priorities (in Afra, two huge mirrors, one large cactus, no wardrobe), a bit odd.
Bedrooms come with luxurious touches: REN toiletries, fast broadband, high-quality but idiot-proof Bluetooth speakers, free Netflix. The intention is to provide an experience which, in its detail, removes common hotel grievances while fostering a sense of hospitality. Subject to availability, you can check in early or check out late at no extra cost. Guests are served free prosecco and nibbles each evening and complimentary milk and cookies before bed. There is no annoying key-card for the electricity, nor do you have to contort yourself to turn off the bedside lights.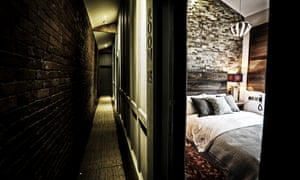 Rather than cluttering the bedrooms with shoddy tea trays, there's a basement communal area with a high-spec self-service coffee machine, primed with beans from Salford Roasters among others. It spurts forth some of the best push-button coffee I have tasted. Given that marker, the grab 'n' go breakfast – a pastry, juice, fruit, granola and coffee delivered to your room – is a little disappointing. It is functional where it could fly (get nearby Pollen Bakery on croissant-duty!)
Cow Hollow does not have a restaurant (try Go Falafel, Rudy's Pizza, Bundobust or Mackie Mayor, locally) but there are cocktails and decent glasses of wine in its tiny, glamorous bar. With its broad white steps that almost open out on to the street, its marble bar, greenery, loose-cushioned seating and serene house-y soundtrack, it feels more Ibiza Town than Ancoats – a laid-back place to a take a breather before the night ahead.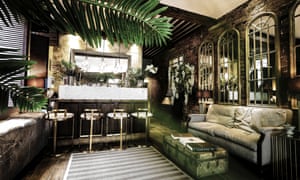 Craving something a little grittier, I strike out for the Common bar for good beer, before pitching up at the (newish) Peer Hat. A scrappy bar, DIY record shop and art/music space, it looks like it was knocked together for 30 quid and attracts a refreshingly diverse all-ages crowd. It has a good community feel and proves there is unpredictable life in the Northern Quarter yet.
Cow Hollow is far swankier than that, but in its own way this boutique hotel is doing something that feels fresh and honest, true to the Northern Quarter's historic zest for originality. In the wider context of Manchester city centre, which lacks interesting, independent stays, it is a find.
• Accommodation was provided by Cow Hollow Hotel (doubles from £99 B&B), 57 Newton Street, Manchester, 0161 228 7277, cowhollow.co.uk
Ask a local
Jason Bailey, co-founder, Grub food events, Manchester
• Drink
Blackjack Brewery's Smithfield Market Tavern is the pub for me. Alongside some of the best UK craft beer from Wild Beer or Kernel, it also stocks smashing local beers from Manchester breweries such as Runaway and Track Brew Co. It's an old-school pub with modern beer; a vibrant, well-thought-out establishment.
• Eat
You'll find Manchester's most well-hidden restaurant, the Ethiopian Habesha, a few yards from the [Gay Village's] famous Canal Street, up an unmarked spiral staircase inside the Istanbul Express takeaway. It's the definition of great cheap eats: generous portions, tasty stews served with traditional sour injera flatbreads, all at very reasonable prices.
• Coffee
Almost within spitting distance of Manchester Piccadilly railway station, Idle Hands is an exceptional coffee shop, which is now cooking a great brunch and lunch menu from its new kitchen.
The Grub Food Fair runs weekly (Fri/Sat) at Mayfield until September
Source: Read Full Article