South Korea's bustling capital city is crammed with gleaming skyscrapers, packed with lower-slung commercial and residential developments, and woven with a network of multi-lane, gridlocked roadways. Yet amid all these trappings of urbanisation, hovering above a jumble of railroad tracks, curves a spectacular, half mile-long park that has totally revitalised a derelict streetscape.
This is Seoullo 7017 Skygarden, a €60m (£52m) project that opened in May 2017 after 18 months of construction. MVRDV, a Rotterdam-based architectural firm renowned for its whimsical and innovative designs, transformed the space from an abandoned concrete and steel viaduct suspended above Seoul's main railway station to this elevated arboretum.
Often dubbed the Skygarden – an apt moniker, considering it rises more than 50ft above the ground and is covered with blooming foliage – the park's full name is laden with meaning. "Seoullo" translates to "Seoul Street", reminding locals that the park is a pedestrian thoroughfare offering a safe, convenient shortcut to navigate the congested city streets. The number sequence "7017" commemorates both the year the overpass was originally constructed (1970) and when the park debuted (2017).
The hardscape here is minimalist, allowing the plants to take centre stage. As the city's highest botanical garden, it's peppered with 24,000 colourful flowers, shrubs and trees planted in hundreds of concrete planter pots of varying sizes.
Embracing the country's reverence for nature – its palaces, shrines and traditional houses are surrounded by swathes of gardens – the green promenade is a compendium of the nation's plant life, with all species native to South Korea and sourced from around the country.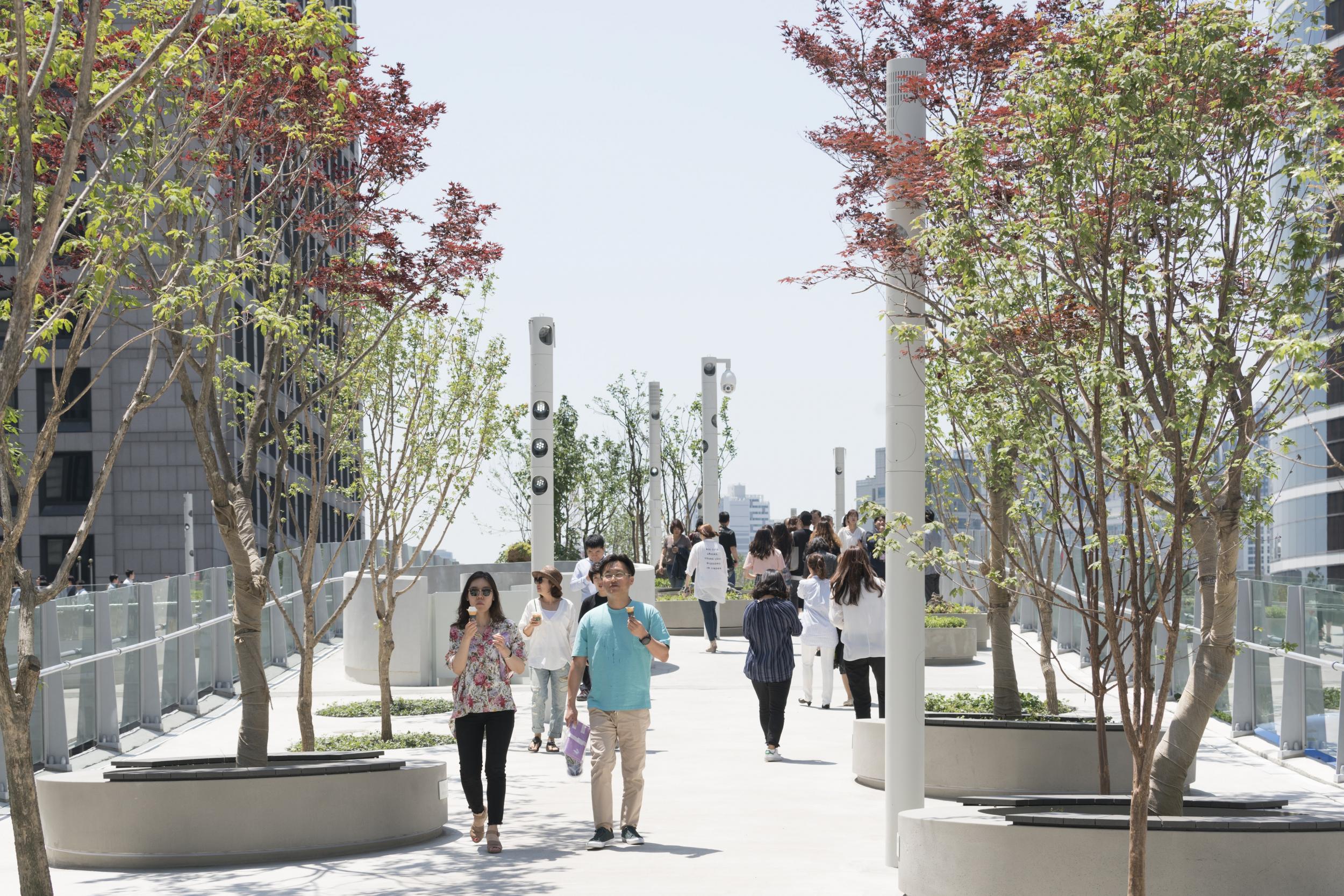 The Skygarden is more than just a pretty walkway – it's educational too. Botanicals are labelled with Latin, English and Korean names along with a scannable QR code for more in-depth information.
The plants are arranged alphabetically according to the Korean alphabet, and gathered in small, individually themed gardens: one area is focused on aquatic plants; another is all about roses, and another features only succulents.
The plantings change with the seasons; maple leaves with their glorious crimson reds and burnt oranges in the autumn, evergreen conifers in the winter, the delicate pinks and whites of cherry blossoms and rhododendrons in the spring, and, in the summer, brightly-coloured fruit-bearing trees and shrubs. The Skygarden also alters its identity from day to night, when it takes on an otherworldly vibe thanks to an array of sapphire blue lights scattered across the landscape.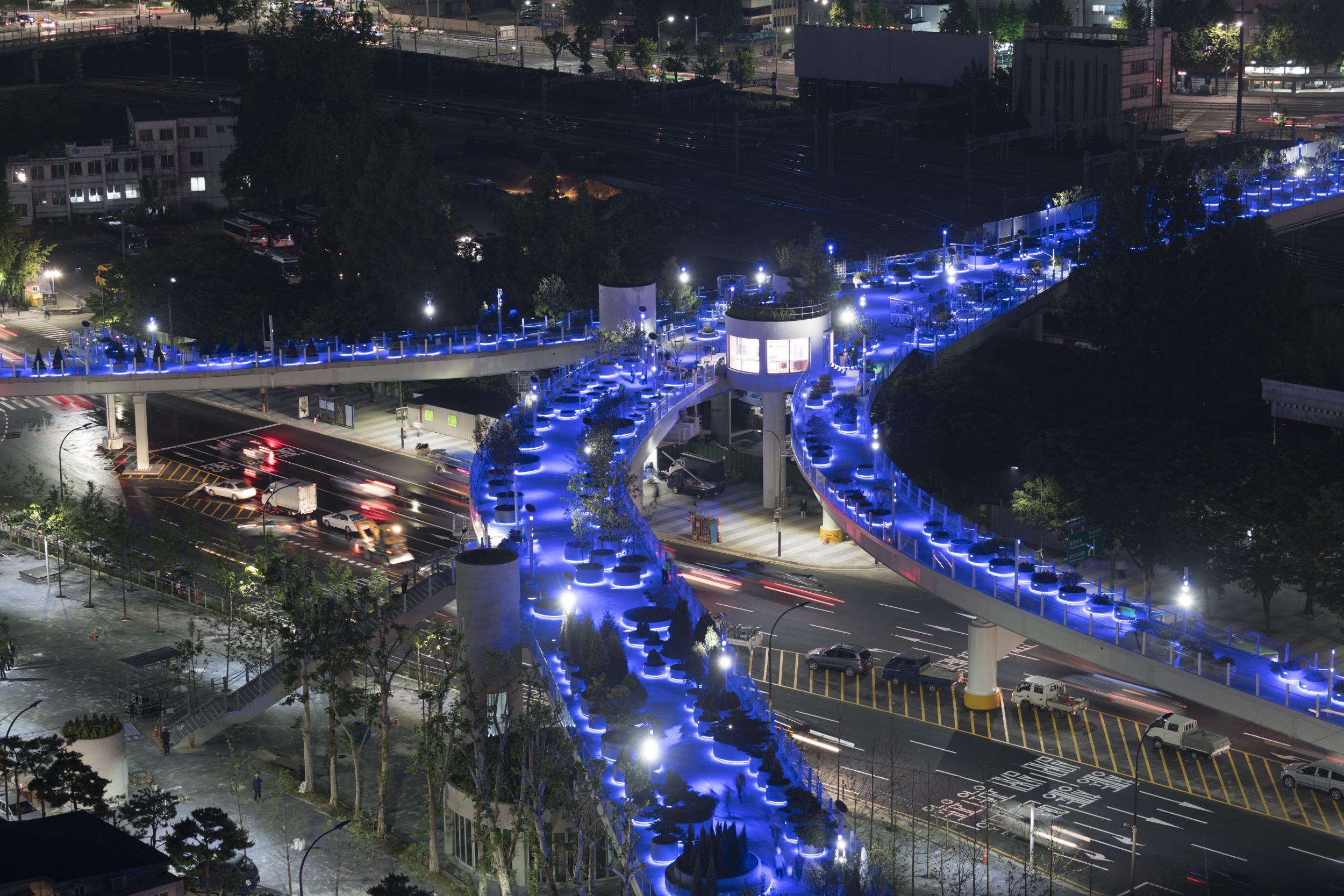 Peckish wanderers can buy Korean pastries, tea and toasted sandwiches from the cafes dotted around the park, while a children's play area with trampolines and spaces for puppet shows, concerts and other events provide non-plant-based entertainment. There's even a shallow, circular pool for dipping tired feet.
When visitors conclude their botanical stroll, they can access any number of stairs, elevators, escalators, ramps and bridges connecting the green promenade to the ground and adjoining commercial buildings, providing easy access to Seoul's leading attractions, including Namdaemun, the nation's largest traditional market.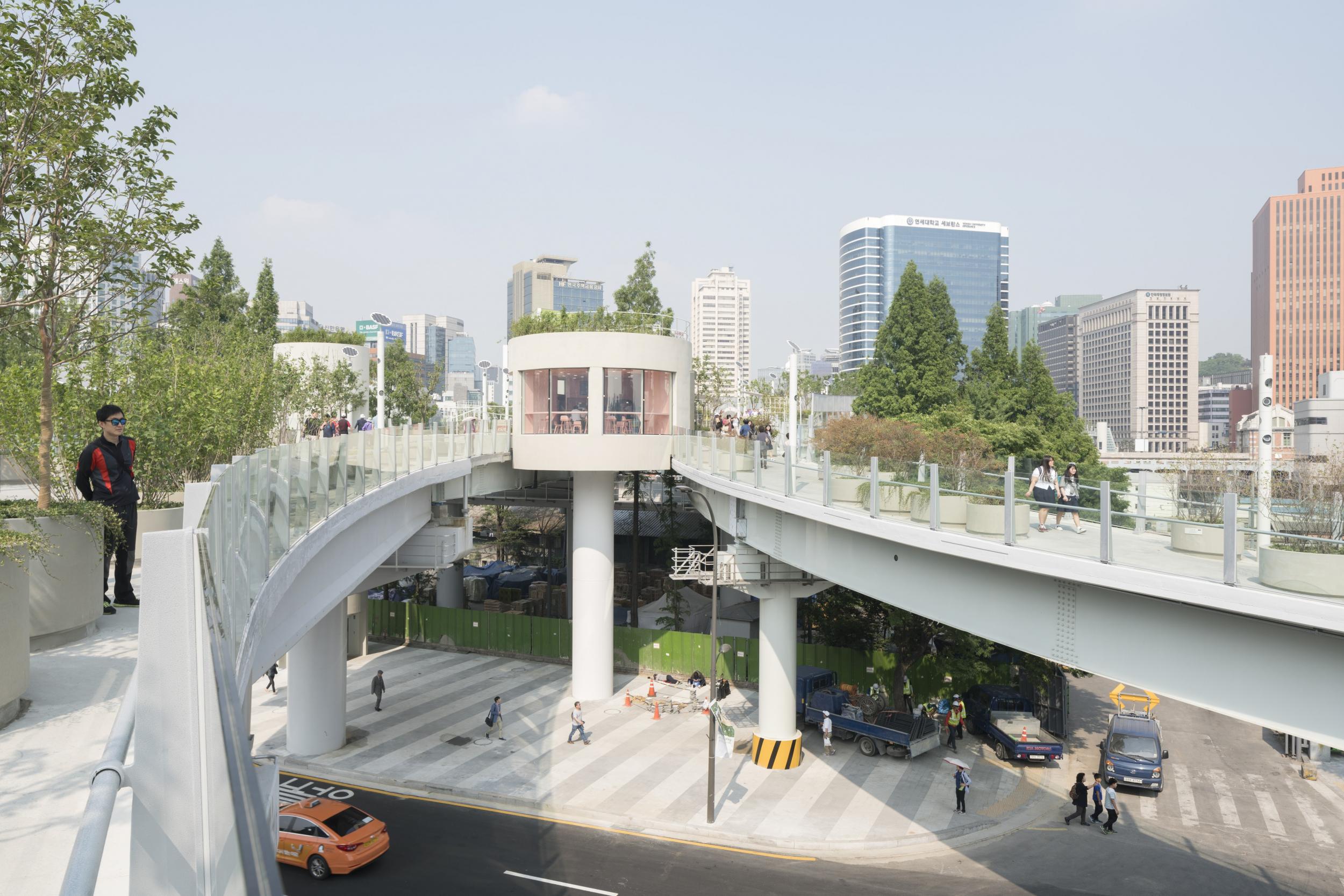 Because although it's a verdant oasis amid the chaos, the Skygarden was never meant to be set apart from it – rather, it's designed to be enmeshed in the fabric of the city itself.
Seoul's best parks
Continuing the good eco works of his predecessors, mayor Park Won-soon has been a proponent of a more environmentally-friendly, walkable Seoul that he hopes to see peppered with a greater number of green spaces and pedestrian streets. These are some of the city's most popular places to commune with nature.
Hangang Park
This is a series of green spaces on the banks of the Han River that courses through Seoul. Each has a different personality, but the entire park system offers an abundance of recreational facilities, including bike rental, skate parks, hiking trails, badminton courts and swimming pools.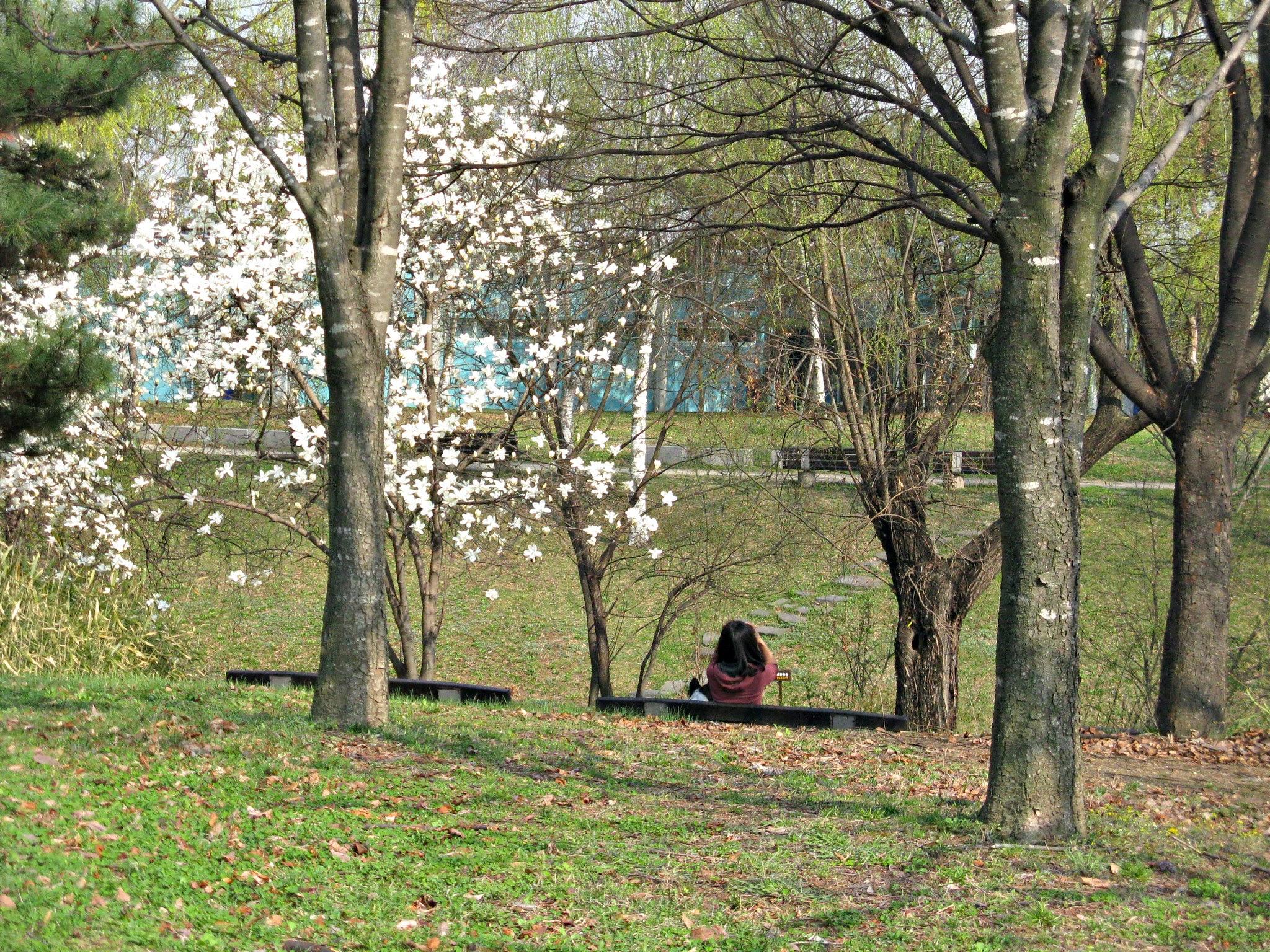 Naksan Park
Set atop one of Seoul's many mountains, Naksan Park offers a secluded retreat for a picnic or a scenic walk. With panoramic city views from its 300ft setting, Naksan has dense packs of conifers as well as other types of tree, including colourful peach blossoms in the spring.
Seonyudo Park
This former water treatment plant was resurrected as a park encompassing an entire island in the Han River. Along the web of paths, the columns of the former clean water reservoir are coated with vines, conduits grow native aquatic plants and chemical decomposition vats are home to an aromatic garden.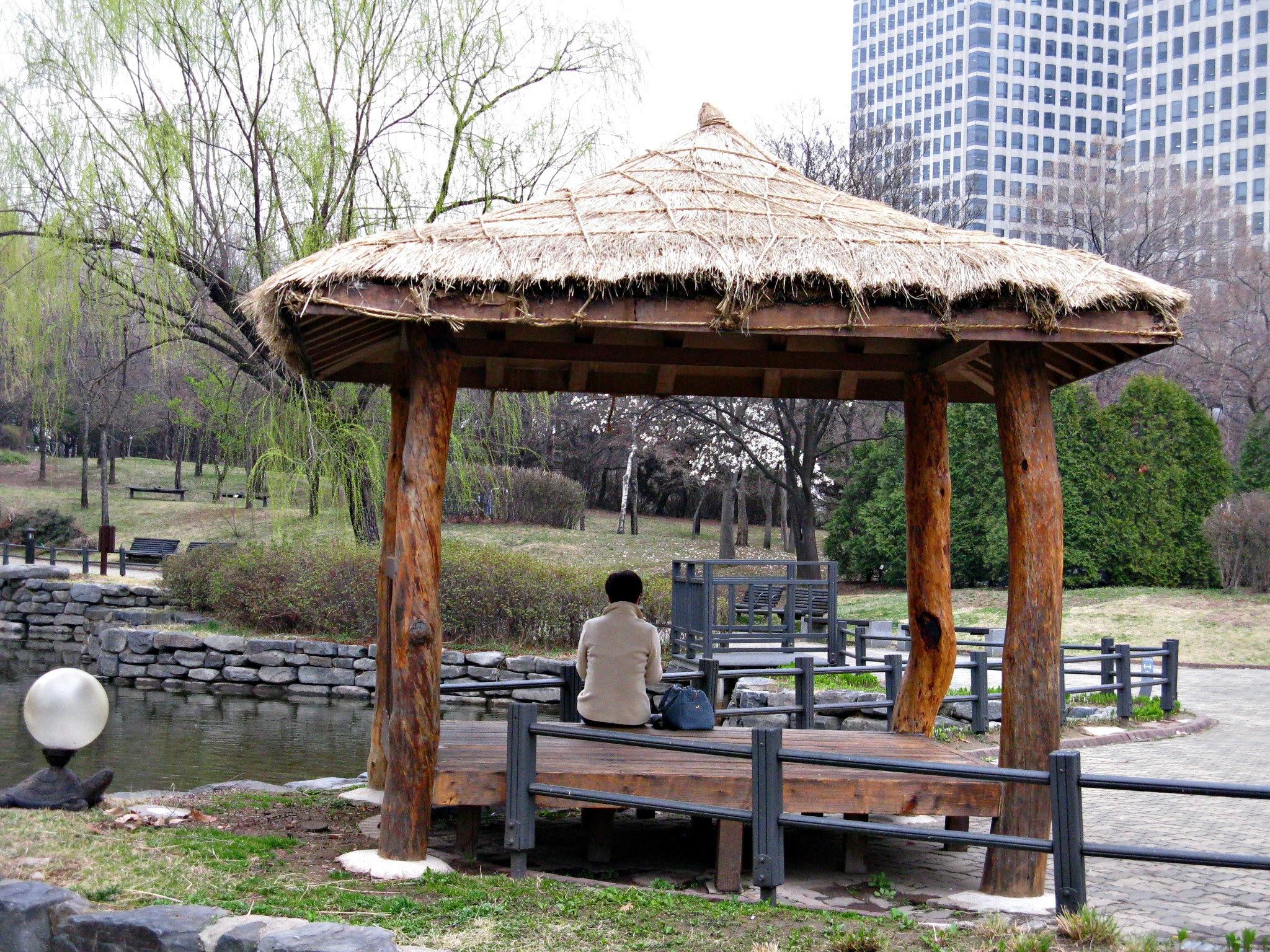 Yeouido Park
Smack in the middle of Seoul and surrounded by skyscrapers, elongated Yeouido Park is a popular venue for jogging or cycling on trails through a traditional Korean forest planted with indigenous trees.
Peace (Pyeonghwa) Park
Among the five different parks within the expansive World Cup Park, the Peace (Pyeonghwa) Park appeals to art enthusiasts. Traversed by a stream, and punctuated by a boardwalk-fronted pond, this green space is littered with contemporary, often avant-garde, sculptures and quirky art installations.
Source: Read Full Article